Politics can be very similar to sports in that where you were born, grew up, or live can have a huge effect on your personal leanings. Here in the California Bay Area, the political leanings are very liberal and in terms of fandom, the NFL towers over college football. That's despite three D1 programs, two of which — Stanford and Cal — are in a Power 5 conference and largely ignored by local fans.
My home area's snubbing of college football is terribly annoying as my social circle is always miffed at me declining a lot of Saturday social events that would take me away from watching college football or act all weird when I try to get a television onto a big game opposed to whatever shit they are watching instead (Sharks, Warriors, and this past weekend… Mickey Mouse Clubhouse… a new low).
They think I'm weird (they're weird!), but the reality is I went to a school that turned me into a diehard college football fan and now I'm a staunch believer that it's better than the NFL (something I wrote about here). Most of them never had that experience and are somewhat unaware that there are large swaths of this country which prefer college football to the NFL. With that mind, I decided to take a stab at mapping out the NFL vs. college football on the U.S. electoral map. Below is how I broke it down, with some explanations.
Breakdown:
293 electoral votes for the NFL which is in blue on our map (60 leaning)
245 vote for college football which is red  (110 leaning)
If you want to see an enlarged photo of the map, just click on the image below..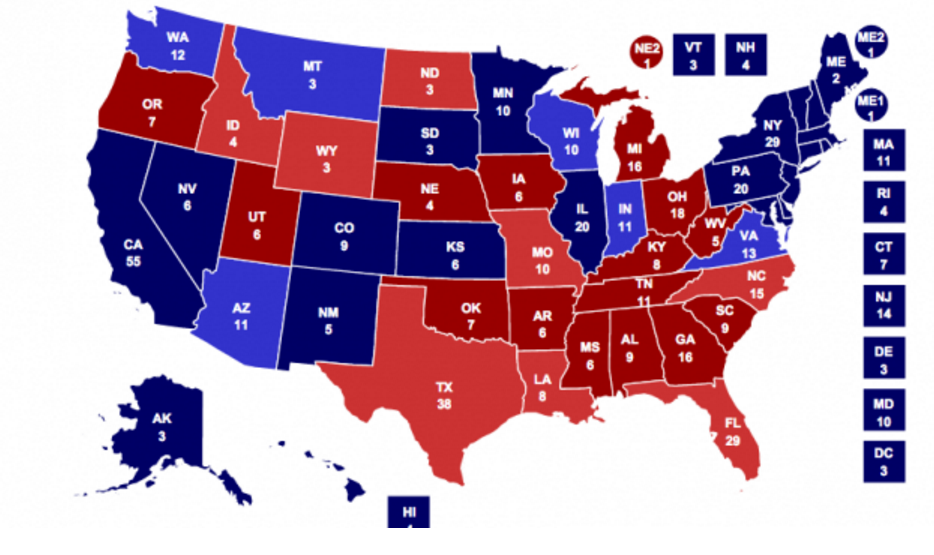 Update: I am getting a lot of strong feedback on two states in particular (Missouri and South Dakota).I would definitely flip them given some of the more expert feedback which would yield a result of 300 to 238, but I'll just leave my original commentary here. 
Ultimately, the NFL won this exercise. My calls below on the states are based on their general leanings with me segmenting each state as "solid" or "leaning."
States I marked as "solid," I could see becoming less so, depending on some factors (a team in state doing well in college, but maybe the local NFL team struggling, for instance), but couldn't see them ever flipping the other way. For states I marked as "leaning," I went with which way they lean as of today, but could see some scenarios where they could either flip to the other side or in some cases go from leaning to solid.
Here is some analysis on how I made my calls.
Solid NFL (233 votes):
California (55) – The biggest prize on the map may have had a chance to be red at some point, but enter the Rams to LA and no national championship contender currently in Southern California these days. Also the Bay Area, San Diego and Sacramento will never flip to college areas, so the NFL can count on these 55 votes every election at this point.
New York (29) – New York City is the biggest NFL city there is. The Bills in Buffalo vs. Syracuse's following elsewhere only furthers the NFL's lead. It's a blowout for the NFL here.
Pennsylvania (20) – Between Pittsburgh and Philadelphia,Penn State dominates the middle of the state state, but the Eagles and Steelers rule the state's two biggest cities despite Temple and Pittsburgh having some support in those cities. Despite Penn State's following, Pennsylvania will always be a NFL state.
Illinois (20) – The Bears are a top-five NFL team in terms of following and brand. Illinois and Northwestern just don't move the needle enough to really make this state in play for college football.
New Jersey (14) – Two NFL teams play in New Jersey and the Eagles are not far away either. Rutgers has only had a couple good years over the last 20. This is probably one of the bluest states there is and that's never going to change.
Massachusetts (11) – Easy one. The Patriots over the last two decades have ascended in significance to rival the Red Sox in state. Meanwhile, not much to point to in terms of college football fandom.
Maryland (10) –  UM football just isn't big enough to overcome the Ravens dominating the largest city in the state. The NFL has a comfortable margin in Maryland and that's not going to change.
Minnesota (10) – The Gophers have a solid following spanning football, basketball, and even hockey. That said, the Vikings are the most popular team in the state and by a huge margin. If there was another power 5 school in the state, perhaps Minnesota would be more of a tossup.
Colorado (9) – When I initially did this, CU was still in "we're just trying to make a bowl" mode, but look at them now. That said, the Broncos are one of the bigger NFL brands and with quite a following. CU and CSU certainly have solid fan bases, but it's not coming close to the Broncos. You could see some scenarios where Colorado could become a "leaning NFL" bucket, but that's unlikely and bottom line, it's a state that won't ever go red.
Connecticut (7) – UConn is a basketball school without any real signature years or wins for the football team, which is relatively new to D1 bowl-level football. No NFL team, but plenty of NFL fans to make it solidly blue.
Kansas (6) – All respect in the world to Bill Snyder, but the Chiefs reign supreme here. KSU has had some Cinderella years, but Kansas being a basketball school with a pretty consistently terrible football team, sans some Mangino years, and this is a dark blue state.
Nevada (6) – There is no NFL team there (yet) and there are two college teams but even with those schools, the betting capital of the world makes Nevada firmly a blue NFL state.
New Mexico (5) – Similar to Nevada, but without the betting. Couple of D1 teams in the state, but they're afterthoughts to most people. NFL's national popularity is enough in a lot of these smaller states despite not having a team in them, especially those without any significant college football followings.
Hawaii (4) – No NFL team there and UH has had some solid years. That said, there has been some chatter of eliminating the college program and the NFL, despite no rooting interest, is entrenched here as it is in most states without a power college program.
Maine (4) – The northeast is solidly NFL without any major college program to win over fans. Maine fits in this bucket.
New Hampshire (4) – See above. No major college program or NFL team, but proximity to the Patriots. Solidly blue.
Rhode Island (4) – I just want to say that I've never met someone from Rhode Island in real life or online. Is it a real state? Has anyone checked? Anyways, the Northeast rule applies here as well if indeed Rhode Island is a real state. Someone should check.
Alaska (3) – The NFL carries another state by default where there is no real rooting interest in the state either way.
Delaware (3) – Delaware and Delaware Stare have some fans, but not enough to really make this state in play for college football.
District of Columbia (3) – DC is a heavy pro sports area and that's especially true for the NFL here, although a lot of transplants certainly give college football some following here. Not nearly enough to challenge the NFL though.
South Dakota (3) this one I mentioned I would likely flip given feedback I've got  – I really have no idea, but without any NFL team nearby or any major college program, I'd surmise this is like most states in that the NFL is preferred by a decent margin.
Vermont (3) – Same northeast rule as the other states in that corner of the US. No major college program and a lot of Patriots fans.
Leaning NFL (60)
Virginia (13) – This was one of the tougher ones. Virginia and Virginia Tech, and no NFL team in state. That said, there is a big Redskin following in the state and Virginia Tech has struggled the last handful of years, while Virginia hasn't really made any big waves in college football the last decade plus. Virginia goes blue, but it's really close.
Virginia is Redskins country over college football IMHO

— Jason Wippich (@Wipps) August 29, 2016
Washington (12) – This is another state that can flip from time to time between blue and red. I mean even right now, Washington has two teams in the top 25 for the first time probably a decade plus and WSU has a very underrated and loyal following. This state would certainly be red if it wasn't for the Seahawks being a contender year in and year out of late. If UW and WSU remain in the top 25 (with UW a national contender), I'd consider a flip to red if the Seahawks began to fade to a bottom-third NFL team, but that's not happening.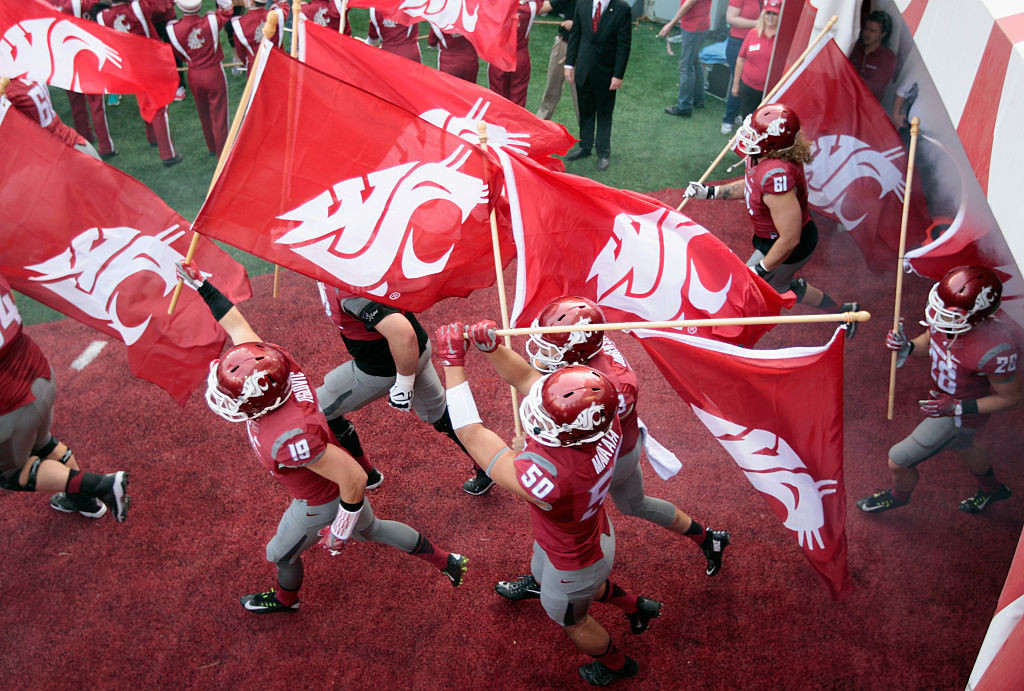 Arizona (11) – Very similar to Washington in that the largest city has a NFL team that is winning, although a college team also has a following in that city. UA has fans, but it's a basketball school. I could see some type of flip happening under the right circumstances (two top 25 teams and Cardinals reverting back to the Cardinals of old), but we're not there. Hence, Arizona is blue by a decent margin for now.
Indiana (11) – This is one I flipped on with feedback from people. In my head, Notre Dame, IU, and Purdue were enough to beat out the Colts in the state. But Purdue and Indiana are basketball schools and have been not so hot on the football side (very few bowls the last decade). Also, the Bears have a larger following in the northern part of the state, in addition to the Colts following which built up over time, thanks to Peyton Manning.
@bkoo Probably true. More Colts fans. Purdue and Indiana football fans contemplate throwing themselves into traffic this time of year. — Matthew Flick (@flickster) August 29, 2016
@bkoo IN should be blue. Colts and Bears exceed IU/Purdue/ND support, although it's arguable. — John M (@Johnm_iu) August 29, 2016
Wisconsin (10) – I initially had this in the solid NFL group. I mean, the Packers have had great QB play for 20+ years and a few Super Bowls, and historically it's one of the NFL's best teams. That said, UW really represents the soul of the state and is a more popular team in a large part of the state. I'd be very tempted to make Wisconsin red if there were another college team or two in the state, but the Packers plus some Bears fans in the state, makes it blue for now.
Montana (3) – I believe Montana and Montana State have some significant followings given the state's small size. That said, probably not enough to make this a red state as the NFL's national popularity is hard to beat without a D1 bowl division team.
@bkoo Only qualm I see is Montana. The Grizzlies and Bobcats are a way of life up there. That game is massive every year. — Michael Abelson (@ABELS0N) August 29, 2016
Solid College Football (135)
Ohio (18) – You can argue maybe this one shouldn't be solid, but Ohio State is a top-three following in college football and a very loyal one, especially with them in contention most years. The Browns and Bengals have struggled to win, but still have great followings. Ultimately, feverish Buckeye fanbase along with a cornucopia of MAC programs make this state red by a solid margin.
Georgia (16) –  The Bulldogs have a larger following in state than the Falcons. Georgia Tech puts the state in the solid category.
Michigan (16) – Two power programs and a smattering of MAC schools makes Michigan a solid college football state, despite the Lions having a sizable and loyal following.
Tennessee (11) – The Titans are still fairly new to their home state compared to other NFL franchises and they've had little success the past decade. UT has struggled as well, but it still is one of the most loyal fan bases there is in college football. Oh yeah, and Vanderbilt. Maybe the Titans becoming a contender for an extended period of time could change things, but until then Tennessee is solid red.
Alabama (9) – Probably the most red state. Alabama and Auburn and no NFL team. Do I really need to explain this one any further?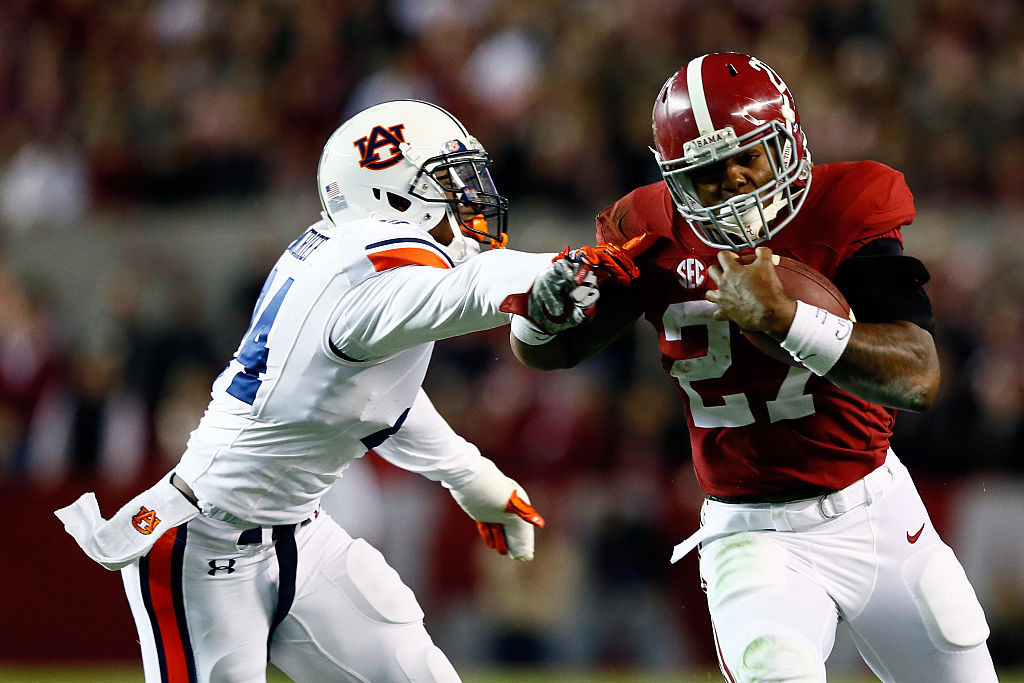 South Carolina (9) – See above for Alabama. No NFL team and two Power 5 schools, with one of them a national contender. A very dark red state.
Kentucky (8) – I initially put this one as a leaning college state, but a few people confirmed to me that more or less "not many people give a shit about the NFL here." Sure, Kentucky isn't a great football school, but Louisville has certainly been a contender the last decade and without a NFL team in state (despite Bengals fans near the Ohio border), this is a red state for sure.
Oklahoma (7) – Similar to Alabama with two contenders and no NFL team. One of the reddest states on the map.
Oregon (7) – Some 49ers and Seahawks fans up in Oregon, but UO and OSU definitely carry the state.
Arkansas (6) – The Razorbacks aren't a contender, but float around the top 25. It's SEC country and that means college football rules and without a NFL team, a very red state.
Iowa (6) – No NFL team, although a decent amount of Bears fans exist in the state. That said, the Hawkeyes are the state's biggest fan base by far and the Cyclones certainly help the cause in making this a very red state.
Mississippi (6) – From what I learned watching Last Chance U, junior college football might even be bigger than the NFL in Mississippi. You factor in Ole Miss and MSU, and it's a landslide.
Utah (6) – BYU and Utah are both underrated fan bases and programs in general. No NFL team to compete with and Utah is solidly red.
Nebraska (5) – Perhaps the most red state. I don't really feel the need to explain this one.
West Virginia (5) – The Mountaineers are everything to West Virginia and let's not forget Marshall. A state that could really never flip.
Leaning College Football (110)
Texas (38) – This is one of the hardest ones to do. It's like Utah in this election where you could say it's a three-way race, with Evan McMullin being similar to the prominence of High School football in the state. So yes, the Cowboys are huge and the state also has the Texans. But at the same time, sheer volume of D1 schools makes this a red state on our map. Texas, A&M, and Texas Tech do a lot of the heavy lifting but then you add in surging programs like TCU, Baylor, and Houston and this state is red… for now.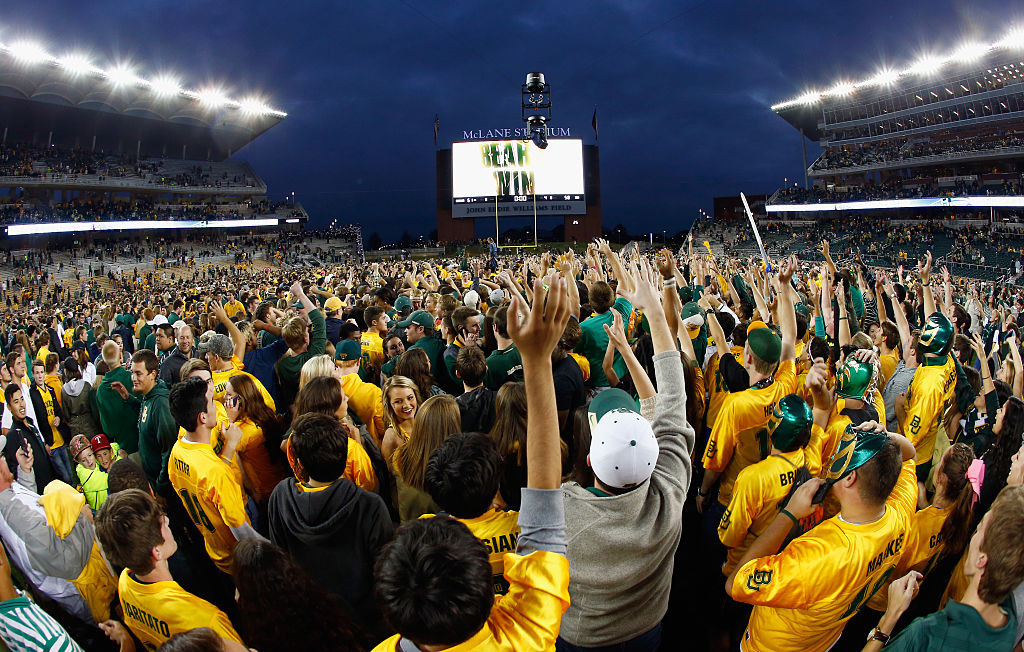 Florida (29) – Another tough one here as the state has three NFL teams in the Jaguars, Dolphins, and Buccaneers. Even with that, Florida and Florida State probably have two of the largest three followings within the state, along with the Dolphins. The Hurricanes certainly put a dent in the Dolphins' dominance in Miami (both teams have struggled the last decade), and programs like USF and UCF also help Florida be a red state by a slim margin.
North Carolina (15) – This is one of the states I flipped on. Initially, I had this as NFL with the Panthers in mind. That and NC State, Wake Forest, Duke and UNC are not really big football schools. That said, the Panthers are a newer NFL team so the fandom locally isn't as evolved, and I got a steady dose of lobbying that folks there just prefer college football despite the lack of any real national championship contenders. Duke and UNC playing well the last few years is enough for me to make this a red state by the slimmest of margins.
Missouri (10) this one I mentioned I would likely flip given feedback I've got – This is one I'm probably guessing the most on. The Rams left, the Chiefs have a lot of fans in the state with the team actually playing in Missouri, and Missouri is struggling in the SEC of late. It's a tough one to call and without much insight, I'll go with a SEC program in state vs. sharing a NFL team with Kansas.
Louisiana (8) – A tough one. New Orleans is heavy Saints and a lot of folks there actually dislike LSU. But even with New Orleans dominating the biggest city in the state by a large margin, LSU rules the rest of the state and is more frequently a contender for a championship. Should LSU fall back a bit and the Saints string together some playoff runs, that could change, but for now it's a red state in a close one.
Idaho (4) – A tough one as are a lot of the states in this part of the country. I initially had this as a blue state, but Boise State has been great for a decade plus and then you also have the University of Idaho as well. Given how few people there are in Idaho and how popular Boise State is, I have to guess this is a red state.
North Dakota (3) – Another tough one but after some research, I'm confident this is a red state. North Dakota and North Dakota State are both good programs at their level, with North Dakota State achieving dynasty status. They put butts in the seats and while I imagine a lot of these fans are rooting for the Eagles now because of Carson Wentz, hard to imagine that there are enough NFL fans to overcome the local success of these smaller college programs.
Wyoming (3) – Probably a close one, but I'll give the nod because Wyoming has a pretty good program and that's enough of a rooting interest in a sparsely populated state to beat out the NFL's built-in national advantage.
Conclusion:
This was a fun exercise and one I wanted to do to see how big of a gap there is between the popularity of the NFL and college football if we used the electoral map.
I was surprised just how much this map closely matches a lot of electoral projections for the upcoming election, especially when you consider the "solid states" for both sides are very close to the solid states for both political parties.
The good thing is that a lot of folks are like me and enjoy both college football and the NFL, but just have a preference — unlike politics where more or less we have our leanings and think the other side is batshit crazy. Unfortunately, that doesn't include my friends who snub college football's significance. Perhaps a move is in order to be around more like-minded football people.