This Weekend in NFL Stupid highlights the dumbest decisions in football throughout the season. This week, we target several coaches who dropped the ball while trying to manage key situations. 
Let's start with you, Doug Pederson
You're a rookie head coach, and rookie head coaches make these mistakes. But you're also an offensive coach, which makes it even more inexplicable that you didn't trust your offense and coached not to lose — rather than coaching to win — Sunday night in Dallas.
It started when you settled for a 30-yard field goal rather than gambling on a 4th-and-6 from the Dallas 12-yard line in the first quarter, and it continued when you did the same thing inside the red zone in the fourth quarter. Leaving your opponent with a long field is often worth the risk associated with gambling in either situation. Later, you punted rather than having red-hot, long-legged kicker Caleb Sturgis attempt a 54-yard field goal that probably would have put the game away.
That said, none of those decisions should be classified as stupid. Just overly conservative. But I can't say the same for your decision to let 29 seconds come off the clock at the end of regulation.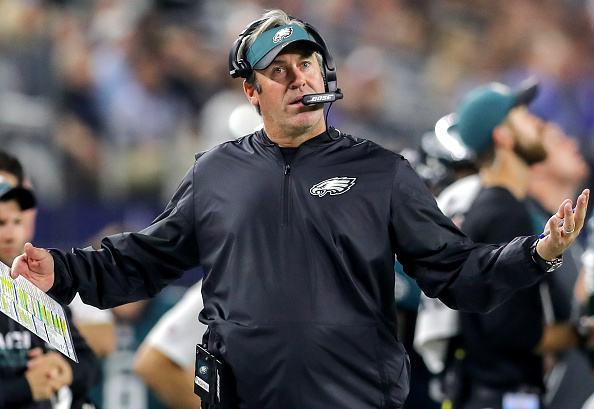 The game was tied, and the Cowboys were facing a 3rd-and-21 at their own 18-yard line with 29 seconds to play. The Eagles had all three of their timeouts. Use one there, and another after the third-down play, and you'll have about 25 seconds and a timeout. You could have blocked the punt or returned it for a touchdown to win the game. You could have fielded it at the 30-yard line, completed one pass, called timeout and attempted a Hail Mary pass or a game-winning long-distance field goal.
You have a play-making defense and a top-notch special-teams unit, both of whom have scored this season. And you have a stud kicker. And yet you'd prefer to sacrifice any chance of a last-second victory in exchange for overtime? On the road against a superior team, that's nonsensical. There was almost no risk associated with using your timeouts in that spot, so there's no reason not to chase the somewhat far-fetched reward.
It was stupid. There's no other way to put it. And it might have cost the Eagles the game.
Fortunately, it was a learning experience. Pederson admitted afterwards that he wasn't aggressive enough. Good for you, Doug. I'm proud of you. Don't coach not to lose, because that's almost always stupid.
Your turn, Mike McCarthy
With just over a minute to play in a game the Packers were leading by six, the Falcons completed a pass to set up a first down at the Green Bay 11-yard line. That deep with the game on the line, the clock was no longer a factor for Atlanta. Either the Falcons were going to score to take a one-point lead, or they weren't going to score and lose the game. So it was up to McCarthy and the Packers to ensure that in the event the Falcons scored, they'd have as much time as possible to respond.
So why in the world, Mr. McCarthy, did you not use either of your remaining two timeouts?
The Falcons gladly let 32 seconds come off the clock before running their next play. And sure enough, it resulted in a touchdown.
A little @M_Ryan02 & @Mo_12_Sanu magic…

And the @atlantafalcons take the lead! #RiseUp #GBvsATL https://t.co/ZD2DCHTXf5

— NFL (@NFL) October 30, 2016
When the Packers got the ball back down a point, there were 31 seconds on the clock. Had McCarthy used a timeout prior to the Atlanta touchdown, there would have been about 1:03 remaining. In the football world, that's a century. It forced the Green Bay offense to work in a considerably more desperate fashion. They ran four frantic plays before running out of both downs and time, but things might have gone a hell of a lot better if they had an extra 30 seconds to work with.
The most tragic part is McCarthy never even had a chance to use his last timeout, so it's not as though saving it helped on that final drive.
Very, very stupid approach from an 11th-year head coach, and one that might have cost the Packers a victory.
Next up, Dan Quinn
Quinn's Falcons won, so nobody is calling him out today. But that doesn't mean it was any less stupid to go for two in the second quarter of a 21-19 game. Usually, I appreciate two-point gambles and I know Quinn wanted to tie it up before halftime. That said, it was obvious we were going to have a lot more scoring in that game. Why risk giving away a point at such an early stage?
The two-point attempt failed. And when that happens, you're often obligated to attempt to compensate by going for two again after your next touchdown. But when the Falcons scored to take a one-point lead in the third quarter, they inexplicably kicked the extra point. This despite the fact it made perfect sense to go for two in order to take the lead by a full field goal.
Had the Falcons just kicked the extra point in the first situation, or had they gone for two and succeeded in the second situation, they likely would have led 34-31 after scoring the go-ahead touchdown in the final minute. Instead, they lost a point and the situation later called for the Packers to go for two (something they wouldn't have done if not for Atlanta's original two-point decision), which gave them an extra point.
Thanks in part to Mike McCarthy's aforementioned stupidity, the Packers weren't able to drive for a game-winning field goal late. But they were only in position to win the game there because of Quinn's silly first-half gamble.
A word, Ken Zampese
Your Cincinnati Bengals are leading the Washington Redskins 27-24 with 3:35 to play. Washington has just used its first timeout on defense. It's 2nd-and-9. Your running backs, Jeremy Hill and Giovani Bernard, have 113 yards on 27 carries. You're not even facing an eight-man box.
And yet you preserve Washington's final two timeouts by running consecutive dud passing plays.
Not just passing plays, but low-percentage intermediate-to-deep passing plays. No screens or shovel passes or, you know, runs. No attempt to keep it simple and drain the Redskins of their timeouts.
That gave Washington plenty of time to come down the field and score on the ensuing possession.
Stupid, Ken. Stupid.
Finally, can Jim Caldwell step into my office?
This was very clearly a catch, a fumble and a Lions recovery.
The officials wrongly ruled it was an incomplete pass. That's OK, because humans aren't perfect, the play happened fast and coaches have challenge flags for a reason.
And yet in the second half of a game which your team lost by a touchdown, you didn't challenge that play.
Unacceptable, man…