For those who were unable to achieve the ultimate goal during their NFL careers and win a Super Bowl, getting inducted into the Pro Football Hall of Fame is not a bad consolation prize. Hall of Fame inductees even get a ring.
The 15 finalists for the 2018 Pro Football Hall of Fame (14 players, one contributor) were announced on Tuesday and in just a few weeks, everyone will find out which of these finalists will be inducted. But instead of waiting for the ceremony that takes place on the day before Super Bowl LII, why not just have a little fun now and reveal who we think will be among the 2018 inductees?
So of the 15 finalists that were named on Tuesday, who will get the opportunity to give an obnoxiously long speech at the 2018 Pro Football Hall of Fame induction ceremony this summer?
Ray Lewis, LB
A rarity in the free agency era, Lewis spent his entire NFL career (1996-2012) with the Baltimore Ravens. Known more now for his unimpressive hot takes as a TV analyst, the former Ravens linebacker was beast on the field during his playing days.
Just two years into his pro career, Lewis ended the 1997 season with 184 total tackles, four sacks, and one interception. His performance that year led to the linebacker getting voted to his first of 13 Pro Bowls.
Along with his Pro Bowl invites, Lewis won a number of other awards during his time in the NFL, including Defensive Player of the Year (2000 and 2003), Super Bowl MVP (2000), and AFC Defensive Player of the Week (eight times).
Seven of his 17 seasons also resulted in the linebacker being voted as a First Team All-Pro.
In addition to leading Baltimore to two Super Bowls during his time with the team, Lewis also holds a bunch of team records including most career tackles (2,643), most tackles in a single-season (225 in 2003), and most tackles in a single game (25 in 1997).
For a good part of a decade and a half, the linebacker was a core member of a Ravens defense that was consistently among the best in the NFL each and every year.
Randy Moss, WR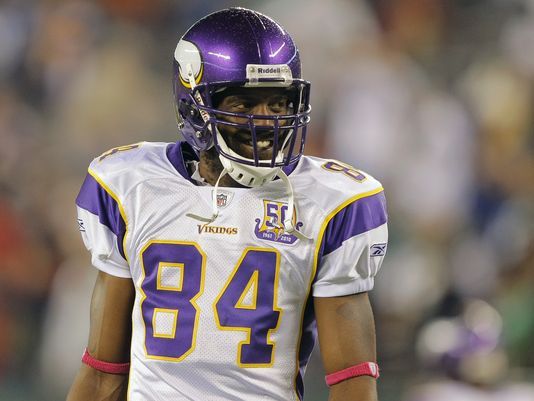 After being passed up by multiple teams in the 1998 draft, Moss burst into the NFL with a rookie season that is still, to this day, one of the most memorable ever. As a member of the Minnesota Vikings in 1998, the wide receiver spent his rookie year catching 69 passes (nice) for 1,313 yards and 17 touchdowns.
During his first seven seasons in the league with the Vikings, Moss found the end zone an impressive 90 times. Only Jerry Rice had more touchdown catches (93) among wide receivers in their first seven years in the NFL.
After pissing off Joe Buck with "a disgusting act" during a 2004 playoff game against the Green Bay Packers, Moss was sent packing to Oakland to play for the Raiders. With no one capable of throwing him a decent pass, the receiver only lasted two seasons with the Raiders before he was traded to the New England Patriots in 2008.
Moss struggled to put up his normal, freakish numbers while with Oakland. But once he joined Tom Brady and the Patriots, the receiver got back to terrorizing defensive backs once again.
With New England from 2007 to 2009, Moss caught 250 passes for 2,765 yards and 47 touchdowns. In 2007, his 23 touchdown catches (still an NFL record) helped lead the Patriots to a 16-0 record in the regular season.
Although he was never able to get a Super Bowl win during his 14 years in the league, Moss was a four-time First Team All-Pro and a six-time Pro Bowler.
Terrell Owens, WR
Beyond the touchdown celebrations, the trash-talking, and other diva antics, Owens was easily one of the best receivers to ever step foot on an NFL field.
Despite playing with five different teams during his 15 years in the league, the pass-catcher was able to rack up enough stats to have his name among the top of the league's record books. When his career came to an end in 2010, Owens had compiled a total of 1,078 catches (eighth-most ever in the NFL), 15,934 receiving yards (second-most ever), and 153 touchdown receptions (third-most ever).
Some may hold his over-confidence against him during the Hall of Fame voting, but Owens was able to be so brash because he always backed it up with his play on the field. The former receiver deserves to be inducted this year just as much as any of the other 14 finalists.
Owens has more career receiving touchdowns than more than 35 players who are currently enshrined in the Pro Football Hall of Fame. It is time he becomes an inductee as well.
Brian Urlacher, LB
After being awarded the Defensive Rookie of the Year in his first NFL season, it was clear that Urlacher was going make a name for himself in the league.
Like Lewis, Urlacher also spent his entire NFL career with one team, the Chicago Bears. During his 13 years with the Bears, the former linebacker was voted to eight Pro Bowls, named a First-Team All-Pro four times, and was the NFL Defensive Player of the Year in 2005.
For a franchise that has seen its share of talented linebackers, an argument can be had that Urlacher may the best defensive player to ever put on a Chicago uniform. The former linebacker's 1,354 career tackles are the most ever in Bears team history.
Brian Dawkins, S
In 13 years with the Philadelphia Eagles and three more with the Denver Broncos, Dawkins was a safety which no opposing offensive player wanted to see coming across the middle of the field. The former safety delivered plenty of brutal hits during his NFL career, but was never thought of as a dirty player.
When he was not delivering big-time blows to his opponents, Dawkins was a master of the takeaway. In 224 career games, the former safety forced 36 fumbles, recovered 19 fumbles, and intercepted 37 passes. His 34 career picks while with the Eagles still ranks tied for first in the team's all-time record book.
Tony Boselli, OT
Ask anyone who played against Boselli during his seven years in the NFL and they will tell how unenjoyable of a time it was. The former Jacksonville Jaguars offensive tackle shut down a number of dangerous pass-rushers during his time in the league including Bruce Smith, Derrick Thomas, and Jason Taylor (who all happen to be enshrined in the Pro Football Hall of Fame).
Unfortunately, his NFL career was cut short because of shoulder problems, but what he was able to do from 1995 to 2001 with the Jaguars should be enough to get him inducted into the Pro Football Hall of Fame this year.