The East Coast Hockey League (ECHL) is a constant source of unique and interesting promotions in the world of hockey. Thanks to the Reading Royals, an affiliate of the Philadelphia Flyers, we have a brand new jersey promotion that's pretty off the wall.
Introducing the 3D jersey.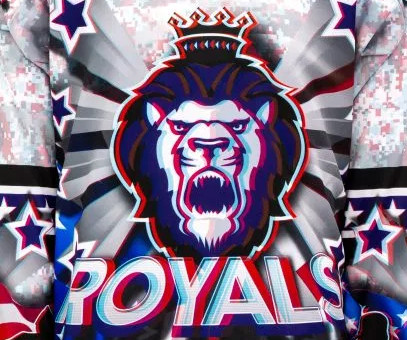 Before we get into a discussion about whether or not every jersey that's created is technically 3D, let's talk about the promotion itself. The Reading Royals' new 3D jersey will be worn during their Veterans Appreciation Game on Saturday, Nov. 17th. The jerseys were specially created to incorporate an actual 3D design that will pop with 3D glasses.
The first 1,000 fans will be given 3D glasses to take in the special jerseys. In case the action on the ice is too far away, some jerseys will also be hung up around the arena for fans to get a closer look. Following the game, the jerseys will be auctioned off.
At the very least, these are certainly different. The 3D effect probably won't be much to see when watching the game from the stands, but it's unique enough to get our attention. Believed to be the first of their kind, it's a new take on the specialized jerseys that have flooded the minor league hockey market.
ECHL jerseys have seen everything from Rocky to Don Cherry, and is now embracing a Magic Eye look. What's going to be next?
(H/T NBC Sports)