Hockey season is over and so is the week-long offseason. NHL Awards are this week, then comes the draft, then comes free agency, then comes more trades, then comes the World Cup, then comes… God, how does anyone cover this sport for a living? Do people ever get to see their families? The only thing better than a family? A mailbag!
1. Expanding horizons
@davelozo Thoughts on how expansion will affect this year's free agency?

— Charlie (@CharlieMorling) June 20, 2016
I bet I've thought more about the Las Vegas expansion draft than 99.9 percent of humans and like 95 percent of people involved in the organization. That's partly because I have one of those minds that doesn't shut off and thinking about strategy for an NHL team that doesn't exist is healthier than worrying about the future of my life and the existence of the planet. It's also because I'm an idiot.
Being the GM of the Vegas team is basically a dream job, only that person is more likely to be fired before anything good happens there. A David Poile/Nashville situation is so rare. So it's fun to imagine what you'd do if you got to be in charge of an expansion team for its first five years.
I don't think free agency this summer is going to be much affected by a looming expansion draft a year from now. If you're able to sign a player that will make your team better now and in the immediate future, you're going to do it and worry about protecting players next year. I can't imagine there being more than a couple no-move clauses being put into UFA deals, but what's the point? If you sign Keith Yandle for six years, you're not exposing him next summer anyway.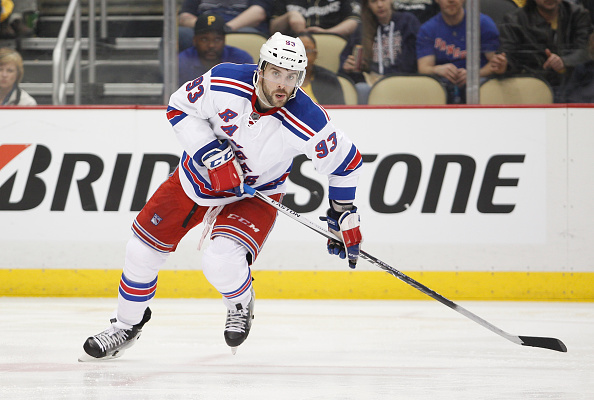 What should be fun is the amount of trades we get this summer. Some teams have too many forwards or defensemen to protect and probably already know they are in trouble. So if you have too many defensemen (Anaheim) and you have too many forwards (Columbus), you are going to trade with each other to thin the already-thin talent pool available for Las Vegas.
Next summer's UFA market should be incredibly interesting. The time period between the end of the Stanley Cup Final and start of free agency is when Las Vegas will, in a way, control the free agency market through the expansion draft. If I'm running that team — and hey, Bill Foley, I am available — I'm using the expansion draft first and foremost as a way to acquire as many draft picks as possible.
That's my entire Year 1 Vegas philosophy. Look, as desperate as the NHL is to make everyone believe that Vegas will be competitive off the bat, it's a lie. It's PR nonsense so people in Vegas aren't spending the next year turned off by the idea of watching a terrible team for a few years. But there's good bad and bad bad in this case, and good bad is using the early years to amass picks and young talent while bad bad is bending over backward to ice the best possible team no matter what in Year 1 that will be bad anyway, which is bad bad for the long term.
Let's use Jimmy Howard as an example. Barring Petr Mrazek's unforeseen retirement, the Red Wings are going to expose Howard, who will have two years and a $5.3 million cap hit remaining on his contract. If the goaltender market is thin and Howard looks good in his 25 starts next season, Vegas would be smart to draft and flip him to a team that needs a goaltender next summer in exchange for pick(s). There will be a slew of exposed players in that position — too old to matter to the long-term success of an expansion team, but just right for teams that need an upgrade now.
Vegas will need a few Howard types to reach the cap floor, but the team will be able to dictate terms in the secondary market by drafting guys in Howard's position. Think of it as one of those free-agent rights trades only instead of rights you're getting a year or two and rights.
Also, Vegas should be all about pump-and-dumps like Lee Stempniak and the New Jersey Devils this past season. The Devils signed Stempniak for $850,000, used him mostly on a top line, got him to 16 goals in 63 games and traded him at the deadline for a second- and fourth-round pick. Someone has to score goals for Vegas in Year 1, and for the purposes of future building, it would be good for the team if that guy is on a cheap deal and in his mid-30s.
Anyway, long answer short, most teams aren't thinking beyond the next minute of their existence, so that shouldn't change even with an expansion draft about 365 days away. Next summer, however, should be fun.
2. Do I Stammer?
@davelozo Islanders and Steven Stamkos. It makes sense. It's the best team other than Tampa he could join. It's Tavares insurance. Discuss.

— Neil Goldberg (@SportsOn1Neil) June 20, 2016
It could work. The Islanders have the room to sign Steven Stamkos if he wants $10 million. They need him. The Islanders are a team trending in the right direction. Kyle Okposo is for sure gone, but Stamkos signing means Frans Nielsen is surely gone too. That insane Casey Cizikas contract seems to say he'll be used as a third-line center next year, so going with Tavares-Stamkos-Nielsen-Cizikas is impossible.
Then again, it may not work. The Islanders have so many good young centers already, even if they can play wing and have had their issues with consistency. Brock Nelson, Anders Lee and Ryan Strome are already on the roster and potentially all very good. Then there's Mikhail Grabovski. God, the Islanders have a lot of centers they are sticking on the wing.
I have no idea. I could see Stamkos going to Detroit, Buffalo, the Islanders or even Toronto. I think Buffalo would be the ballsiest and best long-term pick (and it puts him close to Toronto), but I'm not his agent. I can be, but he refuses to take my calls.
3. Hurricane force
https://twitter.com/fordhatch97/status/744944310102147072
No? Maybe? Cam Ward making at least half the starts devastates this team. They might make the playoffs. They might not. Thanks for reading.
4. Stromb-no!
@davelozo what does Rogers gain by bringing Ron McLean back to #hnic ?

— Chris Doyle (@cdlawrence) June 20, 2016
I'm the wrong guy to ask. I live in America, where Ron MacLean's presence on NBC would be welcome the way rain would be welcome to a desert. I don't watch Canadian TV, so I have no idea how George Stroumboulopoulos did his job. Maybe he wasn't into it. Maybe he wasn't into it enough to make idiot hockey fans happy.
The part of the Toronto Star story/hit piece that bugged me was this:
With his penchant for skinny suits and a resume that included time as a MuchMusic veejay and 10 years as host of a CBC TV talk show, Stroumboulopoulos was different by design. Moore embraced the new host's uniqueness at his 2014 unveiling: "He'll sort of be like that Sesame Street thing — one of these things is not like the others — but he'll bring something different and his own unique take on hockey broadcasting," Moore said.

But with ratings down, insiders say executives suggested to Stroumboulopoulos that he tweak his appearance to be less jarring to some mainstream eyes. A trip to the tailor for a more conventional wardrobe was on the list of polite requests.
Can you imagine having a host that's young enough to want to wear a skinny suit and skinny enough to fit into one and that's a bad thing? Can you imagine seeing ratings down and instead of blaming the awful, unwatchable Toronto Maple Leafs or a lack of Canadian teams in the 2016 postseason, you blame a dude's skinny tie? Is it possible to be worse at your job as a television executive?
Ratings are down everywhere because hockey, as a sport and as an entertainment product, isn't very good. It's not because Strombo has a tailored suit or Liam McHugh enjoys pastels. Christ.
5. Dealing Datsuyk
https://twitter.com/schulte86/status/744916489992536064
Doesn't it have to be Arizona? A $7.5 million cap hit is no small thing in a world where the cap isn't going up all that much. So you need a team with boatloads of space that isn't going anywhere in 2016-17 and wants a prospect that Detroit will surely have to attach to the deal to make it happen.
New Jersey already made a trade to get Marc Savard's contract. Could New Jersey take another? Yeah, sure, but at some point, you'd like to start adding players that can actually take the ice in 2016-17.
There are only 11 teams below the cap floor right now, but most of them are within a couple million dollars and will get there by signing RFAs and UFAs. The Devils and Coyotes aren't close and it wouldn't hurt either to punt next season. Those are my guesses.