The St. Louis Blues were supposed to be a pretty solid team in 2017-18. They weren't supposed to be one of the most dominant teams to start the season, particularly after several of their key players went down with an injury.
Back at the end of September, we wrote about the Blues and their crazy list of injuries to key players. Robby Fabbri, Jay Bouwmeester, Patrik Berglund, Alexander Steen and Zach Sanford all went down with a variety of injuries, setting up the Blues for what should have been a nightmarish start to the season.
Instead, the Blues are off to their best start in franchise history.
Life is good when you're No. 1. #stlblues #AllTogetherNowSTL pic.twitter.com/xLcypNmPGE

— St. Louis Blues (@StLouisBlues) November 8, 2017
Just like we all predicted.
Entering 2017-18, injuries were the main focus for the Blues, but they also had to address plenty of other questions beyond the topic of injuries. Would Jake Allen maintain his impressive form seen in the playoffs last season? Would the Blues' stable of young prospects be able to break through and compete at the NHL level? How would head coach Mike Yeo build off of his strong start seen at the end of last season?
So far, all of the answers to the questions above have been extremely positive.
Allen has been reliable in goal (.921 save percentage), making some slick saves to keep the Blues in tight contests. Once a player often criticized, Allen has been steady. Backup goalie Carter Hutton has seen limited action, but has been nearly perfect with a 3-0-0 record and a .950 save percentage.
As far as the youngsters are concerned, the Blues have given several a shot at the NHL level and have had some hits and misses. Sammy Blais, Tage Thompson and Ivan Barbashev weren't very impressive, but the team has seen 21-year-old Vince Dunn (pictured above) flourish.
The bright side here is that the Blues haven't even called on all of their young talent. You can make a strong argument that the Blues have the best young depth in the NHL. By having so much depth, the Blues have been able to pick and choose who they want to bring up and when. That's a luxury few teams have. If you take a close look at the Blues' system, you'll see what looks like a lot of talent on tap for years to come.
Coaching changes are sometimes overblown in the NHL, but the change between Ken Hitchcock to Yeo can't be overstated or oversimplified. In terms of overall strategy and the approach on the ice, there are a lot of similarities between Hitchcock and Yeo. It's the mentality and message where the biggest change has been. The Blues look far more relaxed and happy to be skating under Yeo, and it's showing with how well they've been playing.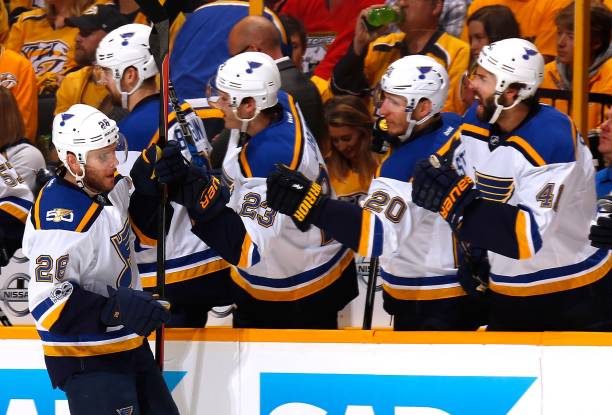 Slowly, the Blues have been returning some of their injured players back into the lineup. Steen returned and made an immediate impact, disrupting the opponent with his usual tenacity while collecting six points in 10 games.
Let's also talk about the ridiculous line that is the Vladimir Tarasenko – Jaden Schwartz – Brayden Schenn combination. This group has been one of the best lines in hockey, combining for a total of 58 points (21 for Schwartz, 19 for Tarasenko and 18 for Schenn) in 16 games. Keep in mind that Schenn was a player the Blues picked up in a trade this summer that sent Jori Lehtera to Philadelphia. In case you're wondering, Lehtera has just one assist in nine games and has frequently been a healthy scratch. It doesn't take any serious analysis to figure out which team is currently winning that trade.
It's unrealistic for the Blues to keep up this kind of pace all season long. The team will have to make some tough decisions when players such as Berglund and Bouwmeester return, altering the chemistry of a roster that has been nearly unbeatable. Getting those players back should be a good thing, but it's hard to tinker with something that's working.
With the weight of 50 years of playoff disappointment looming over their head, fans have to be asking — is this finally the year for the St. Louis Blues?