It's almost been a year since the surprising announcement that Academy Award winner Alicia Vikander would take the role of Lara Croft in a rebooted Tomb Raider movie franchise. Some 11 months later, we now have proof that MGM and Warner Brothers really are making the film, which is shooting right now in South Africa, and Vikander is indeed suiting up as the adventuring archaeologist.
On Tuesday, Vanity Fair released the first look at Vikander as Lara Croft with two images, along with an explanation as to what the new movie will be about. Here's the synopsis, courtesy of VF's Katey Rich:
"Seven years after the disappearance of her father, 21-year-old Lara has refused to take the reins of his global business empire, instead working as a bike courier in London while taking college classes. Eventually she becomes inspired to investigate her father's disappearance and travels to his last-known location: a tomb on an island somewhere off the coast of Japan."
So what we have here is Lara Croft's origin story. Here's a look at Vikander in full Croft costume, ready to raid some tombs.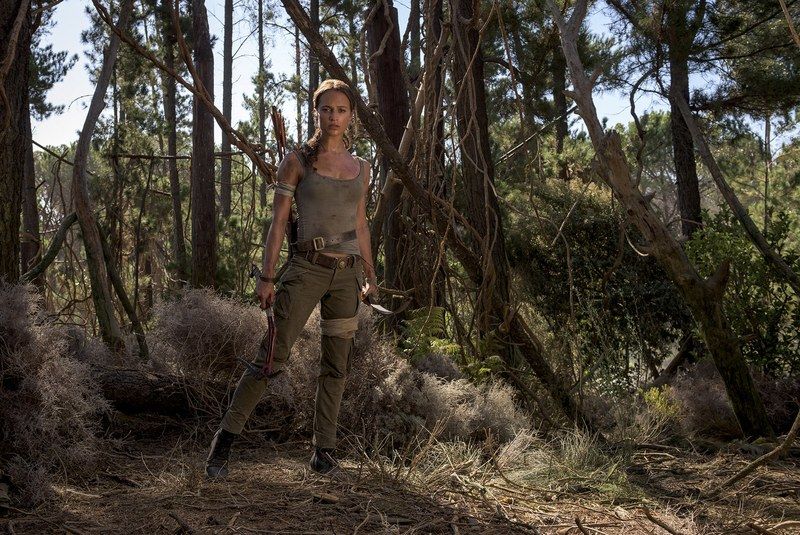 Perhaps signing on to play Lara Croft shouldn't have been a surprise, considering that this seems to be the successful formula for many actors in Hollywood these days. Everyone is looking to attach him or herself to a blockbuster series, typically a superhero franchise. For an actress, Croft might be the best of those roles out there. (Wonder Woman might put up an argument there.)
What made this a curious choice for someone like Vikander, coming off an Oscar win, is that attaching herself to a franchise often leads to signing on for multiple films. That sort of commitment scares off some actors. But Vikander's still young (28) with presumably a long career ahead of her. If she's going to play a big-budget action kind of role, this is the time to do it. Plus, there just aren't many of these sorts of franchises available for women. Angelina Jolie's career was ignited by playing Croft in 2001's Lara Croft: Tomb Raider and 2003's Lara Croft Tomb Raider: The Cradle of Life. Vikander called Croft "an iconic character" and a role model for young women in an email to Vanity Fair.
Vikander is also striking while her career is hot. In addition to The Danish Girl (for which she won her Oscar), she also starred in Ex Machina and The Man from U.N.C.L.E, and had a cameo part in Burnt during what was a strong 2015. Last year wasn't exactly as hot, with a supporting role in the disappointing Jason Bourne and the tepid The Light Between Oceans, which did no favors for her or co-star Michael Fassbender.
Directed by Roar Uthaug (The Wave) and co-starring Dominic West and Walton Goggins, Tomb Raider is scheduled for a March 16, 2018 release.