The battle between Solo: A Star Wars Story and Deadpool 2 could be a very entertaining one, as both films rev up their respective marketing machines and chug toward their May release dates, which are a week apart on the calendar.
Solo had the Super Bowl spotlight for its first teaser trailer, and released another on the following Monday morning. But Deadpool isn't letting Star Wars get all the movie geek fan attention. In a pleasant surprise, Fox dropped a new trailer for Deadpool 2 on Wednesday morning that included much more footage of Josh Brolin as Cable, the soldier from the future with telepathic powers and cybernetic enhancements sent back in time to prevent an apocalypse.
Sound like The Terminator? The first part of this new trailer seems to lean right into that, looking like a copy of the cyborg created by James Cameron and famously played by Arnold Schwarzenegger. Lest you think this is another film set in a post-apocalyptic future with a grim, dark warrior fighting robots and helping humanity, Ryan Reynolds and Deadpool stick a pin in that balloon and pop it to hilarious effect. (The teddy bear sets us up for that, though.)
Here are five takeaways from the latest two-minute gem that Fox, Reynolds and Deadpool gifted to us. These trailers are works of art in themselves:
Not even Superman is safe from a Deadpool skewer
The early part of the trailer takes a shot at Justice League and the embarrassing issue involving Henry Cavill and the mustache he grew for Mission: Impossible – Fallout. Paramount wouldn't let Cavill shave off the mustache for Justice League reshoots, leaving Warner Brothers to digitally erase his facial hair.
Unfortunately, the CGI work was anything but flawless, making Cavill's face look strange in the scenes reshot by Joss Whedon. Deadpool makes fun of that with early footage that shows Brolin as Cable with a lime-green sleeve on his left arm where his bionic arm is supposed to be digitally inserted.
"What in the actual ass?" screams Deadpool. "Dale, why are the visual effects not done? It's a metal arm! It's not like we're trying to remove a mustache!"
Ooh, that is scathing. Superman's heat vision couldn't leave a burn like that. And nobody does it better than Deadpool.
More original comedy bits
Like the first Deadpool 2 teaser, this trailer has a comedy bit that leads into the actual footage from the movie. In that initial preview, Deadpool dressed up like famed artist Bob Ross and painted some beautiful scenic landscapes. Then we got a quick montage of clips.
This time, frustrated by the lack of digital effects, Deadpool takes matters into his own hands and creates a key action scene between Deadpool and Cable using action figures, toy cars, green Army figures, cotton ball clouds and cardboard buildings wrapped with colorful paper. Actually, it's a pretty impressive cityscape — especially if Deadpool had to come up with the whole scene pretty quickly.
Will that smothering-crotch finishing move be used in the actual movie? Let's hope not. Or maybe they can pull it off since Reynolds is so good at this kind of thing. Best of all, these trailers contain original footage that makes them worth watching. Maybe we'll get some extended versions of these on the Blu-ray. An action figure with Deadpool wearing a bandolier hat, poncho and sheriff badge would be fun too.
First look at Domino
Thanks to Ryan Reynolds and his Twitter account, we've gotten a look at the other key character that will join Deadpool and Cable in this violent ramp: fellow mercenary Domino, played by Zazie Beetz (Atlanta).
But this new trailer gives us our first glimpse of the character in action. (In the first trailer, she was just seen in silhouette in a fiery doorway.) First, Domino is shown kicking what looks to be some security guard ass. But later on, she's firing an Uzi with a very big knife at the end of it. Based on this, Domino appears to be just as lethal as Deadpool. What we don't know is if the movie will feature her powers from the comic book: a form of telekinesis that affects probability and luck.
We'll likely be seeing plenty more of Domino in another Deadpool movie or as part of an X-Force film, which is reportedly in development.
Hey, is that X-Force?
Speaking of X-Force, if there was any doubt about that movie being made, there's another shot in this trailer which certainly appears to be our first look at the mercenary mutant supergroup. Domino and Deadpool are recognizable (and Cable will be part of the group), but who are the other three guys?
That's Terry Crews (Brooklyn Nine-Nine) on the right, and comic book and movie bloggers are already speculating that he could be a number of characters associated with Deadpool and Cable, including mercenaries G.W. Bridge and Hammer. The guy between Deadpool and Crews with the headgear is very likely Shatterstar, a sword-wielding alien warrior who appeared in the New Mutants comic book. Like Deadpool, Cable and Domino, he was created by artist Rob Liefeld.
Who that is between Domino and Deadpool on the left of this image is anyone's guess, and there are plenty of characters from the X-Force comic books that could be possibilities.
What a feeling!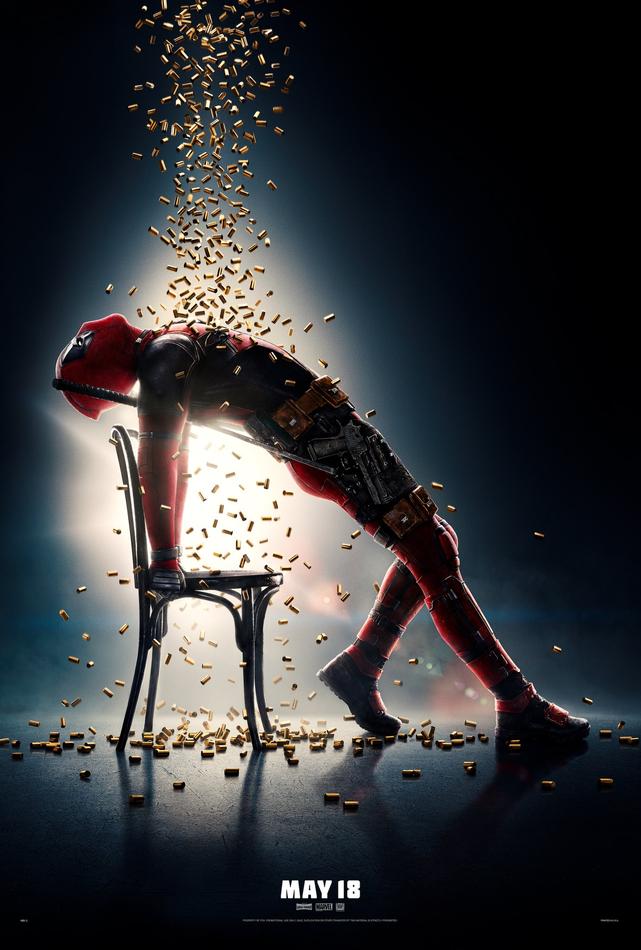 OK, this wasn't part of the trailer. But on Tuesday, Fox released a new poster for Deadpool 2 that evoked the signature image from 1983's Flashdance.
Is it as cool as the posters Lucasfilm released for Solo? Or even the Norman Rockwell-esque Thanksgiving setting used for the first Deadpool 2 poster? Oh, and there was yet another poster inspired by Michelangelo's famous painting, The Creation of Adam. As with the first Deadpool movie, the marketing department is doing a fantastic job promoting this movie, getting fans excited, and providing plenty of material that can be appreciated outside of the film.
Originally scheduled for a release date, Deadpool 2 will now hit theaters on May 18 — one week before Solo. Oh, it is on.