NBC's The Good Place has become known for a lot of sports references over the years, but many of the most notable have been about Jacksonville Jaguars' superfan Jason Mendoza. Adorable doofus Jason (played by Manny Jacinto, seen above at a Jaguars' playoff game in January 2018) loves many things, but he really loves the Jaguars, and in particular, quarterback Blake Bortles. That's led to him going so far as to get married in his Bortles jersey and to repeatedly yell "Bortles" when he throws a Molotov cocktail (something he does a lot, to the degree of real-life Molotovs now requiring Jason Mendoza references). But with Monday's news that the Jaguars plan to sign Nick Foles in free agency and release Bortles, even the show's official Twitter account (which used to only follow two accounts, the Jaguars and Bortles; sadly, it's now only following philosophers) is a bit worried about Jason:
Has anyone checked to see if Jason Mendoza is okay?

— The Good Place is in the dot of the "i" (@nbcthegoodplace) March 11, 2019
And writer/producer Megan Amram sent out her own crying emoji tweet Monday:
Bortles 😢

— Megan Amram (@meganamram) March 11, 2019
So what happens when Jason's loyalty becomes split between the Jaguars and Bortles? It seems likely he'll stick with the team, as we've already seen that he can't handle going against the Jaguars. Even in a Madden game with eternal damnation on the line. But Blake Bortles is a cool name, one so cool that it's already served as a couple of plot points, including with alias inspiration:
And Bortles (or Jortles) is by far the best thing to say when throwing Molotov cocktails: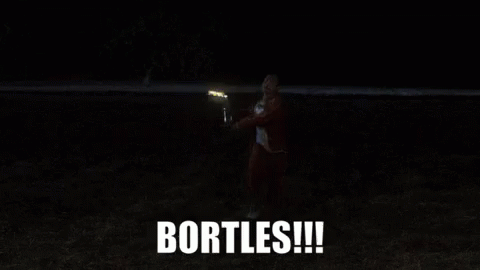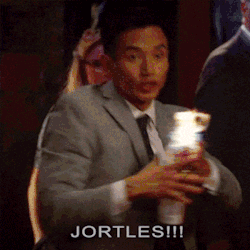 In fact, maybe that's the solution here. As it is to most things.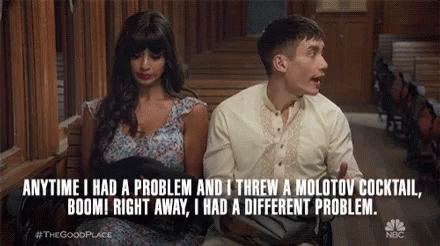 And the whole Jeremy Bearimy of it all means that it isn't even necessarily the current year in The Good Place, so maybe this won't have any on-screen effect and Jason can live in a Bortlesian paradise forever. But, hey, if he really needs to yell about Jacksonville's quarterback, there's a nickname he could use. It might not be fit for broadcast television, though.
[The Good Place on Twitter; photo via the Jaguars' Twitter account]