Finally, with three episodes remaining, The Night Of provides a suspect with motive to murder Andrea Cornish, one that could possibly create reasonable doubt for a jury regarding Nasir Khan's guilt.
At the end of episode six, "Samson and Delilah," John Stone finds out some background information on Andrea's mysterious stepfather — Don Taylor, whom we were introduced to in episode two — after investigating a question virtually every viewer had from the series' very first episode. How could a 22-year-old single woman afford a multi-million dollar brownstone on New York's Upper West Side? When interviewed by Detective Box, Taylor mentioned that Andrea's mother owned the residence, so it was left to her daughter after she died.
Stone didn't know that, however, and began to dig when he became curious about that townhouse. That led him to the guy Taylor was seen arguing with at Andrea's funeral in episode four, Ray Halle (Paulo Costanzo). It turns out Halle is a financial advisor, and he's not willing to talk due to confidentiality. Stone says any information given would be off the record, but he can also file a subpoena to get what he needs. Halle then reveals that Andrea's mother was his client and Andrea came to him after her death to sort out her affairs. Her stepfather might end up getting half of her estate.
Halle then points out the rather obvious matter that was raised when Taylor was introduced: He seems awfully young to be Andrea's stepfather. To be exact, he was 25 years younger than Andrea's mother when they got married. Apparently, Taylor has a pattern of cozying into relationships with much older women who have a lot of money. He also has a record filled with restraining orders and things of that nature. Halle explains that Taylor was a personal trainer who made around $30,000 a year and stopped working after he married Andrea's mother. And because of that marriage, he wants half of everything that was being left to Andrea — which amounts to approximately $6 million.
According to Halle, Andrea said no way. To be more exact, she said, "Over my dead body." With Andrea out of the picture, who's in position to get all of that fortune? Just in case that doesn't work out, however, Taylor seems to be already working on his next easy fortune. Stone finds him at the gym where he trains and he's working with an older woman who seems entirely happy to be getting attention from a much younger man.
No, this doesn't mean that Don Taylor killed Andrea Cornish. But he looked suspicious from the start, apparently uninterested in identifying Andrea's body and at one point even denying that the woman in those autopsy photos was her. It was clear when Box talked to him that Taylor and Andrea didn't have a good relationship. And now, we see that there's a clear motive for him to have killed Andrea: Her mother's multi-million dollar fortune. Could that be enough to present reasonable doubt to a jury, regardless of whether or not Taylor did it? Did Stone discover this information in time to be used during the trial? Writers Richard Price and Steven Zaillian are seemingly getting ready to pack a lot into The Night Of's final two episodes.
We don't know what became of "Duane Reade," another suspect who Stone tracked down in the previous episode, only to lose him in a dark alley. Stone apparently thought better than to follow Reade into an unknown corridor where he could be attacked. But there was no mention of Reade this time around, which either means that Stone decided to move on or that he's filed under a list of possible suspects to give to the jury during the trial.
In the meantime, Chandra speaks to yet another person whom Naz and Andrea encountered on the night of her murder: The hearse driver who stared down Andrea and reprimanded her for tossing a cigarette butt out her window at a gas station. Chandra gets the hearse's license plate number from the gas station's surveillance video and tracks him down to the funeral home where he works. And he is all kinds of creepy and threatening to Chandra, talking about the vibration Andrea was giving off that night and how he could tell that she was a "destroyer" who thought she was "God's gift." Clearly, the guy has some issues with women. But that doesn't mean he killed Andrea, even if he refuses to account for his whereabouts after leaving the gas station. On the bright side, he didn't place a photo on top of a dead guy's penis for Chandra to look at like the medical examiner did with Helen Weiss in last week's episode.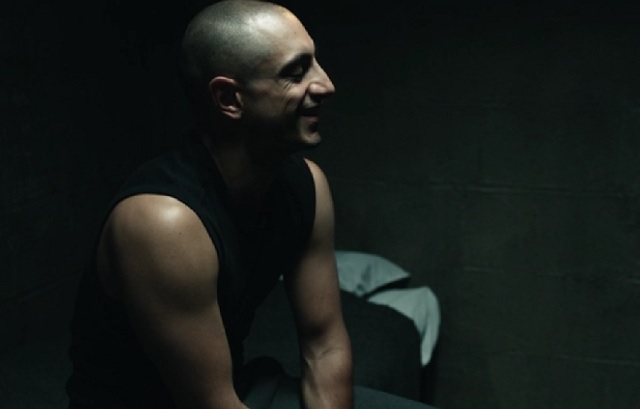 As his murder trial is set to begin, Naz is falling deeper into prison life more specifically, his friendship with Freddy. We joked last week about Naz having a bunch of tattoos the next time we saw him, but that wasn't so far off. Naz did indeed some fresh ink in this episode. First, the word "SIN" tattooed on the first three fingers of his right hand, which should be a great look in court if the jury ever sees that. Later on, he gets a silhouette of a wolf — presumably inspired by Freddy's love of Jack London's Call of the Wild — inked onto his left arm.
But Naz has to do something to pass the time when he's not doing push-ups in his cell, smoking meth, charging people to use a cell phone or catching one of Freddy's guys getting a blowjob from another of his gang. Oh, he's also appearing in court, where he learns that defendants always wear white shirts. Information for life.
Stone also continues to learn that Naz isn't the good boy everyone pegged him as when he was initially arrested, then charged. While looking into Naz's background, Detective Box wants to know why Naz transferred from a high school near his home in Queens to one in the Bronx. Talking to his old basketball coach, Box finds out that Naz got into a fight with a student and pushed him down a flight of stairs. Naz later explains to Chandra (after Box taunted Stone with this information) that he was constantly bullied after 9/11 and finally lashed out. But he admits that he felt virtually nothing for what he did. Pushing that kid down the stairs was no more notable than pushing open a door. As Freddy noted last week, Naz has some rage inside him. And maybe some sociopathic tendencies as well.
However, we saved the best development of episode six for last. Stone's eczema may have finally been cured! Desperate for yet another measure after the corticosteroids he was prescribed killed his sex drive (and the Viagra he scored from a dealer was wasted when his favorite prostitute wasn't available), Stone goes into Chinatown to find some herbal remedies. After taking a look at those feet, Doctor Yee puts together a mix of powders ("tree bark and fish powder," Stone guesses) "for feet and for sex" that Stone mixes with water and gulps down. Within a few days, Stone is delighted to discover that his feet look normal. There's no inflammation or cracked skin. No itching. He can wear shoes again — and just in time to appear in court for the case that could make his career.
Doctor Yee may have some more business after Stone shares his good fortune with his ezcema support group. (Don't forget the aphrodisiac he throws in with the deal!) And Stone might have the confidence he needs in court, now that his embarrassing condition has seemingly been cured.
[You can read all of our The Night Of recaps and coverage here.]