There were 17 chefs to start the season on Top Chef, and now as the finale (really the semifinal, let's be honest) begins, there are just three. And soon to be four once they announce who won the online competition known as Last Chance Kitchen, but for now, just three.
First is Jeremy Ford from Miami, who inexplicably won the most challenges this season. Hi Jeremy.
Then there is Marjorie Meek-Bradley from DC who has worked for some former Top Chef contestants and talks about how she now has confidence she didn't have when she started the season. Hello, Marjorie.
Last (but really not last) is Isaac Toups, a protégé of Emeril and native of New Orleans who got to the finale by almost defiantly refusing to cook anything other than what he knows best. Bonjour Mr. Toups.
The cheftestants are staying at the MGM Grand and their suite is, well, pretty sweet.
They even got monogramed pillows. But I have to say, by the looks of that mint on the bed, they have a better selection at the Luxor across the street.
After a night of celebrating their accomplishments, the chefs head to the MGM Grand arena, where they meet Padma and Tom to find out who won Last Chance Kitchen. (Fun fact: I'm going to find out with them, as I didn't watch one episode of LCK this year. I genuinely meant to, Bravo executives reading this. I swear I did. Sorry.)
So who is it?
(Psst…It's Amar.)
It's Amar Santana! Hi Amar.
Let's be honest here it would have been a surprise if it was anyone else. It also would have been awesome if they fashioned an Amar-shaped suit that Phillip was wearing just for that backlit moment of suspense. Alas…
The first challenge in this not really finale finale gets a spot in the real finale. The winner of the second challenge will meet that chef in the finale. So essentially the chef who wins the first challenge gets a bye into the finale. The real finale. Not this semifinale finale.
Padma then whips out four playing cards, all aces, and explains that each suit was used to represent a different sector of society. The spades represented royalty, the hearts represented the clergy, the diamonds are for merchants and the clubs represented peasants.
(Personal note: I have played hours upon hours of poker and other games with a deck of cards and I never knew what the suits meant until watching a food show. This food show. I feel like this is a life moment for me. I'm glad you can share it with me.)
Each card connects to a pantry with different food that would have been available to the group associated with that suit. Each chef is then dealt a card by Padma while Tom plays the role of pit boss.
"Changing four hundred? Tom? Hello?"
Jeremy is dealt last but flipped first. He gets diamonds, the merchant pantry. Marjorie hits gold, perhaps literally, with spades, which is the royalty pantry. Isaac gets hearts, which is the clergy pantry and I'm most eager to know what that pantry consists of, which means that Amar gets the clubs, or the peasant pantry, which may mean he's stewing the hell out of something soon.
Oh, and Isaac is an atheist, which is hilarious. The rules then changed right after they were explained, as Marjorie can take ingredients from all four pantries, what with her being royalty. Isaac and the clergy get anything from three pantries—no royal items for them—while Jeremy gets the merchants and the peasant pantry. Huh, the guy who won Last Chance Kitchen gets the hardest challenge. That almost seems like the game is rigged.
They have three hours to cook for 150 people. And they each get a sous chef.
Marjorie picks Karen, correcting that near mistake from last week. Isaac snags Carl. Jeremy takes Kwame so he can call him bro, probably. He calls Marjorie and Isaac "idiots" for not taking Kwame. Let's see how that goes. Amar is saddled with Phillip.
The winner gets a trip to the finale and $25,000 in cash. So start cooking!
Marjorie has the pick of the pantry and despite some amazing dry-aged beef, she decides to go with salmon and the best vegetables she can snag from everyone's pantry. Amar, on the other hand, has to choose between beef tongue and chicken livers. Yum. He chooses the chicken livers and onions, which is probably a safer bet given the number of plates he has to produce.
Amar sees the beauty of having the hardest pantry because he isn't worrying about deciding what to cook. He has very few options, so he cooks what he has. Isaac, on the other hand, has a lot of options and goes with the black cod and he's cooking it to order. He doesn't seems concerned, which concerns me.
Jeremy is going confit chicken with crackling, pickled vegetables, chiles and grapes. He wants it to smack the judges in the face.
Kwame: You tasting everything?
Jeremy: I can taste it in my head…
That's not how tasting works, Jeremy.
Marjorie is three levels deep on her finale freak out, now freaking out over the fact that she's freaking out. This reads weird, but if you listen to her, it makes total sense. She had too many choices, so now she's concerned that her choices, though definitive, are too safe. So, in that way, they aren't definitive at all, and it's messing with her head.
Isaac says he wants this so bad he can taste it. "Pun intended." Well it damn well better have been intended, man. (Jeremy probably said he wants it so bad he can think it. Zing!)
Does anyone know how long it is until service?
The doors open and the judges for today are Padma, Tom, Gail Simmons and guest judge Rick Moonen. Hi judges!
They decide to work their way up from peasant to royalty, starting with Amar's chicken livers and onions. The judges love the dish, as do some of the patrons.
Jeremy is next with his merchant dish, a butter poached chicken with zucchini purée. Jeremy really hit his stride recently, and the grapes were a wonderful touch for the judges.

Isaac's clergy dish is seared black cod with caramelized fennel, eggplant and red wine vinegar. It looks larger than the other dishes and the judges liked it, but didn't seem to love it. The other patrons seemed less enthused than that. He'll certainly be cooking another day. If I had to guess at this point, I'd say Jeremy is safe, unless Marjorie can top him.
Marjorie made the seared salmon with a vadouvan beurre monté which is just a fancy way of saying melted butter. They loved her dish, including the Meyer lemon puree. She may win this after all.
Before we announce who gets to the finale part of the finale, let's pause to revel in how beautiful this show can be. Not only are the shots of food amazing, but look at the way this arena is set.
This was after 150 people were just eating in that room, and now, it looks like a pristine stage where someone's going to win $25,000. So let's get to that.
After talking about how every dish was awesome, Mooney announces that the winner is…The Vanderpump Rules?!?! Oh, wait, that's a commercial.
The winner is Jeremy. As good as the salmon and butter was, it wasn't enough to beat grapes and chicken. Jeremy is in the finale, which is an amazing turnaround considering he should have been sent home TWICE in the last four weeks. Seriously, twice he was inexplicably saved by the judges, and how he's in the finale.
Like any god plate of food, Jeremy got hot at the right time. Unless it was a crudo. Nobody wants a hot crudo. That means that only one of Marjorie, Isaac and Amar will get to the finale, which is disappointing for people who are anti-bro, but good for, um, people who are pro-bro?
And in walks David Copperfield! He will help judge a "magical" dish to get to the finale. Marjorie is pissed, because she's not a showy chef, says the woman who signed up to compete on the most popular cooking show on television.
But first, they go see Copperfield's show. It's exciting! And there's fire! And illusions!
While Jeremy relaxes, the remaining cheftestants have to create a magical dish to save their culinary lives! Marjorie is making duck á l'orange, which she adorably pronounces "duck ala ornge". She's telling a story of her culinary life. IN ORDER TO SAVE IT.
Isaac is taking an amazing dry-aged rib eye and adhering a Cornish game hen skin to it, to make a clever play on chicken fried steak. That's ballsy, and his element of surprise.
Amar is going for technique to surprise the judges. Roasted squab with a savory meringue, potatoes that look like onion rings and a liquid nitrogen mole sauce. Damn, that is technique.
Marjorie is also using liquid nitrogen, and she's never used it before. So of course, she burnt her tongue and can no longer taste anything. Let me guess…she's freaking out.
Before the dishes are served, Gail talks about how chefs have become entertainers in today's high end restaurants, with open kitchens and greeting guests all the time. It's a different industry, one with far more showmanship, than in generations past.
Marjorie needs to work a little on that showmanship, as she serves the judges a plate of food, then pulls it back to cook it better…? Tom, your thoughts?
The finished product looks amazing, though her presentation was horrific. Good thing this is Top Chef and not Top Presenter, am I right?
They love the dish, and the fact that she interacted while she was cooking. Tom just wishes there was more orange in her duck á l'orange.
Isaac is next, and he's starting with comedy. He explains his "chicken fried steak" and the judges, well…Tom?
Isaac's showmanship is awesome, and as he serves the dish he has an egg in his hand and pretends to throw it at Padma.
Tom?
Isaac made the egg white and egg shell "disappear" and all that was left on each dish was his "egg yolk" which was a yuzu hollandaise sauce under a shot glass. Clever.
The dish tasted fantastic, but the puree was grainy to Tom and Gail. It's that small, the margin for error, so it will be hard for Isaac to get through with that. I'd have to say Marjorie is in the lead.
Amar is up last and he isn't talking to the judges at all. Tom?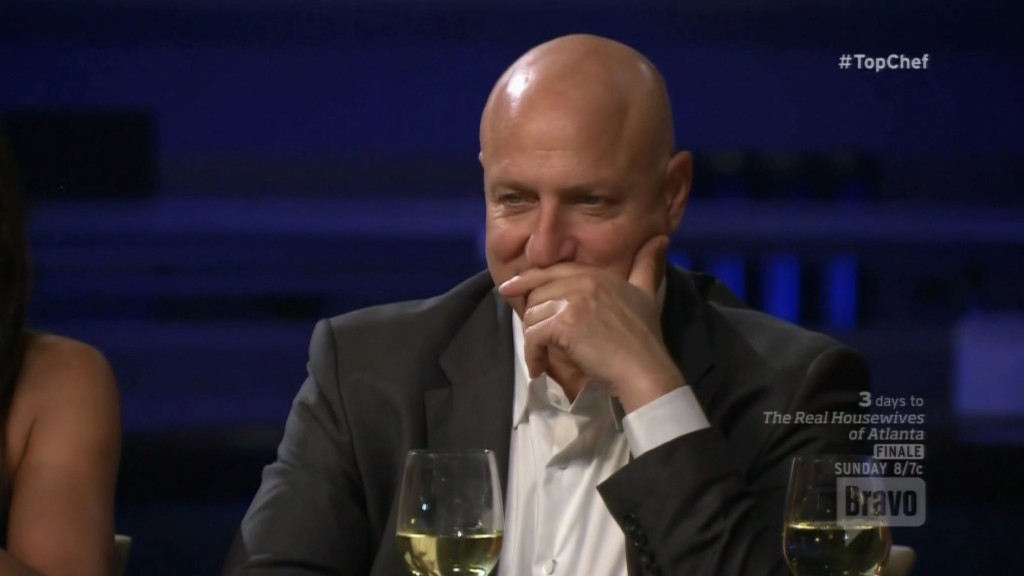 Amar is, say it with me, freaking out! He just wants to make an amazing dish, he doesn't care about the show. The dish is beautiful and insanely creative, but he will most certainly lose points for not talking to the judges at all during his cooking segment.
The judges think the dish is interesting and technical, but they didn't seem to looooove the dish like he had hoped.
Everyone is nervous, understandably, but they all did really good work so if they lose, it's on a good dish they should be proud of cooking. Ultimately, that should be what matters the most.
Onto judges table with Padma, Tom, Gail and chef and restaurateur Julian Serrano, where Marjorie's dish is well received, as was her presentation. She explained how she couldn't taste because of the liquid nitrogen burn, which is a reason but not an excuse for a lack of orange flavor.
Amar is hit again for his absentee showmanship and tried to cover that up by surprising the judges with his dish. The dish was nicely composed and they seemed okay with the lack of interaction.
For Isaac, Tom said actually doing a magic trick in front of David Copperfield who, by the way, has disappeared for Judges Table, took "enormous huevos" which is funny because Isaac's trick involved an egg. They wish there was more chicken skin on their filet, which Isaac wishes too, as the skin shrunk more than he perhaps expected, or at least had hoped.
Last words, Isaac says he is a better chef than when he started and thanks the judges. Marjorie thinks she is a better person because of Top Chef. Amar said he came from the Dominican Republic when he was a teenager and had to make a decision to be a bad kid or a good kid, and the life advice his father gave him before he died has stayed with him to this moment. It was an emotional exchange for sure.
As the judges deliberate the three chefs talk about how much they want it. Spoiler alert: they all want it a lot.
Marjorie's presentation was good, but there was no "wow factor." Amar's dish was the best, but his show was the worst. As in non-existent.
Tom loved Isaac's dish, and they applaud his effort to go in a different direction from his roots. Padma talks about how hard the decision is. If I had to guess, I would say Isaac because of the combination of show and food, but that might be because I've been rooting for him all season. And just as Tom says "one dish stood out above the rest" I realized I've made a huge mistake.
And the other finalist is…Amar.
Marjorie and Isaac both get the knife-packing montage, and really either of them could have made it to the finale. This has been a really good season of cookery.
Amar dedicates the spot in the finale to his former boss, Gerry Hayden, who died after a battle with ALS in September. Earlier in the season he talked about how important Hayden was to his career, so to honor him in that way was a special moment.
Also a special moment…the inevitable bro hug from Jeremy!
Amar is the first cheftestant since Kristen Lish to get to a Top Chef finale after winning Last Chance Kitchen. Lish won her season after being booted, having to earn her way back to the top. Or should I say…Top. (It's really the same I just capitalized the second one because of the name of the show and I know I didn't have to explain that but it was neither my top nor Top pun of the day so I thought the longer this sentence goes the more distracted you will be from how far from the top or Top it was.)
If I had to guess, I said it about a month ago so even though he's already been sent home once I will say it again that Amar will win Top Chef. And yet, the rankings have to go the other way.
Top Chef Power Rankings
1. Jeremy
2. Amar
3. Everyone else
See you next week for the finale.