This is it. It's the final year people will get to attend the Vans Warped Tour before the annual festival is no more.
Tour founder Kevin Lyman announced last winter that the Warped Tour, as it has been known for the past 24 years, would not be continuing after 2018. There have been rumors that it could turn into a possible one- to two-day festival in the future, but the days of the tour going to 30-plus cities around the United States and Canada in one summer are over.
So with this being the 24th and final run of Warped Tour, of course it's going to bring the house down with a monumental lineup that people will be talking about for years, right?
Not exactly.
Last Thursday, March 1, the 2018 lineup was revealed and at first glance, it looked like a great mix of bands from past and present Warped Tours. Among those announced included All Time Low, Asking Alexandria, Beartooth, Bowling For Soup, Simple Plan, The Used, Silverstein, August Burns Red, Sum 41, Taking Back Sunday, and Every Time I Die.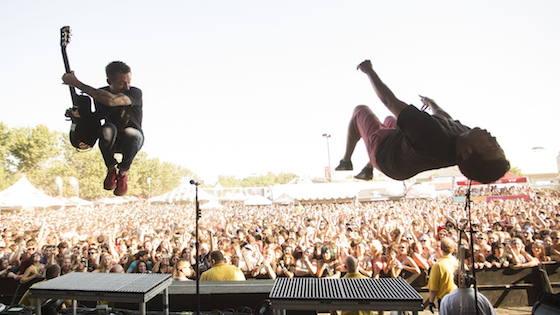 However, the majority of these bands are only playing on one or two dates of the tour. So for those Taking Back Sunday fans in New Jersey hoping to see their hometown band play at the final Vans Warped Tour this year, they would have to travel all the way to Ventura, California for the band's one and only day on the tour.
Now it's fine that a number of bands this year are doing this. Artists are getting older and have actual families and kids to raise now and cannot endure an exhausting summer tour anymore. That's totally understandable.
Just don't advertise the tour as if all of these great nostalgic acts are going to be on every date as it looked like when the lineup was revealed with this video.
Not until much later did it become known that a bunch of these bands would only be on one or two dates of the tour.
How many people rushed to buy tickets after the initial lineup announcement, before finding out who the actual artists were that would be at their specific date? There's a pretty good chance that those who did this are not too happy with the organizers of the Warped Tour right now.
Despite all of this, it should still be a good time for all of those who attend the tour this year, as it normally is.
Could the lineup be better? Yes, of course. But this tour was never going to have a Green Day or blink-182 again. (And that was a long time ago.)
But will thousands of people attend their first ever Warped Tour this year and still have it be something they never forget because their nose was broken by a 13-year-old girl in a mosh pit? Most definitely.