The WWE Extreme Rules pay-per-view took place on Sunday night in Pittsburgh. I thought it was a disappointing show with a poor first two hours, but the action in the last 90 minutes was better. There were not that many memorable moments other than Kevin Owens getting thrown off a steel cage through an announce table that was about 15-feet high in the air. I'll get to that later. In terms of results, there was nothing on the show that I would consider a major surprise.
Extreme Rules ran for 3 hours, 41 minutes on WWE Network. That's 34 minutes less than the last pay-per-view, Money in the Bank, which ran 4 hours and 15 minutes on WWE Network. Money in the Bank was the better show of the two, but the reason I'm pointing it out is that I'm a fan of the show running under four hours.
There were twelve matches in total counting the Kickoff Show. Here are the quick results.
Andrade Almas defeated Sin Cara by pinfall. (Kickoff Show)
Sanity defeated The New Day in a Tables Match. (Kickoff Show)
The B Team (Bo Dallas and Curtis Axel) defeated Matt Hardy and Bray Wyatt by pinfall to win the Raw Tag Team Titles.
Finn Balor defeated Baron Corbin by pinfall.
Carmella defeated Asuka by pinfall to retain the Smackdown Tag Team Titles.
Shinsuke Nakamura defeated Jeff Hardy by pinfall to win the United States Title.
Kevin Owens defeated Braun Strowman in a Steel Cage Match by escaping the cage.
The Bludgeon Brothers (Harper and Rowan) defeated Team Hell No (Daniel Bryan and Kane) by pinfall to retain the Smackdown Tag Team Titles.
Bobby Lashley defeated Roman Reigns by pinfall. Yes, really.
Alexa Bliss defeated Nia Jax by pinfall in an Extreme Rules Match to retain the Raw Women's Title.
AJ Styles defeated Rusev by pinfall to retain the WWE Title.
Dolph Ziggler defeated Seth Rollins 5-4 in a 30-Minute Ironman Match to retain the Intercontinental Title.
Here are ten takeaways on the show that took place at the PPG Paints Arena in Pittsburgh, PA.
10. The B Team winning the Raw Tag Team Titles was a surprise
I didn't think WWE would actually do it. The "B Team" duo of Bo Dallas and Curtis Axel call themselves that because they are two goofy guys that think they are "The Best Team" in WWE. Over the last couple of months, they have beat other teams in WWE, they beat Matt Hardy in multiple singles matches, and last night at Extreme Rules, Dallas pinned Hardy to win the Raw Tag Team Titles.
As I noted in the predictions article for the event, I figured Hardy and Wyatt would win since they are a face team that could feud with teams like The Revival or Authors of Pain after this. Instead, The B Team won, which will lead to what exactly? I don't know. Other than Hardy and Wyatt, Raw is lacking in face tag teams unless you want to count teams like Titus Worldwide or Slater/Rhyno, both of which rarely win any matches. I guess we'll get some rematches from The B Team vs. Hardy/Wyatt after this.
I enjoy some of the schtick of Dallas and Axel because they're two guys that have fun out there. They were booked as jokes for a lot of years, so it's nice to see WWE at least try to legitimize them a bit by putting the titles on them. I didn't expect it, but I'm hoping it leads to something interesting for them. I'm going to be optimistic about it.
9. Finn Balor's feud with Baron Corbin isn't helping either guy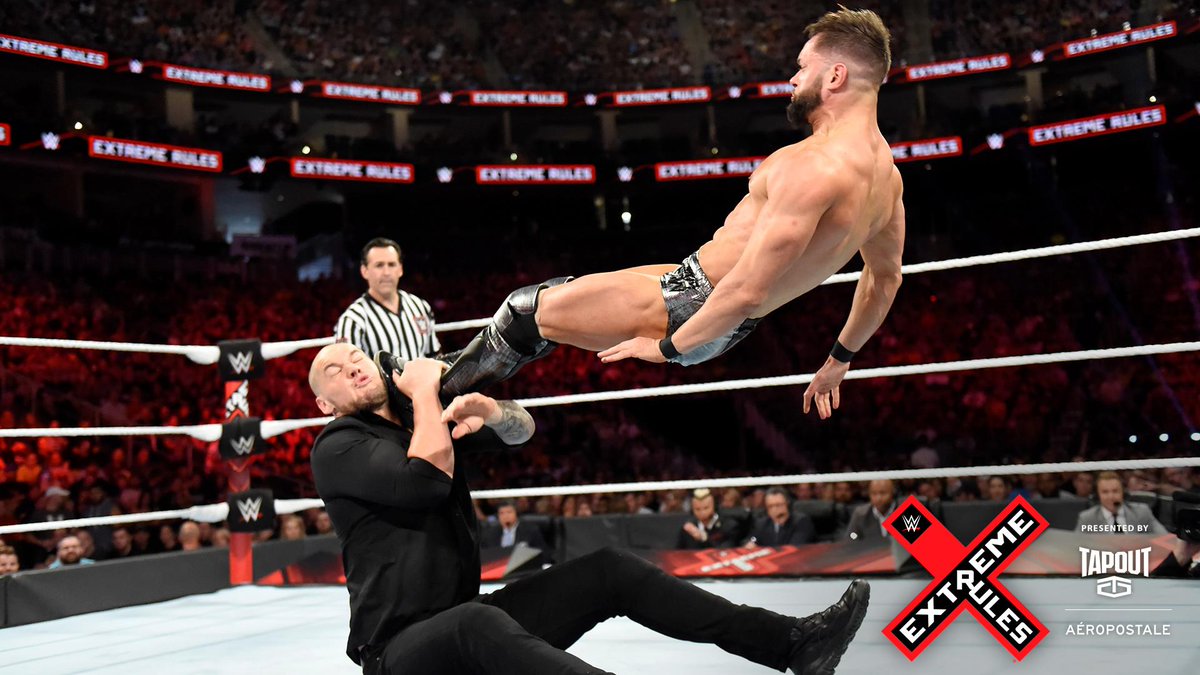 I was bored by Finn Balor's match with Baron Corbin. The match was dominated by Corbin for most of it, but Balor managed to get an inside cradle and beat him in under ten minutes.
I don't think it's a good idea to have Corbin wrestle in a dress shirt and dress pants just because he's "Constable Corbin." If anything, it makes him look less impressive. The guy went from being this badass "lone wolf" to somebody that wrestles in a dress shirt as if he is working at TGI Fridays like Balor has mentioned in promos. Why not wear a tie like Irwin R. Schyster 25 years ago? I'm kidding.
This rivalry isn't helping either man involved, yet it will probably keep going. It wouldn't surprise me if they did a rematch on Raw with Corbin getting the win to make it seem like an even feud. I'd rather see Balor move on to challenge for the IC Title and win it. This feud is boring me.
8. Asuka may be the worst booked wrestler in WWE this year
THIS is what happens when you get in between @WWEAsuka and the #SDLive #WomensTitle. #ExtremeRules pic.twitter.com/20ZKZtDq32

— WWE Universe (@WWEUniverse) July 15, 2018
It's crazy to me how bad Asuka has been booked this year. Last summer, she ended her NXT run as an undefeated champion. She went to Raw, looked like a huge star right away, won every match she had, and won the Royal Rumble. That's great, because it led to a WrestleMania match against Charlotte Flair, which was an awesome first time ever match. It was also the night that Asuka's streak ended because she lost to Charlotte in Asuka's first title match.
Fast forward to Money in the Bank last month with Asuka challenging Carmella. It was a bad match due to Carmella's performance, mainly because we know Asuka is a great in-ring technician who has had so many outstanding matches with different women in WWE. This match at Extreme Rules was even worse than the MITB match because they only went about five minutes with Asuka being booked like an idiot that forgot about Carmella on the floor because of Ellsworth in that stupid shark cage.
YOU MAD?!?!?! 🤑🤑🤑 pic.twitter.com/gKNVrMMOvl

— Smackdown Womens Champion (@CarmellaWWE) July 16, 2018
The whole women's revolution (or evolution) that WWE has been shoving down our throats for the past three years is based around featuring women more prominently in longer matches. The last two Carmella/Asuka matches have been awful. While I like Carmella as a heel, I miss seeing the women have killer matches on PPVs. We don't get that in her matches.
What was the point of Asuka winning the first ever women's Royal Rumble? It feels like WWE only had a short term plan with her facing Charlotte at WrestleMania, having Asuka lose that match and then they have no clue what to do with her. It's a shame because of how good Asuka is in the ring.
I assume Becky Lynch is the next contender for Carmella's title since Lynch has been on a winning streak on Smackdown in the last two months. Perhaps it will be Lynch that wins the title to try to restore some credibility to it as well.
7. Randy Orton is back to his evil ways, while Nakamura finally wins some main roster gold
The US Title match was an angle more than a match. Jeff Hardy, who was the US Champion, stood in the ring across from Shinsuke Nakamura. The referee took the US Title, handed it to somebody at ringside and while he did that, Nakamura hit Hardy with a low blow without the ref seeing it. Hardy got back up, said start the match, and Nakamura hit a Kinshasa knee strike to win the US Title. Hardy has a legitimate leg injury that could lead to him taking some time off, so that could be why it was kept so short. I'm glad that Nakamura won the US Title after losing so many WWE Title matches.
What was interesting about this whole thing is that Randy Orton showed up for a confrontation with someone after missing about three months following knee surgery. It looked like Orton would confront Nakamura since Orton has been a face for a few years. Nope. Orton went to Hardy, spread his legs, and stomped on him right in the groin.
Those actions from Orton likely mean he's back in the heel role he is most comfortable in. Orton has talked about for years that he hates being a good guy and loves being a jerk, so it should be something he enjoys for however long it lasts. Orton is a veteran upper midcard guy that can have solid matches with anybody. I hope they find a compelling story for him, whether it's with Jeff Hardy (if he's healthy) or somebody else.
6. Braun Strowman and Kevin Owens reminded us that winning and losing isn't that important
Wait, I lost the match?
Could've fooled me. #ExtremeRules

— Braun Strowman (@BraunStrowman) July 16, 2018
Kevin Owens beat Braun Strowman at Extreme Rules in one the cheapest "victories" you're ever going to see in WWE. Strowman dominated Owens in the Steel Cage, so Owens brought out handcuffs and cuffed Strowman to the top rope. When Owens climbed to the top of the cage, Strowman broke free. They battled on the top rope and Strowman gave Owens a Chokeslam off the 15-foot high cage through the English announce table below.
I thought the bump was unnecessarily risky. What's the point of doing something like that in a throwaway Steel Cage match where the result doesn't even matter? This is the second straight PPV where Owens did a crazy bump because Strowman threw him off a 15-foot high ladder threw a table at Money in the Bank last month. In this case, they replayed it a bunch of times and you could see an air mattress under the announce table, which softened the blow for Owens. It's still a crazy bump that I don't want to see somebody take. It reminded me of Mick Foley at King of the Ring 1998 (in the same building in Pittsburgh actually) although that one was riskier with a rougher landing. I guess my question is do we really need stunt bumps like this? I don't think so.
HOLY S**T!!!!!!!!!!! @FightOwensFight #ExtremeRules pic.twitter.com/NZHxWnzxyt

— Brian The Guppie (@briantheguppie) July 16, 2018
After the match was over, Strowman laughed about how Owens was the winner of the match because Owens touched the floor first. If the wrestlers like Strowman don't care about wins and losses in matches, why should the fans? The idea of pro wrestling is to try to make it seem like a real sport where there are winners and losers. If you go away from that, it takes away the whole concept of what pro wrestling is supposed to be.
This should lead to Owens bragging about the win while Strowman can laugh about how he hurt Owens. Both men could be part of the Universal Title picture at SummerSlam if it's a multi-man match.
5. Team Hell No's title shot ended up being a disaster
#AndSTILL your #SDLive #TagTeamChampions… The #BludgeonBrothers! #ExtremeRules pic.twitter.com/Xm0FUjZbO6

— WWE (@WWE) July 16, 2018
The Bludgeon Brothers attacked Team Hell No backstage earlier in the show. The big moment was when Rowan took a mallet and hit it against a door to trap Kane's leg. When the match began, Bryan was all alone for Team Hell No. Kane ended up returning midway through with a boot on his left leg, but he couldn't do much. Bryan ended up taking the pin for his team off a double team powerbomb/clothesline combo. The match went about eight minutes, so it was short for a tag team match.
I'm not sure what the original plan was for this match, but the Kane injury is legit. Kane is dealing with some sort of left foot/ankle injury and was in a walking boot earlier in the day, so WWE decided to work it into the story. Keep in mind that Kane has a mayorl election in Knox County on August 2, so if he wins that (which he is expected to), he may stop wrestling due to his busy schedule.
As for Daniel Bryan, I'm ready to see him have that singles feud with The Miz at SummerSlam. The feud with Big Cass bored me and I wasn't that excited about this Team Hell No reunion. Bryan needs to be featured more as a singles act. A summer feud with The Miz would be perfect for both of them.
4. Bobby Lashley called out Brock Lesnar after he beat Roman Reigns clean
There are fans out there that think Roman Reigns never loses matches except when he's against Brock Lesnar. It's not true, but the Reigns haters that never seem to go quiet tend to use that as a reason to hate the guy. Reigns does lose more than people think, but even I was surprised when Lashley beat him with one Spear.
It was a good match, and was the first match of the night to go over 10 minutes. The crowd was mixed in their reactions to Reigns as usual. I thought the story was interesting with each guy getting the advantage, the other guy kept coming back, and Lashley ended up getting the win after a Spear after about 14 minutes.
On the Extreme Rules post show, Lashley was interviewed and called out Lesnar. Lashley was very good in talking about how he's never gotten a shot at Lesnar while Reigns had several title matches against him. Lashley mentioned leaving WWE ten years ago, but now he's better than ever. I thought he was effective in getting his message across.
I don't know the plan for SummerSlam, but I think it might be a 5-way with Lesnar vs. Reigns vs. Lashley vs. Strowman vs. Owens for the Universal Title with somebody taking a pin that isn't Lesnar. That would lead to a new champion without beating Lesnar. That's what I think now, but we should know more on Raw.
3. Alexa Bliss ended her rivalry (for now) with Nia Jax while teasing a future match with Ronda Rousey
The #GoddessOfWWE STILL holds the gold! @AlexaBliss_WWE @MickieJames #ExtremeRules pic.twitter.com/rwvsyPpW5J

— WWE (@WWE) July 16, 2018
The only Extreme Rules match on the show called Extreme Rules was Bliss vs. Jax. I thought it was a boring match from the beginning, but the actions of Mickie James supporting Bliss and Natalya supporting Jax helped. James interfered quite a bit, so Ronda Rousey jumped the barricade (she was sitting in the front row) and attacked James outside the ring. Rousey also sent James over the announce table. Bliss and James managed to work together to stop Rousey with kendo stick shots to the back. That led to Bliss and James hitting Jax with a steel chair followed by Bliss with a DDT on the chair to win the match to regain the title.
I really hope this is the end of Bliss vs. Jax because they have no chemistry in the ring even though they are (or at least they were at one point) best friends. The size difference is a factor and so is Bliss' lack of compelling offensive moves. Please move on. Bliss is a good heel champion, but she's not capable of carrying somebody as big as Jax to an intersting match.
This should lead to Bliss vs. Rousey at SummerSlam since Rousey's storyline 30 day suspension expires on Wednesday. It makes sense to do the singles match, have Rousey win the title in Brooklyn where all the New York media can be there to capture it all and it would be a huge moment for Rousey. I assume that's the plan, which is why Bliss won the title back from Jax. If that's not what they are doing then I'm not sure what could be next.
2. AJ Styles was victorious on Rusev Day while Rusev and Aiden English may be having problems
I enjoyed AJ Styles beating Rusev to retain the WWE Title a lot. It was one of the few matches on the card where they set out to have a great match, they told a story with both guys selling injuries and the finish was built up well. I liked the story of Styles working on Rusev's left leg throughout the match, so when Rusev tried his Accolade finisher he couldn't do it due to the pain in the leg. Styles ended up avoiding the finisher and getting the win with a Phenomenal Forearm.
Another reason why Rusev lost was the presence of his buddy Aiden English. After Rusev failed to put Styles away, English removed a turnbuckle pad without Rusev or anybody else seeing it. Shortly after, Rusev charged at Styles, who moved and Rusev went face first into the exposed steel. Styles won shortly after that. Post match, Rusev stared at his buddy English about the mistake that he made. It's likely that the pair will be split up with Rusev becoming a pure face since the fans are fully behind the "Rusev Day" chants.
As for what's next, I hope it's Styles vs. Samoa Joe at SummerSlam. I think WWE dropped the ball by keeping Joe off this show. He had a lot of momentum going to Smackdown and then they barely used him. Here's hoping that changes soon.
1. Dolph Ziggler beat Seth Rollins in an Ironman Match that was hurt by an annoying crowd
It's all said and done… and @HEELZiggler is STILL your #ICChampion!@DMcIntyreWWE #ExtremeRules #IronMan pic.twitter.com/k6eu3DPJ8a

— WWE (@WWE) July 16, 2018
The main event was for the Intercontinental Title, which is rare. I thought it was going to be Reigns/Lashley, but I'm perfectly fine with this choice. At least I was before the match. After it was over, I wish WWE went in another direction by going with Reigns/Lashley or Styles/Rusev on last.
Ziggler won the match in overtime after they tied 4-4 after 30 minutes. Rollins was on fire to start, going up 3-0, then Ziggler tied it 3-3 due in part to his buddy Drew McIntyre causing a disqualification while beating up Rollins. Ziggler went up 4-3 at around the 15 minute mark. After that, Ziggler grabbed headlocks for about five minutes to kill time, which was not fun to watch. Rollins managed to get another fall with a few minutes left. Rollins hit his finisher, The Stomp, with a few seconds left and there wasn't enough time to cover.
Kurt Angle, the Raw General Manager, said they will have an overtime period. McIntyre was back at ringside even though he was banned earlier in the match and Ziggler used that distraction to pin Rollins to retain the title. Ziggler won 5 falls to 4. The match officially went about 30:07 and it was pretty good, but not an epic match like a lot of us were expecting. I think doing nine falls is too much. Three or five falls would be better.
10..9..8..7..6..5..4..3..2..1..

— Seth Rollins (@WWERollins) July 16, 2018
What ended up being the biggest talking point in this match was the crowd. Instead of paying attention to the match, they chanted down from 10 to 1 and did a fake buzzer sound as if it was a Royal Rumble. They were doing it literally every minute of the match. It was clear that WWE hated it because they removed the clock from the arena, but the crowd kept doing it. In the last ten minutes, the clock was back up and the fans kept doing it. I found it to be very annoying, distracting and a bit disrespectful to the talent in the ring. As you can see from the tweet above, Seth Rollins likely hated it too.
I guess if you pay your hard earned money you can chant whatever you want, but why would you sit there being annoying fans when you could be enjoying a good match? It was stupid. If Pittsburgh doesn't get a major WWE event for a long time, this crowd is likely the main reason why.
Final Thoughts
I thought Extreme Rules was a disappointment. It was a 5 out of 10 type of show, which is just average. In the first two hours, there were no matches that went over ten minutes and none of them were memorable either. I liked some of the action in the last 90 minutes, but that could have been booked better too. The WWE on screen product just seems off these days even though the stock price is higher than ever. It's a weird time to be a WWE fan, that's for sure.
The worst WWE PPV of the year was Backlash. I think Extreme Rules was second worst. The two best remain Royal Rumble and Money in the Bank.
The next WWE PPV is a big one when SummerSlam takes place in Brooklyn, NY on August 19. It is one of WWE's three biggest shows of the year.