The history of World Wrestling Entertainment's WrestleMania event is pretty incredible. Over the last 32 years, they have taken WrestleMania from an event that took place in arenas to holding it in massive football stadiums where they are able to pack in over 70,000 fans every year. This year's event at the AT&T Stadium in Arlington (Dallas), Texas has already sold over 80,000 tickets and by the time we get to April 3 it will probably be the biggest show in WWE history.
A big reason why WrestleMania has become such a worldwide phenomenon is because of the memorable matches that have captured our imaginations, whether we were kids falling in love with the business or adults that appreciate the art of pro wrestling.
As we near this year's event, we thought it would be a great time to look back at the best matches in WrestleMania history. It's a topic fans can argue about forever because one fan's greatest match is another fan's disappointment.
As somebody that has seen every WrestleMania and written about all of them, I feel like I've got a good grasp on this. There are some really famous matches that won't be on here like Hulk Hogan vs. Andre the Giant at WrestleMania 3, which was good for a spectacle, but a pretty boring match for the most part. When The Rock beat John Cena at WrestleMania 28 it was a big deal. Is it an all time great match? Nope. Both guys had better showings. As great as Steve Austin and Shawn Michaels are, their match at WrestleMania 14 with Mike Tyson was pretty average because Michaels had a back injury that limited what he could do.
We all have our opinions, but this is my space and my column, so here's my ranking of the 32 Greatest WrestleMania matches ever. (Ed note: for consistency's sake, we've stayed with WWE to reference the company, even though many of these matches took place back in the WWF era.)
32. WWE & Intercontinental Title: The Ultimate Warrior vs. Hulk Hogan (WrestleMania 6)
When WWE Champion Hulk Hogan defended the gold against Intercontinental Champion the Ultimate Warrior at WrestleMania 6, it was history making to see two titles on the line in a WM main event. It was also a match pitting the two most popular guys against each other. It really was the Unstoppable Force battling the Immovable Object, as Gorilla Monsoon used to say.
Even though both men weren't really known for their technical classics, they managed to tell a great story in the match thanks to things like ref bumps and Warrior avoiding that legendary Hogan leg drop. In the end, Warrior got the win since he was the younger man that was on the rise, but a year later Hogan was back on top while Warrior had a tough time being "the man" in the long term.
31. Intercontinental Title: Bret Hart vs. Roddy Piper (WrestleMania 8)
Bret Hart and his distant cousin Roddy Piper were both good guys going into their IC Title match in Indianapolis. The IC Title was the only singles title that Piper won in WWE. Another interesting thing about Piper is he was rarely pinned in his career. In fact, even though he started in WWE about a decade before this match, this was the first time Piper lost a match by pinfall.
A key moment near the end of the bout was when the once evil Piper refused to use the ring bell as a weapon. Shortly after that, Bret countered a sleeper and got the win. While Bret was one of the best in-ring performers ever, Piper was known more for his promo skills. In this match Piper showed he could go in the ring too…with the right opponent.
30. Shawn Michaels vs Ric Flair (WrestleMania 24)
The result of this match was never in doubt because the stipulation was that if Ric Flair lost he had to retire. Going up against Shawn Michaels was a big test because Michaels was arguably the best in-ring performer ever. Could Flair pull off another classic in his last WWE match? Well yeah it was very good.
Flair did some of his cheating tactics to try to get the win even though he was a beloved legend at this point. It's Flair, though, so he's always going to cheat. We know that. Michaels was able to overcome it all, then say "I'm sorry…I love you" and finish him off with a Superkick. While Flair did have more matches in TNA Wrestling and elsewhere after this, it was his last match for WWE. This was definitely one of the most emotional matches in WWE history.
29. The Rock vs. Hulk Hogan (WrestleMania 18)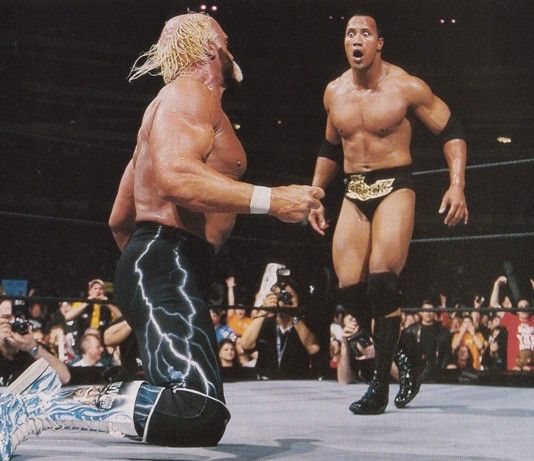 It's not the best match technically, but when The Rock beat Hulk Hogan at WrestleMania 18 in Toronto it stole the show. The crowd reactions for that match were as good as any match in the history of WrestleMania. Even before they touched each other, the crowd was going wild at the staredown they had before the match.
Hogan worked the match with a broken rib, he came close to winning a couple of times and in the end, the younger man got the victory. Post match, Hogan turned face by fighting off his New World Order buddies Kevin Nash and Scott Hall with The Rock's help.
28. WWE Title: Brock Lesnar vs Roman Reigns (vs. Seth Rollins) (WrestleMania 31)
Last year's main event saw the unbeatable beast Brock Lesnar defending the WWE Title against a rising star in Roman Reigns. Most people assumed that Reigns would find a way to win to put him on the road as the next major superstar to carry WWE forward. Instead, it was Seth Rollins that cashed in his Money in the Bank briefcase to be a part of the match.
It was a hard hitting battle by Lesnar and Reigns. The match did a lot of good for Reigns because it showed he can hang with a powerful force like Lesnar. After the cash-in by Rollins, it was tough for Lesnar or Reigns to hold him off since he was joining the match as a fresh man. A couple of minutes later, it was Rollins leaving with the gold as the true future of WWE. At least it was the start of Lesnar coining the "Suplex City" phrase.
27. The Rock vs Stone Cold Steve Austin (WrestleMania 19)
Here's another wrestling legend's retirement match, although in this case we didn't know Austin was done for good. Leading up to the match with the now Hollywood heel Rock, all indications were that Austin was back to normal after missing part of 2002.
This was the third match of their WrestleMania trilogy. It was better than the first one at WrestleMania 15 and not as good as WrestleMania 17 (more on that later), but it also had a different result as The Rock left as the winner. It's a fun match where plenty of finishers were used, they stole the other guy's finisher and managed to throw in some comedy too. In the end, Rock told Austin he loved him. We loved them too.
26. WWE Title: Eddie Guerrero vs Kurt Angle (WrestleMania 20)
Eddie Guerrero walked into WrestleMania as the new WWE Champion facing off against an established villain in Angle. What they needed to do with this match is show that not only was Eddie as good as the multiple time former champion Angle, but that he was better than him too.
The pacing of the match was interesting because they were pretty slow early on. Once they cranked it up, the quality of the match improved big time. Angle worked over the leg of Guerrero, had him in the dreaded Ankle Lock, but little did Angle know that Guerrero had untied his boot. That led to Angle staring at the boot, which allowed Eddie to apply a cradle to win. A crafty win by the late great Guerrero that put a smile on our faces just like he always did.
25. Kurt Angle vs Chris Benoit (WrestleMania 17)
This is how the brilliant Paul Heyman described this match on commentary at one point: "I have never in my life seen a greater display of holds and counter holds than I have tonight between Kurt Angle and Chris Benoit." He was absolutely right to say that.
They had a technical wrestling classic with Angle locked in as arguably the best performer in WWE. Benoit was a star on the rise winning over the fans with his skills in the ring. When you talk about technical wrestling, these two names should be right near the top of the list in terms of what they could do in the ring. Angle won the match by cheating when he used the tights to help him win.
24. Daniel Bryan vs Triple H (WrestleMania 30)
In order for Daniel Bryan to get a WWE Title shot later in the show, he had to beat the evil WWE COO Triple H. While the outcome of the match was obvious as soon as it was announced, they still went on to have a classic match that was 26 minutes long while also being the first match on the pay-per-view portion of the broadcast.
It made no sense for Triple H to win since he was the veteran heel while Bryan was a face on the rise. The fact that Triple H lost clean to the running knee shows that he was willing to put Bryan over, which is something Triple H has done many times at WrestleMania (Benoit, Cena, Batista, Undertaker three times) and may do again this year for Roman Reigns. It's a great match that was slightly overshadowed by the second match that Bryan had later on this night.
23. WWE Title: John Cena vs Shawn Michaels (WrestleMania 23)
Here's another main event match pitting two faces against eachother. It was the second year where Cena dealt with a challenger from the Degeneration X group since he got by Triple H a year earlier. Going into it, there was some thought that maybe Michaels may win the gold since he hadn't held the WWE Title since 1998 (he won the World Title in 2002), but WWE stayed the course with Cena as the man.
They had a really dramatic match with Michaels bringing it to Cena and hitting everything including his patented Sweet Chin Music superkick. After that failed to get the job done, Cena applied his STFU submission for the clean win after nearly 30 minutes of action. They actually had a better match about a month later when they were in England in a non-title match that Michaels won. The chemistry was always there for these two.
22. World Heavyweight Title: The Undertaker vs. Edge (WrestleMania 24)
The Undertaker's story with Edge leading up to their main event tilt at WrestleMania 24 was an example of how great wrestling can be when they focus on a good guy taking on an evil champion that cheated every way possible. Edge had no problem being that jerk of a heel while Undertaker was the respected good guy who always found a way to come back.
Since The Undertaker's streak was such a big deal, it was pretty obvious that he was going to win. What was impressive was that Edge was made to look like a credible champion. Sure he cheated, but he looked like he would find a way at several points in the match. That's what made it so entertaining. In the end, it was another Undertaker victory leading to a World Title. Don't forget about referee Charles Robinson's memorable sprint to the ring either.
21. WWE Title: Randy Savage vs. Ric Flair (WrestleMania 8)
Ric Flair was the classic heel champion that claimed to have had a relationship with Randy Savage's wife Elizabeth. It was all a lie, but the doctored photos that Flair shared showed that he would do anything to get the mental edge over Savage. That led to a very personal rivalry that should have been the main event of the show, but WWE chose to put a Hogan match in that spot instead.
It was such an emotional match. Flair dominated much of it, then Savage was able to weaken him by causing him to bleed and then Elizabeth showed up at ringside because she was sick of Flair's games too. Flair memorably yelled "it's for you baby" and shortly after that, Savage got an inside cradle with the tights to win his last WWE Title. The good guy cheated, but Flair deserved to lose that way. It was a perfect way to end it.
Continue to the top 20…