Royal Rumble week is an exciting time for fans of World Wrestling Entertainment. It's a time when we can enjoy the one match during the year that is unlike anything else, while also featuring 30 contenders that are vying for a main event WWE or Universal Championship match at WrestleMania 33 in Orlando on April 2.
Since the Royal Rumble is such a huge event (which you can watch this Sunday, Jan. 29 on WWE Network), you can consider this part one of my preview of the show because I'm going to look at the advertised competitors in the match and try to present the most likely winners.
This year's Royal Rumble match has some unpredictability about it. While I have settled in on a winner of the match, which I'll get to later, part of the reason why this year's match is so fun is because the winner isn't as obvious as in past years.
Here's a quote from WWE VP of Talent Relations Triple H (real name Paul Levesque) talking about the unpredictability of this year's match in an interview with IGN:
"This year's Royal Rumble is one of the biggest, most star-studded Rumbles that I can recall. Just look at the people who have thrown their name into the Rumble so far. You've got Goldberg and Lesnar and the Undertaker. When you start to look at that level of talent and then also see the Bray Wyatts and the Randy Ortons and everyone else that's going to be a part of it, it really is one of the biggest Rumbles I can think of. Sometimes there's a year in the Rumble where you think 'Okay, I can see this or that happening. This seems like where the Rumble might be headed.' But this year, it's really tough to call. And I think that's when the Rumble's at its best, when you can't really put your finger on what's going to happen. I can see this year going a lot of different ways and I think it's going to go in a way that nobody expects."
I agree with him. I know he's saying that because he's trying to sell the match as a promoter of the show who has learned well from Vince McMahon, but I think he's genuine in saying it this year. Last year's match, which Triple H won, certainly wasn't unpredictable because we knew it would be him or Roman Reigns. This year at least, there are several things that could happen.
As of Jan. 23, here are the 18 names announced for the match so far, in the order which they appear on the WWE.com Royal Rumble page.
The Undertaker, Goldberg, Brock Lesnar, Dean Ambrose, The Miz, Seth Rollins, Dolph Ziggler, Big E, Xavier Woods, Kofi Kingston, Bray Wyatt, Randy Orton, Luke Harper, Braun Strowman, Chris Jericho, Baron Corbin, Cesaro, Sheamus
Some other names that aren't official yet who will probably be in the match are Sami Zayn, Kane, Mark Henry, Big Show and perhaps some tag team wrestlers. The WWE roster is so big right now that they can easily find people to fill out the match.
There are also a couple of surprise names, which is where I'll begin.
(All images are from WWE.com unless otherwise noted.)
The Potential Surprises
Finn Balor – Balor was the first Universal Champion at SummerSlam in late August, but during that match with Seth Rollins, he hurt his shoulder. He had surgery within a week and the expected recovery time was at least six months. Royal Rumble Sunday will be about five months. He's said publicly that February or early March is more realistic, but is that just a lie to get people to think it? Pro wrestlers lie all the time. It's their job.
I don't think Balor will be in the match, but if he is, he certainly could be the winner. John Cena (2008) and Edge (2010) both returned earlier than expected from injuries and won the event. That means WWE has done it before and they could do it again.
Kurt Angle – It would be great to see the 2017 WWE Hall of Fame headline name in the Rumble match. I can only imagine the reaction to seeing Angle enter the arena that night. Would he be booked to win, though? I really doubt that. It could be a way to set him up for a WrestleMania match, but I don't see a reason why they would have him win the Rumble.
I don't expect to see Angle in the Rumble match. Of course, I'd love to be wrong about that prediction.
Samoa Joe – The former NXT Champion Samoa Joe is not booked for anything on the NXT Takeover event that takes place on the Saturday night before the Royal Rumble. He hasn't been featured on NXT TV in the last month. It appears he has been kept in the dark for the last month to build him up as a surprise competitor in the Rumble match.
The timing is perfect to put Joe on the main roster. He spent nearly two years in NXT, he's already in his late-30s and knows how to have great matches with anybody. As a heel or face, he can have a lot of success on the main roster. Joe can fit in very well on Raw or Smackdown. Push him to the top quickly because both shows need top talent that are as good as him.
I expect him in the Rumble match and think he'll do well. Can he win the whole thing? It's possible if WWE really wants to make a big splash with him, but I have my doubts about that.
Triple H – He won last year's Royal Rumble as a surprise entrant, even though most of us figured he would be a part of it. I think his participation in the match is possible since Seth Rollins has been calling him out. What may be best is if he showed up as a surprise to cost Rollins the match, rather than actually being a participant in the Rumble.
Shinsuke Nakamura – As the current NXT Champion, we know Nakamura will be in San Antonio for the main event of NXT Takeover San Antonio, defending the title against Bobby Roode. I think he should be on the main roster and probably should have been last year, but if Joe is going to make his main roster debut at the Royal Rumble, then it would overshadow him to have Nakamura also debut there.
I think Nakamura will be on the main roster either at WrestleMania or on the following Raw or Smackdown. If it's earlier, then that's great. It's just my guess that it will be a little bit further down the road.
At this point, it would be a surprise to see Nakamura in the Rumble match.
Kenny Omega – I know the New Japan star has been getting a lot of hype, but it's not happening. His New Japan deal expires Jan. 31, which means he can't appear elsewhere before that. I also think he's going to re-sign with New Japan although that hasn't been announced yet.
A wrestler in an advertised match – This could be Kevin Owens, Roman Reigns, AJ Styles, John Cena or somebody else. It's possible because we know how much WWE loves to push Reigns and Cena, but I don't expect it to happen.
The Pretenders
These are the announced names for the match who I don't think will win the Royal Rumble match. All of them are good performers, but that doesn't make them serious contenders to win.
Dean Ambrose – The current Intercontinental Champion is a strong candidate to last a long time in the match and have an impressive showing. It's unlikely that he would win the match, especially while he's holding a midcard title.
The Miz – I think The Miz had a fantastic 2016 and is one of WWE's best heels right now – maybe the best. However, that doesn't mean WWE is going to push him over some of other names in this match. Like Ambrose, he could be in there for a while.
Dolph Ziggler – As a new heel, Ziggler could get a huge boost by winning the Rumble. What's more likely is a distraction caused by Jerry Lawler (who is announcing the Rumble match with Michael Cole and Corey Graves), leading to Apollo Crews dumping him out. I like the thought of Ziggler feuding with Crews.
Big E, Kofi Kingston & Xavier Woods – I'm very interested to see how The New Day trio is booked in this match. Could this be the start of their split, since they are no longer in the title picture? I think it's possible that Big E may accidentally eliminate one of the other two guys to set him up for a potential heel run.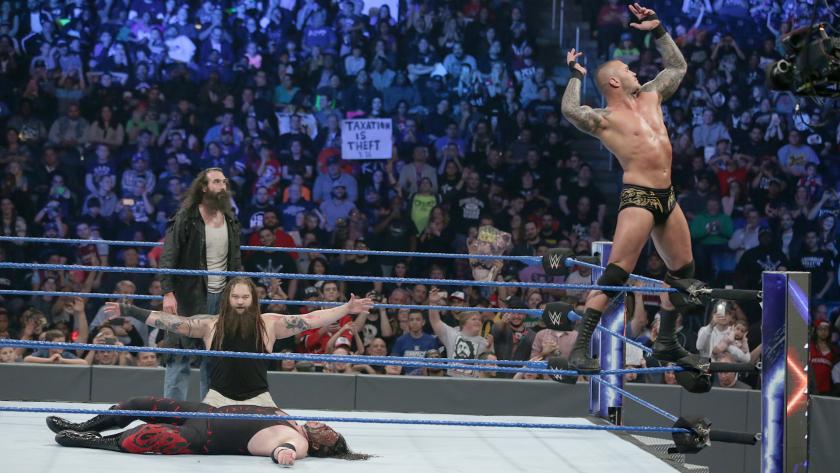 Randy Orton, Bray Wyatt & Luke Harper – The Wyatt Family trio is due for an implosion very soon. It's probably going to lead to Orton becoming a full-fledged face again. Whether that happens at the Royal Rumble or at February's Elimination Chamber PPV event, we don't know. It just seems as though the most likely scenario will see Orton dumping Wyatt or Harper out of the match to set the wheels in motion. I think we can pencil in Orton vs. Wyatt or Orton vs. Wyatt vs. Harper as a potential WrestleMania match as well.
Cesaro & Sheamus – The current Raw Tag Team Champions never seem to get along, but they might work together in the Rumble match… at least for a little while. I doubt either man lasts until the end as the winner like Sheamus was in 2012.
The Contenders
These are the names who I would consider to be the main contenders in the match. I'll list them in order of least likely to most likely.
Seth Rollins – As a top face on the Raw brand, Rollins has a shot to win. His expected WrestleMania opponent is Triple H, so that leads me to think that this won't be his time to shine. There are always twists and turns that can happen on the road to that match as well. Perhaps Rollins wins the Rumble, then has to beat Triple H in a match at Fastlane or even at WrestleMania in a move similar to Daniel Bryan in 2014 before he gets a title match.
Rollins has done a lot in his WWE career in over four years on the main roster. He'll probably win the Rumble at some point. I don't think it happens this year, but I still consider him a contender.
Chris Jericho – Earlier this month, Jericho won the United States Title. It was the only title he had yet to win in his WWE career. However, there is something else he has failed to win: The Royal Rumble.
Jericho has had a fantastic run as a heel in the last year. Sure, he's lost a lot of matches to the likes of Reigns and Rollins, but he's been so entertaining for so long that a case can be made for him as the Rumble winner in 2017. At 46 years of age, he may not have that many more years to be considered a serious threat. Perhaps it's the right time for WWE to strike while the iron is hot.
The obvious road to WrestleMania for Jericho is a split with "best friend" Kevin Owens. If Owens retains the Universal Title at Royal Rumble (not my prediction), then Jericho winning the Rumble could set up their Universal Title and United States Title match. Jericho could turn face before then, they'd have an incredible match and Owens could win to keep his momentum going. Sounds great, right? I'd love to see it. Sadly, I think Jericho is going to fall short in the match.
Baron Corbin – If WWE wants to put over a rising star from the Smackdown brand, then Corbin is the best bet. He's already headlined a few weeks of television, so the next logical step would be to become a main PPV main eventer.
I've been really impressed by Corbin in the last few months. He keeps improving, but is that enough to put him over some of these other names? I don't expect it to happen, although I believe he'll have a strong showing in the match. He's still a contender to win.
Brock Lesnar – In his last televised WWE match, Brock Lesnar lost clean to Goldberg in under two minutes at Survivor Series. The two men are headed for a collision course in the Rumble match, which should lead to a WrestleMania match as well. Does that mean that both of them are going to fail to win here? Not necessarily.
If WWE really wants Lesnar to get back his momentum, then putting him over in the Rumble match would be a great move. He was the winner in 2003, so for him to come back 14 years later to win the match would be impressive. I don't think it's going to happen, but it's certainly a possibility.
The Undertaker – The Undertaker is 51 years old, which means he's the oldest man in the match. His last Rumble win was 10 years ago in an event that also took place in San Antonio – the same as this year. The venue is different this year because they opted to go in the Alamodome instead of their NBA arena, but it's still the same city where he won his only Rumble match.
When The Undertaker was announced for the match, he became an immediate favorite. The common thought among fans was that he would win this match, John Cena would win the WWE Title over AJ Styles and it would set up the much-anticipated Undertaker vs. Cena match at WrestleMania. However, a few weeks ago there was a report stating that Undertaker vs. Cena is not planned for WrestleMania anymore. This is WWE, though, so it can still happen because they love changing their mind about things like that.
I think the Rumble should be about promoting newer talent and elevating them to the next level. A part-time legend like Undertaker doesn't need to win the Rumble. That doesn't mean I would hate it. I'm not denying the possibility either. He's just not my pick, though.
Goldberg – As of this writing, Goldberg is the current favorite to win the Royal Rumble on Skybet.com with 5/2 odds. Does that mean he's going to win? No. They don't know who the winner is, but they are going based on what they think and what people have been betting so far.
It would be an incredible story to have Goldberg leave the wrestling business for 12 years, return at Survivor Series with that dominant win over Lesnar and then win the Rumble match as well. A few weeks ago, there was a Goldberg tease with Roman Reigns when they had a staredown. Perhaps that is a WrestleMania match instead of Goldberg vs. Lesnar. Even if they stick with Goldberg vs. Lesnar, WWE could opt to have Lesnar take the Universal Title from Owens or Reigns at Fastlane in early March and it sets up Goldberg vs. Lesnar one more time.
Goldberg is a huge favorite to win the match. No doubt about it. He's not my pick right now, though.
Braun Strowman – My pick to win has been Braun Strowman for over a month now. I believe that WWE sees a lot in him as a near seven-footer who they can book as an unbeatable giant for the next five to 10 years. If they really want him to move up the ranks as a main event player, then having him win the Royal Rumble is the best way to do it. For the past 20 years, WWE tried to tell us guys like Kane and Big Show were huge threats to win the Rumble every year. Neither man won the match, but they finished second place. In order to get Strowman to that next level of believability, booking him to win this match would accomplish a lot.
Ever since I started saying that Strowman was my pick, I've had people complaining that it would be boring to see Strowman vs. Roman Reigns at WrestleMania for the Universal Title. While I agree to some extent, please remember it's not what I want. It's what I think Vince McMahon is going to do. He makes the call, not us. If he wants his beloved Roman Reigns to be the one that finally topples the giant Strowman, then that's what he's going to do. It's the same formula that Vince used 30 years ago with Hulk Hogan beating the likes of Andre The Giant and King Kong Bundy. That's what Vince likes to do.
The way Strowman has been booked since the July brand split has been great. No losses in a regular match. People can barely knock him down. He is the unbeatable monster heel that WWE loves to push. That's why I'm picking him to win the 2017 Royal Rumble.
Final Thoughts
I feel like WWE has done a good job of promoting the Rumble match with several potential options for the winner. I'm looking forward to Raw and Smackdown Live this week to see how they can further push the idea that multiple people can leave the Rumble as the winner.
I'll be back tomorrow with a look at this week's Raw, which is the last episode before the Royal Rumble. Later in the week, I'll have previews of NXT Takeover San Antonio and the entire Royal Rumble event as well.