It's the end of the year, which means it's a great time to look back on the biggest news stories in World Wrestling Entertainment. If you're a regular reader of this site, then you know I cover WWE in-depth with articles previewing and reviewing the monthly pay-per-view events while also writing about the biggest stories going on in the company. This is one of those years where there were more major news stories than usual.
Here's my countdown of the biggest news stories in WWE in 2018. I went with a top eight because I think these are the most important ones. Stretching it out to ten or more didn't seem right. Let's get to it.
8. Vince McMahon announces the return of the XFL
This past January, WWE's Chairman and CEO Vince McMahon announced that the XFL will return in 2020 (they used the hashtag #XFL2020 to promote it), which is 19 years after the league died after just one season. It was announced that McMahon is putting up $100 million of his own money (he is worth several billion dollars now) to start the league; he's noted that it will cost more than that.
In June, the XFL hired Oliver Luck (father of NFL star Andrew Luck) as the XFL's Commissioner and CEO, which means this version is different than the original XFL because it means Vince isn't running things. Hiring a football guy like Luck gives the XFL some much-needed credibility.
In February 2020, the XFL will relaunch in the following eight cities: Dallas, Houston, Los Angeles, New York/New Jersey, St. Louis, Seattle, Tampa Bay and Washington DC. They have promised a faster brand of football than the NFL, which has games that run about three hours long.
McMahon has stated many times that the XFL is separate from WWE, which means that they might not mention it all the time on WWE programming. I don't know if that's true, though. I fully expect to see a lot of XFL merchandise all over WWE programming next year and especially into 2020. I guess we'll find out more as the league gets closer to its launch date in February 2020.
What interests me the most, as a WWE writer, is if this will lead to Vince McMahon taking a break from WWE. After all, he is 73 years old and his daughter Stephanie McMahon along with son-in-law Paul Levesque (Triple H) appear ready to run WWE. I don't think Vince is going to remove himself as the man in charge in WWE, but I could see him stepping back a bit. That will be an interesting story to watch next year.
7. Daniel Bryan returns to the ring after three years away, becomes WWE Champion again
The first article I wrote for The Comeback this year was about Daniel Bryan. At the time, he was the on-screen Smackdown GM that was openly talking about wanting to wrestle again after being on the sidelines since April 2015 due to concussion issues. What we didn't know at the time was if he would be cleared to return to the ring. And if he wasn't allowed to wrestle for WWE, would he leave when his deal was up in September?
Bryan was cleared to wrestle in March and signed a new WWE deal to work less live events when his deal was up. Even after refusing to wrestle at the Crown Jewel show in November, he won the WWE Championship (he's a five-time World Champion in WWE) a few weeks later. These days, Bryan is the most entertaining male superstar on the show as a heel that rants about how we are destroying the planet.
"I am no longer the people's champion. I am the PLANET'S CHAMPION!" – The New @WWEDanielBryan #WWEBaltimore pic.twitter.com/8PPRcCL5ge

— WWE (@WWE) December 30, 2018
Daniel Bryan is my favorite wrestler in WWE. He's a guy that I watched for about a decade before he joined WWE. He's just a regular-sized guy that may not stand out in a pack of people, but when the bright lights are on him, he shines as one of the best all-around performers in the company. Bryan was known as a great in-ring worker for a lot of years, but I think a case can be made that he's one of the best talkers as well. I hope he's able to stay healthy for several more years and that he can build on his incredible legacy.
The fact that Daniel Bryan was able to return to the ring this year is one of the best things about WWE in 2018.
6. Ronda Rousey signs with WWE, has a great rookie year and becomes Raw Women's Champion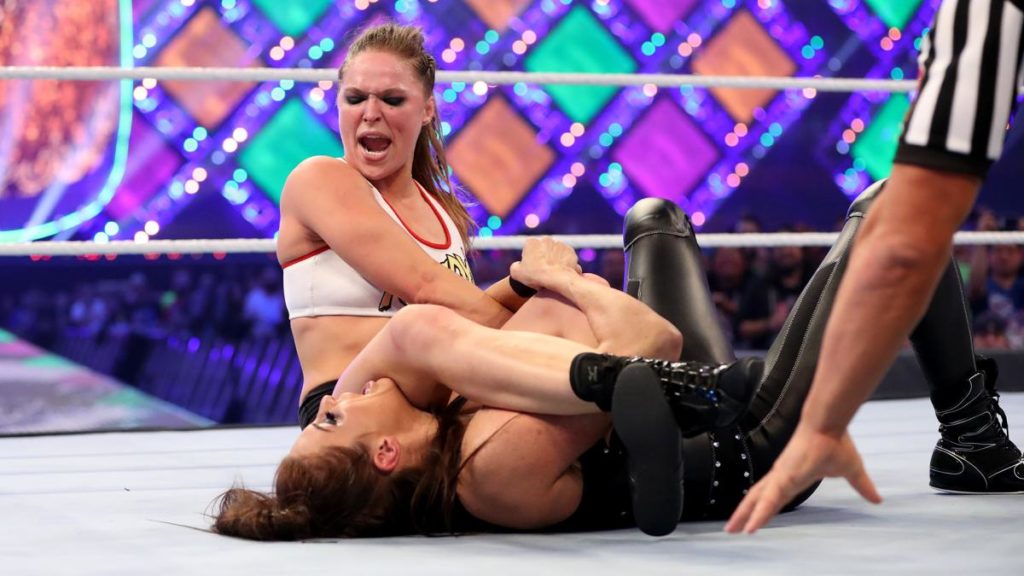 When Ronda Rousey showed up at the WWE Royal Rumble in Philadelphia in January, it wasn't that much of a surprise. She wasn't advertised for the event, but the former UFC Champion was expected to sign with WWE, especially after she was training to wrestle since the summer of 2017. Immediately after the Rumble, WWE received mainstream attention from the sports world when they announced Rousey had signed a full-time deal with the company. At the Royal Rumble, Rousey got in the face of women's superstars Charlotte Flair, Asuka and Alexa Bliss and pointed at the WrestleMania sign. Rousey also got into the face of Stephanie McMahon, which set the wheels in motion for their WrestleMania match.
At WrestleMania in April, Rousey teamed with Kurt Angle to beat Triple H and Stephanie McMahon in a very entertaining tag team match that went over 20 minutes. Rousey was very impressive in the match, which is incredible considering Stephanie is a non-wrestler and this was Rousey's first official match. It was arguably the match of the night.
Considering how fast Rousey picked up pro wrestling, it was not a shock when WWE put her in a Raw Women's Title match at June's Money in the Bank. She didn't win the title that night due to a Money in the Bank cash-in from Alexa Bliss, but Rousey did manage to beat Bliss for the title at SummerSlam in August. Rousey will likely hold onto the Raw Women's Championship until at least WrestleMania and will likely be pushed as the biggest star of April's massive show.
Rousey did so well in her rookie year that they put her in the main event of the Evolution pay-per-view in October, which was the best PPV of the year. Rousey beat Nikki Bella that night and to end the year, she started a rivalry with Becky Lynch that could lead to those women main eventing WrestleMania this coming April. Rousey has proven to be a natural fit in WWE. This past week, she headlined a Raw live event in Madison Square Garden in New York City against Nia Jax. It was the first time two women have headlined a WWE show at MSG.
She reminds me of Kurt Angle, an Olympic gold medalist (he's mentioned that a few times!) who was arguably one of the best wrestlers in WWE in 2000, which was his rookie year. Some people are just naturals at this stuff and Rousey is clearly one of them.
5. Record-high WWE stock price and low TV ratings
It has been a weird year for WWE as a business. If you were to only look at the WWE stock price, you would see the company made a huge jump this year. On January 2nd, WWE's stock was at $31.41 and today it's at $73.79, which gives the company a valuation of $5.75 billion dollars. The 52-week high was $97.73 on September 28. Now, if you were only to look at those numbers and see the stock price up $40 in a year then you would think that WWE had their best year ever. The big reason for the reason in the stock price has to do with WWE's new TV deals, which I'll mention later.
The television ratings tell another story. In the month of December, Raw posted lower numbers than usual with just over two million viewers. Keep in mind those are live viewers and doesn't take into account the people that watch on DVR or maybe only catch highlights on WWE's Youtube channel. Raw on Christmas Eve did 1.78 million viewers on USA Network, but that was expected with the biggest holiday of the year.
The TV ratings for Raw and Smackdown should bounce back in the new year as we head onto the road to the Royal Rumble and WrestleMania, but I don't see any reason why the ratings will jump up significantly. There isn't a single person on WWE TV that is a draw to the average viewer the way Steve Austin or The Rock were twenty years ago, nor are there any major storylines that are really grabbing people's attention.
As we have seen in the last couple of weeks, the McMahon family has promised new feuds, new stars and more of the action that we want to see. Whether that actually leads to changes or it just means that they are going to be all over our TV screens again, we'll have to see for ourselves in the coming weeks and months.
Here's something to keep in mind, though. USA Network, which currently airs Raw and Smackdown, averages about 1.8 million viewers for their shows. If Raw gets around 2.5 million live viewers as a yearly average, that's a great number for USA Network and it's why USA Network is committing over $1 billion to keep Raw over the next five years. The reality is that the average person consumes television differently than they did in the past, something also seen in declining ratings for broadcast television shows. When Steve Austin and The Rock were drawing five million viewers to Raw every Monday, we didn't have services like Netflix, which has over 100 million subscribers. It's a different world today, so people that expect WWE to bring in the viewers that they used to are being unrealistic.
I'll end this point with this question. What really matters to WWE's stockholders: The stock price or TV ratings? The answer is the stock price and if you're WWE, you can point to that and be happy with where you are as a company.
4. WWE opts to run Crown Jewel in Saudi Arabia despite heavy criticism
This year, WWE signed a multi-year deal with the General Sports Authority in Saudi Arabia to run two huge events: Greatest Royal Rumble in an outdoor stadium in April and Crown Jewel in November. Women wrestlers weren't allowed to wrestle at the shows due to laws that exist in Saudi Arabia. How could a company like that pushes the "women's evolution" so much run shows in a country where they won't let women wrestle? It's because WWE was paid a lot of money and that's really it. Triple H publicly talked about how they hoped this would lead to change in Saudi Arabia, but it really is about the money.
The Greatest Royal Rumble event was fine, but when it was time for Crown Jewel in November, there was a lot of controversy. On October, Washington Post journalist Jamal Khashoggi was killed in Turkey when he entered a Saudi Arabian consulate in Istanbul. Khashoggi criticized the Saudi government a lot in his articles, and when he showed up to the consulate to get a marriage certificate, he was killed in a vicious attack. The assumption was that the Saudi crown prince ordered the murder and a few weeks later, the CIA assessed that to be true. Some companies pulled out of their deals with Saudi Arabia after Khashoggi's death, but WWE is likely going to keep working with the country. However, a lot of fans are upset about it, with good reason.
Going into WWE's Crown Jewel event, there were some American senators that wanted the company to cancel the show. Instead, WWE released a statement saying they were going to honor their deal with the General Sports Authority. The build to Crown Jewel was weird because WWE went several weeks on Raw and Smackdown where they wouldn't have anybody (including the announcers) say "Saudi Arabia" during the broadcasts. It was so awkward. Crown Jewel was a bad show that I named the worst WWE pay-per-view of the year, and it's one of the worst PPVs they've ever had.
Two big names refused to wrestle at the Crown Jewel event even though they were advertised to be there: John Cena and Daniel Bryan. Neither man was punished for it because as I mentioned earlier, Bryan won the WWE Title a few weeks later. There was some progress made with Renee Young working as an announcer for the Crown Jewel show, but there are no indications that women wrestlers will be allowed to have matches in the country.
It's expected that WWE will run two more events in Saudi Arabia, likely to be broadcast on WWE Network, in 2019 as well.
3. The rise of women's wrestling led by Becky Lynch, Ronda Rousey and Charlotte Flair
This has been the best year in WWE history of terms of women's wrestling. We saw the "women's evolution" really start to take place in 2015 when the trio of Charlotte Flair, Becky Lynch and Sasha Banks were brought up to the main roster with WWE claiming that they were listening to fans that wanted to see women's wrestling taken more seriously. The rise of Ronda Rousey in UFC as one of their biggest draws also opened WWE's eyes and the fact that Rousey was a legit WWE fan certainly helped as well.
This year in WWE, women made history by having the first women's Royal Rumble match (they got to main event that show as well), the first Elimination Chamber match, the first women's TLC match (another PPV main event there) and in October, the first all-women's PPV took place called Evolution. I thought Evolution was the best WWE pay-per-view of the year. Some people think that WWE only did it because it took place than a week before Crown Jewel, which featured no women's matches, and there may be something to that theory. I'm just happy the women wrestlers were given a spotlight to have a great show.
#2018Highlight the first-ever all-female PPV/@WWENetwork special #WWEEvolution! And announcing our new partnership with @GirlUp! #2018 was just the beginning of the #WomensEvolution 💪 pic.twitter.com/bWvSno2dsp

— Stephanie McMahon (@StephMcMahon) December 31, 2018
The trio of Becky Lynch, Charlotte Flair and Ronda Rousey are seen as the leaders of this evolution in women's wrestling. Lynch was on fire in the second half of the year while Flair is consistently great in the biggest matches. Rousey is the newcomer that is a huge draw that has adapted so well. There are some good prospects in the company as well. It's the best women's division WWE has ever had, no question about it.
I think the rise of Becky Lynch has been one of the best things about WWE programming this year. Lynch was barely doing anything in the first six months of the year, then they gave her a big push. She turned on best friend Charlotte after losing the Smackdown Women's Title at SummerSlam and the fans refused to boo her. In fact, she was cheered repeatedly. Since then, the momentum for Lynch has grown. When Lynch and the other Smackdown women attacked Rousey and the Raw women prior to Survivor Series, it was one of the best segments of the year…because of Lynch. It's too bad that Lynch suffered a broken nose and concussion due to a stiff punch from Nia Jax, but as I have noted in the past, it may be a blessing in disguise because we might get Ronda vs. Becky at WrestleMania.
What makes me happy is that women are routinely main eventing Raw and Smackdown. I don't know how many times a women's match or segment ended those shows this year, but it feels like it happens about 30% of the time at least. Considering it almost never happened earlier this decade, it shows great progress for WWE and proof that this "evolution" is working.
Next year, WWE plans to make more women's wrestling history by bringing back the Women's Tag Team Titles that have been dead for about 30 years. It's something a lot of fans have wanted for many years. We are still waiting on more details, but I would expect to see the titles award by WrestleMania at the latest, if not before that.
2. WWE signs new TV contracts with USA Network and Fox worth over $2 billion
Beginning Friday, October 4, 2019, @FOXTV will air @WWE's flagship program #SDLive as part of a new five-year agreement with @FOXSports! https://t.co/ekIUKHza7A

— WWE (@WWE) June 26, 2018
There was some huge WWE business news earlier this May when reports came out that Raw was staying on USA Network for at least five more years starting in October 2019. When I first saw the figures for it at over $1 billion for five years, I was stunned. Really? That much? A few days later, it was announced that Fox won the rights to broadcast Smackdown in October 2019 after a massive offer that was also worth over $1 billion for five years.
The deal meant that Smackdown was moving from USA Network on cable to the main Fox network on Friday nights from 8-10 p.m. ET. Going from cable television to one of the four major networks is a huge deal for WWE and it should lead to a bigger audience for Smackdown, even though Friday is a worse TV night than Tuesday is.
I'm still stunned by it, to be honest. I wrote this article immediately after the news came out and as we head into 2019, I'm excited to see what WWE plans on doing on Fox especially. The ratings for WWE television shows have gone down this decade, yet they are getting way more money. As my colleague Matt Yoder correctly pointed out in a June article, WWE's deal for $468 million annually with USA Network and Fox is more than three-and-a-half times what WWE is making on their current deal. Most of us expected a jump in WWE's TV deal, but for it to go up that much was a surprise. It's the main reason WWE's stock price went up too, which I mentioned earlier.
Why was there such a big increase in WWE's new contracts? It's because in today's crazy TV world, networks want live programming. Since WWE counts as a sports program, that appeals to networks. I already mentioned how big they are on USA Network.
Last month, WrestlingInc reported that Fox executives want Ronda Rousey to be a part of Smackdown because they want it to be part of the "Fox Sports" brand. There have been other reports from the Wrestling Observer's Dave Meltzer noting that Fox wants WWE to make Smackdown more of a serious sports competition show, which might mean less comedy segments and more big matches.
As we head into 2019, there's no question one of the biggest stories will be how Smackdown looks on network television as part of the main Fox channel on Friday nights.
1. Roman Reigns announces that he has leukemia and must step away from WWE 
Roman Reigns has been the top guy in WWE for several years. He has headlined the last four WrestleManias, including this year when he lost to Brock Lesnar in a match where it was expected that Reigns would win the Universal Title. Reigns ended up winning the Universal Title at SummerSlam in August, but then everything changed two months later. When Roman Reigns stood in the ring on the October 22 edition of Raw in Providence, Rhode Island, he reminded us of what really mattered in life.
Reigns said that "my real name is Joe and I've been living with leukemia for 11 years." That was a shock to a lot of us because most WWE fans had no idea he had leukemia (a form of cancer) earlier in his life. Reigns announced that the leukemia is back and because it is back, he can't be that fighting champion that he wanted to be and he's going to have to relinquish the Universal Championship. Reigns delivered a powerful speech that night:
"You all know the deal. You all know how life is. It's not all peaches and cream, sometimes life throws you a curveball. And right now the best thing for me to do is to go home, to focus on my family and my health. But I want to make one thing perfectly clear, by no means is this a retirement speech. Because after I'm done whooping leukemia's ass once again, I'm coming back home."

"And when I do, it's not going to just be about titles and being on top. No, it's about a purpose. I am coming back because I want to show all of you, the whole world. I want to show my family, my friends, my children, and my wife that when life throws a curveball at me, I am the type of man that will stand in that batter's box.  I will crowd the plate, I will choke up and I will swing for the fences every single time…because I will beat this and I will come back and you will see me very, very soon."
When Reigns went up the ramp and hugged his Shield brothers Seth Rollins and Dean Ambrose, you could tell by the tears in their eyes that they knew how serious this was. We all know, but we also know how strong Roman is.
Ever since that speech over two months ago, Reigns has focused on beating leukemia. He has stayed at home with his wife, his daughter and his twin sons while doing everything he can to beat it. There are have been no updates on if he might return to wrestling, but this week there was something to get excited about.
Seth Rollins, who is one of Roman's best friends, recently provided this positive update on Reigns:
"Roman is doing great. He obviously spent the holidays home with his family and he's doing really good. He's in a good position. He's primed to make a comeback, hopefully sometime sooner rather than later. But at the end of the day, he's just focusing on getting healthy right now. I will say that he's doing good, he's in good spirits."
That's good to hear. I don't know Roman and I may never get a chance to meet him in my life, but I hope he beats this. I would love to see him back in a WWE ring again, although really it's not about that. It's about his family. I want him to be there for his wife, his three kids and to live a healthy life like all of us want. This is not about a guy needing a heel turn or getting booed by the fans. This is about real life. I've lost an uncle to leukemia, so I know how serious it is. I cried when Reigns delivered the speech, but I was also inspired by the courage he showed. He's a good guy despite what his critics may think about his wrestling persona.
Could we see Roman Reigns back in a WWE ring in 2019? Maybe. We don't know enough of the details of what he is going through, and that's okay. What really matters is that he's healthy, happy and able to live a normal life. I truly hope he can do that.
Thanks for reading. Happy New Year. I'll be back in 2019 with more WWE coverage.