It was announced last month that Kurt Angle, the only Olympic Gold Medalist in WWE History, will take his rightful place in WWE's Hall of Fame on Friday, March 31 in Orlando, Florida. As great as it is that Angle has finally returned to WWE, a lot of fans want to see more too.
When WWE announced Angle as the headline name for the 2017 Hall of Fame, it came as a shock to a lot of people. There were leaked names which came out a few months earlier, but Angle's name wasn't mentioned. After leaving WWE in 2006, Angle went to TNA Wrestling where he spent nearly a decade as their top guy. Once his TNA commitments ended in March 2016, there was a hope among WWE fans that he would come back, but we didn't know when that may be.
I rank Angle very highly among the best all around wrestlers in the history of the business. He's also among my favorite wrestlers ever, along with the likes of Shawn Michaels, Steve Austin and Randy Savage. Being a seven-time World Champion in WWE (that's counting WWE's two titles, plus the WCW Title) is great, but I think the fact that people consider him one of the best wrestlers ever is a higher honor. Lots of people have titles. Not a lot of people are considered the absolute best. Angle is certainly worthy of being in that discussion.
Now that Angle is officially back in the WWE "family," there are a lot of questions about what's next. I'll try to answer that in a bit, but let's first take some time to appreciate the Olympic hero.
I remember Angle's first televised match well because I was there at Survivor Series 1999 in Detroit. He wrestled a guy named Shawn Stasiak, who didn't amount to much in his WWE career. At first glance, I thought Angle would be portrayed as a babyface wrestler simply because as an American Olympic Gold Medalist, I figured that was the easy route.
However, during the match he got on the microphone to rip on the crowd for booing him: "You do not boo an Olympic gold medalist. I'm the best in the world. I came here for you. You do not boo me!" I was 19 years old at the time and thought it was hilarious that he would rip us for booing him, even though it wasn't that bad. From that point on, I made it a point to keep a close eye on this guy because I felt he could be something special.
Less than a year later at No Mercy in October 2000, Angle challenged The Rock for the WWE Title. While I didn't think a title change was very likely, I was rooting for Angle to win. Angle was the heel in the match and got an assist from Rikishi, who accidentally cost The Rock the match by attacking him, leading to Angle getting the title victory. It's rare for a "rookie" to win the WWE Title within a year of being on television. Brock Lesnar did it in less time than Angle two years later, while others such as Sheamus and even AJ Styles (who had nearly 20 years of experience before his WWE debut) can say they did it too.
What Angle's first WWE Title win proved is that he was able to adapt to the WWE style quicker than anybody else. Angle has said many times over the years that he was learning on the job and credited many other wrestlers for helping him improve. That's just him being humble, though. He really did adapt to the wrestling business faster than anybody I've ever seen.
From 2001 to 2006, Angle was the best performer in WWE. I'm not going to say "arguably" either. He was the man in that company during that period where Steve Austin was winding down (he retired in early 2003) and The Rock moved away from wrestling full-time. The match quality was consistently higher than everybody else while he improved as a talker and a general actor overall. If WWE wanted to get somebody over or see if a young guy like John Cena could perform well on the main roster, they put them against Angle. If you looked bad against somebody as good as Angle, then there was no hope. If you could hang with Kurt, then maybe you have a bright future. Cena proved it in the summer of 2002 and became a massive star within a couple of years.
There were different points in Angle's career when he played different roles as well. Originally, he was a sarcastic heel who got lucky wins. Then he became more of a confident, badass, killer type of heel who took pleasure in making people tap out to his Ankle Lock submission. At other times, he successfully transitioned to being more of a comedic character, whether he was doing poses in the ring with Edge and Christian or the memorable comedy bits with Steve Austin. Who can forget the legendary cowboy hats? I still use that image on Twitter from time to when responding to some ludicrous things I read on a daily basis.
Angle stayed in the heel role until a serious neck injury slowed him down in 2003. Angle had neck problems going back to his Olympic days. He liked to remind fans (as a heel) that he won a gold medal with a "broken freakin' neck," which showed just how tough he was. I was really worried about him heading into the WrestleMania 19 dream match against Lesnar. He got through it, but there was serious concern that he could miss a year of action like Steve Austin did in 2000 due to a neck injury. Instead, Angle only missed a few months after he did a different type of surgery. I wonder if he looks back on that decision with regret because if he did the major surgery it probably would have helped him long term.
The neck surgery plus the extended absence led to Angle becoming a face that people loved. What was funny about it is that fans chanted "you suck" when his theme song played prior to a match when he was a heel, but they did it to him as a face too. It was covered by WWE and Angle, saying it was a respect thing because the people loved Angle so much. He went back to being a heel by the next year, but Angle's success as a face showed how he could adapt to any situation in WWE.
My favorite Angle feud and match involved Shawn Michaels, who is the best all-around performer in WWE history in my opinion. I'd probably rank Angle at No. 2 in case you're wondering because Michaels had a longer career with more bigger matches. In their prime, Angle may have been better. That's another argument for another day.
They didn't have a match until their awesome angle at the 2005 Royal Rumble. Michaels eliminated Angle from the match, so Angle went back in the ring, attacked Michaels and gave him an Ankle Lock on the floor. I don't think I've enjoyed anything in the Royal Rumble as much as that moment because it meant the two best performers in the world were finally going to have a huge match and it would take place at WrestleMania 21.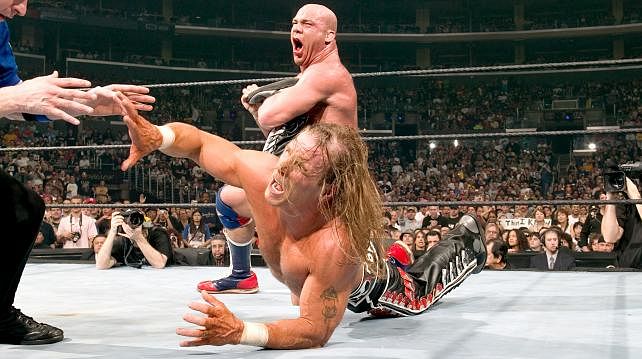 Going into that match at WrestleMania 21, expectations were sky-high. Fans were expecting one of the best matches ever, even though it was the first time they had a match. Sometimes two wrestlers wrestle for the first time and it stinks because there's no chemistry. However, with Angle and Michaels the chemistry was immediate. They went on to have one of the greatest matches I've ever seen. It's probably in my top five WWE matches ever as Angle got the win via his vicious Ankle Lock. They had other matches later in 2005 that were excellent as well, but it's the WrestleMania match that stands out as the greatest match they had together. I think it was Angle's best WWE match as well.
In the summer of 2006, Angle left WWE. It was a shocking departure that rocked the wrestling world, but it was the right move at the time since Angle had a painkiller addiction that made him a liability on the road. This came less than a year after Eddie Guerrero died while under WWE contract, so there was concern on WWE's side as well. What if something happened to Angle while he was under a WWE deal? I think Vince McMahon would have kept Angle if he was in great shape, but since Angle was so banged up with a lot of problems it is understandable why WWE parted ways with Angle. It's one of those departures that really was mutual rather than one side forcing the end of the relationship with the other.
Angle had incredible matches with many top stars in WWE including Steve Austin, The Rock, Triple H, Shawn Michaels, The Undertaker, John Cena, Brock Lesnar, Randy Orton, Rey Mysterio, Eddie Guerrero and so many others. All of that happened within a seven-year stretch. Imagine how many others he could have wrestled if he never left in his mid-30s? It would have been amazing.
I'm not going to go over his TNA career that much, but he was a lot of fun to watch there for the most part. The feud with Samoa Joe in 2006 is probably the best thing TNA ever did and I recommend any of their matches. AJ Styles was another guy who Angle wrestled a lot. Angle has called him the easiest guy to work with since Styles is so skilled in the ring. Even though Angle spent more time in TNA than WWE, wrestling there in front of 400 people in Orlando was a big drop-off from wrestling at WWE events. That's why his return this year feels so right.
It's going to be a special night on Friday, March 31 as Angle headlines the 2017 WWE Hall of Fame class. I'm one of those fans who doesn't watch the entire Hall of Fame ceremony every year just because it can be tedious to sit there for over three hours to listen to speeches. However, since I'm not heading to WrestleMania this year (I've been to four of the last six), I'll probably tune in just to hear Angle get a huge ovation from the fans in Orlando that night. Just remember kids, those "you suck" chants are done as a tribute to a man who meant so much to so many of us.
During his Hall of Fame speech, I also expect Angle to address his battles with alcohol. He had several DUI incidents that led to him going to rehab, which WWE paid for a few years ago. Angle has talked about being clean now; he's a better man, better husband and better father (he has five kids – three of them with his current wife). If you follow Angle on Twitter @RealKurtAngle, he is pushing the hashtag #AngleStrong while also working on an app to help people who have dealt with addictions. Good for Angle using his celebrity status for helping others.
Three Angle Ideas For The Future
As great as Angle's Hall of Fame night should be, it will also leave us wanting more. I'm sure that familiar "one more match" chant will strike up at some point, so with that in mind it's time to wonder what's next for him in WWE.
Angle is 48 years old and it's unlikely that he would work a full-time schedule for WWE due to age as well as injury history. I think WWE will be realistic by not asking him to work a lot of matches. However, he's certainly capable of working a schedule like a Brock Lesnar or Goldberg. The fans would understand it as well, since we are used to seeing part-time performers. Here are some ideas that could work.
1. Make him GM of Raw or Smackdown
I like Mick Foley and Daniel Bryan in their GM roles, but I don't expect either guy to stay in their position for the entire year. Foley needs major hip surgery while Bryan is going to be a dad for the first time in a few months, so both men would have plenty of reason to tell the bosses they want to stay at home for a while. At some point, there's going to be a change because in WWE there's always change, especially with the authority figures.
Angle would do a great job as a GM of Raw or Smackdown because the fans would give him the respect he deserves, while he could remind us how he can be funny when the time is right for it. Angle also had a run as the GM of Smackdown in 2004 as well. He has plenty of history with Triple H, Stephanie McMahon and Shane McMahon (check out the brutal Angle/Shane match at King of the Ring 2001), so they could easily pick him to replace Foley or Bryan on either show.
As a GM of Raw or Smackdown, it would be an easy way for some heel wrestler (assuming Angle is the face) to get under his skin leading to a big match at a major show like SummerSlam. With a few months of build leading up to it, Angle could have time to prepare and get in proper shape for a big match against whoever the opponent is.
If they want to go down a route they did many times in the past, Angle vs. Triple H could be a lot of fun to see one more time.
2. Feud with Rusev starting on Raw after WrestleMania
A natural new opponent for Angle is Rusev. Why? Because Rusev (along with his wife Lana) is the anti-American heel who talks about how Americans have problems. It's been noticeable that WWE has cut back on the anti-American stuff as Rusev has become a midcard performer, but they could always bring it back. With Angle being well known as the only Olympic Gold Medalist in WWE history, it would be an easy story to have Rusev attack Angle leading to a match.
The Raw after WrestleMania would be the perfect place to start an angle between them because it's one of the most important Raw episodes of the year. Angle could be announced as being on Raw for the first time in over a decade. The fans would give him a big ovation, he could talk about his great Hall of Fame career and WrestleMania when suddenly Rusev shows up. Have them get into an argument, Angle can clean house on him and the fans would be happy. When Angle gets backstage, have Rusev attack him from behind, beat him up badly and Angle would get taken away on a stretcher.
During the weeks that follow, have Rusev start a winning streak by beating a different wrestler every week. Call it the "Rusev Challenge" or something like that. After two minutes, have Angle answer the open challenge in street clothes leading to a huge brawl. When they finally get broken up, Angle can get on the microphone and challenge him to a match at Money in the Bank or whatever pay-per-view is around that time. Saving it for SummerSlam would be fine, but they could pick a different opponent for Angle at a bigger show like that. When they have the match, Angle wins to show that he's still got it and it positions him for a more important match down the road.
I know some fans may complain about an older guy like Angle beating a wrestler in his prime like Rusev, but it doesn't bother me. I think Angle's WWE return will be one of the biggest stories of the year. If WWE is smart, they will use him in four to five matches in a year with a few wins there to show he's not just there to put over the young guys. I don't think Rusev would be hurt by working with Angle either. It would benefit both men.
3. One more match with Brock Lesnar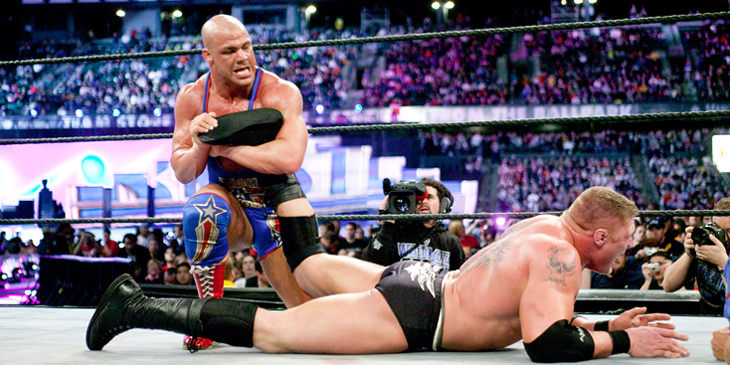 Who is Angle's biggest rival? In my opinion, that's Brock Lesnar. Their first match at WrestleMania 19 in 2003 was the main event of that show. They followed that up with several more matches that were outstanding, including the only 60-minute Ironman Match in Smackdown history, which was better than pretty much every other Ironman match in WWE. If it happened in a bigger setting, people would be talking about it a lot more. The point is that Lesnar vs. Angle hasn't happened in nearly 14 years. I can assure you that a lot of fans would love to see it one more time.
The reason why the match is so interesting is they are arguably the two most accomplished amateur wrestlers in WWE history and managed to have great careers in WWE as well. You can't lie about guys having major credentials from amateur wrestling. They earned it. Both guys stand out because of it.
It would be easy to set up a match between them because any time Angle is in the ring doing a promo, Paul Heyman could cut him off, rip him for being gone for so long and reminding him that when Angle faced Brock Lesnar, it was Lesnar that usually had his hand raised. That could lead to Angle saying that the one guy he wants to face more than anybody is Brock Lesnar. Have them start a brawl and go from there as a big match at SummerSlam. Sounds easy enough to me.
There are plenty of other people I can think of that would lead to great matches with Angle, whether they are rivals from the past (Cena, Samoa Joe, AJ Styles, etc.) or newer wrestlers who Angle has never wrestled (Rollins, Reigns, Ambrose, Wyatt, etc.). I can probably come up with 20 different storylines that would make a lot of sense,and I'm sure you can too. For now, let's just hope that there are plans for matches in the future because it would feel so right to see Angle in a WWE ring again.
Final Thoughts
I'm really excited to see the kind of reaction that Angle gets at the Hall of Fame. I like to joke about how fans overdo it with the "you deserve it" chants these days, but in Angle's case not only is the WWE Hall of Fame a deserving honor, but being on WWE television is what he deserves as well. It's where he should have always been. For him to get back to that point after dealing with serious addictions, working for another company, going through a messy divorce, getting married again, going through rehab and finally finding his way back to WWE would be an awesome story. Sure, he made some mistakes along the way, but a lot of us do that too. This is one of those feel-good comeback stories that make me proud to be a wrestling fan. It also makes me proud to be a Kurt Angle fan as well.
This may be a bit of a bold prediction, but I think Angle and a lot of fans may cry at the image of Angle standing in behind a WWE microphone at the Hall of Fame. There will be plenty of tears of joy that night as one of WWE's favorite sons returns home. Welcome home, Kurt.