A wrestling legend died on Monday night. Vader, who often wrestled as Big Van Vader, passed away at age 63 due to complications with his heart and recent bout of pneumonia. Vader, whose real name was Leon White, talked about his heart issues often in the last few years, noting that one doctor said he had about two years to live, which was a statement he made less than two years ago.
Vader's son Jesse posted about his death on Twitter from Vader's account on Wednesday.
It is with a heavy heart to inform everyone that my father, Leon White, passed away on Monday night (6/18/18) at approximately 7:25pm. pic.twitter.com/dP4CNaMuXa

— Big Van Vader (@itsvadertime) June 20, 2018
Around a month ago my father was diagnosed with a severe case of Pneumonia. He fought extremely hard and clinically was making progress. Unfortunately, on Monday night his heart had enough and it was his time. pic.twitter.com/hJYjumvxjH

— Big Van Vader (@itsvadertime) June 20, 2018
Vader will be remembered among wrestling fans on the short list of best big man wrestlers ever. He was listed 6'5" but was probably a few inches shorter than that. His weight hovered around the 400 pound mark for most of his career. He played football before his wrestling days and was a part of the Los Angeles Rams (my favorite team, by the way), but that didn't work out and he went to wrestling in 1985. Over the next 30 years, Vader became one of the biggest names in wrestling. He had matches even when he was in his 60s, which was probably not smart, but he loved it so much.
Vader became a household name in North America when he started with WCW at the 1990 Great American Bash. He already had some success in New Japan by that point (he was their World Champion three times), but being on WCW TV was huge for his career. Vader won his first of three WCW World Titles at Great American Bash 1992 and was in the title picture for most of the next two years. After Hulk Hogan went to WCW and beat everybody (like usual), Vader was out of there. He went to WWE in 1996, destroyed President (in the storyline) Gorilla Monsoon in a memorable angle and by that summer he was challenging Shawn Michaels for the WWE Title at SummerSlam. Vader failed to become the WWE Champion, but his first year in the company went well. By 1998, he was back to Japan where he ended his run as a regular in his mid-40s.
The key thing about Vader matches is they had a similar story a lot of the time. Vader was usually the heel, he dominated the majority of the match using his power and when the opponent made the comeback, Vader was great at selling moves. When you watched a Vader match, you knew it could end at any time with one of his Vader Bombs off the ropes, a devastating Powerbomb, or even a moonsault, which was so impressive for a 400-pound man to do. He did a lot of little things right such as the way he threw a clothesline or a punch to the side of the head. It looked like it could really hurt and, in some cases, it probably did. That's why Vader had a bit of a rep of being a bit too stiff in the ring.
Vader is not in WWE's Hall of Fame, which is ridiculous considering some of the questionable names in the Hall of Fame that accomplished way less than him. This is why I always have a tough time talking about WWE's Hall of Fame in a serious way, because how do you say guys like Koko B Ware, Hillbilly Jim, and The Godfather are Hall of Famers when Vader isn't? It's ridiculous. Vader was a great worker, a huge draw, a multiple time World Champion, a headliner all over the world (he had a lot of success in Europe and Japan) and a generation of fans grew up loving wrestling because of guys like him. In 2016, Vader inducted his friend Stan Hansen into the Hall of Fame. Most of us figured that Vader would get the call the next year. He didn't. I don't understand. I'm sure that it will happen eventually, but it should have happened while he was alive.
Vader wrestled all of the biggest names the wrestling business had to offer. In WCW, his greatest rivals were legends like Ric Flair, Sting, Cactus Jack, and Hulk Hogan. During his WCW days, Vader was also managed by one of the greatest World Champions ever, Harley Race. In WWE, Vader had memorable matches with guys like Shawn Michaels, Bret Hart, The Undertaker, and Steve Austin. When he competed in Japan, he had so many great matches with the likes of Antonio Inoki, Mitsuharu Misawa, Kenta Kobashi, Jun Akiyama and many more. There aren't many wrestlers from the 1990s that can say they wrestled that many big names, but Vader did.
I have always been a big Vader fan from the moment I saw him in his WCW run. I would guess it was around 1992 because I was about 12 years old watching as much wrestling as I could in my home near Toronto. I got into WWE about five years before that, but when we got WCW shows, I loved them because of Vader. Guys like Sting were cool too. I just thought Vader was such a badass and I always liked heels more than faces just to be different than my friends. Vader was one of the most believable wrestlers ever because he looked like a dude that could kick anybody's ass. When you can look the part and have great matches, then you're going to have a lot of success.
The first 400 pounder to do a moonsault. #RIPVader pic.twitter.com/VIuvyEgJlU

— Old Wrestling Pics (@OldWrestlingPic) June 20, 2018
As a tribute to Vader, I've come up with a list of ten Vader matches I think you should check out. If you've seen them, give them a look again because you'll be reminded how great he was. If you haven't seen them before, it will show you how much of a star this man was. The matches below are from Vader's run in WCW and WWE with one match from Japan also included. I could include more Japanese matches because he had a lot of success there, but I realize that style is not for everybody, especially without English commentary in those days. Plus, I wanted to list matches you could easily find on WWE Network.
Vader wasn't known for his promos, but his catchphrase is something we'll never forget: "It's time, it's time…it's Vader time." Now it's time to look at some of the best matches of his career. Let's get to it.
10. WCW Championship: Ron Simmons defeated Vader – August 2, 1992
The match is probably not one of Vader's ten best matches, but it was historically very important. Vader was the WCW World Champion that put over Ron Simmons clean in the middle of the ring after Simmons hit a powerslam. It's great watching that clip again because it reminds you of how well Vader was booked because any time he lost a match the people were going to react. Simmons beating him was seen as a huge upset. It was an awesome moment.
The win made Simmons the first black World Champion for a major wrestling promotion. If you hear WWE tell it, they'll say first black World Champion in wrestling history, but when you listen to this audio clip from Jim Cornette, you'll know that there were others before Simmons. It's just that Simmons was the first in a major company.
Vader missed a few months of action with a knee injury and he won the title back from Simmons in December of 1992.
9. WWE Championship: The Undertaker defeated Vader @ Canadian Stampede – July 6, 1997
This is a good one to check out because Undertaker and Vader are probably the best big men wrestlers in terms of quality matches. Sure, they have stinkers just like every wrestler, but there are so many fun matches too. I recommend this whole show because Canadian Stampede was one of WWE's best pay-per-view events ever.
The Undertaker was the face WWE Champion and Vader was his opponent just to give him a competitive match. There wasn't much of a story going in, although Vader's manager Paul Bearer was pushing the eventual debut of Kane as Undertaker's brother. There is a spot late in the match that was a bit questionable where Undertaker hit a low blow, the ref saw it, and did nothing about it. I assume there was a mix-up there.
Watching the match again today made me wish they could have wrestled more in a long term feud in WWE. As for this match, I would have liked it more if Vader got some more offense in. It just didn't get to that next level where Vader looked like he might win. I liked how it took a lot to put Vader away because Undertaker had to do two Chokeslams and a Tombstone to win the match.
8. Kenta Kobashi and Jun Akiyama defeated Vader and Stan Hansen @ All Japan – December 5, 1998
This is the only Japan match I'll include because like I said earlier, I wanted to pick matches that are easily accessible on WWE Network. I included the Youtube clip because it's the full match that will allow you to hear how loud the crowd was from the start of the match all the way to the finish. Is it the best Vader match in Japan? Probably not, but it will give you a good idea of how big of a star he was over there as well.
Vader was very close with Stan Hansen. They are two of the most successful American wrestlers in Japan. Vader inducted Hansen to the WWE Hall of Fame in 2016 even though most WWE fans likely didn't know who Hansen was. Kenta Kobashi is on the short list of greatest Japanese wrestlers ever, while Jun Akiyama had a very good career as well.
It's a good match to watch with the crowd going wild for everything even basic rollups drew a big reaction. When Vader hit Kobashi with a Powerbomb and he kicked out, the place exploded. Akiyama came back with a knee to the back of Hansen while Kobashi decked Hansen with the forearm and they got the win, much to the delight of the crowd. I can't understand a word the announcers said, but they sure were happy with that result. Vader was always great at being the bad guy, that's for sure.
7. Vader defeated Sting in a Leather Strap Match @ SuperBrawl III – May 23, 1993
(The above clip is Vader talking about what happens at the end of this match.)
This match was about one year after their rivalry started. This was called a "Lights Out Leather Strap Match" that was not sanctioned by WCW as a way to put it over as being a special match. They also had this thing called the "White Castle of Fear" that was part of WCW's cheesy production. Vader was the WCW World Champion with Harley Race by his side while Sting was very popular with the crowd. This was not a title match since it was not sanctioned.
A strap match has unique rules because you have to put a strap on the wrists of both guys and the winner of the match is the first guy to touch all four turnbuckles in a row. That meant that Sting was at a huge disadvantage because it was going to be tough to move Vader around.
What's great about this match is that even though the leather strap is involved, they managed to have a typically awesome Vader/Sting match with Vader doing his usual array of moves off the ropes. Sting, who was bleeding from the forehead, made a nice comeback thanks to a German Suplex and a DDT. With Vader out on the mat, Sting picked up Vader on his shoulders and touched three of the turnbuckles in a row even though the ref never saw it. Sting tripped over the referee before touching the fourth turnbuckle. Vader capitalized from there by dragging Sting around the ring, Vader touched three turnbuckles, Sting tried to fight it, Sting kicked Vader and Vader managed to touch the fourth turnbuckle.
Vader was also bleeding heavily for the majority of the match from the left ear. In the above clip, he noted he got cut by the blade that Sting had in his finger. It was not a traditional blade job that you see in wrestling, but Vader was a bloody mess.
6. WWE Championship: Shawn Michaels defeated Vader @ SummerSlam – August 18, 1996
Shawn Michaels vs. Vader was a mid-1990s dream match for me. I'm sure it was for a lot of people too. Michaels was the WWE Champion and was arguably the best in-ring performer in the world at the time while Vader had been one of the best big guys that dominated WCW in the first half of the decade. Vader debuted in WWE in early 1996, so it was obvious this match was coming and SummerSlam was the right time for it.
The match was a lot of fun with Vader looking like the monster he was in WCW and Michaels selling everything perfectly. The match had some issues because it was overbooked due to teasing the countout, then the disqualification, and then Michaels eventually pinned him to win. The crowd was hot for the whole match, which went around 23 minutes. It's too bad that Shawn didn't like working with Vader because they could have had matches that could have been better than Vader vs. Sting.
The backstory to the match is that Shawn hated working with Vader because of Vader's stiff style in the ring. Vader was supposed to beat Michaels for the WWE Title, presumably at Survivor Series 1996 and then drop the title back to Michaels at Royal Rumble 1997. It didn't happen because Michaels complained about Vader, so Sycho Sid was given the title while Vader's push ended at SummerSlam.
The above clip is from Bruce Prichard's podcast talking about how Shawn didn't like working with Vader and how the course for the WWE Title changed due to Shawn complaining about Vader.
5. WWE Championship: Bret Hart defeated The Undertaker, Vader, and Steve Austin @ Final Four – February 16, 1997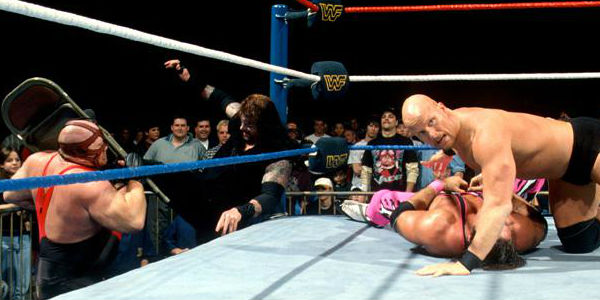 This was Vader's second-best chance of becoming WWE Champion although by this point I don't think anybody thought he was going to win. At a pay-per-view called Final Four, the WWE Championship was vacant and Vader was part of the match with Royal Rumble winner Steve Austin, The Undertaker, and Bret Hart. The story was that Austin was actually eliminated in the Rumble match, but the referee never saw it and Austin eliminated Hart, Undertaker, and Vader illegally. Since Shawn Michaels vacated the WWE Title due to "losing his smile" and dealing with a knee injury, the WWE Title was up for grabs.
The rules of the match were unique because it was not like a Fatal 4-Way match you would see in today's WWE. Since it followed the Royal Rumble, they used rules where you could pin somebody to eliminate somebody and you could also toss them over the top to the floor.
There was a scary moment in the match with Vader where he held up a steel chair, The Undertaker kicked it back into his face, and Vader started bleeding around his eye. The blood got worse as the match went on, and it looked like Vader couldn't see anything out of the eye.
The match went nearly 25 minutes with Vader lasting about 22 minutes. Vader was eliminated when he was going for a Vader Bomb off the ropes, Undertaker sat up, punched Vader in the groin, and Vader bumped over the top to the floor to eliminate him. Bret Hart won the match to become WWE Champion for one day because he lost to Sid the next night on Raw. Vader had a very impressive showing in this match. It's too bad he wasn't booked the right way during the rest of his run in WWE.
4. WCW Championship: Vader defeated Sting @ Great American Bash – July 12, 1992
Loved working with Leon, loved the friendship I had with him for many years, and especially these last 8 months of his life. He will truly be missed. pic.twitter.com/32cWMdH2yX

— Sting (@Sting) June 20, 2018
Some guys just have a natural chemistry when it comes to pro wrestling. Sting and Vader always had it. When I watched the match again, a lot of memories came flooding back because I remember how well this was built up. The story was that Sting was WCW Champion for about four months. Vader was getting a monster push, so the story was about whether the champion Sting could overcome the biggest challenge of his career.
I liked the story of the match because it was the usual dominance from Vader with the commentary team of Jim Ross and Jesse Ventura wondering if Sting would be able to come back. Every time it seemed like Sting would get the momentum on his side, Vader would club him with a forearm to the face or a clothesline.
The final few minutes of the match were creative. I don't know who came up with it, but after Sting hit a Stinger Splash on one side of the ring, he missed the second time. The reason he missed is because he jumped too high and Sting hit his head on the ring post. It was brilliant because it looked like Sting was going to win, but one move cost him the match and we all knew Vader was going to take advantage of it. Vader picked Sting up and hit a Powerbomb to become the WCW World Heavyweight Champion for the first time.
It was a huge match in Vader's career because it was the first WCW World Title reign that really legitimized him as a main event player. Kudos to Sting for putting him over in such a big way.
3. Vader defeated Cactus Jack @ Halloween Havoc in a Texas Death Match – October 24, 1993
My heart is heavy with the news of Leon White's passing. He was an amazing performer who brought out the very best in so many. Best big man ever, the most effective monster heel of his generation. My heartfelt prayers to his loved ones, and my gratitude for having known him. pic.twitter.com/uy3yBfwZOs

— Mick Foley (@RealMickFoley) June 20, 2018
Vader was WCW World Champion, but this was not for the title. This was a Texas Death Match with some unique rules because you didn't pin a guy to win. It was a bit like a Last Man Standing match, yet not exactly. If this was in today's wrestling environment, it would simply a Street Fight type of match where you could pin a guy anywhere in the arena. It was a different story 25 years ago because the rules were a lot more complicated.
Despite the issues with the rules, it was a chaotic brawl that fit the style of Cactus Jack, who was known as a brawler. If you followed Mick Foley's career, you know he loved being a part of those kinds of matches. Both guys were a bloody mess as they brawled all over the arena. Most of the match took place out of the ring. That's not typical for a Vader match, but it showed how diverse he was because he was able to adapt to Jack's style as well as any of Jack's opponents in his career.
Some of the spots in this match were brutal. They didn't properly use a table the way we would see later in the decade. At one point, Vader hit Jack in the back with a steel chair, but the legs of the chair hit Jack. It looked rough. Jack jumped on Vader's back on the ramp and Vader squashed him. That looked rough. Vader got another chair and destroyed Jack in the head with it. After Vader hit a DDT on a chair, a trainer checked on Jack. Jack hit a DDT on the ramp. The ref counted both guys down, Harley Race stunned Jack in the leg with a taser and Vader got back up to win.
The ending was cheesy due to the taser, but I still remember the match fondly and it's one of my favorite WCW matches 25 years after it took place.
2. Sting defeated Vader @ Starrcade – December 28, 1992
This was not for the WCW World Title, but it continued the Vader/Sting story that I covered earlier when Vader beat Sting for the WCW Title. At this point, Ron Simmons was still the WCW Champion. This match was the "King of Cable" tournament final. It was just a tournament to set up another Sting and Vader match.
It was the usual Vader vs. Sting match where Vader dominated, Sting kept on fighting back, and the crowd was so loud for it. It was noticeable watching it again because the ovation for Sting was ridiculously loud when he entered the ring. There was more of a special feel for this match because of the previous matches they had, which they played off, so Sting was able to counter a lot of Vader moves and escape when needed.
The finish of the match was well booked with Vader peppering Sting with forearms and Sting telling him he wanted more, leading to Sting decking Vader with punches while announcer Jim Ross mentioned how tired Vader was. Sting went up top and connected with a splash that Vader kicked out of. Vader got back into it with a splash off the middle ropes. Vader went to the top rope this time, Sting got up, Vader jumped, and Sting gave Vader a big powerslam leading to Sting pinning him to win.
This was my favorite match between Sting and Vader. It's too bad that it wasn't for the WCW World Title like some of their other great matches were because it would have been even more memorable if it was.
1. WCW Championship: Ric Flair defeated Vader @ Starrcade – December 27, 1993
The story was easy for this match. Vader was the dominant heel WCW Champion and Flair was in a rare babyface role as the challenger that put his career on the line for one more title shot. They built it up so well. It's also worth pointing that the original plan was for Vader to put over Sid Vicious here, but Sid was replaced after he was fired following a fight with Arn Anderson. While WCW could be criticized for making a lot of dumb decisions, putting Flair in place of Sid in a match in Flair's hometown of Charlotte was the right call.
Everybody watching this match knew that Flair was going to win, yet if you listen to the crowd, you could tell they were so worried that Vader was going to win that they were hot for everything in the match. There was also a question of how Flair could win because there was no way he could put the Figure Four Leglock on a man as big as Vader.
As the match went on, you could tell Vader was getting tired a bit. Flair was used to going over 20 minutes all the time. In this match, they went just over 21 minutes and it took a lot out of the 400 pounder Vader.
The key spot late in the match was when Vader went for a moonsault, Flair moved out of the way, and then Harley Race went for a headbutt on top only for him to accidentally hit Vader. Flair got in some chops, Vader clotheslined him, and then Flair just tripped up Vader's leg and covered for the win. The fans exploded in cheers as Flair celebrated with the WCW World Title once again. Could it have been a better finish? Sure. I thought the ending was a bit sloppy, but the fans reacted to it as a big deal because it was due to Vader's status as a dominant World Champion.
Final Thoughts
It was a lot of fun to re-watch some of these matches and write about them. The thing that really stood out to me is they hold up so well over 25 years later. That's because Vader wrestled a physical style that a lot of wrestlers use today. When you see all the hard punches, knees, and kicks in matches, remember that guys like Vader made that popular. Part of it is the Japan "strong style" too. Vader also brought that style to the United States after he had success in Japan. When he went back to Japan, he helped to popularize that American style too.
I hope wrestling fans think of Vader as being a diverse talent. He wasn't just some big guy that did power moves. He sold moves well, he had good matches with everybody and most importantly of all, he made it look real. The job of a pro wrestler is to make it look real without trying to hurt your opponent. He did it better than any big man ever has.
Thank you for the memories, Vader. You will be missed and you will never be forgotten.