Last week's edition of Raw featured a great moment that drew a big ovation from the crowd when Roman Reigns stood on the stage with Dean Ambrose on his left and Seth Rollins on his right. It was the return of a very popular group in WWE history, The Shield.
The trio of Reigns, Ambrose and Rollins were put together while they were in the WWE developmental system in 2012. Known as Florida Championship Wrestling based out of Tampa with Ambrose and Rollins considered two standouts in developmental because of their history working indies for several years leading up to that. Reigns was more of a project who started wrestling about two years earlier.
The story goes that CM Punk, who at that time was the heel WWE Champion, presented the idea of having a trio of guys that would watch his back. (Punk actually credited a WWE writer for presenting the idea to him, but Punk worked on the specifics of it.) WWE liked the idea enough to create the group known as The Shield and at Survivor Series 2012, they debuted by attacking Ryback in a triple threat match for the WWE Title also involving Punk and John Cena. The Shield put Ryback through a table with a Powerbomb while Punk pinned Cena, who was out for over a minute after taking Ryback's "Shellshock" finisher.
What's interesting is that the original suggestion from Punk included Rollins and Ambrose in the group because, as I said earlier, they were two guys seen as main event talents. The third guy Punk suggested was Kassius Ohno (Chris Hero), who was a friend of Punk's that he wrestled with in the indies for many years, but WWE changed that part of it. They wanted Reigns (who was known as Leakee in FCW) in there because they saw Reigns as a blue chip prospect, which was actually pretty smart on WWE's part.
While there were several teases that The Shield were working with Punk, the story ended up being dropped and The Shield were more of a rogue trio working together.
The Shield was successful because they were portrayed as stars from day one
The Shield appeared as a group on WWE TV from their November 2012 debut at Survivor Series until their breakup in June 2014. It's not that long when you think about it because a year and a half together seems like a short time. But the way they were booked made them look like bigger stars than any newcomer group in WWE history.
What was important with The Shield is how they were utilized from day one. Their first match was at TLC 2012 about one month after the Survivor Series 2012 debut. It was a six-man TLC tag match against Daniel Bryan, Kane and Ryback. The match ended with The Shield winning clean, which was the start of something special.
The Shield won every match they had until the June 14, 2013 edition of Smackdown when they lost to Randy Orton, Daniel Bryan and Kane. Watch the video of it below and listen to the crowd response when Rollins tapped out to Bryan to end the match. Huge reaction. That's because the fans saw these Shield guys win every match for six months, so when they finally lost, the people went crazy. It was a big deal.
Listen to that crowd! The people cared! It was only four years ago, yet it seems like a lot longer because the crowds today seem like they care a lot less.
I don't know the numbers in terms of what the record was for The Shield during their matches on Raw, Smackdown and PPV events, but if I had to guess I'd confidently say that they won at least 80% of their matches, if not more. What does that make them in the eyes of the fans? They were huge stars right away. We want to see winners, not losers, so putting The Shield out there and having them beat quality wrestlers was a great way to set them on the right path of success.
Remember The Nexus? It was a group that was created in 2010 with WWE developmental wrestlers. They had a lot of potential that failed to win the big matches, especially their leader Wade Barrett. They were a big heel group two years before The Shield were on the scene. With The Shield, WWE got it right because The Shield were booked like a big deal right away. Give WWE some credit from learning from a past mistake they made with The Nexus.
Roman Reigns had a breakout night at Survivor Series 2013
Survivor Series 2013 was an important for The Shield, but more specifically for Roman Reigns. It was also an indication of what WWE had planned for their future with WWE clearly handpicking Reigns as the guy they hoped to build the company around for the future.
The Shield trio of Reigns, Rollins and Ambrose teamed up with (Antonio) Cesaro and Jack Swagger to face off against Rey Mysterio, Jimmy Uso, Jey Uso, Goldust and Cody Rhodes in a traditional five-on-five elimination match. The Shield guys were on the heel team in that match. Reigns and Rollins ended up in a 2-on-5 situation with Reigns eliminating four of the faces and he was the sole survivor in the match.
After that Survivor Series match was over, Reigns received a huge ovation from the crowd. Keep in mind that he was a heel, so it was one of the first times where the crowd had shown The Shield that kind of love. The announcers also put over Reigns in a huge way. Clearly, WWE knew by this time that they wanted Reigns to be a breakout babyface they could push.
Two months later at Royal Rumble 2014, Reigns set the record for most eliminations during a Rumble match with 12. The record of 11 was held by Kane for 13 years, so again that showed how hard WWE was trying to put over Reigns, who lasted 33:51 in the match. It ended with Batista beating Reigns to win while the crowd hated it because they wanted Daniel Bryan to win and he wasn't in the match.
The reason I point all of this out is because fans who hate Roman Reigns will point to WWE shoving him down our throats, yet if you watched Survivor Series 2013 or the 2014 Royal Rumble, you could tell the fans wanted Reigns to be the next top guy. The WWE manipulated a lot of it with how Reigns was presented, but you could tell the fans were buying into Reigns as a future star.
In the early part of 2014, The Shield made the switch where they became babyfaces. The momentum from Survivor Series really propelled them to change. My favorite WWE match in 2014 was when The Wyatt Family beat The Shield at Elimination Chamber in February 2014. I think that's when the face turn of The Shield really started. From there, they ended up feuding with a reunited Evolution trio of Triple H, Batista and Randy Orton post-WrestleMania. The Shield beat them in two PPV matches and the crowd was as hot as ever for The Shield. That's when things changed.
The Shield ended too soon because of outside factors
The night of June 2, 2014 on Raw is when evil boss Triple H told The Shield that he always had a Plan B, which led to Seth Rollins taking the steel chair he had in his hand and he hit Reigns in the back with it. The crowd freaked out while Ambrose had a shocked look on his face. Rollins beat on Ambrose with the chair, which led to Rollins aligning with Triple H and Randy Orton as a top heel group known as The Authority.
Prior to WrestleMania this year, Roman Reigns appeared on Talk is Jericho with Chris Jericho to talk about his life and career. It was a good interview covering his journey in WWE. They talked about The Shield and Reigns made a great point about how he thought The Shield ended too soon:
"Naw, I thought it was too early. I thought we needed like a long [babyface run]. I thought we needed a longer babyface run and I thought we could. Hell, I thought I was going to get a hot tag for a minute. Do you know what I mean? And it was working. It was helping all of us. For them (the fans) to really care about our breakup, they need to love us and I thought that we were going to have the ability to make them love us. And we hoped we could change our characters a little bit. The way we broke up and how early it was and then just the way it went, we weren't able to do that."
I agree with everything he said there. The group should have had a longer babyface run because it was only about four months of them being cheered when Rollins did the turn. The problem was WWE needed them to be broken up because they were lacking top stars.
In June 2014, WWE was hurting because Daniel Bryan was an injured WWE Champion dealing with neck problems. Five months earlier, CM Punk walked out on the company after he was one of their top guys for about five years. In WWE's eyes, they needed to break up The Shield so that the trio could help fill the void as top stars in the company.
The Shield split into three individuals, leading to many matches between them
From the moment Rollins turned on Reigns and Ambrose in June 2014 until earlier this year, the three members of The Shield wrestled each other so many times. They have wrestled each other for so long that some fans may not realize that they have spent more time apart (over three years) than the time they were together.
Rollins and Ambrose had so many matches together at pay-per-view events. Their 2014 Hell in a Cell match was memorable with both of them bumping off the side of the cell through tables on the floor. It also had that cheesy ending with Bray Wyatt's hologram. I loved Rollins vs. Ambrose at Money in the Bank 2015 when they had a ladder match for the WWE Championship that saw Rollins retain his title in unique fashion. They had great chemistry together as opponents, partly because they worked so well together as a team before that.
There were fewer Rollins vs. Reigns matches, but they had the most memorable moment between any of the former Shield members. I'm talking about WrestleMania 31 in 2015 when Rollins ran down to the ring with his Money in the Bank briefcase to cash in during the physical Reigns vs. Brock Lesnar match for the WWE Title. Rollins ended up pinning Reigns to win the WWE Title and end WrestleMania in spectacular fashion. I called it the best Money in the Bank cash-in moment ever. It's probably the best WrestleMania moment from this decade as well.
I remember writing numerous times that Rollins vs. Reigns vs. Ambrose should happen for the first time ever as the main event of WrestleMania 32 in Dallas in 2016. A match like that for the first time ever at the biggest show of the year and the biggest WrestleMania of all time? Perfect spot for it. Sadly, Rollins suffered a major knee injury in November 2015 when he tore his ACL and was unable to compete at that WrestleMania. I thought "Hey, maybe they can save that Shield triple threat for the next WrestleMania in 2017." Nope. They rushed the match by doing it at Battleground 2016, which was a good PPV that is mostly forgettable today and largely forgotten as the show where the first Shield triple threat match took place.
During their time as singles wrestlers, Reigns went on to win the WWE Title three times, Rollins has held it twice and Ambrose had one reign last year as well. None of them have won the Universal Championship on the Raw brand, but betting on Reigns to win it at the next WrestleMania would be a smart bet on your part.
The Shield's return needs to build to something bigger
There are a few reasons why WWE put The Shield back together this month. For one thing, there's no sign of Brock Lesnar and the Universal Championship until next month while John Cena is probably not coming back to WWE television until early next year. It's up to WWE to give fans something interesting to sink their teeth into in terms of storylines, so that's why we're getting Reigns, Rollins and Ambrose teaming up again to face off with Braun Strowman, The Miz, Sheamus and Cesaro next Sunday at WWE TLC in a Tables, Ladders & Chairs match.
Who is going to win that match at TLC? The Shield, of course. If WWE books them to lose their first match back together after over three years, then that would be the worst booking decision they've made this year and that's saying something because there has been a lot of bad this year!
After TLC, The Shield trio may team together again at Survivor Series as part of a 4-on-4 or 5-on-5 match with some others joining them. They'll probably win that match too. In January, that's Royal Rumble time where it's every man for themselves. I would expect this fun reunion to end by that point.
Like with anything in WWE, I can enjoy what's going on in the present time, but I also wonder what's next. When it comes to The Shield, what's next is so important because Reigns, Rollins and Ambrose are three wrestlers in their early 30s who should headline many more shows and win many more titles over the next decade as long as they are healthy. They are characters that WWE is going to build around in the long term.
When I think about Dean Ambrose, that's a guy I can point to and say that he needs a heel turn as much as anybody in WWE. Sure, the team with Rollins has helped him after he had become so stale earlier in the year, but it's not going to last forever. In a few months' time, Rollins and Ambrose will drop the Tag Team Titles because WWE knows they need both guys to be featured singles wrestlers. When they drop them, that's when Ambrose needs to change his ways.
Ambrose should turn heel on Rollins and also take out his frustrations on Reigns. Let's see what Ambrose can really do as the "lunatic fringe" because saying a guy is crazy when he's been a babyface for three years really isn't saying much. A crazy guy should be a violent, psychotic man and that's a role Ambrose could play to perfection. I love the idea of Ambrose turning his back on Rollins as payback for what Rollins did three years ago and Ambrose telling him that he can never trust him again.
Reigns needs to fully embrace the heel side too. That's something I have written since he was completely rejected by the fans as the winner of the 2015 Royal Rumble, in the build-up to that match against Brock Lesnar at WrestleMania 31 and then a year later when he was booed by 100,000 people (I was there) after beating Triple H to win the WWE Title at WrestleMania 32 in 2016.
Earlier this year at WrestleMania 33, Reigns was booed heavily for beating The Undertaker in what was likely Undertaker's last match. One night later on the Raw after WrestleMania, Reigns stood in the ring to start the show and the fans booed him for about eight minutes. Reigns said "this is my yard now" and left to even more boos. There was no change to how Reigns was booked after that moment. He is still booked like a face even though a lot of people boo him loudly.
Do I think WWE is going to go the heel route with Reigns? Nope. They should, though. Roman's best friends are his cousins The Usos, who have thrived this year following a heel turn. They have shown way more personality in the heel role and have had better matches because of it too. Imagine a heel stable of Roman with The Usos working together. Add Samoa Joe to the group as a tough guy and you'd have a killer Samoan group that could dominate the company for a year or two.
Rollins can thrive as a long-term face in WWE, but they need to work on some things with him. He needs to find some kind of catchphrases to get over, so that the fans can relate to him more. When Daniel Bryan started the "YES" thing he did it as a heel to taunt the fans, but they eventually grew to love it and it helped him get to that next level. Rollins needs something like that. In the ring, Rollins wrestles the kind of exciting style that the fans love while also showing off his athleticism. He needs a better finisher, though. The knee to the face is fine as a setup move. Using the Frog Splash as a finish would be a lot cooler. It would be even better if he could use the Curb Stomp to win matches again, but that seems to be a thing of the past.
Final Thoughts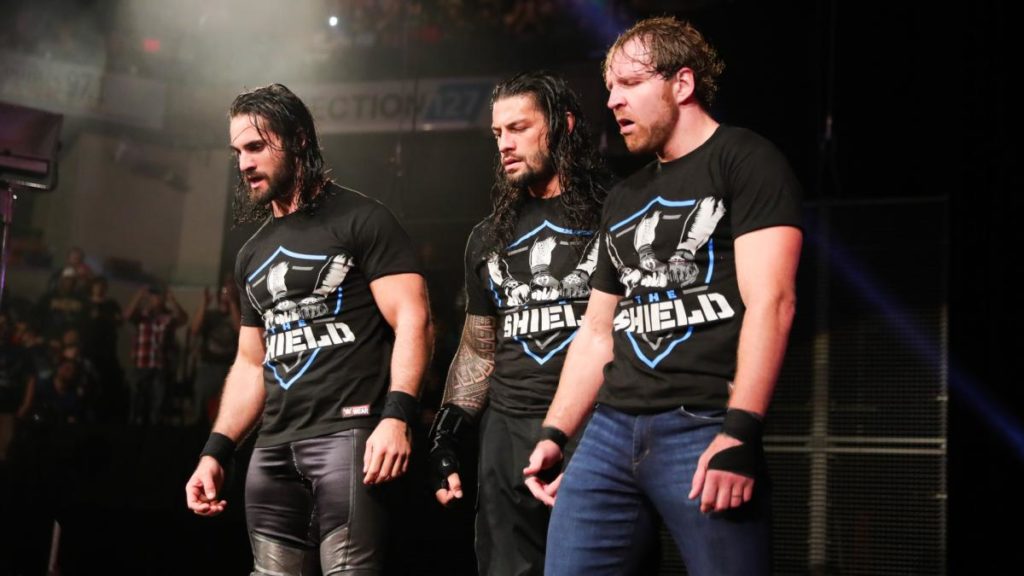 I'm not sure what WWE is going to do with The Shield, but they need to figure out some sort of big angle. Whether that's Ambrose as a heel or Reigns finally embracing the dark side, that's something WWE has to consider. If they are merely together for two or three PPV matches, then reunite every once in a while for Raw tag matches then that wouldn't be enough. Think big picture with a long-term plan.
If it was up to me, I would have Ambrose and Rollins lose the Raw Tag Team Titles prior to the Royal Rumble. Put both guys in the Rumble match, have Rollins eliminate Ambrose by accident and say it was just done because it was every man for himself. After getting eliminated, Ambrose goes back in the ring, destroys Rollins with a steel chair and they are back to being rivals again with Ambrose as a heel. That leaves Reigns in the middle trying to figure out who he's going to be friends with. A grudge match between a heel Ambrose vs. Rollins would be fine with me.
The WWE product is not hot right now, but the return of The Shield has certainly helped to light a fire in terms of getting fans more interested at least in the short term. It's up to WWE to continue to build interest to something even bigger come 2018 leading up to WrestleMania next year.
I'll be back during the week with Raw and Smackdown reviews as well as a preview of WWE TLC, which takes place this Sunday on WWE Network.