There's a new show on WWE Network that debuted on Wednesday night called Something Else to Wrestle with former longtime WWE employee Bruce Prichard and his co-host Conrad Thompson. It's available on demand in the "Originals" section on WWE Network.
The show is an addition to the successful podcast "Something to Wrestle" with Prichard and Thompson that is a part of the MLW Radio Network, available on iTunes and everywhere else you can listen to a podcast. The podcast began in August 2016 based on the idea that Prichard would share some behind-the-scenes stories that were not common knowledge to WWE fans. The show has become a huge success, winning awards for being the best sports podcast and even running live events where wrestling fans get a live version of the show while also meeting the hosts.
Prichard worked for WWE from 1987 to 2008 as an on-screen talent, behind-the-scenes producer and key member of WWE's creative team as one of Vince McMahon's closest confidants. But he wasn't just a behind-the-scenes figure in WWE. He portrayed the memorable late 1980s/early 1990s character named Brother Love, who was very red in the face because he loves you.
When the announcement was made a few weeks ago that Prichard and "the mortgage guy" Thompson (he is a legit mortgage guy that will remind you he's "just a fan" like us) would join WWE Network with their podcast, most fans of the show were surprised. It also shows how open WWE is to try different things on WWE Network that they think will appeal to the hardcore WWE fans. Frankly, this is the kind of thing WWE should do more its WWE Network subscribers.
Regular listeners of the podcast enjoy the show due to the comedy that Prichard and Thompson bring while talking about wrestling history. Prichard is tremendous at doing impressions of various wrestling personalities. Names like Vince McMahon ("GOD DAMN PAL!"), Dusty Rhodes, Jim Cornette, Paul Heyman ("Pardon me a volley, good sir"), Michael Hayes, Randy Savage, John Laurinaitis and plenty more are parodied often. Also, Prichard's rendition of the "With My Baby Tonight" song credited to Road Dogg (and Jeff Jarrett) from the mid-1990s is often a part of their shows, including the WWE Network debut version. The good news is all of that is a part of this video version of the show.
Something Else to Wrestle features Prichard in his Houston, Texas home office and Thompson in his Huntsville, Alabama home office. It gives the show a bit of a Pardon The Interruption feel whenever Michael Wilbon is not in the studio with Tony Kornheiser. There wasn't a lag when I watched the show, so their connection worked fine. It's nice to see their faces as they talk about the show after only being able to listen to them over the last two years.
The show did tweet that some people complained about production issues and there was a lag. Perhaps it was due to a lot of people watching at the same time when it launched. My viewing was a few hours after the show premiered on demand.
Well, the first episode of #SomethingELSEtoWrestle on the @WWENetwork has gotten a lot of positive feedback.

We want to thank everyone who tuned in! We're aware of the production issues… they spent all the money paying @bruceprichard. pic.twitter.com/OXEXDRFdS6

— Something to Wrestle with Bruce Prichard (@PrichardShow) April 19, 2018
The first episode on WWE Network is about WrestleMania 14 in 1998 with a runtime of 1 hour and 50 minutes. That's shorter than a lot of the audio podcasts they have done about full shows or about singular wrestlers. Some podcast episodes they've done about specific wrestlers — like Edge, for example — are over five hours long. I think going just under two hours for the debut of the video podcast is a good idea.
In this debut episode, there were plenty of cool stories that Prichard shared about WWE in early 1998 and WrestleMania 14. That was the WrestleMania with "Stone Cold" Steve Austin beating Shawn Michaels in the main event for Austin's first WWE Title win. There was more to the match because of Michaels' serious back injury (he didn't wrestle for over four years after this match) as well as his poor attitude that led to legit questions of whether the match would even take place.
The involvement of Mike Tyson as the special enforcer was a major part of the match as well. A few months before this, Tyson was banned from boxing for biting Evander Holyfield's ear, so a lot of people felt Tyson was legitimately crazy. Tyson had some awkward moments in WWE like when he called Austin "Cold Stone" during an interview at the 1998 Royal Rumble. The reason WWE brought Tyson in is because he was one of the most famous athletes ever in the 1990s. Tyson appearing on WWE programming for a few months was a massive boost and helped WWE surpass WCW in the Monday Night Ratings war shortly after WrestleMania 14 took place.
Prichard provided plenty of details behind that whole process.
What's great about the video version of the show is when Thompson brings up Michaels taking a painful bump on his back at Royal Rumble 1998 in a match against The Undertaker, you can see it while the hosts talked about it. If you're listening to it as just a podcast, obviously you can't do that unless you pull a clip of it on your own. So that's a nice addition to the show to provide a visual aid like that.
There was also a great story by Prichard talking about the Degeneration X public workout that took place to hype up WrestleMania 14. I'm not going to give away what happened, but it was another example of Shawn Michaels behaving badly. It's a fascinating story worth listening to. Prichard even said "a**holes" during this discussion and the swear word wasn't bleeped out. The word "sh*t" wasn't bleeped either. When Prichard said "f**k" later, that was muted.
The format of the episode is similar to their shows where they cover a major WWE event. They spent about half the show talking about some of the things leading up to WrestleMania and then went over the specifics of WrestleMania 14, breaking it down match by match.
One of the funniest parts of Prichard's podcast is that he isn't fond of the Wrestling Observer Newsletter's Dave Meltzer, who Thompson cites often due to Meltzer covering the business for over 30 years. Prichard has a "F**k Dave Meltzer" shirt for sale on BrucePrichard.com to show what he thinks of him. In the interest of full disclosure, I'm an Observer subscriber for nearly two decades and I enjoy it. Those Meltzer references are a part of the video edition of the podcast too. If you would have told me a year ago that we would get a behind-the-scenes version of Bruce's podcast on WWE Network with him ripping on Meltzer, I would have thought you were crazy. But here we are.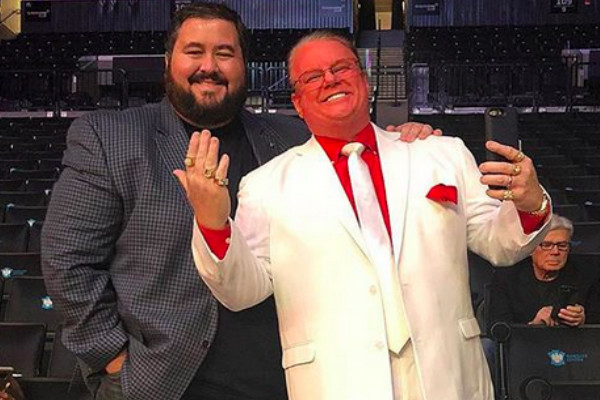 The announcement of WWE Network airing this show led some Something to Wrestle listeners to worry whether it would be true to the audio podcast or be some watered-down version. I can assure you that after watching the first episode on WWE Network, Something Else to Wrestle is just like the podcast in video form. It's a great addition to the quality programming that Prichard and Thompson have produced for two years. If anything, fans should think of it as a bonus for being loyal to the podcast and helping it grow to new heights that led to WWE Network putting the show on the air.
What makes Something (Else) to Wrestle so great is that it's not just a regular wrestling podcast like so many others out there recapping current events. This is about historical shows and people in the wrestling business. It's a show that provides a lot of information, there's plenty of humor with Prichard's imitations and the banter between the hosts, and you will learn more about what goes on behind the scenes in the wrestling business.
Wrestling fans are always wanting to learn more about the creative process of professional wrestling. With this show, that's exactly what you get. Prichard and Thompson are taking us behind the curtain in a way that was never available before. Prichard's the perfect guy for it with the many roles he played in WWE for over 20 years, working so closely with Mr. WWE himself, Vince McMahon.
If you're a WWE fan and want to learn about historical WWE events like WrestleMania 14 and other topics on the history of the company, Something Else to Wrestle is an excellent addition to WWE Network. Bruce and Conrad like to joke about when they might get kicked off of WWE Network because of something they might say. Here's hoping that doesn't happen any time soon.
You can follow the show on Twitter @PrichardShow, while Bruce is @BrucePrichard and Conrad is @HeyHeyItsConrad. They're also on Facebook and have a YouTube channel with full episodes of the podcast, as well as select clips to give you a taste of the full podcast. For more info on everything else related to their shows, visit BrucePrichard.com. Something Else to Wrestle is available on demand in the "Originals" section on WWE Network. New episodes of the show will be posted on Wednesdays.