This week's Smackdown Live was the last episode before Sunday's Money in the Bank pay-per-view. I thought it was a fun show from top to bottom with very few wasted segments, which is a problem we see with Raw all the time. A big reason for that is Raw is three hours long so they have more time to fill, whereas Smackdown often times must rush segments to fit inside the two-hour window they have.
I think it's fair to say since last July's brand split, the Smackdown Live brand has consistently been superior to Raw and there's no sign of that changing any time soon. I'd love to see Raw become a more consistent show, but for whatever reason the creative team can't seem to turn it around.
The advertised main event was a six-man tag match between the guys involved in the men's Money in the Bank contract ladder match on Sunday.
There was a backstage segment with Sami Zayn, AJ Styles and Shinsuke Nakamura. It followed a similar pattern to other Zayn promos where he came across like a nerdy guy who talked too much. It would be nice if Zayn had a better gimmick than that, but at least the overly excited hyper guy is better than nothing. Anyway, Nakamura said "I like him" at the end of it for a cheap laugh.
The heel trio of Kevin Owens, Dolph Ziggler and Baron Corbin also had their own meeting in the locker room. Owens suggested they work together on this show, rather than beat each other up and save their battles until Money in the Bank. The other two guys didn't say much as Owens walked away.
Sami Zayn, Shinsuke Nakamura & AJ Styles defeated Baron Corbin, Kevin Owens & Dolph Ziggler
The heels were in control for most of the match, as usual in a tag match. Nakamura was the face in peril for most of it and then Zayn was in that spot. What I loved late in the match was when Zayn was about to make the hot tag, the crowd was going crazy for it and just as he leaped out, the other heels pulled Nakamura and Styles off the apron to prevent the tag.
There was no hot tag in the match, which is so rare, yet it worked perfectly. It led to a crazy brawl, Styles hit Corbin with a forearm and Zayn hit a Helluva Kick in the corner leading to the pinfall win on Corbin after about 12 minutes. Fun match from start to finish.
The big story is that Zayn beat Corbin for the third time in the last month. The other two instances were singles matches. This time, it was a tag match. Does that mean that Zayn is going to win Money in the Bank? I doubt it. I'm leaning towards Corbin as my pick, but I'll get into that more when I write my preview of the event on Friday.
The ARTIST known as @ShinsukeN just wants to get a bit of a closer look at the ?… #SDLive #MITB pic.twitter.com/48mVHsRMqs

— WWE (@WWE) June 14, 2017
After the match was over, the battle continued with everybody getting a chance to use the ladder as a weapon. Owens and Ziggler worked together to knock down their rivals with a ladder. Baron Corbin ended up taking down both guys that were his partner in the match. It looked like Corbin would get his hands on the Money in the Bank briefcase above the ring, but Nakamura shoved him off. Nakamura climbed up the ladder and grabbed the briefcase to make it look like he has the advantage going into the big match on Sunday.
I thought it was a very good match and the post-match angle was booked well. My excitement level for this match was high when they announced it last month, so I didn't need more to sell me. With that said, it's definitely a positive that they ended Smackdown on a strong note.
This Week's Smackdown Live Matches
There were four matches on Smackdown this week. Here are the other three from Tuesday night.
Kofi Kingston, Xavier Woods (w/Big E), Fandango & Tyler Breeze defeated Jimmy Uso, Jey Uso, Primo Colon & Epico Colon
The opening tag match featuring four tag teams was already announced before the show. I figured the show would just begin with them starting the match. Instead, they wasted about 10 minutes with some generic promos to try to set up the match, even though it was advertised when the show began. Why does WWE think we must have a promo before the first match? It's not necessary. I thought it was the only part of the show that felt like a waste of time.
They had a good match with Kingston and Woods working together to get the pinfall win on Primo. They did a double-team move where Kingston held Primo over his leg in a backbreaker position while Woods jumped off the top with a double foot stomp (similar to what Finn Balor does).
It put over New Day strong as title contenders on Sunday while protecting The Usos since it was Primo who took the pin instead of one of them. Smart booking for a good match that got nearly 15 minutes.
Naomi defeated Tamina
They worked hard and had a solid six-minute match with Lana watching on from ringside. I was impressed by Tamina because she doesn't get featured in singles matches too often, so seeing her out there doing some cool spots with Naomi was nice to see. Naomi didn't get a lot of offense, but she won with a jumping kick to the head and a split-legged moonsault to win. A champion winning a non-title match is good to see because they don't do it that often.
Post-match, Lana went into the ring, hit Naomi in the back with a forearm and hit a sitout spinebuster-like move. The crowd gave a big "ooohhh" reaction to it because we haven't seen Lana do much in her career in a physical sense. It's good to see her teasing what she can do out there too.
Charlotte Flair defeated Natalya
I always enjoy their matches together. They have a natural chemistry that not a lot of women in the company have. It's just easy for them to put on a realistic looking match since Charlotte is a great natural athlete and Natalya is as powerful as anybody. If you want to see their best match, seek out their NXT Takeover match from May 2014 that is one of the best women's matches in WWE history.
There were some cool-looking moves such as Charlotte's moonsault for a near-fall followed by Natalya hitting an incredible sitout Powerbomb. What was so great about that is Charlotte got her shoulder up at the very last second to make it look so close. Little things like that matter so much. Charlotte got the win with the Natural Selection. It went about eight minutes and there wasn't anything post-match. It was all about putting over Charlotte heading into the women's Money in the Bank match.
I'm leaning towards Natalya as the winner of the women's Money in the Bank match, but I may change my mind. I don't know if a heel guy and heel girl will win or if they'll want to split it up. Once again, I'll get into that more in the preview.
Other Key Items From Smackdown
1. Randy Orton dropped Jinder Mahal with a RKO out of nowhere
Jinder Mahal did a promo with the Singh Brothers in the ring. I like how they put the carpet in the ring for him to make it look more unique for him. It was the same promo he always does where he rips on the fans, rips on his opponent and says he's a great champion even though he has yet to have a televised title defense. Mahal spoke in Punjabi leading to "USA" chants from the crowd.
Orton's music hit, Mahal told the Singh Brothers to go after him in the aisle and Orton snuck up from behind to drop Mahal with a RKO. Mahal sold it perfectly by staying down for nearly a minute as Orton went into the crowd to celebrate. I thought it was perfect because it fit the Orton character. He's not the guy that talks a lot. Actions speak louder than words with him.
If this happened on Raw, they would have talked for 10-12 minutes, bored the crowd and then done the RKO spot. On Smackdown, it took about six minutes and was much more effective. That's just another difference between the two shows.
2. Zack Ryder returned from a knee injury
Mojo Rawley did an interview backstage and was interrupted by his tag team partner Zack Ryder, who is back after six months on the shelf with a knee injury. Ryder told Rawley he wanted to be a tag team again, so it looks like the "Hype Bros" are back.
I think it would be great if Ryder turned heel on Rawley during a tag match. Let's see something different from Ryder. His gimmick as a fanboy who was living his dream was fine, but it didn't get him that far. He's in his early 30s now, he's a veteran and should try something new. I hope that's the direction they go with this.
3. There was a Fashion Files segment where Tyler Breeze was attacked
The Breezango duo were in a tag match to start the show. Later in the evening during a Fashion File segment, there was a shot of Tyler Breeze attacked in the locker room. When Fandango asked for a description of who it was, he drew a picture of two stick men and Breeze said "that's them." That was funny because it was just a couple of stick figures. It looks like Smackdown is following the Raw "mystery attacker" storyline.
I'm not sure what this will lead to, but perhaps Breezango will get a match at Money in the Bank against a heel tag team like The Ascension or The Colons. Just a guess on my part.
Looking Ahead to WWE Money in the Bank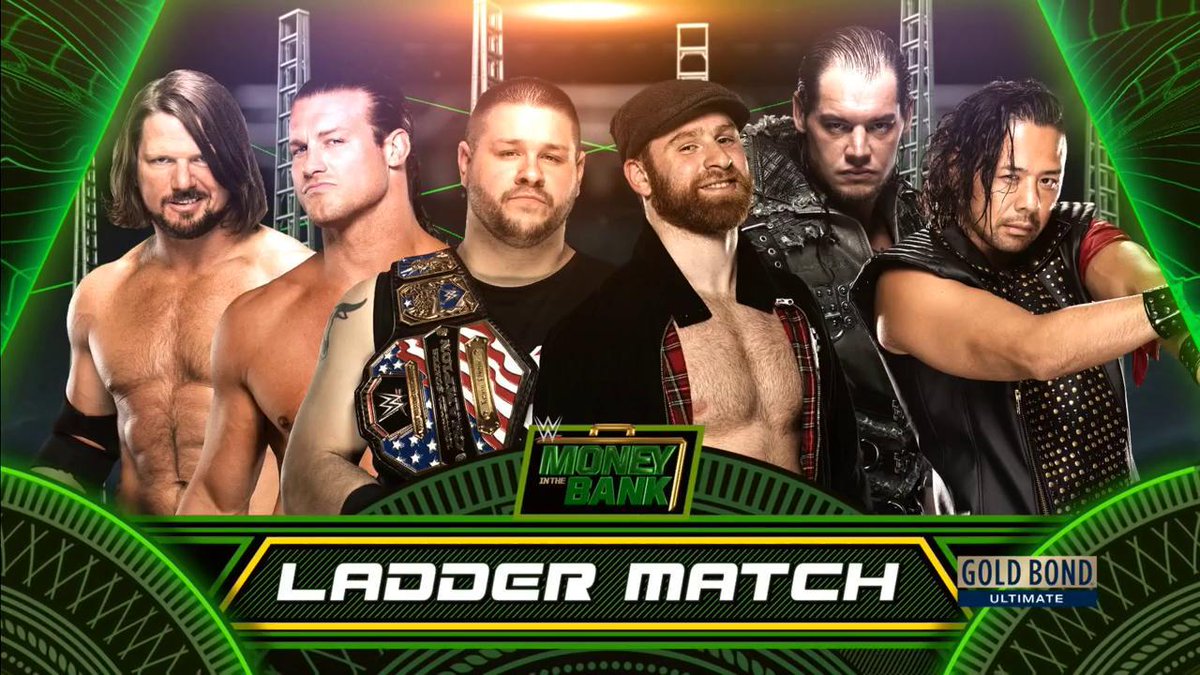 The next Smackdown pay-per-view is Money in the Bank this Sunday, June 18 in St. Louis, Missouri. Here's the advertised lineup.
WWE Championship: Jinder Mahal vs. Randy Orton
Money in the Bank Contract Ladder Match: AJ Styles vs. Baron Corbin vs. Shinsuke Nakamura vs. Dolph Ziggler vs. Kevin Owens vs. Sami Zayn
Women's Money in the Bank Contract Ladder Match: Natalya vs. Carmella vs. Tamina vs. Becky Lynch vs. Carmella
Smackdown Tag Team Championships: The Usos vs. The New Day
Women's Championship: Naomi vs. Lana
I thought they would add more matches by now, but they have not. It's just five advertised matches at this point.
In Closing
It was another good episode of Smackdown. There wasn't anything that blew me away in terms of being spectacular, but everything was easy to digest. When I write about Raw some weeks, I find it hard to talk about things in a positive light. I don't like being negative too much, but with Raw sometimes I need to go that route. With Smackdown, everything feels like it matters more. All five Money in the Bank matches were hyped up well with a combination of good matches and promos, so no complaints from me.
I'll be back on Friday with a preview of WWE Money in the Bank.