Ronda Rousey's next major match on WWE television will be a Raw Women's Championship match. Yes, really. It was announced on Monday afternoon in New York City at the NBC Universal Upfront event. Since WWE programming airs on USA Network, which is part of NBC Universal, WWE sent Rousey to the event along with Raw Women's Champion Nia Jax, Charlotte Flair, and WWE's executive power couple, Triple H and his wife Stephanie McMahon.
The Jax vs. Rousey match was set up in a very simple way. During the event, Rousey was being interviewed by WWE's Cathy Kelly and Jax walked up to her. Jax, the current Raw Women's Champion, suggested a match between her and Rousey at Money in the Bank in Chicago on June 17. Rousey was flattered by the challenge, mentioned other women deserving a shot and Jax insisted. Rousey said yes in part because Charlotte Flair was there telling her to do it. Rousey said yes, so the match was made.
During this week's Monday Night Raw, WWE aired the above clip two times while also talking about it throughout the show.
Rousey was not at Raw since it was in England and she was in New York City. Rousey's next appearances for WWE will be from Wednesday to Saturday as part of WWE's European tour. It's not known yet if she will be wrestling, but the early advertising was that she would wrestle Mickie James at those shows. That could change, though.
Rousey has wrestled one match in her World Wrestling Entertainment career. That match took place last month at WrestleMania 34 when she teamed up with Kurt Angle to defeat Stephanie McMahon and her husband Triple H. It was an excellent match that went over 20 minutes and impressed everybody that saw it. Rousey looked like a natural in the ring.
Since WrestleMania, Rousey has taken part in some storylines on Raw where she was happy to see her friend Natalya move from Smackdown to Raw, which ended up turning Natalya into a face. Rousey also got to beat up Sonya Deville of Absolution. Three weeks ago, James went after Natalya's knee in a tag team match, leading Rousey getting involved and being hit with a dropkick by James. Rousey put James in an armbar and they haven't followed up on it at all. There are some fans that think that Natalya will eventually turn heel on Rousey because Natalya was a good heel on Smackdown for the last few years, and I also think that's going to happen.
I have mixed feelings about this Jax vs. Rousey match, so here are three pros and cons about WWE's decision to do it at Money in the Bank.
Pro: Rousey creates a buzz around an event like nobody else in WWE right now
Ronda Rousey is a huge name that can get WWE the kind of mainstream media attention (mainly from ESPN) that nobody else in the company can do. Brock Lesnar can do it sometimes, but Rousey is so fresh in WWE. Think back to the Royal Rumble when WWE hid Rousey's appearance from everybody, although most of us expected her to be there. WWE gave ESPN plenty of access to her by having Ramona Shelbourne conduct an interview with Rousey that aired immediately after Rousey's debut at the Rumble. At WrestleMania, Rousey's match was one of the biggest matches of the card.
Rousey missed WWE Backlash earlier this month and it was a show that many fans called one of the worst WWE PPVs ever. By adding Rousey to Money in the Bank, it could be WWE's way of telling us that this is a much bigger show and it's going to be a better show as well.
Con: Money in the Bank is not as important as SummerSlam
I'm a huge fan of the Money in the Bank matches that WWE does every year. Money in the Bank is a good pay-per-view event due to the quality of the matches. However, Money in the Bank is not a major WWE PPV the way that SummerSlam is, so that's why I'm wondering why WWE felt the need to rush this match. Why not wait two months to do it at SummerSlam, which has over 30 years of history and is WWE's second or third biggest shows of the year?
It looked like WWE was going to set up a tag match at Money in the Bank with Rousey teaming up with her buddy Natalya (who may turn on Rousey down the road) against Mickie James and likely Alexa Bliss. They could have had Rousey get the win for her team while impressing against an experienced good worker like James and Bliss has been pushed hard on the main roster in the last two years. It would give Rousey a lot of credibility, much more so than when she beat a non-wrestler like Stephanie McMahon.
What we don't know is when WWE decided to do Jax vs. Rousey at Money in the Bank. Was it a few weeks ago? Was it last week? Was it on Monday morning? We don't know, but I'm guessing it was only decided within the last week because the whole thing feels too rushed.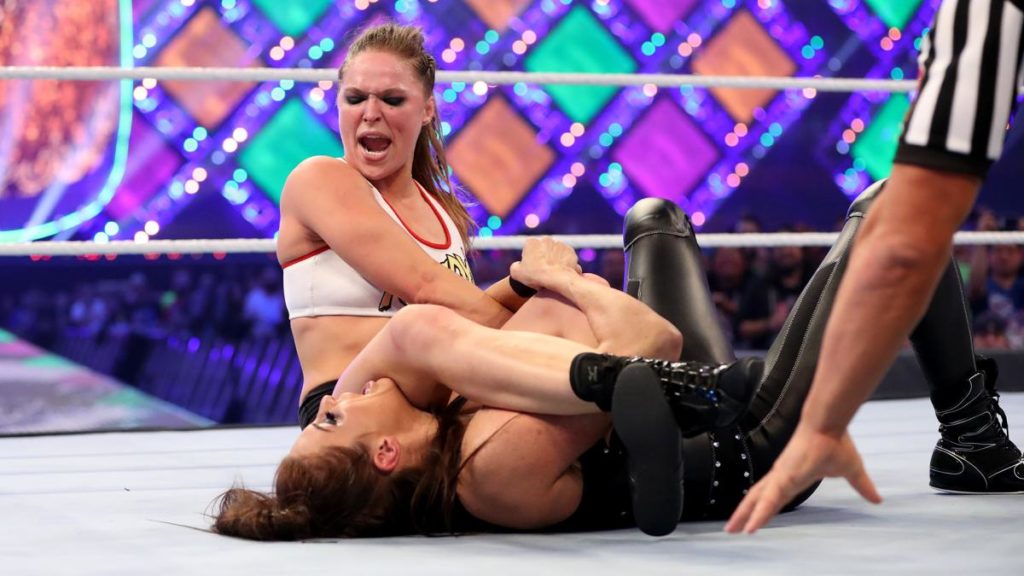 Pro: Rousey winning the Raw Women's Title would give her credibility
The result of the match is going to be interesting because Jax just won the Raw Women's Title at WrestleMania over a month ago, she beat Alexa Bliss in the rematch and hasn't done much else since then. What if Rousey wins? That would be a huge moment because this "rookie" would be holding a title after two months of wresting on the main roster.
Rousey winning the title so early in her career would show the world that she belongs in the wrestling ring. She is not just a former Olympic judo competitor and MMA fighter that is out there pretending to do something to make some money. Rousey genuinely loves the professional wrestling business, so if she were to win the gold it would be WWE's way of saying "she's one of us" and they can push her even harder as the champion.
Con: It might be a bad match that won't help anybody involved
This is a big concern because if the match is bad, it's going to hurt the credibility of that title, Nia Jax will likely lose some trust from management. A bad match will also tell people that Rousey was pushed way too fast.
I don't think Nia Jax is the right kind of opponent for Rousey to have a good match with. Jax is okay working with some smaller wrestlers like Asuka, but Asuka has been a pro wrestler for nearly 20 years. The two Jax vs. Alexa Bliss matches were average at best. Jax has been a pro wrestler for less than five years and isn't known for carrying her opponents or for having good matches. Jax is there to dominate the competition due to her size, which works a lot better when she's a heel instead of her current face role.
If Jax was a heel champion that bullied people around then it would make sense for Jax to be the one to beat her down and slap on the armbar to win the title. However, Jax is a face right now with no indication that a turn is coming. Face vs. face matches are a lot harder to do. It's easier when one of them is a villain.
There's one month to go until the match, so WWE will likely get Rousey and Jax in a ring to practice the match several times. That doesn't mean it's going to be good, though. They have a lot of pressure to put on a memorable match because if it's bad, nobody is going to care about who wins or loses. All they will remember is that it was a bad match.
Pro: The Money in the Bank winner could cash in the contract to prevent Rousey from winning
I have a million ideas in my head about how WWE should book this match. I don't think Nia Jax should lose the title this early in her title, but I also think it would be even worse for Rousey to lose a match. If it's up to me, Rousey mows through every woman on the Raw roster until she meets Smackdown's Charlotte Flair at WrestleMania next year. If they book Rousey in any other way, I think that's a mistake.
The Money in the Bank story could come into play if the women's Money in the Bank match is early in the show. Here's my fantasy booking scenario: Let's say Alexa Bliss wins the contract. During the Rousey match with Jax, Bliss runs out there with the briefcase (after each woman is out on the mat) and cashes in on a fallen Jax to win the title. It would be like what Seth Rollins did at WrestleMania 31 when he beat Roman Reigns in what became a triple threat that also involved Brock Lesnar. That could set up something bigger at SummerSlam with Bliss as the heel champion and Ronda going after her for revenge because Bliss prevented Rousey from taking the title. I think that would be a compelling story.
The heel turn of Natalya could also happen at Money in the Bank. There could be a scenario where Natalya is the one that wins Money in the Bank and she cashes in on Rousey immediately after Rousey wins the title. Another option is to have Natalya attack Rousey from behind after a big Rousey win because Natalya is jealous of her success. There are so many possibilities.
Con: Some fans will resent Rousey for being gifted a title shot so early
This is the big one because when you give a wrestler special treatment like WWE is doing with Rousey, it can lead to some of the fanbase turning against that person. Think about how WWE portrays Brock Lesnar. In the build-up to WrestleMania, Roman Reigns did promos about how Lesnar is just a part timer that isn't on the road four days a week (or more) like he is. Instead, Lesnar works when he wants to work. Rousey's deal is similar in that she hasn't worked a lot of dates since she started in WWE although working four live events in Europe this week is a good sign.
The hardcore WWE fans that are vocal against the part-timers may end up hating Rousey for taking the spot of somebody like Bayley, Sasha Banks, Alexa Bliss, Mickie James, Ruby Riott, or whoever you want to point to that's working a regular WWE schedule week after week. If enough fans agree with those haters then that's going to lead to boos even though WWE is clearly presenting Rousey as a babyface that the fans should be cheering for.
Today's wrestling fans are the hardest generation of fans to please. Sure, they'll love you if you're great like Seth Rollins or AJ Styles can attest, but if you mess up they will turn on you so fast. Rousey's smart enough to know that and I'm optimistic that she's good enough in the ring to avoid the boo birds too. You never know, though. Every crowd is different.
Final Thoughts
There are still four more weeks of Raw to go until Money in the Bank in Chicago on June 17. I hope that WWE can try to develop some storyline to make Rousey vs. Jax a more compelling match. I'm optimistic that everything is going to work out for the best because of how impressive Rousey was at WrestleMania, but I have concerns that it might be bad too. I think it's too soon to put Rousey in a title match. I would have liked to see a tag team match at Money in the Bank and then build to a title match at SummerSlam. There's no reason to rush it and I don't think Jax is the right opponent for Rousey because good girl vs. good girl doesn't work nearly as well as when a bad girl is involved.
Good luck to Jax, Rousey, and WWE in putting this one together, because it's going to be a challenge.
Money in the Bank takes place on Sunday, June 17 at the All State Arena in Chicago. You can watch it on WWE Network, which is free for the first 30 days for new subscribers. They don't pay to say that, but I can assure you that WWE says it a lot.