WrestleMania is just around the corner, which means it's the perfect time to look at the legacy of the man who's wrestled in more WrestleMania matches than anybody: The Undertaker. When The Undertaker debuted in WWE in 1990, he was a 25-year-old that was pushed to the top quickly as the "Phenom" unlike anybody we had ever seen in WWE before.
The Undertaker made his WrestleMania debut at WrestleMania 7 in 1991 when he faced WWE Hall of Famer Jimmy Snuka. Fast-forward 28 years since his debut, The Undertaker is 53 years old and on April 8, he's scheduled to face the legendary John Cena in what will be Undertaker's 26th WrestleMania match.
With that in mind, it's the perfect time for a countdown of The Undertaker's 25 matches at WrestleMania. His record in those matches? 23-2. Very impressive, of course, but not as impressive as when he had a WrestleMania streak that saw him go 21-0 before falling to Brock Lesnar at WrestleMania 30 in 2014.
There was a common theme for a lot of The Undertaker's opponents at WrestleMania because he faced a lot of big guys. Whether they were tall guys or fatter guys, Vince McMahon loved to book Taker against other big men to make it seem like Undertaker was an underdog in those matches. The Undertaker is a legit 6-foot-10 and 300 pounds who was a good guy for most of his career, so putting him against big guys that would do cheap attacks on him was a way to gain sympathy for him.
Due to facing so many big guys, some of these matches were awful. The better Undertaker matches at WrestleMania took place in the 2000s and into the 2010s as well.
The two WrestleManias which The Undertaker missed were WrestleMania 10 in 1994 and WrestleMania 16 in 2000. He missed WrestleMania 10 because of a back injury, while also needing a break. In storyline, he lost a casket match to Yokozuna at Royal Rumble 1994 and came back later that year at SummerSlam. In 2000, he tore his pectoral muscle and came back as a different version of The Undertaker in May of that year when he became The American Badass on a motorcycle.
Here's my ranking of The Undertaker's 25 WrestleMania matches in order from worst to best. I've reviewed every WrestleMania in detail, so it was just a matter of compiling them based on my ratings of the matches. Let's get to the list and if you're shocked by anything on here, just remember The Undertaker has a better shocked face than you.
25. WrestleMania 9 vs. Giant Gonzalez (April 4, 1993)
If you were to ask me who I think the worst wrestler in the history of WWE is, the first name I would say is Giant Gonzalez. He was a tall guy at around 7-foot-6 and skinny, so WWE made him wear a full bodysuit that they thought made him look intimidating. It was cheesy. He wrestled in WCW as El Gigante and was brought in to WWE at the 1993 Royal Rumble when he attacked The Undertaker.
Their match only went about seven minutes, yet it felt like an hour due to how awful it was trying to watch Gonzalez wrestle. The match ended with Gonzalez smothering Undertaker with a chloroform towel leading to the disqualification finish. Undertaker managed to get some offense in with four clotheslines after the match to wake up the dead crowd.
It was the only match on this list that ended on a disqualification instead of a pinfall or submission. They did it that way because WWE felt like this feud needed a second match, so the disqualification win by The Undertaker built to another match at SummerSlam 1993 where Taker put an end to Gonzalez. Thank you for that, Taker.
24. WrestleMania 15 vs. Big Boss Man (March 28, 1999) – Hell in a Cell
This is one of The Undertaker's worst WrestleMania matches and one of the worst Hell in a Cell matches ever. The match was important in the sense that it continued the heel turn of The Undertaker. He had spent the majority of the 1990s as a babyface, so at least this heel turn leading to a group known as The Corporate Ministry was something different for Taker.
They really shouldn't have had a Hell in a Cell match with a weak storyline, but this came at a time when WWE overused gimmick matches too often. Undertaker dominated the match, Boss Man's offense garnered very little response from the crowd which knew he had no chance of winning and Undertaker finished him off with a Tombstone in under 10 minutes.
After the match was over, Undertaker put a noose around Boss Man's throat and hung him (thanks to the help of Edge and Christian) as the cameras cut away. It was a silly stunt that meant nothing in the long run.
23. WrestleMania 11 vs. King Kong Bundy (April 2, 1995)
You may recall that King Kong Bundy main evented WrestleMania 2 in a steel cage match that he lost to Hulk Hogan. That was when he was in his prime. By the time WrestleMania 11 came around, he was in his mid-40s looking way past his prime and just another big guy there for The Undertaker to beat at a WrestleMania.
This was another short match that went under seven minutes with Bundy on offense for most of it, Undertaker made the quick comeback and won with a leaping clothesline. Why was there no Tombstone piledriver by Undertaker? Because Bundy was too big. The best thing about this match was when it was over.
22. WrestleMania 7 vs. Jimmy Snuka (March 24, 1991)
The Streak begins. I doubt WWE thought about The Streak way back in 1991, but this was The Undertaker's WrestleMania debut. It was also The Undertaker's shortest WrestleMania match that went only 4:20 as he easily defeated Snuka, who was well past his prime by this point.
What I remember most about this match is the way The Undertaker hit the Tombstone. It looked nasty and Snuka's head went too close to the mat. I'm not sure if Snuka was hurt after that landing, but it was memorable because of how dangerous it looked.
21. WrestleMania 13 vs. Sycho Sid (March 23, 1997)
The Undertaker's sixth WrestleMania match was the first time he wrestled in the main event. It's also historic because it was the only time he won the WWE (then WWF) Championship at a WrestleMania. He would go on to win the World Heavyweight Championship two times at WrestleManias a decade later, but this was the only time he won the WWE Championship.
Sid was another terrible big man wrestler who sometimes got big reactions, so that's why he got to main event two WrestleManias in his career (this match and WrestleMania 8 vs. Hulk Hogan). I wish I could talk about the match as something worth watching again, but I really can't because it was tough to watch.
It followed the same formula with Undertaker selling for most of it and then coming back to win with a Tombstone. It went too long at 20 minutes. It should have been 10 minutes shorter. If you're a huge Undertaker fan, though, it's good to watch a match like this due to his triumph as the WWE Champion in the main event.
There's a story about this match where people believe that Sid may have literally crapped in his tights. It didn't happen most likely, but it has been talked about so much that some people probably believe it.
20. WrestleMania 8 vs. Jake Roberts (April 5, 1992)
This match followed the usual early 1990s Undertaker formula where he won a match in under 10 minutes against a vicious heel who supposedly was a huge threat to him.
Jake Roberts was known for his patented DDT finishing move, which is now one of the most common moves in wrestling. It was protected as a move that could end a match back then, though. The key spot was when Roberts hit a DDT and Undertaker sat right up before Roberts could cover. We had never seen anybody do that to the DDT before, so the crowd was going wild for it. Undertaker came back, hit a Tombstone on the floor, which was rare and rolled Roberts back in to win the match in under seven minutes.
Give them credit for doing some different spots in the match by having Undertaker no-sell the DDT and hit that Tombstone on the floor that made it feel like a special move.
19. WrestleMania 19 vs. Big Show and A-Train (March 30, 2003)
This was The Undertaker's only WrestleMania match that wasn't a singles match. The story is that they were practicing this match in the weeks leading up to it, but Nathan Jones was such a bad wrestler that they did the match without him. It ended up being a handicap match. Jones made his way down to the ring for the finish to help Undertaker get the win after about 10 minutes of boring action.
This was the last WrestleMania where The Undertaker wrestled in his American Badass look. There are rumors that he might do it again when he faces John Cena at WrestleMania this year, although I don't think he should. That gimmick was fine for three years, but the traditional Undertaker look has lasted for 25 years and that's how he should look at WrestleMania.
18. WrestleMania 22 vs. Mark Henry (April 2, 2006) – Casket Match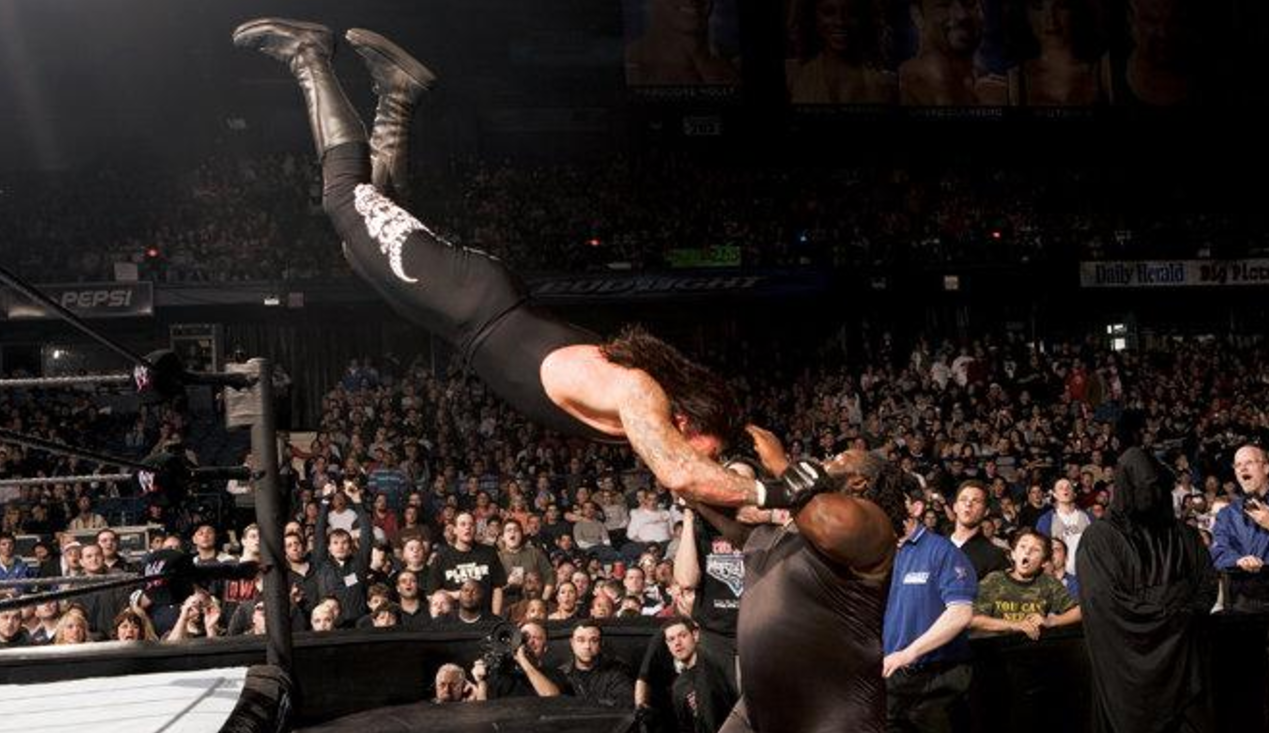 Mark Henry is going into WWE's Hall of Fame this year after spending over 20 years in WWE. Most of his career was spent as a big guy who lost a lot of matches while doing some comedy runs as well. In 2006, WWE tried booking him in a serious way, which led to this feud with The Undertaker and a Casket Match at WrestleMania. While The Undertaker has competed in many Casket Matches in his career, this was the only time he was in one of them at a WrestleMania.
The formula was the same, with Henry in control for much of it. There was a bad spot early as Henry tried to pin him and the crowd laughed because you couldn't win this match by pinfall. The most memorable spot was when The Undertaker hit a no-hands plancha dive over the casket to take out Henry on the floor. That was an impressive visual. Undertaker followed up with a Tombstone and put Henry in the casket to win the match.