10. WrestleMania 18 vs. Ric Flair (March 17, 2002) – No Disqualification Match
Two of the best wrestlers ever at WrestleMania. It doesn't get much better than that. Flair's first WrestleMania match was at WrestleMania 8 in 1992, then he was a WCW guy for the next decade and this was his WrestleMania return match. The Undertaker was in heel mode as the American Badass biker dude who beat up Flair's oldest son David in the build to this match.
It was a No Disqualification match, which meant it was a bloody brawl due to Flair being involved. Nobody bled in more matches than Ric Flair… or at least that's what it seems like. The Undertaker ended up bleeding too, as they used weapons the whole match. My favorite part of the match was when Flair's best friend Arn Anderson showed up with a Spinebuster on The Undertaker, which drew a huge ovation. Arn ended up bleeding too! Undertaker managed to fight off the two legends, wanted a Last Ride and went for a Tombstone instead to win the match after nearly 20 minutes of bloody action.
This match meant that The Undertaker was 10-0 at WrestleMania. Jim Ross mentioned on commentary that he was 9-0 going into the match, so this was when WWE started to mention The Streak more often.
9. WrestleMania 21 vs. Randy Orton (April 3, 2005)
Randy Orton was one of the biggest stars of the future. He went into this match at 25 years old while The Undertaker was a proven veteran who was 40 years old. If anybody was going to end The Streak, a guy like Orton was the perfect choice because you would want it to be a heel like Orton who was also much younger. Instead, the feeling going into the match was that The Undertaker was going to the win.
I liked the inclusion of Randy's dad Bob Orton Jr. because he did a great job of helping Randy cheat to win. There was a good near-fall spot in the match with Bob hitting Undertaker with the cast, leading to a two-count that the crowd bought as a possible finish. Shortly after that, Undertaker went for a Chokeslam and Randy hit an incredible RKO out of nowhere for a two-count. It was one of the best near-falls I've seen in an Undertaker match. The finish was the usual with Undertaker winning with a Tombstone in a match that went about 15 minutes.
8. WrestleMania 17 vs. Triple H (April 1, 2001)
It was the first of three WrestleMania matches between The Undertaker and Triple H, although when they wrestled at WrestleMania 27 a decade after this, WWE basically ignored the fact that they had this match.
I'll always refer to this as the "ref bump match" because it featured one of the most ridiculous ref bumps in the history of wrestling. I covered it in my WrestleMania 17 review (best PPV ever, by the way), but referee Mike Chioda was elbowed by The Undertaker at the 7:23 mark and stayed down for over 11 minutes. Why was it so long? I have no idea. The main reason for it is because they wanted to take the match out of the ring and have a fight on a staging area, so they needed a ref bump to set it up.
They should have just made the match No Disqualification, although maybe they were hesitant to do that since that's what the Austin/Rock main event was. It's just silly thinking that they would book a ref bump to last that long.
The Undertaker won the match with the Last Ride Powerbomb after Triple H punched him in the corner. That's a spot which The Undertaker did all the time over the next 17 years, but when he did it here it was a fresh spot. It's a good match, although they had two better matches at WrestleMania a decade later.
7. WrestleMania 23 vs. Batista (April 1, 2007) – World Heavyweight Championship
The Undertaker won his only Royal Rumble in 2007, earning a World Heavyweight Championship match at WrestleMania by facing the champion Batista. It bothered me that Undertaker won the Rumble, yet he wrestled in the middle of the show while the Rumble loser Shawn Michaels got to wrestle in the main event of WrestleMania 23 because he was against the chosen one, WWE Champion John Cena. Both matches were good, but it hurts the Royal Rumble when you do stuff like that.
It was a face vs. face match that was done to tell the story of who the better big man was. I don't think anybody watched this thinking Batista was going to end The Streak, so there wasn't that much excitement when Batista tried to win the match. The fans knew this was going to be an Undertaker win. The best near-fall was when Batista hit a Batista Bomb and Undertaker kicked out at two. The crowd was so hot for him as they chanted "Taker" throughout the match. The Undertaker managed to hit the Tombstone to win the match after 16 minutes.
There were several other Undertaker vs. Batista matches in 2007 because it was one of the best rivalries of that year. This was one of their best matches, so check it out if you haven't seen it in a while.
6. WrestleMania 24 vs. Edge (March 30, 2008) – World Heavyweight Championship
Edge was a cheap heel World Heavyweight Champion on the Smackdown brand who had made The Undertaker's life difficult on numerous occasions. So this was The Undertaker's chance to get revenge and win the World Heavyweight Championship at his second straight WrestleMania.
They had a fun match with plenty of tricks involved with interference from Zack Ryder and Curt Hawkins, who were Edge's buddies known as "The Edgeheads" at that point. There was also a ref bump when Jimmy Korderas got taken out leading to the memorable sprint to the ring from Charles Robinson, who slid into the ring to make a two-count. The amount of near-falls in this match was pretty incredible and set a template for Undertaker's WrestleMania matches in the years to come.
The finish of the match saw The Undertaker win without going to the trusted Tombstone. Instead, he won with a triangle choke-like hold that was eventually called Hell's Gate and Edge tapped out to give Undertaker the submission win. It was a different way to end it while showing that Undertaker can beat people by submission, making him more dangerous. The match went 24 minutes and The Undertaker was 16-0 at WrestleMania after it was over.
5. WrestleMania 27 vs. Triple H (April 3, 2011) – No Holds Barred
WrestleMania 27 was the first WrestleMania I ever saw in person. I drove to Atlanta with a buddy for it, even though there were two WrestleManias in Toronto and two in Detroit that were much closer to me. For whatever reason, I didn't go to any of those. The big selling point for me at WrestleMania 27 was The Rock's return to WWE, so I wanted to be there for it. The show sucked, but this match was definitely the best match on the card.
The build to it was unique because they stood in the ring together on the February 21, 2011 edition of Raw, had a staredown and then they stared at the WrestleMania 27 sign. Neither man said a word, but wrestlers stared at the damn sign so often that we all knew it meant a match at WrestleMania.
The ending here set up the rematch one year later. The Undertaker applied the Hell's Gate submission while he was on the mat, Triple H tried to hit him with a sledgehammer, but was too weak by that point and forced to tap out to give Taker the win after 30 minutes. After the match was over, Triple H walked away while Taker was taken away on a stretcher, which led to the rematch one year later.
4. WrestleMania 29 vs. CM Punk (April 7, 2013)
This was the last great Undertaker match. He was 48 years old as a legendary figure facing CM Punk, who had a 434-day run as WWE Champion that ended two months earlier. Some of the matches he had after this were good too, but this was the last one where you could say it was a legitimate match of the year contender. I thought it was the best match on WrestleMania 29 as well.
The story of the match was about Punk being a jerk because The Undertaker's former manager Paul Bearer died a few weeks before this. Punk and his advocate Paul Heyman mocked Bearer, so Undertaker wanted revenge in what felt like a personal match.
I hadn't watched the match in a long time, so it was cool to see some of the unique spots they did like when Punk hit a Go To Sleep, then Undertaker gave him a Tombstone right after leading to Punk kicking out at two when the crowd thought that was it. Punk got another near-fall as he hit Taker with the urn and did an Undertaker-style pin, but Taker kicked out of that. Taker came back with a Tombstone for the win. It was a 22-minute match that extended The Undertaker's streak to 21-0.
The match was also CM Punk's last match at WrestleMania… at least for now. He may come back one day, although that's not a lock by any means.
3. WrestleMania 28 vs. Triple H (April 1, 2012) – Hell in a Cell Match
I was at this WrestleMania as well and this is the best match I've ever seen in person. It was a Hell in a Cell match with Shawn Michaels as the referee. Michaels fit in perfectly because he was the best friend of Triple H who was also retired by The Undertaker two years earlier. It was promoted as an "End of an Era," meaning it was the last time these guys would wrestle each other and with Michaels involved, it was a reference to the Attitude Era because they were key figures during that period.
This match may have had the best near-fall in wrestling history. I may be biased because I was there, but when you can see 70,000 people standing at the same time thinking something historic might happen only to realize the match was continuing, it was special. The spot I'm referring to was after Michaels was attacked by Undertaker. That led to Michaels seeking revenge, so he hit a Superkick that led to a Pedigree by Triple H. Michaels counted the pin, but Undertaker kicked out at two, leading to Michaels looking shocked as he backed into the corner.
We knew that there was no way Undertaker was losing this match, but that moment was so good that it made us believe it was possible.
It was a very physical match that went 30 minutes with plenty of weapons used, including steel chairs, a sledgehammer and, of course, the Hell in a Cell structure as well. The ending put an end to this rivalry with Undertaker beating on Triple H with the steel chair and knocking him out with the sledgehammer. Undertaker finished off Triple H with a Tombstone to win this grueling match.
After the match was over, these three legends left the cell together as a sign of respect. They went up the ramp and faced the crowd to give us a legendary image that we will never forget.
2. WrestleMania 26 vs. Shawn Michaels (March 28, 2010) – No Disqualification Match
I think Shawn Michaels is the best wrestler ever in terms of all-around performance, including his skills in the ring. He was also the best opponent in The Undertaker's career. I think they had three five-star matches together (a perfect match, essentially).
The first one was the first Hell in a Cell match at Badd Blood 1997, then it was their WrestleMania 25 match and this match at WrestleMania 26, which was the last match in Shawn's legendary career. We all knew it was going to be the end as soon as they announced it would be a Career vs. Streak match. It still makes me emotional watching it because Michaels was my favorite wrestler ever. What a way to go out, though. It doesn't get much better than being at WrestleMania while having a five-star match with another legend like The Undertaker.
This was so emotional because they told a great story while building off the match they had a year earlier. Some of the spots that worked in that match didn't work here, while Michaels showed incredible fire in continuing to come back from everything. It was an even match with Michaels getting in a lot of offense and when he kicked out of an Undertaker Tombstone, the reaction to it was huge.
We all knew The Undertaker was going to win the match, but maybe… just maybe… Michaels could find a way. That didn't happen, but the beauty of the match is they made us believe it was possible.
The No Disqualification stipulation didn't factor into the match that much. They didn't use weapons very much or go out of the ring that often. The only spot where it really came into play was when Michaels did the moonsault off the top that put Undertaker through the table. As the near-falls continued with each man hitting their finishers for two-counts, The Undertaker showed compassion. He told Michaels to stay down, but Shawn got to his knees and told Undertaker to finish him with a throat slash gesture. Taker hit one more Tombstone and won the match after 24 minutes of incredible action.
After the match was over, they shook hands and hugged out of respect. Two of the best wrestlers ever in the main event of WrestleMania. It was exactly what it should have been.
1. WrestleMania 25 vs. Shawn Michaels (April 5, 2009)
"If that wasn't perfect, it's as close as perfect as you're going to get." – Shawn Michaels
I think it was perfect. I believe this is the best match in WWE history. When I wrote a ranking of the best WrestleMania matches in history for The Comeback two years ago, it was in my #1 spot. I don't know if it will ever be topped because of how special it was. I'll never forget the legendary call of announcer Jim Ross as he asked this question: "As a wrestling fan, how can you ask for anything more?" Nope. You can't.
The match was about respect. There wasn't much of a storyline, but it's an easy story to tell when The Undertaker is 6-foot-10 and Michaels was 6-foot-1. It's easy to root for the smaller guy. We loved both guys due to their history in WWE, but I don't know if anybody believed that Michaels could end The Streak. Then again, if there was one guy who could do it, then maybe it was Michaels since he is nicknamed "Mr. WrestleMania." Of course, he got that nickname due to match quality and not winning matches!
The two had some great matches together, but didn't have a match at a WrestleMania, so that set the stage for WrestleMania 25 in Houston.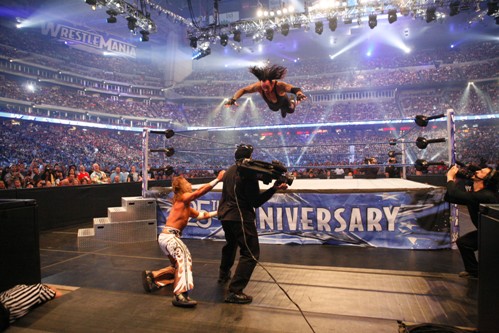 There were so many spots in the match that I remember well, but the one that sticks out the most was The Undertaker's dive outside the ring. It was a planned spot where a wrestler (Sim Snuka) was dressed as a camera guy and when The Undertaker did his dive, Michaels was supposed to pull the camera guy in front of him to have him break Taker's fall. Instead, they were too far back and Undertaker landed right on his head/neck. It was one of the scariest bumps I had ever seen, yet Undertaker kept on going as if nothing was wrong.
The match went 30:44, which felt the right amount of time. There were so many moves that the crowd thought would end the match. When Taker did a Chokeslam, Michaels kicked out and Michaels hit the Superkick for just a two-count. The Undertaker's Last Ride Powerbomb got a two-count and he had a frustrated look on his face after that didn't get the job done. When Undertaker hit a Tombstone, Michaels kicked out at two and Undertaker had the greatest shocked look expression he's ever done in his life. Michaels countered a Tombstone into a DDT, which was incredibly athletic.
That set up the top rope elbow and Superkick from Michaels for a dramatic near-fall that led to a standing ovation from the crowd when Undertaker kicked out of it.
The finish was outstanding. Michaels was frustrated that he couldn't put Taker away, so he went up top for a moonsault, Undertaker caught him in his arms in the perfect position, Michaels tried to break free by wiggling his body around and Undertaker hit another Tombstone to finally put him away. It was such a brilliant way to end the match.
I will never get tired of watching this match. Like Michaels said, it felt like wrestling perfection.
That's the end of my look at The Undertaker's legendary career at WrestleMania. As I noted early in the column, there are a lot of stinkers, but if you want to watch the best of the Undertaker, make sure you watch the top 10 matches on this list again because it's a reflection of how great of a performer he was.
Does he have another classic match in him against John Cena at WrestleMania 34? I doubt it, due to his physical condition and age, but at least he's going to be in that ring doing what he loves at least one more time. Good luck, Taker, and thanks for the memories.