This Sunday night on WWE Network, the Raw brand presents Hell in a Cell. The show is headlined by three one-on-one Hell in a Cell matches including a bout for the Universal Championship, another match for the United States Championship, and a history-making match for Raw's Women's Championship.
The big question heading into the show is, which match will go on last?
A few weeks ago, current WWE Raw General Manager Mick Foley wrote a Facebook post about how Banks vs. Charlotte is the main event. When fans saw that, they were so excited because it would mean that a women's match gets to main-event a WWE main roster pay-per-view for the first time. (I say main roster because a women's match headlined a NXT Takeover special last October when it was Banks vs. Bayley.)
After all the excitement, Foley edited the post to say this:
"I have no idea which match will go on last, or which match will go down in history as being the official main event. The Universal Championship match between Kevin Owens and Seth Rollins is shaping up to be something special, and I am sure both men will be doing their best to steal the show – which is as it should be. In the end, the main event is whatever each fan decides it is."
That left fans shrugging their shoulders wondering what the main event will actually be. I should point out that while Foley is the on-screen GM of Raw, he doesn't have actual decision-making powers as far as we know. That's still up to Vince McMahon, Triple H, and the WWE Creative team.
It should be noted that WWE has always been weird in terms of how they promote a main event match. For example, at the WWE Smackdown No Mercy pay-per-view three weeks ago, the main event was AJ Styles vs. Dean Ambrose vs. John Cena for the WWE Title. When the show aired, they put the match on first so that it would air before the U.S. Presidential Debate and Sunday Night Football. They still called it the "main event" despite the fact that it went on first. No Mercy was headlined by Randy Orton vs. Bray Wyatt even though Dolph Ziggler vs. The Miz would have been a better choice. I thought the order of the matches hurt that show as the triple threat and Ziggler vs. Miz were outstanding matches.
That brings us back to Hell in a Cell and the importance of putting the matches in the right order.
If it was up to me, Banks vs. Charlotte would go last. Of the three matches receiving main event billing, this the best feud and also the one that has gone on the longest. Remember, they were part of a great triple threat match at WrestleMania. Banks was out of the picture for a couple of months and won the Women's Title from Charlotte on the July 25 edition of Raw. They traded a couple of wins, Banks has the title again and Charlotte gets her rematch inside of Hell in a Cell.
Another reason to put Banks and Charlotte is because Banks is from the Boston area, which is where the show will be taking place. She's already one of the most popular people in WWE, so being in her hometown will likely add to the already strong crowd reactions she receives. Plus, it's likely that the babyface Banks is going to leave with the title. It's usually a good idea to end a pay-per-view on a positive note, so having Banks end the show with a win does make a lot of sense.
A reason why WWE might have Owens/Rollins for the Universal Title on last is because the Universal Title is still very new. The company wants people to view it as a big deal and if you don't put it in the main event, it might hurt the perceived prestige of the big red title.
As for Reigns/Rusev, they have a shot to be in the main event just because Reigns is involved. He has been one of the most pushed guys in the company over the last two years, so any time he's on a show he could be the main event whether the fans like it or not. I just think there are better options this time around.
I realize that some of you may think it doesn't matter what goes on last, but I think in this case it does. This is the best chance for WWE to have women's wrestlers in the main event of a pay-per-view event. They should do it while proving to fans that this "Women's Evolution" means something. There's no better time for it than at Sunday's Hell in a Cell event.
Here's a look at the matches scheduled for Hell in a Cell.
Raw Women's Championship Hell in a Cell Match: Sasha Banks vs. Charlotte
This should be an awesome match just like their other ones and putting it inside the cell will make it unique and interesting. I have some concern that they might do some crazy spots to try to stand out. I just hope the 110-pound Banks realizes that taking some nasty fall off the cell or a bump into the cell is going to hurt a lot compared to when 250-pound men are doing the same bumps. Charlotte doesn't take some of the crazy bumps that Banks does although she likes doing that moonsault all over the ringside area.
They will probably get 15-20 minutes to put on a competitive back and forth match. I think Charlotte will overpower Banks for much of it, but Banks will come back to win. It wouldn't shock me if they do a handshake or a hug after it's over to put an end to the feud. Charlotte can still be a heel. I just think they know how important this match is and want to show respect for each other since it's probably the end of the feud for now. Banks should win. If she doesn't, I will be very surprised.
Prediction: Sasha Banks retains the Raw Women's Title by submission
WWE Universal Championship Hell in a Cell Match: Seth Rollins vs. Kevin Owens
There were plenty of rumors that this match might be a triple threat with Chris Jericho involved. I'm glad WWE didn't do it because we just saw a triple threat at No Mercy. Instead, they did the triple threat on Raw, it was booked terribly, and I aired my grievances about it in my Raw Reaction column earlier in the week. Can I put WWE Creative on The List?
I liked the way things ended on Raw with Owens hitting Rollins with a Powerbomb on the side of the ring apron. It means Rollins will come into the match selling an injury, which adds to the intrigue of the match. There will likely be some spot to allow Chris Jericho to interfere. They might break the cage open with a spear against it (we've seen that before) or some injury angle leading to the door being opened to send Jericho in there. I just feel like something cheap is going to happen to cost Rollins the win. Maybe it's the return of Triple H? I predicted that last month and got it wrong, but it may happen here. I just feel like Owens is still new as the Universal Champion and should keep it for a while longer.
Prediction: Kevin Owens retains the Universal Title thanks to Chris Jericho
WWE United States Championship Hell in a Cell Match: Roman Reigns vs. Rusev
I like both guys, but I'm sick of this match and I think the Boston crowd may lose interest early. They've wrestled so many times in the last three months that my excitement level is low. It doesn't even seem like Reigns wants to be the U.S. Champion since he rarely defends it, doesn't talk about how much it means to him, and if he lost it, would he even care? I doubt it. This just feels like something for him to do until he's back in the main title picture heading into the Royal Rumble.
What I wonder about these guys is what happens for them after this match. I'm not sure who Reigns might feud with because there aren't that many heels on the Raw roster that would fit. Rusev could benefit from being out of the U.S. Title picture. I don't know if he's going to become a main eventer after this feud is over, though. They should get a lot of time like most of their other matches and Reigns should retain.
Prediction: Roman Reigns retains the U.S. Title
Raw Tag Team Championships: The New Day vs. Sheamus & Cesaro
I liked their match on Raw, but hate that they even had it to begin with. Why give it away before their PPV match? I guess it was to put over the idea that Sheamus & Cesaro can win.
Since WWE keeps talking about New Day breaking Demolition's 478-day tag team title reign record, they should probably hold onto the gold for two more months so they can have the record. At Survivor Series, both teams may be part of the tag team elimination match, so this is probably the last major title defense before they get the record. New Day should retain in a good match after Cesaro & Sheamus continue to argue.
Prediction: The New Day retains the Raw Tag Team Titles
Cruiserweight Championship: T.J. Perkins vs. Brian Kendrick
My pick in this match was going to be Perkins, but then I saw the Kendrick segment on Raw. After Kendrick lost clean to Rich Swann, he told Perkins he needs the win and wanted Perkins to lose on purpose. I think that means they'll do a title switch based off something where Perkins is ready to finish him off, Kendrick begs him not to, Perkins shows remorse a bit and Kendrick capitalizes to win the match. In other words, Kendrick will play possum before applying the Captain's Hook submission for the win.
It seems like Kendrick vs. Swann will be the next feud since Swann has a strong personality and WWE may want to push him more. I'm okay with that even though I like Perkins. A title change isn't a bad thing.
Prediction: Brian Kendrick wins Cruiserweight Title by submission
Enzo Amore & Big Cass vs. Luke Gallows & Karl Anderson
These are two pretty good tag teams not currently in the tag team picture, so there's nothing wrong with them going against one another. It would be a good choice for PPV opener since Enzo & Cass are great at firing up the crowd. I'm going with Gallows & Anderson for the win since they lost singles matches to Enzo & Cass in the last two weeks on Raw.
Prediction: Luke Gallows & Karl Anderson win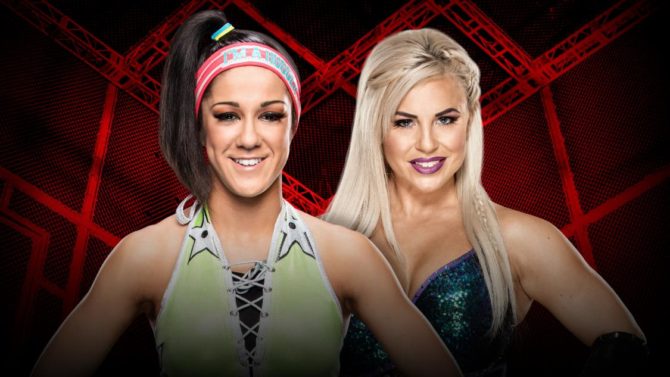 Bayley vs. Dana Brooke
The build to this match has seen Brooke, the heel, with the upper hand for most of it. Bayley was in the title picture at last month's Clash of Champions show and she'll probably be in the title picture again soon. There's really no reason for her to lose in a PPV setting to Brooke. That would be foolish.
Prediction: Bayley wins
Cedric Alexander, Lince Dorado & Sin Cara vs. Tony Nese, Drew Gulak & Ariya Daivari (Kickoff Match)
It's a cruiserweight tag match to get the crowd into the show early. They'll have an exciting match although there's no storyline going into it. I'm surprised Rich Swann isn't on the face team although good to see Alexander is there. I think the team of Alexander, Dorado & Cara should win an entertaining ten-minute match.
Prediction: Cedric Alexander, Lince Dorado & Sin Cara win
In Closing
I feel like this show could be called "Helluva Lot of Rematches" because nearly every match is something we've seen already. That's the biggest problem with the Raw brand. Nothing feels fresh. That doesn't mean it's going to be a bad show necessarily. I think the quality of the matches is going to make it enjoyable for the most part. I just wish the stories going into it were more compelling. Here's hoping they can deliver something memorable on Sunday.
WWE Hell in a Cell takes place this Sunday, Oct. 30 on WWE Network. The Kickoff show starts at 7 p.m. ET and the main show starts at 8 p.m. ET with an approximate run time of three hours. I'll be back on Monday with a reaction article on the show.