Roman Reigns is still the WWE World Heavyweight Champion after his successful title defense against AJ Styles at Sunday's WWE Payback pay-per-view, one that also featured a match-of-the-year candidate between Kevin Owens and Sami Zayn.
In a show that WWE billed as the "first pay-per-view of the new era," Reigns and Styles battled for 25 minutes with two false finishes, two match restarts and an ending that was marred by interference. In the end, Reigns was able to hit a Spear to retain the WWE Title in what was his first major defense since WrestleMania.
The match was restarted twice. The first came after Styles drove Reigns through an announce table with a forearm shot. He won by countout, so Shane McMahon said the match will continue with no countouts. Reigns was then disqualified for a low blow (one that really wasn't low; the ref just thought it was), so Stephanie McMahon decreed that the match would have no disqualifications as well.
Since there were no disqualifications, the coming interference from Luke Gallows and Karl Anderson became even more obvious. They worked over Reigns and set him up for Styles to come very close to leaving with the gold. Styles hit the Phenomenal Forearm and covered for a two-count because Reigns was able to get his foot on the rope. It was the moment where the crowd thought Styles might do it. As it turned out, that was as close as he'd come.
In terms of match quality, Reigns and Styles had an above-average championship match. It wasn't the best match of the night (that honor belongs to Owens vs. Zayn), but it was much better than Reigns' match with Triple H at WrestleMania.
While Reigns is often criticized by his haters for not being great in the ring, he proved he's quite capable in a big match situation with the right opponent. Styles, meanwhile, can get a great match out of anyone because he can sell everything perfectly while also utilizing his unique offense in a way that is very believable. "The Phenomenal One" finding his way into the main event scene within four months is pretty awesome. Let's hope it continues for the next several years.
Following the Reigns/Styles title match, WWE Chairman Vince McMahon was backstage with daughter Stephanie and son Shane. Earlier in the night, Vince announced that both of them were in charge of Raw and that they would simply have to co-exist. The three of them ended up setting up the main event for WWE Extreme Rules in three weeks: Reigns vs. Styles II in an Extreme Rules (essentially hardcore) match for the WWE Title.
It's interesting that WWE would go with Reigns/Styles again because even with interference in the match, Reigns was able to overcome everything to get the pinfall win. So why repeat it? Perhaps because WWE is going to put the WWE Title on Styles. They may not have wanted to do it at Extreme Rules given that it would be too close to Reigns' win at WrestleMania. In another three weeks, it could be the right time to change things up.
Regarding the roles of Anderson & Gallows, there are still no answers about who they might be working with or perhaps working for. They simply did their own thing again, attacking Reigns in underhanded fashion. Styles didn't want them to do it, but he did nearly win after the interference. I still believe Finn Balor will be on the main roster soon, taking on a leadership role in whatever this group comes to be called. There's nothing wrong with making us wait. Stories are better when they aren't rushed anyway.
Here are the results of each match on the show with my thoughts on each outcome.
Dolph Ziggler d. Baron Corbin (Kickoff Match)
This result was a bit of a surprise because Corbin's been booked very strong since he debuted on the main roster at WrestleMania with the battle royal win. He's had the upper hand on Ziggler during most of their interactions, yet here's the veteran Ziggler pulling off the win with a rollup. They'll likely have other bouts very soon and Corbin should emerge as the winner of this rivalry.
WWE United States Championship: Kalisto d. Ryback (Kickoff Match)
This was a rematch from the WrestleMania kickoff show as well. I got this pick wrong because I figured they did this again as a way to put the US Title on Ryback. Nope. Kalisto found a way to win once more. It was a pretty good match for the ten minutes they were given. The two men have developed a nice chemistry together.
The Vaudevillains vs. Enzo Amore & Colin Cassady ended as a No Contest
Unfortunately, this match never got going because of the head injury that Enzo suffered about three minutes in. In a story we covered last night, his head hit the middle rope and snapped down to the mat. He ended up suffering a serious concussion, but thankfully was able to leave the hospital late last night.
Referee stops the match. Medical personnel attend to the injured @WWEAaLLday21. #WWEPayback pic.twitter.com/3D8nlWtnL3

— WWE (@WWE) May 2, 2016
Best wishes to Enzo, (real name Eric Arndt) for a speedy recovery, we can all certainly be glad it wasn't worse. No word on if The Vaudevillains get the title shot against The New Day now, since there wasn't an official winner here.
Kevin Owens d. Sami Zayn
Going into Payback, this was considered by many to be the likely match of the night, and these two veterans of the independent circuit were able to live up to the hype. In an action packed back and forth match that lasted about 15 minutes, Owens dominated the first half, Zayn made an impressive comeback in the second, but it was Owens who won clean with a Popup Powerbomb.
The booking here makes sense because Owens can use the win. Zayn could also use a rub, since he's still pretty new on the main roster. I just think he'll win their next match whenever that happens. If you missed the show, make sure you check out this match. It was one of the best in WWE this year.
Immediately after that match, Owens sat in on commentary for the IC Title match that followed. He was great at that too!
WWE Intercontinental Championship: The Miz d. Cesaro
It looked like Cesaro was well on his way to winning the gold because once he got going, he seemed destined for his first reign as IC Champion. Then came some interference from Maryse, the recently returned wife of The Miz. Later in the match, Zayn showed up at ringside to brawl with Owens some more. After they made their way up onto the apron, Cesaro knocked them off, leaving himself vulnerable for Miz to rollup his tights for the win. It was a competitive matchup that doesn't hurt Cesaro much because it was such a cheap victory.
Look for WWE to set up a four-way feud for the IC Title with Cesaro, Owens and Zayn challenging The Miz for the gold.
Dean Ambrose d. Chris Jericho
This was a match that went as everybody expected with Ambrose getting the clean win after nearly 20 minutes of action. It felt a little long at that length, it's certainly possible they were given a few extra minutes to make up for the tag match being cut short earlier. The crowd wasn't into it that much in the early going, but as Ambrose got into the match more they started to make more noise. After Ambrose fought out of the Walls of Jericho, he was able to hit the Dirty Deeds for the clean win.
Earlier on Monday, Jericho tweeted this to suggest that he might be going on one of his breaks from WWE.
Thanks @wwe….its been real. See you next time.

— Chris Jericho (@IAmJericho) May 2, 2016
He tends to keep busy with his band Fozzy a lot of the year, so it'll be no surprise if he's off WWE TV for a long time. If he does leave he'll be missed because he's been a very entertaining heel for the last couple of months. Jericho's a veteran who can still have great matches while not having a problem putting over younger guys. I still think WWE made a mistake by not having AJ Styles beat him at WrestleMania, though.
WWE Women's Championship: Charlotte d. Natalya
Charlotte had her father Ric Flair in her corner while Natalya had uncle Bret Hart there. Seeing Bret was a crowd pleasing moment, following his recent recovery from prostate cancer. His walk wasn't without a bit of a limp, but he held his own out there. They worked a technical match with Natalya selling a knee injury and then fighting back to nearly get the win.
The finish was a controversial one. As Charlotte applied the Sharpshooter, Natalya didn't tap out yet referee Charles Robinson (once referred to as "Little Naitch' due to his love of, and resemblance to, Ric Flair) rang the bell and left from ringside. It was a copy of the Montreal Screwjob finish at Survivor Series 1997 with Bret Hart getting screwed against Shawn Michaels. It was disappointing to see WWE resort to that because it's been 19 years since that happened. They should have been more creative with the finish. Look for Natalya to get another Women's Title match soon.
Vince McMahon Decides Who Gets To Run Raw
A McMahon family promo segment in the final hour of a PPV wasn't well received by the Chicago crowd, who chanted "CM Punk" at Vince and "boring" when Stephanie tried to speak. They did love Shane, though. The whole thing was a big waste of time as Vince ultimately decided that both kids get to run Raw. Look for McMahon family drama to continue for the rest of the spring and probably summer too. No offense to them, but if they were to take a backseat so the talent got more TV time that would be wonderful.
WWE World Heavyweight Championship: Roman Reigns d. AJ Styles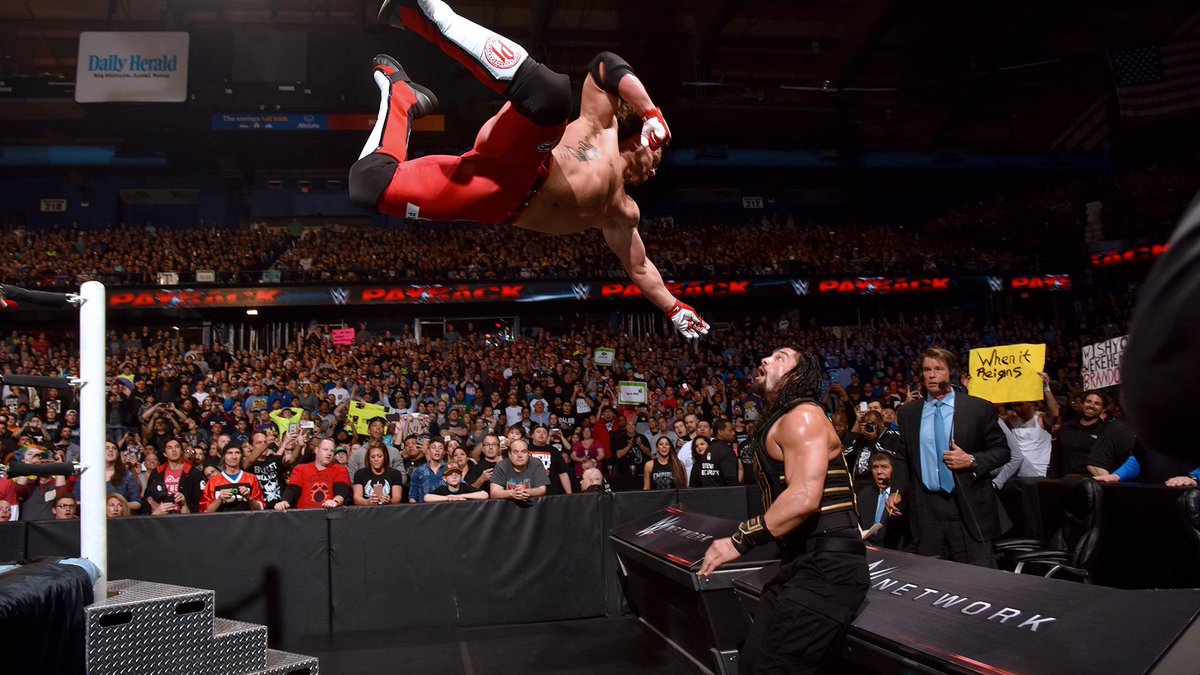 As mentioned earlier, Reigns beat Styles to retain the WWE Title. Fans should have high hopes for the Extreme Rules match because they'll probably have an even better match with the use of weapons.
In Closing
WWE Payback was a very good pay-per-view if you're a fan of in-ring action. Every match was given plenty of time. Nothing was too rushed.
If there was a problem it's that some of the match finishes left a lot to be desired. There were some endings that made me angry, including the women's match and the two main event restarts. I understand the rationale for both, but still feel as though there was another way there.
There were also no title changes. Given that WWE tends to only do title changes at PPV events, it's possible that they may move some belts around at Extreme Rules in three weeks.
If you missed the event, you should check out the whole three hours. If you're in a rush, Owens vs. Zayn should suffice.
I'll be back on Tuesday with the Raw review as WWE continues with a "new era" that feels a lot like the old. The McMahon family continues to dominate WWE programming with no end in sight.