History will be made on Sunday night in Orlando as Roman Reigns defends the WWE World Heavyweight Championship in the Royal Rumble match. The heroic champion has been forced to defend the gold against 29 other superstars in one of the most popular WWE events of the year. The event is available on WWE Network (free for new subscribers or $9.99 monthly in the US) as well as on pay-per-view outlets all over the world.
It's the first time a wrestler has defended the WWE Title in a Rumble match in the 29-year history of the event. It's the second time that somebody could leave a Rumble match as the WWE Champion since that's what Ric Flair did in 1992 when the title was vacated. WWE has raised the stakes with this match and interest in the company is high as a result.
For the Rumble match, there are three standout favorites and then a few others that have a shot as well. The majority of the other people in the match really don't have a chance to win. It's like that every year, yet most fans will go into the match hoping for some kind of major upset or a surprise because it's a match with an "anybody can win" type of feel to it.
What's also interesting about this year's Rumble is that there are a lot of unknown factors at play. One of the main favorites in the match hasn't been announced as a participant and hasn't been on WWE television in the last month, yet he's a definite favorite. Then there are some rumored big names debuting as well. There are also some possible surprise stars from the past that could show up too.
The rules for the Royal Rumble match are as follows: Two men start the match until a total of 30 men have entered the ring. Every 90 seconds, a new wrestler will head into the ring. The only way to be eliminated is if a wrestler is tossed over the top rope with both feet touching the floor. The winner of the match is the last man in the ring that isn't tossed out. All that is known for the match is that Roman Reigns is the #1 entry, per the orders of Mr. McMahon, while the other 29 men will enter with entry numbers that are not known yet. The surprise factor is what makes the Rumble match so much fun.
Who will win the match? Let's break it down.
The Three Favorites To Win The Royal Rumble

Here's a closer look at the three men most likely to leave the Rumble as the WWE Champion as well as the others that have a good shot to be "the man" as well.
1. Roman Reigns – As the current WWE Champion, Reigns comes into the match with a target on his back. We also know that he is the #1 entrant out of the 30 men presumably in the match. That means in order for him to win he has to last the entire match. Fans that don't like Reigns would likely be very sick of him at the end of this match that runs nearly an hour long because he'll be there for a while.
On a recent episode of Jim Ross' podcast with Steve Austin as the guest, Austin made a great point that if Reigns loses the WWE Title again it would be damaging to his career. The reason is that if he wins it back at WrestleMania then that means he would be a three time WWE Champion within a span of about five months. That doesn't sound impressive.
What WWE should do is use this opportunity to really put Reigns over as a guy that can overcome anything. The haters may not like it, but this is about the future and Reigns is the guy that McMahon clearly wants to focus on for the future.
2. Brock Lesnar – The reason that Lesnar is one of the big favorites is because he's one of the highest paid people in the match. He's a box office draw as a former WWE & UFC Champion. He doesn't work a full time schedule, but he is going to be around a lot more from January through April while also participating in February's Fastlane PPV event and WrestleMania as well.
Lesnar walked into last year's WrestleMania as the WWE Champion. He never lost the match because Seth Rollins cashed in his Money in the Bank briefcase to beat Reigns, so WWE could opt to go with Lesnar again. It would be an easy story to tell if they were to put the gold on Lesnar, then have Reigns get his title rematch possibly at WrestleMania and try to prove to the world that he can beat "The Beast" Lesnar.
It may not be a bad idea to put the title on him again just because of the credibility he brings to the table. Nobody can touch him in that department. It's obvious he will be in one of the top three matches at WrestleMania, so being a part of the WWE Title match again makes a lot of sense. Keep in mind that WWE could also use the Royal Rumble to screw Lesnar out of win while also setting up a potential WrestleMania match for him without the title on the line.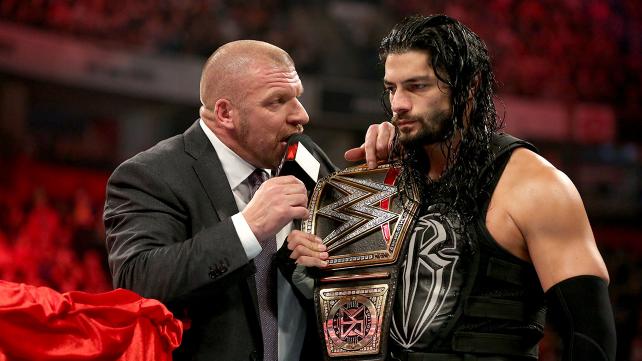 3. Triple H – As of right now, Triple H isn't confirmed to be in the Royal Rumble match. He also hasn't been on television in the last month after Roman Reigns beat him up after the TLC PPV last month, so that's a big reason to expect him. The way WWE works is they like to do surprises when the majority of people have no idea it's coming. Of course, those of us that read about wrestling online expect it more than those fans that may not obsess about the business as much as we do.
It's likely that his WrestleMania match will be against Reigns, so there's some speculation that Triple H may leave the Rumble with the gold in order to set it up. Could it happen? Sure it can. The problem is that he's 46 years old, hasn't wrestled regularly for several years (his last match was at last year's WrestleMania) and really doesn't need to win the WWE Title again. If they want to have babyface Reigns triumph over evil, though, Triple H as champion may be the best choice of them all.
There are some people, like WWE Hall of Famer Jim Ross, who suggest that maybe Triple H will name himself as #31 in the Rumble and eliminate Reigns to win the match in a very cheap fashion. It's certainly possible.
Some fans might even consider Triple H to be the overall favorite, like betting site Bovada does. That's pretty good for a part timer who also happens to the son-in-law of WWE Chairman Vince McMahon. A nice perk of the job, huh?
A big reason that Triple H might win is because last year when Reigns won the Rumble, the crowd booed him big time. If Triple H wins, the crowd is supposed to boo him and it will save WWE from having to deal with fans booing Reigns again.
The Other Contenders
Bray Wyatt – The "Eater of Worlds" showed his dominance this week by laying out Brock Lesnar and Roman Reigns. Since he's got three giant friends in the Wyatt Family backing him, he's definitely a threat to win. The rumor is he may face Lesnar at WrestleMania, so they could set that up by having Wyatt defend the WWE Title against him. They could also set it up by having him cost Lesnar the Rumble win and then having a match without the title at WrestleMania as well.
AJ Styles – It's expected that the former TNA and IWGP World Champion AJ Styles, who is arguably the best wrestler on the planet right now, will debut at the Royal Rumble. If WWE really wants to make him look like a major star then winning the WWE Title on his first night would accomplish that goal. This would actually be my favorite choice just because it's unpredictable and would shock the world so to speak. I just don't think it's realistic like the three names I mentioned above. He'll be in the match and he'll do well, but he's not going to win.
Daniel Bryan – The popular former WWE World Champion has been out of action since last April. With reports of him getting cleared by multiple doctors outside of WWE, it's possible that WWE will clear him and put him in the Rumble match. Even if they do clear him, I have a hard time thinking they would put the WWE Title on him again considering the injury risk that he's become.
The Undertaker – There are rumors that this year's WrestleMania will be the last match for the 50-year-old veteran that has been in WWE longer than any active wrestler. He's not advertised for the match, but it could still happen.
The Rock – This would probably be the biggest thing they could do because The Rock is one of the biggest celebrities alive. The problem is it's not realistic. He's not expected to be there and has movie commitments that will likely keep him out of a match at WrestleMania even though he has said he'll be there. However, you never know what The Rock might be cooking. (Yes that was cheesy, I know!)
Braun Strowman – He's the giant of the future in WWE, which means he'll get a push very soon. It probably won't lead to the WWE Title right now because he still needs to get better in the ring. Look for him to be a factor in the match, though.
Chris Jericho – As a six-time former World Champion he certainly has a shot. He's won nearly everything in his career except a Royal Rumble. Now 45 years old, he's best served as a midcarder that is there to put over the younger guys. It's probably not going to happen.
Sheamus – He was the WWE Champion before Reigns beat him a month ago. Since he no longer has any momentum, it's unlikely that he will leave with the WWE Title.
Finn Balor – The current NXT Champion would make history by debuting on the main roster in the Rumble match and winning the WWE Title at the same time. Plus, with his former Bullet Club allies Karl Anderson & Doc Gallows coming aboard along with AJ Styles and Shinsuke Nakamura, they could do something big with Balor very soon.
Samoa Joe – Much like Balor, it would be his first match on the main roster. They could bring him in as a heel that is Triple H's hired gun and really push him as a star. It's a nice thought for fantasy bookers out there, but not very realistic.
Kevin Owens, Dean Ambrose, Alberto Del Rio & Kalisto – Since they are in undercard matches they aren't likely going to be in the Rumble match. However, it wouldn't be a bad thing if Owens or Ambrose was the winner just based on their talent and star power.
John Cena, Randy Orton, Cesaro – They're all on the injured list right now. None of them will be ready for this although they are all hopeful to be ready for WrestleMania.
A case could be made for some others like Big Show, Rusev, Sami Zayn and Dolph Ziggler among others, but it's probably not going to happen.
The Winner Of The Royal Rumble Match Will Be…Roman Reigns
After thinking about it for weeks now, Reigns is my pick. It's not a sure thing by any means – probably 60/40 in my head with the 40 thinking that Triple H has a good shot.
If they go the route where Triple H ends up leaving with the title it will make for a boring two months where Triple H probably won't wrestle again until WrestleMania anyway. They just screwed Reigns out of the WWE Title at Survivor Series in November, put the WWE Title on him in December and now they are going to screw him again? Boring.
What I think they should do is have Reigns leave the Rumble as the WWE Champion. Triple H can either return after the Rumble or Monday's Raw and attack Reigns as if to send a message that he is back. That will allow Reigns to walk into WrestleMania as the WWE Champion and have Triple H name himself the number one contender. Then Reigns says if Triple H is so confident he can beat him then if Triple H loses then he must give up power as The Authority and will no longer be in charge of WWE on screen. That way, Reigns can leave WrestleMania as WWE Champion and that boring Authority angle can finally end.
No matter what the result is here, the chances are very good that Reigns will end WrestleMania as the WWE Champion. It's just a matter of how they end up there.
Predicting The Other Matches
There are five other matches that will take place on Sunday. The first one will take place on the Kickoff Show prior to the 8pmET hour followed by the other four matches that will precede the Rumble match main event. All four of the undercard matches can be great if they get 12-15 minutes (or more) of in-ring time.
Kickoff Match: Darren Young & Damien Sandow vs. The Dudley Boyz vs. The Ascension vs. Mark Henry & Jack Swagger
This was added on WWE.com during the week with no build at all. The winning team will be in the Rumble match while the other six guys apparently will not be in. Henry & Swagger are my pick just because Henry's probably retiring this year, so it will be a nice story to see him in his last Rumble match.
Tag Team Titles: The New Day vs. The Usos
Since The New Day is best thing going on WWE on a weekly basis, they should retain the titles. It would be a shame if they lost them before WrestleMania because they deserve to walk into that show as the champs. There's nothing wrong with The Usos – it just doesn't seem like the right time to do a title change. New Day retains probably by cheating.
United States Title: Alberto Del Rio vs. Kalisto
This will be their fourth televised match in about three weeks, so there's a lot of familiarity there. It's a shame that Kalisto won the title only to lose it days later because he was really building up some momentum. My guess is they have somebody else in mind to take the gold off Del Rio at a later date, so Del Rio will probably keep the title.
Divas Title: Charlotte (with Ric Flair) vs.  Becky Lynch
The women have done a great job of building up this match. Lynch has delivered some really passionate promos while Charlotte is an awesome heel with her evil father Ric Flair at her side. They could definitely do a title change because Lynch is certainly deserving of it. It's not known what the WrestleMania match will be for the divas, but I feel like with Sasha Banks not in the title picture yet, they might put her against Charlotte with Banks turning face soon. That's why I'll take Charlotte to retain.
Intercontinental Title: Dean Ambrose vs. Kevin Owens (Last Man Standing)
The rules of a Last Man Standing match are that you can only win the match if you beat your opponent so bad that he can't stand up after the ref counts to ten. In other words, it's a violent match that usually sees the competitors brawling out of the ring for the majority of the match. These guys are great performers that will also be able to use weapons, so it really does have a good chance of being the match of the night.
It's actually the third straight PPV match for them since Ambrose beat Owens at both Survivor Series and TLC. A third straight loss for Owens could be damaging to him, but I feel like he has moved on from the title and could face Lesnar or Undertaker at WrestleMania. With that in mind, I'll go with Ambrose for the win.
Closing Thoughts
It has the chance to be a great show if it's booked in an entertaining way. The problem with the Rumble match the last few years is that it became too boring and too predictable. This year with the WWE Title on the line there's definitely more anticipation for the match and the show overall.
Where WWE might run into problems is if Reigns retains like I predicted because he has a lot of haters out there. The reason for the hate is that he's been pushed down people's throats for over a year now. Seeing him win again may upset some fans and he may get booed like he was after winning last year. I just think WWE will stay the course with him by making him their champion for much of the year because he's the guy they are building their future around.
No matter what happens, it's very likely that the Royal Rumble will get the WWE Universe talking in a big way as the Road to WrestleMania continues.