The Raw after WrestleMania is usually one of the happiest nights in the WWE Universe due to the surprises that take place on that show. On Monday night, Bobby Lashley returned to the company after 10 years away while Jeff Hardy and Samoa Joe made their returns from injuries. Meanwhile, NXT stars like Ember Moon, the Authors of Pain and No Way Jose made their main roster debut. There was also a fun opening segment with Ronda Rousey slapping on an armbar on Stephanie McMahon again.
However, the moment I'll remember most from Raw after Mania was the emotional retirement speech from former two-time WWE Divas Champion, Paige.
Paige stood in the ring after her Absolution protege Mandy Rose (along with Sonya Deville) beat Sasha Banks and uttered this sentence to the New Orleans crowd: "Unfortunately due to neck injuries, I can no longer perform in this ring as an in-ring competitor."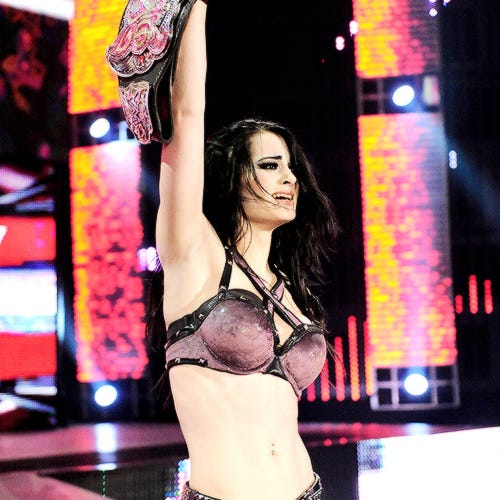 Paige is 25 years old and started wrestling when she was only 13 years old because she was born in a wrestling family with parents who wrestled and her brothers do too. She signed with WWE in 2011 when she was just 19 years old. In 2013, she won the NXT Women's Title when she was just 21 years old. In 2014, she debuted on Raw in New Orleans the night after WrestleMania (in the same building where she retired last night) by beating AJ Lee for the Divas Title. Paige spent the next few years as a face and a heel that was featured as much as any woman in WWE until she suffered a serious neck injury in the summer of 2016.
In September 2016, Paige had major neck surgery and was cleared to return to the ring one year later in September 2017. During that time, Paige also went through a lot of personal issues that included a rocky relationship with former WWE star Alberto Del Rio (the couple broke up last year). She was also suspended twice by WWE's Wellness Policy and personal videos of her were leaked on the internet featuring explicit sexual acts. It was a really tough time in her life, but she got through it.
At a WWE live event on December 27, Paige was hurt after a Sasha Banks kick to the back and had to be helped to the backstage area. Banks is not blamed for it because it's just one of those things that happens, but it was probably an ill-conceived spot to kick somebody in the back when they are coming off a serious neck injury. There is no heat on Banks for it and there are no issues between the two women.
In January, PWInsider reported (which I covered here) that Paige was "medically disqualified" from competing in WWE. It was the same thing WWE told Hall of Famer Edge in 2011 when he was forced to retire due to a neck injury. Since that time, WWE has not acknowledged Paige's injury. She has served as a manager of sorts for Rose and Deville. This week's Raw was the first time Paige addressed her health issues.
Paige stood in the ring alone Monday night explaining how hard it was sitting out WrestleMania this year. (She served as a commentator for the women's battle royal.) Then she announced she could no longer wrestle. She thanked the other female wrestlers while adding how proud she is of the women's division in WWE. Paige thanked her family, Daniel Bryan for inspiring her with his comeback and Edge for the advice that he has given her since he moved on from his neck surgery to get married (to WWE Hall of Famer Beth Phoenix), had two kids and an acting career.
She then thanked the fans for the support over the past four years while talking about how New Orleans was where she won her first Divas Championship, so it was the right place to retire. Paige added that it will always be her house (a nice nod to her "This is my house" catchphrase) and left one of her t-shirts in the ring. The fans gave her a big ovation.
The crowd in New Orleans was really supportive of her. She was emotional as expected and they picked her up to help her get through it when she was obviously in tears. I'm sure it meant so much to her to have the crowd backing her as much as they did. It's a reminder of how much true wrestling fans appreciate what wrestlers do in the ring. 
Is it possible that Paige could return to the ring? Maybe, but it's doubtful. Daniel Bryan's issues were concussion-related and his health improved over time. In Paige's case, it's a serious neck injury and those just don't go away. If you have issues with your neck even after a major surgery, it's unlikely that the problems will go away.
The speech from Paige was her goodbye as a regular performer on television, at least for now. As for her future, Paige has started her own business called The Saraya Store featuring clothing and other items. Her real name is Saraya. She is also going to be a part of the upcoming Total Divas season and WWE is producing a movie on her life along with The Rock called "Fighting With My Family."
I wish Paige all the best in the future. Whether you like somebody in wrestling or you don't, you should always respect a person who is willing to put their body on the line to take those bumps in that ring to entertain us. We don't want to see people get hurt.
Fans were tweeting #ThankYouPaige in support of her during Raw. I'll end this with some tweets from WWE superstars that know Paige well.
#ThankYouPaige @RealPaigeWWE pic.twitter.com/QuJdXdxRAu

— $asha Banks (@SashaBanksWWE) April 10, 2018
She is a star & I can't wait to see what she does next. Love you so much!! @RealPaigeWWE #ThankYouPaige

— Nia Jax (@NiaJaxWWE) April 10, 2018
Thank you @RealPaigeWWE for being one of my all time favorite opponents I've ever worked with in the ring. I'm so proud of you for being so strong but I'm also so excited for so many incredible opportunities coming your way. You're a star and you were born to shine! I ? you! pic.twitter.com/L1erOWqdlO

— Nattie (@NatbyNature) April 10, 2018
Can't even put into words how thankful I am for you @RealPaigeWWE … you have taught me so much in such a short period of time, from Tough Enough to now. Love you and thank you ??♥️ #ThankYouPaige

— Mandy (@WWE_MandyRose) April 10, 2018
Feelings are bittersweet right now .. @RealPaigeWWE has been such a mentor to me since the day I got here. She is insanely talented and I know whatever chapter is to follow will be just as amazing as this one. ? thank you Paige! #ABSOLUTION

— Sonya Deville (@SonyaDevilleWWE) April 10, 2018