What a crazy week it's been for World Wrestling Entertainment. While a lot of WWE fans might complain about how predictable WWE's onscreen product is a lot of the time, the behind the scenes world is proving to be the wild and unpredictable aspect of the company.
This past week alone three major stories broke. Prior to Monday's Raw, there was buzz relating to AJ Styles, Shinsuke Nakamura and the team of Karl Anderson & Doc Gallows leaving New Japan Pro Wrestling to head to WWE. While not confirmed by WWE, it's pretty much a done deal since they put it on their own website. Then there was the big announcement during Raw that Roman Reigns will put his WWE Title on the line in the Royal Rumble match on the line on January 24, which was a shocking decision. Part of the reason that was done is due to the third big story – the injury to John Cena, which is where we begin.
John Cena's Shoulder Surgery Causes WWE To Make Major Changes
The news broke on Wednesday that 15 time WWE Champion John Cena will need surgery to repair a torn rotator cuff. He had the surgery in Birmingham, Alabama on Thursday. The expected recovery time was initially set for 6-9 months although it could be less considering Cena's amazing ability to return from injuries quickly.
In 2008, Cena came back in four months after surgery to repair a torn pectoral muscle that usually means at least seven months of recovery. In 2013, he returned from a torn biceps in just two months even though it was an estimated four month recovery time. In this case, it's possible that he could return in four months just because he's a freak of nature when it comes to healing from injuries, but it's still a substantial loss.
While it's never a good time to have your top guy get injured, the timing is especially bad right now because WWE business tends to pick up from January to April as they are on the road to WrestleMania, which takes place on April 3 in the Dallas area at AT&T Stadium. He was rumored to face current WWE Champion Roman Reigns at one time and also against The Undertaker after some revised plans. Obviously, both of those matches are out the window now.
Cena had what was probably the best year of his career in 2015 in terms of his in-ring performance. He had so many great matches with midcard performers as he defended his US Title against all comers while also having fantastic feuds with the likes of Kevin Owens and Seth Rollins among others. After taking two months off to end the year to film a reality show for Fox, the expectation was he'd be back to being the workhorse we always knew him to be. It's a shame he won't be able to pick up where he left off in 2015.
The only positive thing that WWE can take out of his absence is that it will allow other performers to step up to the plate. Like they say in pro sports all the time, especially in the NFL: "Next Man Up."
New Signings By WWE Bring Much Needed Excitement
The foursome of AJ Styles, Shinsuke Nakamura, Karl Anderson and Doc Gallows coming to WWE from NJPW is the kind of thing that WWE really needs right now. While WWE already has a lot of great talent on their roster, it never hurts to add more.
Styles is the big name in the group. From 2002 to 2014 he was arguably the best performer in TNA Wrestling, which has been sometimes seen as a WWE competitor, but in reality is just a company that also hires professional wrestlers. They are much smaller today than they were in their peak. When they were at their peak, Styles was one of the main guys there and he is arguably one of the best wrestlers of the last 15 years. The only thing that really alluded him was a run in WWE. According to reports, apparently he's going to come into the company most likely at the Royal Rumble on January 24 in Orlando. The initial plan was for it to be a surprise, but now that word has got out maybe they'll change it. They should keep the plan in place, though, because his reaction at the Rumble would be amazing. At 38 years of age, Styles is still one of the best wrestlers alive, and it is smart to go to WWE now because he needs to see how he can do there. Chances are good that "The Phenomenal One" won't disappoint.
A talent like Nakamura is somebody that WWE may have shied away from in the past, but in their quest to acquire the best wrestlers worldwide, they knew they needed him. He's a charismatic guy that has been having great matches with everybody he's faced in Japan while also working in the US mostly for Ring of Honor. Fans that never watched him are missing out, but lucky for them he's going to be in WWE very soon and he'll win the crowd over quickly if he's given the chance to do so. It's also a smart hire for WWE in terms of broadening their fanbase as well, which is a market that just got WWE Network after waiting for nearly two years. Nakamura will be a huge draw in Japan for them.
The team of Anderson and Gallows will fit in with WWE perfectly because they're two veterans that work so well together. WWE fans will remember Gallows as fake Kane at one time, then he was a comedy character named Festus and then his most successful run as Luke Gallows in the Straight Edge Society stable with CM Punk. He's always been a skilled big man, so it's nice to see that he's WWE bound again. While Anderson isn't really known to most American wrestling fans, he'll have no problem fitting him since he's an experienced veteran in his mid-30s that has dreamed of being in WWE.
Along with the addition of the four men as great in-ring performers, they could also have an association with current NXT Champion Finn Balor, who posed the awesome Instagram photo above. The Anderson/Gallows team were a part of Balor's "Bullet Club" group, which Styles joined after Balor left Japan for WWE. Since WWE is already selling "Balor Club" merchandise, it makes sense to put the group together in WWE as well.
Whether they start on WWE's main roster or in NXT, there's no question that this foursome affectionately known as "The New Japan Four" will thrive in WWE as soon as they arrive.
Royal Rumble Match Is A Lot More Interesting Now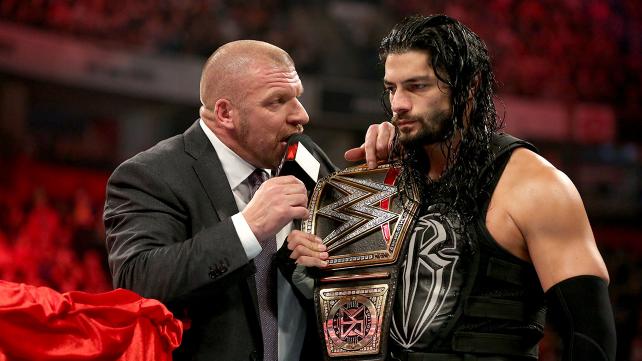 There have been 28 Royal Rumble PPV events with the (usually) 30-man Royal Rumble match taking place at all of them. After all of those events, the WWE Title has been on the line only once: 1992. In that year, the title was vacated due to multiple disputed finishes in Hulk Hogan vs. Undertaker matches, so whoever won that that match got to leave with the gold. It ended up being Ric Flair, who left with his first WWE Title. Here we are 24 years later and that Rumble match is still considered the best ever among most wrestling fans.
This week on Raw, the show ended with the evil WWE Chairman/CEO Vince McMahon announcing that Roman Reigns will have to defend the WWE World Heavyweight Championship in the Rumble match. It is McMahon's way of getting revenge on Reigns for attacking McMahon's son-in-law Triple H a few weeks ago as well as McMahon himself. It looks like WWE is trying to create that 1992 magic with the WWE Title on the line as Reigns makes history as the first man to defend the WWE Title in a Rumble match.
While it wasn't mentioned on Raw, it's very possible that WWE only came to this decision after learning of Cena's injury. Cena wasn't on Raw and was only on Smackdown to do a promo at the start of the show. If the plan was to do Cena vs. Reigns at WrestleMania then they could have kept the title on Reigns, had Cena win the Rumble and got there easily. They can't do it now, though.
The way WWE will promote the match is that 30 people will have a great opportunity to win the WWE Title because all they have to do is outlast everybody else in the match where you can only lose by going over the top rope to the floor. Anybody can win a match like that although WWE fans know they have never booked a surprise winner in the history of the match.
There are many scenarios in play now that the WWE Title is on the line. The most obvious ending would be a win for Reigns that would put him over 29 other guys and really establish him as "The Man" in WWE going forward. The problem with that scenario is that it could hurt him simply because of how strong he is being booked. If they overdo it with him the crowd will turn on Reigns like they did last year at the Rumble.
What WWE could also do is put Triple H in the match since he's arguably the top heel in the company. They'll have to do a Reigns/Triple H match at some point, so it could be a situation where Reigns dominates the entire match, Hunter enters at the end and eliminates him to win the WWE Title. Hunter's presence in the Rumble match hasn't been announced yet. He's really not a wrestler anymore since he only had one match in 2015 due to being 46 years old. However, it makes so much sense to put him against Reigns that even his harshest critics would likely welcome the match.
Another factor is Brock Lesnar. He's back on Raw next Monday with the expectation that he'll be announced in the Royal Rumble match. He was a favorite prior to the WWE Title being on the line in the Rumble and he's still a top contender just because he's arguably the biggest star in the match. If WWE wants to do Lesnar vs. Reigns at WrestleMania just like last year, they could easily get there by having Lesnar win the title at the Rumble and have Reigns earn the rematch at WrestleMania.
There are other options for winners with guys like Dean Ambrose, Kevin Owens or Bray Wyatt as first time WWE Champions. They could even go with a debuting AJ Styles if they really want him to make a strong first impression. For now, the most likely scenario is Reigns, Triple H or Lesnar that walks out with the gold.
As of right now, I'm leaning towards Reigns retaining the WWE Title at the Rumble leading to a WrestleMania rematch vs. Lesnar because it would mean a lot for Reigns to beat Lesnar. It wouldn't shock me to see Triple H against Reigns, though.
It's the best time of year to be a WWE fan and if the first week of 2016 is any indication, it could be one of the most exciting years ever as well.