The year is half over now, which means it's a good time to look back on the first six months of World Wrestling Entertainment while focusing on what's been good and what's been bad in 2017. I could call it a lot of things, but I'm rolling with "winners" and "losers" for this occasion. In some cases, I'll pick individual performers who fall into a category while other times it will be about booking decisions.
The order of winners and losers doesn't really matter, but there are 15 of each or 30 in total. Some write-ups will be longer than others.
Winners: The Miz and Maryse during their portrayal of John Cena and Nikki Bella
I thought Miz and Maryse doing parodies of John Cena and Nikki Bella leading up to their mixed tag match was hilarious. They did the spoofs for several weeks with Miz dressed as Cena and Maryse as Nikki. It was so funny seeing Miz talk in a robotic tone to mock Cena while Maryse nailed Nikki's mannerisms (and playing with her hair) perfectly. Like most good things in WWE, the parodies have unfortunately come to an end.
A big reason why people cared about Miz/Maryse vs. Cena/Nikki at WrestleMania was because of the parodies. Cena delivered some awesome promos too, but the comedy by Miz/Maryse helped a lot. The match sucked at WrestleMania, yet I don't think anybody cares too much about that. We can think back to those skits as being some of the best moments this year.
Miz and Maryse have done okay on Raw, but they were better on Smackdown.
Loser: Failing to turn Roman Reigns into a monster heel following WrestleMania win over The Undertaker
The biggest problem with WWE this year and in the last few years is that they are afraid to try doing major storylines. I don't know why that is, but it's really disappointing. Are fans really going to care about Goldust attacking R-Truth? No. It doesn't matter. Instead of minor turns like that, they should think about doing something much bigger with Roman Reigns.
This year was the perfect time to turn Roman Reigns into a cocky, overbearing a**hole type heel like what his cousins The Usos are doing on Smackdown. Reigns isn't doing that well in terms of merchandise or selling tickets. Ratings are certainly not on the upswing, so why not have a prototypical face like him tell the fans that he doesn't need them anymore? They already boo him heavily, so it would be easy to do.
Retiring The Undertaker drew massive heat for Reigns. The next night on Raw, he could barely say anything for 10 minutes because of how much the crowd hated him. Did his act change all that much? Not really. What a shame because there's a lot of talent that is doing just fine as faces and chances are he'd be a better performer as a heel too. Take a chance, WWE. What do you have to lose?
Winners: John Cena vs. AJ Styles at Royal Rumble
Match of the year at January's Royal Rumble. They barely left the ring during this WWE Title match and the crowd in San Antonio was on their feet for much of it because of how exciting it was. I remember sitting here wondering if they could top their epic match at SummerSlam in 2016, and by the time it was over I thought they did it. That's a testament to the greatness of these two men who are now 40 years old with a lot of experience and the ability to draw the best reactions from the WWE Universe during an important match like this one.
Cena ended up winning the WWE Title from Styles that night and dropped it to Bray Wyatt at Elimination Chamber two weeks later. That brings me to…
Losers: The Bray Wyatt vs. Randy Orton feud
I thought the build to their WrestleMania match was done well. I know some people didn't like Orton burning down the Wyatt Family Compound (a small house in the woods), but I liked having the face Orton take the fight to heel Wyatt. Orton earned his trust and then screwed him over. It made sense.
Then WrestleMania happened. What a mess. They went about 10 minutes, had a forgettable match and for some reason, somebody in WWE thought it would be wise to show images of bugs in the ring while the match was going on. Thankfully, they haven't done it since as Orton won the WWE Title in a boring match.
Things went from bad to worse with their House of Horrors match at Payback. It was ridiculous seeing Wyatt shove a fridge on Orton and then take off in his limo while Orton showed up at the arena later without selling a damn thing. Wyatt got the win in a non-title match thanks to Jinder Mahal's help, so in the end the heel won the blowoff match, yet the face kept the title. What a bizarre way to book it.
This is the worst feud of the year and I think it's going to be difficult to top it.
Winners: Kevin Owens and Chris Jericho during the Festival of Friendship
I didn't love the entire Festival of Friendship segment on Raw because I thought they took too long to set it up, but by the end of it I found myself saying "this is awesome" repeatedly.
We all knew it was coming. Owens and Jericho were on screen buddies for over six months. When they did their various promos and comedy bits, you knew that at some point Owens was going to kick his ass. They timed it perfectly in February with Owens sending Jericho face-first into a video screen and then viciously attacking him. Jericho cost him the Universal Title while Owens won the US Title from Jericho at WrestleMania.
While I wouldn't consider their rivalry an all-time great one, it was still a lot of fun and could pick up whenever Jericho returns.
Losers: Braun Strowman and Baron Corbin at WrestleMania
WrestleMania is supposed to be the biggest and most important show of the year. With that in mind, why would WWE book two of their newer talents with bright futures in such a way where they are made to look like losers? I didn't understand the booking strategy three months ago and I still don't understand it today.
Braun Strowman should have had a huge win at WrestleMania. Instead, he lost in a battle royal with a bunch of losers and didn't last long while he was in there. It was a Kickoff Show match too.
Baron Corbin should have had a huge win at WrestleMania. Instead, he lost the IC Title match to Dean Ambrose that was only part of the Kickoff Show as well. Who booked this crap?
WWE needs to do a better job of long-term planning and booking. Guys like Strowman and Corbin need to be presented as major stars on a show like WrestleMania. Instead, they didn't come across like stars at all.
Winners: Braun Strowman and Baron Corbin after WrestleMania
It's four months after WrestleMania and I think it's fair to say that Braun and Baron are doing great.
Strowman was sidelined with an elbow injury that required surgery, but he only missed about one month of action. Now that he's back, Strowman is likely going to headline a pay-per-view against Brock Lesnar soon. Plans can always change, of course. Strowman is a top heel on Raw with a very good chance of becoming Universal Champion at some point in the next year. It's not a question of "if" and more like a question of when.
In Baron's case, he was booked to lose for several months because that's what WWE does when a guy is ready to win the Money in the Bank briefcase like Corbin did a few weeks ago. I think Corbin will be WWE Champion before the end of the year. It seems like a safe prediction too.
Loser: The booking of Finn Balor
Talk about getting lost in the shuffle. Here's a popular wrestler in Finn Balor who came back from major shoulder surgery, was ready to go nearly a full month before WrestleMania and was left off the card. Since then, he hasn't had a real rivalry. There was a tease of Balor vs. Bray Wyatt, but it never really started. Now Balor's feuding with Elias Samson, who isn't established on the main roster.
Balor needs to be a bigger factor on the main roster. He's too talented not to have a bigger role.
Winner: Alexa Bliss
The "Goddess" of WWE has really improved a lot in the last year. She's the only woman who has held the Raw and Smackdown's Women's Titles. You can also tell that management must really be high on her since she gets way more promo time than any woman on Raw.
I like her stage presence a lot as well as her promos. However, she needs to keep improving in the ring because sometimes it's tough to watch her matches.
Loser: Bayley
Nobody has been booked as bad as Bayley this year. She won the Raw Women's Title from Charlotte during a random Raw in February and it left me wondering "What is WWE doing?" I still don't have an answer.
Bayley should have won the Raw Women's Title at WrestleMania, which would have been a great moment. She should still be Women's Champion today. Instead, she dropped the gold to Bliss in a forgettable match and then they had a Kendo Stick on a Pole match that was even worse. It led to Bayley getting booed a few times on television.
I enjoy her matches usually, but character development has been awful for her on the main roster.
Winner: Samoa Joe
Samoa Joe didn't need to spend nearly two years in NXT, but that's what happened. He debuted on the main roster after the Royal Rumble, even though an appearance during the Rumble would have been much better. Joe was booked as a Triple H guy that was an "assassin" there to take out Seth Rollins. Yet poor Joe wasn't even a part of the WrestleMania lineup, which is ridiculous.
The good news is that for whatever reason, the light bulb has come on in Vince McMahon's mind because WWE has booked Joe well as the No. 1 contender to Brock Lesnar's Universal Title. Their match at Great Balls of Fire is a dream match for a lot of fans and highly anticipated because of how good it has been booked. I'm happy for Joe's success on the main roster. It's well deserved.
Loser: Bray Wyatt
You would think that a guy who won the WWE Title for the time would be a part of the "Winner" category, but not Wyatt. It's been another disappointing year for the big man because even though he was booked well in terms of winning the WWE Title at Elimination Chamber, it's been downhill ever since then. The Orton feud sucked (as I already mentioned) and the current rivalry he started against Seth Rollins isn't that interesting. Wyatt should be in a better position than he's in, but for whatever reason he fails to get to that next level.
Wyatt has also made the news out of the ring as well since he's going through a divorce and his wife made it known publicly that he cheated on her with Raw ring announcer Jojo. Follow the buzzards, indeed.
Winner: Jinder Mahal
If you would have told me six months ago that I'd be sitting here in July writing about Jinder Mahal as WWE Champion, I'd say no way. Kudos to him for improving his stock by getting in the best shape of his career. Obviously, management was impressed because they put the WWE Title on him a few months ago. His wins have been cheap and his promos are repetitive, but if you listen to the crowd I think it's fair to say his push is working.
The criticisms towards Mahal are booking-related. If WWE wanted to push this guy so badly, then why not give him some wins earlier in this year? He was perceived to be a loser, so when he won the WWE Title, it shocked and upset people. We want to see champions earn the right to go for titles and while Mahal did win a multi-man match, he didn't do enough to impress some of the doubters out there. I think it's fair to say that in the last three months as a top guy, he's shut up some of those doubters but he's still got more to do.
Loser: Rusev
Rusev was booked poorly on Raw at the start of the year and the feeling was a move to Smackdown would help him a lot. Remember those promos Rusev did after the Superstar Shake-up where he demanded a WWE Title match at Money in the Bank? That show came and went with no sign of Rusev because of his shoulder injury. Plus, plans also changed. Rusev may have challenged for the WWE Title at Money in the Bank, but the decision was made to put the WWE Title on Jinder Mahal instead.
I hope Rusev can bounce back from the poor booking and the shoulder injury because he's got so much potential even though he's had a tough time getting over to that next level.
Winners: Smackdown Women's Division
It's been a great year for the women on the blue brand. At the Elimination Chamber pay-per-view back in February, there were three women's matches. I don't think that's ever happened on a PPV card before. At WrestleMania, there were two women's title matches, which was great to see as well. This past week, the women headlined the show with a Women's Money in the Bank match for the second time, which was won by Carmella.
The Raw girls get booked well occasionally, but on Smackdown the women are utilized correctly nearly every week. It's awesome to see that.
Losers: Enzo & Cass
They should have won the Raw Tag Team Titles at WrestleMania. After a year of being on Raw as a popular tag team, that should have been their big moment. Instead, the Hardys returned that night and took the gold from them, so to speak.
Cass turned on Enzo a few weeks ago on Raw, which means Cass will be a monster heel for the next few years while Enzo will be lost on his own. It can be argued that they could have been a team for longer so that they could win the titles, so cutting them off too soon would make them losers as a team.
Look for Big Cass to have a huge run as a singles wrestler while Enzo will probably struggle as a singles guy.
Winners: Kurt Angle, The Hardy Boyz and Mickie James returning to WWE
It's been a big year for returns of former champions in WWE.
Mickie James returned in January as "La Luchadora" who helped Alexa Bliss get by her rival Becky Lynch. James hasn't been booked that well on Smackdown or Raw, but I hope at some point she can rack up the wins because there haven't been enough of them.
Kurt Angle was announced for the WWE Hall of Fame, did a great job with his speech and on the Raw after WrestleMania, he was named the general manager of Raw. It's expected that Angle will have a match again in WWE, which would be his first since he left in 2006. SummerSlam vs. Triple H is a possibility, but the company could wait until next year's WrestleMania.
The Hardy Boyz WWE return drew the biggest pop of any moment this year. It had been eight years since Jeff had been in a WWE ring and seven years for Matt, yet there they were once again as surprise entrants whowon Raw's Tag Titles in a ladder match. I've been very impressed by them and look forward to the "Broken" phase of their run.
I think it's fair to say that Kurt, Mickie and the Hardys proved that you can go home again.
Loser: Whoever thinks there must be Pitbull and Flo Rida songs at WrestleMania every year
I'm sure there are some people who like Pitbull and Flo Rida, but I've never met them. I don't know if I heard that "Greenlight" song more than any WrestleMania main song in my life, but it sure felt that way. It got so bad that about a week after WrestleMania, I heard it on the radio in my car, shouted an expletive and changed the channel.
Winners: Pete Dunne & Tyler Bate at NXT Takeover Chicago
Dunne and Bate went into their NXT Takeover Chicago match without much fanfare. They had matches in WWE's UK Championship tourney, but there was no way of knowing how many people watched that. Bate's only 20 years old and Dunne is 23 years old, yet here they were putting on one of the best matches of the year in front of the best fans in WWE. They won over a lot of people that night and I really hope WWE does more with both of them.
Losers: Significant championship reigns
There are too many titles in WWE and not enough memorable reigns. The only champion who is booked well these days is Neville. He's doing a great job week after week. However, fans don't care about the cruiserweight division that much. The fans don't react big to the title changes either because we see them so often. I hope there are some longer title reigns for the rest of the year.
Winners: Shinsuke Nakamura finally making it to the main roster
It's about f'n time. That's what I said when Nakamura debuted on the main roster on the Smackdown after WrestleMania. What took so long? There was no reason for him to be in NXT for over a year, yet that's what happened. Up to this point, Nakamura hasn't done a whole lot other than wrestling Dolph Ziggler a bunch of times, taking part in the Money in the Bank match and setting up the Baron Corbin match for Battleground. I want to see more out of Nakamura and I think the fans would buy into him as well.
Loser: Paige
Rough year for the pale British star. She's been out of action all year due to neck surgery. She is also engaged to Alberto El Patron, who left WWE last year and has gone on numerous rants about how much he hates WWE. That can't be good for her future. There was also the story of her personal videos/photos of her getting hacked, which featured multiple explicit sexual acts.
On the other hand, she's engaged to Alberto El Patron (Del Rio) and they are apparently still together, so that's a positive at least.
The good news is she's training to wrestle and should be back in the ring within a few months. I wish her the best in her return.
Winner: Mauro Ranallo getting back his WWE contract he never should have lost
One of the bigger behind-the-scenes stories was Mauro Ranallo losing his job as Smackdown's lead announcer before WrestleMania. There was no official reason given, other than his depression making it hard to work there and JBL's bullying may have went too far.
A few weeks ago, Ranallo was back in the WWE news as the new voice of NXT. His first NXT fall aired on last week's show. He never should have been gone and I'm glad he's back. Here's hoping that one day he replaces Michael Cole on Raw because he's much better.
Losers: American Alpha, Tye Dillinger and other NXT stars forgotten on main roster
Any time good performers are not used properly, that's going to be on the "loser" side of the ledger. I don't blame the wrestlers at all because it's up to the creative team to utilize nearly everybody on the roster.
I'm not sure why American Alpha is off TV other than WWE simply wanting to focus on Breezango and New Day as the face teams. I understand it because there's only two hours and it's tough to get everybody. I just hope there's a resolution soon because this isn't as comfortable as it could be.
As for Tye Dillinger, his main roster debut happened on Smackdown after WrestleMania and it was a big deal at that point. However, since then it's as if he disappeared. Please make time for him, WWE. He's a good performer who can do a lot.
Winner: Styles vs. Nakamura tease at Money in the Bank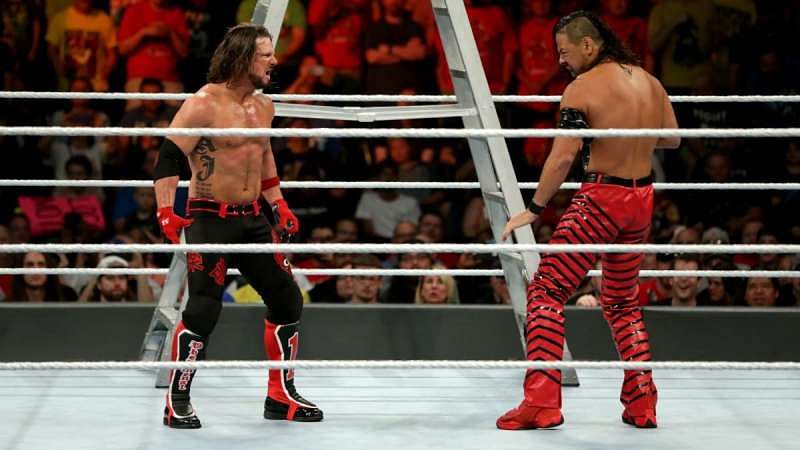 It was great to see the Styles and Nakamura staredown at Money in the Bank a few weeks ago. That's a dream match for a lot of people because we haven't seen them wrestle in WWE, although they did wrestle in Japan. It could be one of the best matches in WWE history if they get a lot of time and are allowed to wrestle their style of match.
I know some fans probably want Styles vs. Nakamura as soon as SummerSlam in August. While I would love that, I think saving it until next year's WrestleMania would be the right move.
Loser: Miz vs. Ambrose continuing on Raw after it ended on Smackdown
I wasn't a huge fan of the Superstar Shake-up idea, but I get why WWE did it to create some fresh matches on Raw and Smackdown. What I hated the most about it is that even though Dean Ambrose took the IC Title from Miz earlier in the year, Miz went after him and the title on Smackdown as well. Why did we need to see more when the feud appeared to be over? I thought it was a lame rivalry that didn't benefit either guy.
Winner: Stephanie McMahon going off television after WrestleMania
Stephanie, you are not missed. Please stay away. The character has becoming so stale that if she returned it would make me want to turn off the show. That's not what I'll do since I write about the show, but it's what Stephanie makes me want to do.
Losers: The fans who have to wait for the Ciampa vs. Gargano feud since Ciampa is hurt
When Tommaso Ciampa turned on tag team partner Johnny Gargano at NXT Takeover Chicago in May, I was stunned and also amazed at how good it was. It made me think about how great of a match they could have at the August NXT Takeover show in Brooklyn. Sadly, Ciampa suffered a torn ACL in his knee and will likely miss the rest of the year. That means we will likely have to wait until January for their big match against each other.
Winners: John Cena and Nikki Bella getting engaged at WrestleMania
I'm not a sappy kind of guy, but even I have to give credit to Cena for popping the question at the perfect time. After John and Nikki won their match at WrestleMania, John got down on one knee and proposed to his long-time girlfriend Nikki. The crowd cheered the entire time as the couple embraced in the ring and left to a big ovation.
The silly thing about it is that after it was over, Nikki said in interviews that she didn't know it was coming. That's ridiculous considering how much they talked about it and Miz/Maryse used in their parody skits too. Gotta love wrestlers, right? Always trying to work the crowd.
Loser: Whoever thought "Great Balls of Fire" was a good PPV name
It's not a good name. It's silly. Never use it again. Please.
On that note, I'll depart for now and I'll preview the poorly named Great Balls of Fire later this week. Let's get through Raw and Smackdown first. I'll be back Tuesday with a look at Raw.