In exactly one year, we'll all be glued to our TVs watching the 2018 FIFA World Cup in Russia. For fans, that might seem forever. For each confederation, racing to get their players ready, it's a time crunch. Some countries are in good shape, some have even qualified for Russia. With so much that could happen between now and next summer, we take a look at where some of the biggest countries stand with a calendar year standing between them and the biggest tournament in sports.
United States
The USMNT is in a precarious situation in qualifying. Last week's draw in Mexico earned a valuable point, but a slow start has them 3rd in the Hexagonal. Only a point behind is Panama. The U.S. wants to qualify directly, and dropping into fourth place would see them in a playoff with the 5th place country from the Asian Federation. The U.S. arguably has the easiest schedule the rest of the way now that they don't need to face Mexico and play Costa Rica and Panama at home.
As far as the team goes, there are plenty of questions that need to be answered in the coming year. Tim Howard seems likely to be the man between the sticks for the U.S., but recent injury issues could throw a wrench in those plans. In terms of a regular starting lineup, it seems like Christian Pulisic is the only lock for Bruce Arena right now. The back line seems to be picked mostly based on form, but players like John Brooks have shown the most consistency over the years. Arena is also picking up after Jurgen Klinsmann. The U.S. coach will have to spend most of the year getting his players on board with his system before he really knows his team. The good news is he has a lot of time to do this and plenty of promising talent to work with. In a year, the USMNT should be in a good place if all that talent develops nicely.
Germany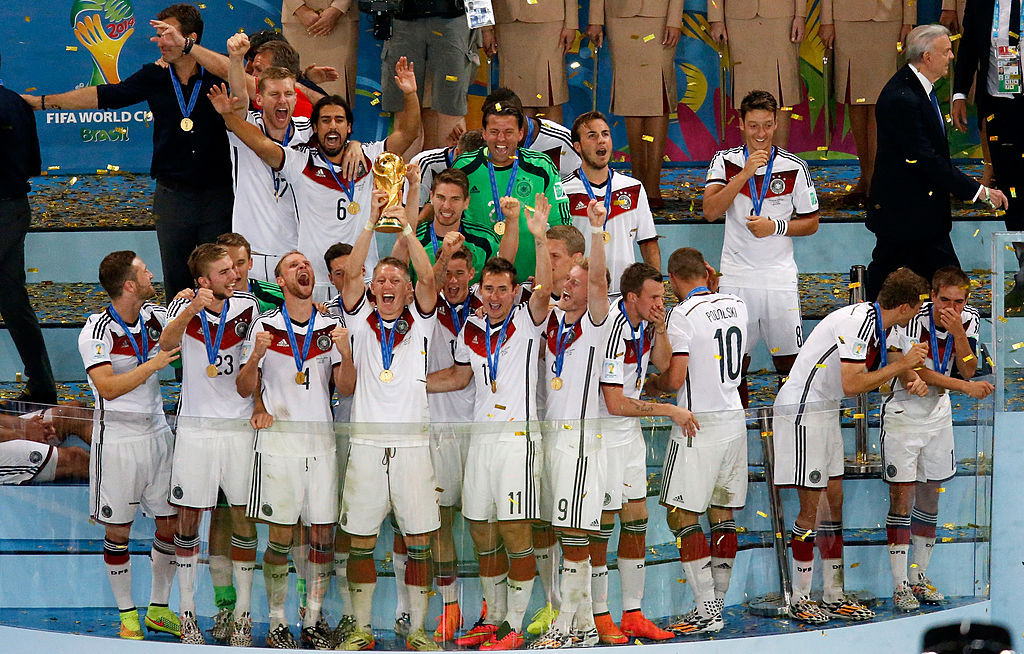 The defending Champions are going to qualify for Russia at a brisk pace. No one in their group has been able to mount much of a challenge and could clinch by this September. This coming year will mostly be about finding the right team to take to Russia. The two biggest questions for Jochim Low will probably be in defense and up top. Philipp Lahm has been replaced with Joshua Kimmich at right back, and so far that has been successful. With Lahm departing Bayern Munich this season, the 21-year-0ld Kimmich should feature at right back regularly for his club. Germany's two center backs, Jerome Boateng and Mats Hummels should be a lock to start in Russia, or one would think. Hummels will be there, but Boateng has been dealing with constant injury issues over the last two seasons. With a promising young defender named Niklas Süle moving to Bayern this summer, a strong season from him could push Boateng to the bench.
Up top, Germany is still trying to find the next Miroslav Klose. There are some options like Leipzig's Timo Warner and Gladbach's Lars Stindl. Mario Gomez could be in the picture here if he has a good season for Wolfsburg. Gomez has never looked comfortable in a Germany shirt, however. This absence of a true goal scorer could be Germany's undoing next summer. Especially if Thomas Müller doesn't suddenly remember how to score goals.
France
My goodness, France has a spectacular array of young attacking talent coming through. Anthony Martial, Paul Pogba, Kingsley Coman, Ousmane Dembélé and Kylian Mbappe are all under 25 years old. Throw in Antoine Griezmann, Alexandre Lacazette, and Dimitri Payet and you have one incredible lineup. France will score plenty of goals in Russia next summer, but keeping goals out at the other end might be the biggest problem. France does have some good defenders, and Hugo Lloris is coming off a brilliant season. That said, their defense is young. While that's not a huge problem in their attack, lack of experience can be a little more dangerous on the other side of the ball. In their squad against England, France only had two players in their defense over the age of 24. France beat England 3-2.
High scoring matches might be common in the next year for this young French team. But manager Didier Deschamps will have plenty of time and opportunity to figure out his back line. If that happens, and N'Golo Kanté does his thing protecting that back line, then France will be a terrifying proposition for everyone else.
England
After winning the U-20 World Cup, the future is looking as bright as ever for England. Whether or not that success translates to the senior squad remains to be seen. England will undoubtedly head into Russia with all the hype the English press can normally muster. But how good is this current England team? Many of the players likely to head to Russia are the same ones that capitulated against Iceland last summer.
They might not have the same absurd level of young attacking talent as France, but there is real quality in the England team. Harry Kane had one of his best seasons ever, and Raheem Sterling looked like a different player this season. He seems to finally be realizing his potential. Marcus Rashford seems to be getting better and better as well.
Defensively and in the midfield, there are still some questions, however. John Stones moved to Manchester City but his play left a lot to be desired. Liverpool's duo of Adam Lallana and Jordan  Henderson seem a good bet to feature in Gareth Southgate's midfield. Dele Alli will also surely feature, as he can provide England's strikers with much-needed creativity. Joe Hart's future as England's number one will also be a hot topic. Jordan Pickford is a bright young keeper who has his sights the ex-Manchester City man's job.
Italy
The Italians had a great run in Euro 2016 under Antonio Conte. Now, Gian Piero Ventura has taken over and will try to lead the Azzurri to a fifth World Cup. Like every Italian team, they'll do it with defense. The core of the team will be an aging group of Juventus defenders. It's also uncertain whether or not legendary keeper Gianluigi Buffon will be along for one more ride. He'll be 4o by the time the World Cup starts next summer. The age of this team is going to be a big question mark. If Buffon isn't around in a year, then the job will go to Gianluigi Donnarumma. The young AC Milan keeper is the heir to Buffon's thrown.
Italy is going to have a strong defense, provided their big names stay healthy. This will be important because the Italians are lacking a really outstanding attack. Historically, that's not surprising, but to keep up with some of their rivals it's a potential issue. Italy will have to find some offense over the coming year. Competing against Spain in a difficult group will also make for an eventful year.
Spain
After a disastrous World Cup in Brazil, Spain rebounded a little in France at Euro 2016. On paper, Spain should be even stronger in a year's time. They're unlikely to have the same dominant midfield that won them three major tournaments on the trot, but it's looking strong. Thiago Alcantara just had the best season of his career, basically running Bayern's offense by himself. Diego Costa played up to his high standards with Chelsea this year. Sergio Ramos and David de Gea are also at the top of their games, giving Spain a sturdy defense. Playing Italy in their qualifying group will be tough to navigate, but if they make it to Russia and stay healthy they'll be one of the favorites again.
Argentina
The two-time World Cup winners are in a bit of a crisis at the moment. There is no guarantee they will even make the World Cup. They sit fifth in the table, and one bad game and an Ecuador victory would see them out of a qualifying position. Lionel Messi is still the best player in the world, but the supporting cast around him seems to be lacking.  Paulo Dybala had a super season for Juventus and he could supply Messi with some help, but La Albiceleste will need more than two forwards to become favorites. It's going to be a rocky year, but if they can survive long enough to make it to Russia they could still turn some heads. It's hard to see them missing out, to be honest. They might not be favorites to win in 2018, but having Messi should be enough to pick up points against the bad teams in qualifying.
Brazil
Brazil is eager to put what happened in 2014 far far behind them. They've stormed through qualifying and have already punched their ticket to Russia. Psychologically they seem to have rebounded well from their humiliation against Germany. From a personnel standpoint, there is a lot to like here. Neymar is obviously going to be a key player, but he's not the only one. In 2014, Brazil were very much Neymar plus 10. But the five-time winners have added players like Douglas Costa and Gabriel Jesus to give some added attacking power. Liverpool duo Roberto Firmino and Philippe Coutinho will just add to Tite's attacking options.
The defense is going to be their biggest question mark. It's been fine so far, but it's hard to know how it will hold up against some of the teams they'll face in Russia. If someone like David Luiz plays up to his abilities Brazil will do well. However, if World Cup semifinal David Luiz shows up at any point, they'll be in trouble.