Sitting in ninth place after 10 games and coming off a 5-1 drubbing from Barcelona in this season's first 'Clasico' it was little surprise that Julen Lopetgui was sacked as manager of Real Madrid. His reign in charge lasted just about four months.
It's very easy to say the club set Lopetgui up to fail, but he's not completely innocent in Real Madrid's current situation either.
There's no denying that Real have a Cristiano Ronaldo sized hole in their team right now, but what is also becoming apparent, is that Real Madrid didn't realize how much they were going to miss Zinedine Zidane either.
In order to do that, you would of course have to realize exactly how much of a hand Zidane had in Real's success over the last three years. Zidane spent two and a half years in charge at the Bernabeu, winning one La Liga title and a whopping three consecutive Champions League titles.
Unfortunately, too often his managerial abilities are belittled with fans and pundits saying "well anyone can win if they have Ronaldo." That idea is laughable, especially since Real had several managers who had Ronaldo and they didn't win.
To really understand how much of a tactical hand Zidane displayed over the last three years, we have to go back to 2013.
Heading in to the 2013-14 season, Real Madrid had just hired Carlo Ancelotti to replace Jose Mourinho. In addition to Cristiano Ronaldo in his prime, the team had also just spent a then world record to sign budding superstar Gareth Bale. After three years of Mourinho's rigid football, the fans wanted to see two things, wins and goals. Especially the goals.
Ancelotti complied. He set up Real in a 4-3-3 unleashing the devastating front three of Ronaldo, Bale, and Karim Benzema. Behind them, creators Angel Di Maria and Luka Modric sat in front of the deep lying Xabi Alonso.
Ancelotti let them run free and boy did they. Real scored 104 goals in the league, and a whopping 38 more in the Champions League. Ronaldo had 31 league goals with 11 assists, Bale had 15 and 13. In the Champions League, the two combined to score 40 percent of Real's goals. The following year, Ronaldo scored 48 league goals and added 16 assists. In total, he either scored or assisted on a whopping 54.24 percent of Real's 118 goals.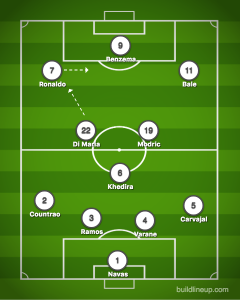 By now, the idea that all you had to do was let these talented players play freely and you would win was at the forefront of everyones mind. There was just one problem, Real couldn't beat anyone good.
Before you point out how they won the Champions League in 2014, remember who their last three opponents were. In the quartefinals, they faced a Borussia Dortmund side that were a mess in Jurgen Klopp's final year. They were concentrating on getting back up the table after a disastrous start. In the semifinals, they played a Bayern Munich side that had locked up the title a month prior. They were never able to get back into competitive gear. In the final, Atletico held them to a 1-1 draw, only to concede three in extra time when they had nothing left in the tank.
When Zidane was appointed he realized something. The 4-3-3 looked really good, Ronaldo and Bale (when healthy) were thriving. The goals were great but the formation was leaving Real's defense exposed, and teams that had skill were exploiting it.
In the two and a half seasons between Mourinho and Zidane, Real played Barcelona and Atletico Madrid 16 times. They won only five of those games, drew four, and lost nine of them. Under Ancelotti, they won just one of their eight league games against those two teams.
Shoring up the defense was something that Zidane knew he had to do. The midfield three had changed in the past few years. Di Maria and Alonso were gone, replaced by the more defensive Casemiro and the much slower Toni Kroos. To help out meant Zidane needed to give them help.
With the change in midfielders, playing a 4-3-3 still created a few problems. The first was that the defense was left very exposed, especially on the wings. To account for that, Zidane would have to drop one of his attackers back to help. In this case, Bale would drop back creating more of a 4-4-2 formation when Real didn't have the ball.
This wasn't perfect and where one leak was plugged another opened. There's still a major gap between Bale and the right back Carvajal but where Real were hurt was the transition from defense to attack. As soon as Real won the ball back, Bale would take off down the field to re-form the 4-3-3. With Angel Di Maria gone, the onus of moving the ball from the defenders to the attack was entirely on Luka Modric, a massive task for one player.
Real could still get away with playing a 4-3-3 against most Spanish clubs, but in the big games Zidane realized it was going to be either Ronaldo or Bale, not both.
Zidane's next move was to reshape the team around Ronaldo. He moved Ronaldo off the wing and into the middle of the field as a second forward. He then dropped Bale and replaced him with Isco. Isco's defensive role remained the same as Bale, albeit with a bit more of workrate but it was the attack that was transformed the most. Instead of playing on the wing, Isco came to the top of a midfield diamond, providing much needed help for Modric.
The switch had immediate benefits. Isco provided a link to help funnel the ball to Ronaldo. Ronaldo had much more space to operate with and was deadly with it. In the four and a half games after making this switch in 2017, Ronaldo scored nine goals (against Bayern, Atletico, and Juventus). Last season, he scored in his first 10 consecutive Champions League matches.
Now, after a full breakdown of how well Zidane used Cristiano Ronaldo you're probably wondering what this has to do with Lopetegui considering that he doesn't have the luxury of Cristiano Ronaldo.
Once Real offloaded Ronaldo, Lopetegui was left with two choices. He could have kept Isco in his same role and stuck Bale up top next to Benzema. Bale may not be Cristiano Ronaldo, but he's pretty freakin good. In fact, there are few players out there that would be a better fit to play that role. If he didn't want to do that, then the next best scenario would be to come up with a system that benefits the players he has left.
Unfortunately, Lopetegui chose door no. 3 and reverted to the 4-3-3 with Isco playing on the left side. Once again the onus of progressing the ball falls solely on to Luca Modric, while defensively Real are exposed on the flanks.
It's almost as if Lopetegui bought into the "Zidane just put these talented guys on the field and let them play" theory and said, "I could do that too."
That's not all, it gets worse. This team is old. When Zidane took over the club, the core of the team was either in their prime or just past it. The team that Lopetegui has? Modric is 33, Sergio Ramos is 32, Marcelo is 30, and Toni Kroos is 28 but looks slower than ever. Up top in the 4-3-3? That's 30-year-old Karim Benzema, who quietly hasn't had a 20 goal season in two years. On top of that, he had a new goalkeeper that the players didn't want and that hadn't fully settled in, forced on to him.
From the moment they hired him, Real didn't do Lopetegui any favors. They sold their best players as well as the solid defensive midfielder Matteo Kovacic. They didn't replace either of them. They unnecessarily created dressing room drama by adding Thibault Courtois, who they didn't need. On top of all that, they lofted their typical Real Madrid expectations of win or bust.
Real certainly didn't make Lopetegui's job easy, but he didn't help himself either. Instead of trying to replicate what had been working, he reverted to the exact style that didn't work. He proved to be weak tactically, and his inability to adjust ultimately proved to be his downfall.
[Photo: Getty Images]