Sports once again provides a much-needed distraction once again
As the nation prepared to watch the first of three presidential debates between Hillary Clinton and Donald Trump, there were plenty of reason to get a little emotional Monday night in the world of sports. There was sadness and joy on the way to reflection in Miami. There was a show of unity in New Orleans. And there was pure champagne-spraying joy in the visiting dugout in Detroit. To say the sports world gave you a full range on the emotional spectrum Monday would be a tad of an understatement. Monday night delivered a little bit of everything for you.
An emotionally raw night of baseball in Miami
The Miami Marlins returned to the baseball diamond a day after losing teammate Jose Fernandez in a tragic boat accident. From beginning to end, everything the Marlins did was perfect, including each player wearing a Fernandez jersey and the decision to retire the uniform number for good. If it were a movie script, it would have been edited for not being realistic enough. Dee Gordon launching an upper deck home run in the first at-bat of the night for the Marlins, immediately after mimicking Fernandez's batting stance from the opposite of the plate to start things off? Remarkable.
Just amazing, @FlashGJr. #JDF16 pic.twitter.com/Tgg03ZSJlt

— MLB (@MLB) September 26, 2016
Even the Mets gave props where due…
Dee Gordon lead-off home run. #AintEvenMad #BiggerThanBaseball 1-0 Miami.

— New York Mets (@Mets) September 26, 2016
Travis with some impactful words about being behind the plate when Dee Gordon led off with a homer. #Mets pic.twitter.com/v9r4HLh44h

— New York Mets (@Mets) September 27, 2016
The Marlins held a brief pregame ceremony of sorts that included a moment of silence and a beautiful rendition of "Take Me Out to the Ballgame" in honor of Fernandez. The Marlins and Mets gathered on the pitcher's mound and exchanged pregame handshakes and hugs. Then the Marlins went to work with the bats en route to a 7-4 victory over Bartolo Colon and a Mets team still competing for a playoff spot with time running out. After securing victory, the emotions once again were strong in Miami with a touching tribute to Fernandez.
José, José, José, José. https://t.co/kHUMpHq14Z #JDF16 pic.twitter.com/app9l6YjSI

— MLB (@MLB) September 27, 2016
Well after the stadium cleared out, the Marlins returned to the mound one more time before heading home.
Marlins Park nearly empty, Jose Fernandez's teammates have returned to the mound. pic.twitter.com/zrJxrrWcmk

— Tim Healey (@timbhealey) September 27, 2016
Everything the Marlins did was perfect from start to end.
If you needed another example of sports bringing people together…
The New Orleans Saints and Atlanta Falcons had you covered during Monday Night Football. The two NFL teams formed a circle at midfield as a show of togetherness following the national anthem, a noticeable gesture of good will at a time when players are using the national anthem to protest and bring attention to social injustices in our communities. The Saints and Falcons used their national spotlight on Monday to come together as one.
Great pregame gesture by Falcons and Saints before the #MNF tilt in the dome pic.twitter.com/YKUadsnGmI

— Ricardo LeCompte (@RLeCompteWYFF) September 27, 2016
Of course, the game did eventually kick off and then it was all about going all out to take the other team out. Or in this case on special teams, a Saint took out his own punt returner…
Falcons QB Matt Ryan had himself a good ballgame in the 45-32 victory for Atlanta. This was not among his finer moments…
Quick Hits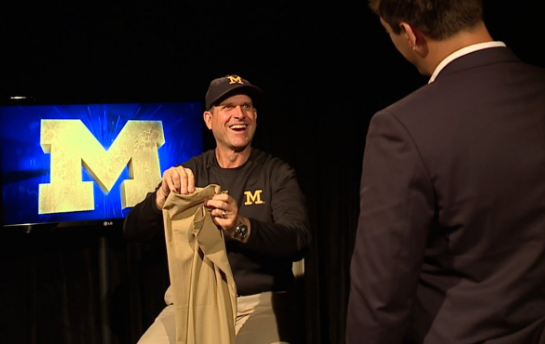 – The Cleveland Indians are officially in the postseason, because nothing bad ever happens to Cleveland sports teams in 2016. Well, except for the Browns.
For the first time in 9 years, the AL Central belongs to the Tribe. https://t.co/Qn5W5UQiyW #CLINCHED pic.twitter.com/GYnZrjkDsK

— MLB (@MLB) September 27, 2016
Texas has already clinched the AL West too, leaving the AL East and Wild Card still to be determined. Boston has clinched a spot in the postseason and leads the AL East has the magic number down to one for the AL East crown. Toronto leads the AL Wild Card race, followed by Baltimore. Detroit and Seattle are each two games back of the Orioles.
In the National League, the Nationals (NL East), Cubs (NL Central) and Dodgers (NL West) have the divisions wrapped up. The Mets hold the top spot n the NL Wild Card, half a game ahead of the Giants, who sit one game ahead of St. Louis for the second wild card spot. Miami is four games back.
– The Blue Jays and Yankees cleared the benches to exchange cookie recipes, or something.
Who's afraid of a little sweep? The #Yankees that's who!!! #BlueJays #OurMoment #gojaysgo #RogersCentre pic.twitter.com/kg52V1dojK

— Lorraine McMillanG (@bluejaylover49) September 26, 2016
– Greg Hardy, still a walking pile of human trash, allegedly.
– 49ers lineman Anthony Davis is retiring once again.
– Ben McAdoo (he's the new head coach of the New York Giants if you had no clue who that was) thinks Odell Beckham Jr. needs to take a chill pill. I'm sure that would lead to an NFL drug violation though.
– Manti Te'o is done for the year with a torn Achilles. Nope. Not going to make any jokes here. Not gonna do it.
– The Browns being too cheap to hire a replacement kicker? That would seem to be a Browns thing to do.
– Wentzlemania is running wild.
– A restaurant in Virginia Beach is using a Kaepernick uniform as a welcome mat for customers.
– LeBron James respects Colin Kaepernick's decision to protest during the national anthem, but LeBron plans to stand during the pregame anthem.
– Derrick Rose doesn't feel like he did anything wrong as he heads to a civil trial being accused of rape.
– Nerlens Noel doesn't sound like he's trusting the process in Philly. Also, the Sixers are investing in eSports.
– A high school soccer team in Arizona is afraid to play against a team with girls. That's how I read this story, anyway.
– Don't worry, I didn't forget about the most widely-discussed debate from yesterday. President Obama says nobody above the age of eight years old should put ketchup on a hot dog.
One Last Gratuitous Moment of Procrastination