Welcome to Wednesday.
Let's Cheat Sheet.
Manny Machado gets thrown at by/hits homer off Chris Sale, drops tons of f-bombs
The Red Sox just can't let this one go, as Chris Sale threw behind Manny Machado early in the game on Tuesday, drawing an immediate warning. Machado got his revenge, though:
Manny Machado hits his 6th homer of the season and pulls the @Orioles one run closer in the top of the 7th. #MLBNShowcase pic.twitter.com/b7fBgHoyh6

— MLB Network (@MLBNetwork) May 3, 2017
After the game (which also featured a triple play that confused the hell out of Bob Costas), Machado dropped an expletive-laden tirade about how little respect he has for the Red Sox, and mentioned the imbalance when pitchers can hurl baseballs as weapons and get short suspensions while a hitter who brings his bat to the fight would be out for at least a year.
That's…uh, well, that's certainly kicking things up a notch, but it's hard to blame him at this point. The Red Sox are not coming across well this series, and Chris Sale undercut whatever goodwill he earned by joining in the standing ovation for Adam Jones.
Oh, and there's still two games left in this series.
Celtics come back for OT win, Warriors handle Jazz
-Isaiah Thomas scored 53 (!) points as the Celtics came back from allowing a 42-point first quarter to win 129-119 in overtime over the Wizards. This puts Boston up 2-0 as the series heads to Washington, and things couldn't feel more different than when the Celtics trailed 2-0 to the 8-seeded Bulls in the first round.
-The Warriors dominated. Here's an example:
Steph puts Rudy Gobert in the spin cycle pic.twitter.com/1PeFcvBMQf

— CJ Fogler (@cjzero) May 3, 2017
The Warriors are winning the series, y'all. (That's the first time, I think, I've ever used "y'all", either written or spoken. I didn't care for it.)
Quick hits
-NHL playoff stuff! As much as ESPN would apparently prefer we not care, the playoffs are going on. The Predators defeated the Blues to go up 3-1 in the series, but the most memorable part of the night was when P.K. Subban took a shot to the head, went to the ice, and was called for embellishment.
You be the judge:
Edmunson hits Subban, Subban gets an embellishment penalty to go with Edmunson's pic.twitter.com/CZTp2ATbCq

— CJ Fogler (@cjzero) May 3, 2017
Also the Rangers beat the Ottawa Senators to avoid going down 3-0, in a series that is definitely something that is happening in the world right now, and not something I'm remembering from my PC version of NHL '99. (Marty Straka was awesome on that game.)
-Albert Breer spent most of his day yesterday attempting some sort of misguided Twitter effort to find "proof" of Adam Jones's racism claim. Though predictable from Breer, it wasn't a good look.
-Here's an adorable dog doing something annoying:
-Brandon Roy was shot in California, but the injuries are not believed to be serious. Because they're not believed to be serious, I think it's fair to say that of course Brandon Roy would be hit while in a crowd of innocent bystanders. Of course he would be.
-Judge Judy created a game show.
-Speaking of Judge Judy, here's some run-of-the-mill fraud captured on camera, as a woman attempts to use a sprinkler head falling on her desk to her advantage: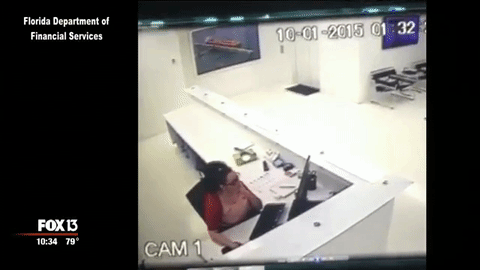 As you might expect, the "smack self in the head with a sprinkler part" plan was perhaps not all that thought through.
-Miguel Sano blasted a 466-foot dinger.
-This bird is not letting this golfer near this egg, which is actually a golf ball:
Good defense, bird.
-Mark Jackson just re-upped with ESPN for a mult-year extension.
–Cinemasins tackled Dr. Strange, which I still haven't seen, and now that I know it's hitting Netflix on May 30th I'm not going to see it until then.
A fake news headline I wish was real
98% of CNN.com Traffic A Result Of People Checking To See If Wi-Fi Working
One last glorious moment of procrastination
This elephant goes for the one-timer:
That's a better animal playing soccer moment than this one, though this remains a solid tweet:
Guys. Guys. Clark is playing soccer…

bear footed. @Cubs pic.twitter.com/Su1YNhZ3hq

— Randall J. Sanders (@RandallJSanders) May 2, 2017