After the College Football Playoff semifinals delivered a pair of blowouts, the remaining New Year's Six bowls have been a bit more fulfilling.
Monday featured three big games, two of which were decided in the fourth quarter and one of which will go down as a classic.
We've got all you need to know about those games, plus all the other news from Monday in sports, right here in The Cheat Sheet.
USC beats Penn State in an instant classic
This year's Rose Bowl didn't have the same stakes as, say, the 2006 version, but it had just as much drama.
In a back and forth matchup between two of the hottest teams in college football, USC overcame a 49-35 fourth-quarter deficit to beat Penn State 52-49 on a game-winning field goal.
Before that, this game had loads and loads of offense, several lead changes and numerous highlights. This run by Saquon Barkley may very well have been the best play of bowl season.
ALL. HE. DOES. IS. MAKE. TUDDIES. pic.twitter.com/HwXWXBWHKj

— Roar Lions Roar (@RLRblog) January 3, 2017
After a lot of back and forth, USC trailed Penn State by a touchdown with just under two minutes to play and the ball deep in their own territory. But freshman quarterback Sam Darnold led an 80-yard touchdown drive that took only 39 seconds and tied the score at 49. When the Nittany Lions got the ball back, Trace McSorely threw an ill-advised interception on third down to give USC the ball back. Two plays later, Trojans kicker Matt Boermeester booted a 45-yard field goal to end one of the best Rose Bowls we've ever seen.
The Rose Bowl wasn't part of the College Football Playoff, of course, but for a USC program that has faced NCAA sanctions and undergone a rare down period in the post-Pete Carroll era, the victory must feel like a national title. As for Penn State, which has had a tumultuous few years as well, to say the least, this one has to hurt.
Wisconsin holds on to hand Western Michigan its first loss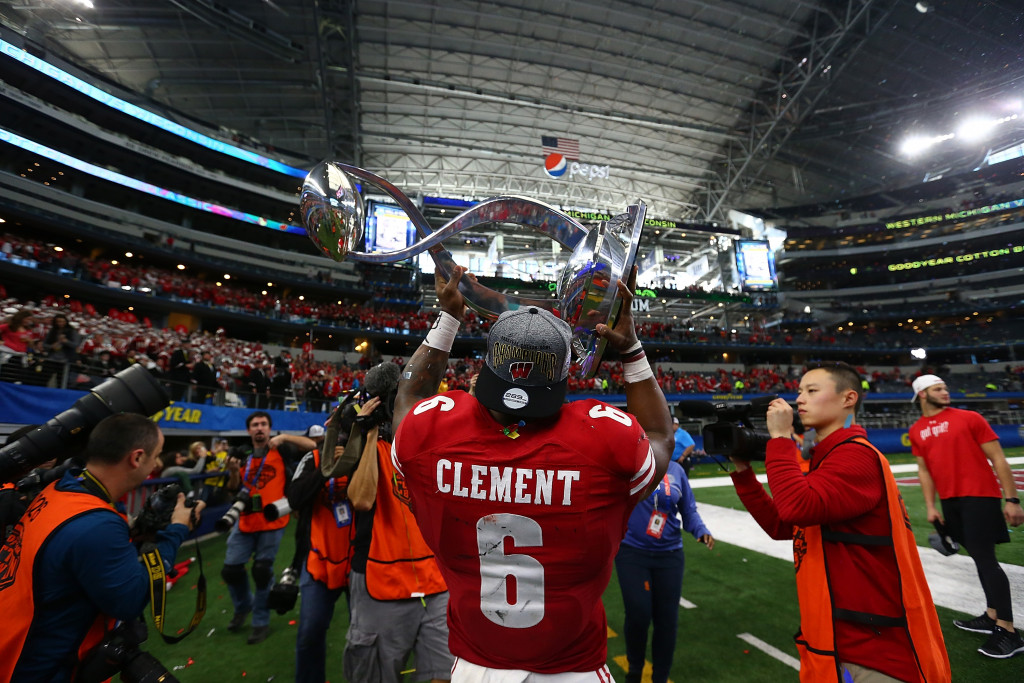 The Cotton Bowl felt like a letdown before it even started, with Wisconsin fans mourning the fact their team wasn't in the Rose Bowl or the College Football Playoff and most college football observers rolling their eyes that a Western Michigan team whose best win was a one-point victory over Northwestern was included in a top game.
This lack of enthusiasm was reflected in the Cotton Bowl's attendance Monday.
This year's Cotton Bowl attendance: 59,615.

Last year's Cotton Bowl attendance: 82,812.

— Scott Bell (@ScottBellDMN) January 2, 2017
Today's Cotton Bowl attendance just announced at 59,615. Lowest attendance since 1998.

— Lance Veeser (@lanceveeser) January 2, 2017
But as it turned out, the game was pretty fun, with the Badgers taking a lead early, then holding on to win 24-16.
While Western Michigan didn't necessarily look like an elite team, P.J. Fleck's squad wasn't run off the field, as some predicted the Broncos would be. If not for a slow start and some poorly timed fumbles, WMU could have pulled off the upset.
As it turned out, Wisconsin was the only top-tier Big Ten team to win its bowl game, after Ohio State, Michigan, Penn State, Iowa and Nebraska all lost. Overall, the Big Ten, which was widely considered the best conference in college football this year, went 3-7 in the postseason, Caveats apply—several Big Ten teams were playing de facto road games—but overall the performance was not inspiring.
Ranked (AP) Big Ten teams this bowl season: 1-5 with a win over Western Michigan.

— Saturday Down South (@SDS) January 3, 2017
Not for nothing – but the top six teams in the Big Ten went 1-5 in the bowls and the lone win was against the MAC.

— Paul Zeise (@PaulZeise) January 3, 2017
Some great games, but Big Ten goes 3-7 in bowls. East Div went 0-5. Northwestern enters 2017 with league's longest winning streak: 2.

— John U. Bacon (@Johnubacon) January 3, 2017
Oklahoma dismisses Auburn in the Sugar Bowl
Speaking of unimpressive conferences, the SEC doesn't come up looking great after its ostensive second best team, Auburn, got crushed by Oklahoma in the Sugar Bowl on Monday, 35-19.
The Tigers came even that close only because of a last-second touchdown that may have constituted some kind of moral victory but certainly didn't change the fact that the Sooners were far and away the better team.
The star of the Sugar Bowl was Oklahoma running back Joe Mixon, who had 91 yards rushing, 89 yards receiving and two touchdowns less than two weeks after apologizing for punching a female student in the face. Play-by-play man Brent Musberger unintentionally highlighted the awkwardness of Mixon's big day by wishing him a successful NFL career, then doubling down once a bunch of people got mad.
Anyway, the Sooners' performance as a team was impressive Monday, and it's possible they could jump from No. 7 all the way to No. 3 in the final polls, given that No. 3 Ohio State, No. 4 Washington, No. 5 Penn State and No. 6 Michigan all lost this week.
Quick hits
– Here's a wildly inappropriate way for Oklahoma players to celebrate Joe Mixon's role in the team's Sugar Bowl victory.
– In other punching news, this is the first time we've seen a head coach playfully jab at his offensive coordinator.
– Monday was a big day for macho tough-guy acts. Iowa quarterback C.J. Beathard stayed in the Outback Bowl even though he could hardly move and his team was getting killed, while Auburn quarterback Sean White played part of the Sugar Bowl with a broken arm. It's okay to come out of the game, guys.
– Lane Kiffin was fired by agreed to part ways with Alabama on Monday, only a week before the national championship game.
–  49ers CEO Jed York had a snarky response for a reporter who suggested he be fired over the organization's incompetence.
– Buffalo Bills general manager Doug Whaley says he had no role in firing Rex Ryan and in fact doesn't even know why Ryan was canned. Seems like something he should know.
– The New York Giants' receivers had themselves a crazy night in Miami, and it ended with them shirtless on a boat with Trey Songz. This is an amazing photo.
So OBJ, Sterling Shepard, Victor Cruz, and Roger Lewis flew to Miami last night, went clubbing, and are on a boat. Living life. #Giants pic.twitter.com/SE6QqfuYfT

— Justin Witmondt (@JustinWitmondt) January 2, 2017
– Louisville's women's basketball team tricked Duke into defending the wrong basket to start the third quarter. This misdirection is so simple and brilliant it's a wonder no one had ever tried it before.
– Wikipedia thinks that Northwestern has already qualified for the NCAA Tournament. The Wildcats are the only major-conference team to have never reached the Big Dance, and we'll believe they're in when we see it, not when Wikipedia tells us.
– Some guy tried to steal a trophy from the darts World Championship. Yes, that's a real event, and no, he did not get away with it.
Idiot takes the trophy live #darts pic.twitter.com/PNotY0zWCS

— steve cotterell (@CoachCotterell) January 2, 2017
– The Mariah Carey fiasco from New Year's Eve has become a whole convoluted saga.
– Here's a cute video of a dog popping balloons.
One last moment of procrastination
The Rose Bowl wasn't the only rose-related programming on Monday. The Bachelor was back, for those of you who are into that. And for those of you who hate seeing this ridiculous show take over your Twitter feed… hang in there.