Looking for a team to cheer for in the Major League Baseball postseason? Tired of flow charts? We have a new method for nonpartisans to choose a rooting interest.
Introducing, the first ever Maximum Happiness Bracket.
In any given playoff series, the two competing teams have different things at stake. For some teams and their fans, a playoff berth is satisfying enough. Others have a World Series-or-bust attitude. Though all fans will be happy if their team wins and sad if their team loses, the feelings are stronger for some than for others, depending on history and context.
The concept here is simple: In each series, we will cheer for the team whose victory will bring the most happiness to the world. Let's go through the matchups.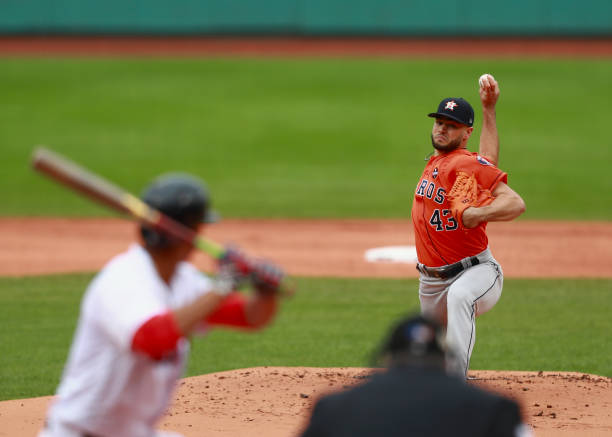 Red Sox vs. Astros
This one is pretty straightforward. Red Sox fans have witnessed plenty of success in the last 15 years, and they don't even seem to love their current team that much. They'll survive an ALDS defeat.
The Astros, on the other hand, are seeking their first World Series title in franchise history. Having won 100 games this year, they're certainly not just happy to be here.
Who to root for: Astros
Yankees vs. Indians
If you went back to April and told a Yankee fan their team would wind up in the ALDS, they would be a bit surprised and very content. If you told an Indians fan the same, they would say, "Yeah, duh."
The Indians have the longest World Series drought in baseball and came a run away from a title last year. Their fans need this way more than Yankees fans do.
Who to root for: Indians
Cubs vs. Nationals
The Nationals have reached the playoffs four times in the past six years, but they're still waiting on their first trip to the NLCS. Reaching the league finals is beginning to feel like an impossible dream not only for D.C.'s baseball team but for all of its major sports teams.
That's bad, isn't it? pic.twitter.com/gOS1AtQoSq

— Jake Russell (@_JakeRussell) May 11, 2017
Cubs fans are demanding, and would surely be disappointed if their team lost early, but fresh off a World Series title, the desperation isn't quite the same.
Who to root for: Nationals
Diamondbacks vs. Dodgers
This matchup is similar to Yankees-Indians in that one of the teams didn't particularly plan to be in this position and the other always assumed it would be. And like the Nationals, the Dodgers have a penchant for early playoff losses that is beginning to drive their fans crazy.
If the Dodgers lose in the Division Series, there will be a lot of unhappy people in Southern California. We can't have that.
Who to root for: Dodgers
Now on to the League Championship Series…
Astros vs. Indians
This one is not easy. Neither of these teams has won a World Series in Terry Francona's lifetime. Fans on both sides desperately crave a title and believe this is the team to give it to them.
But only one of these franchises lost a painfully close World Series last year, coming so close to snapping its drought before losing in extra innings of Game 7. That was Cleveland. The Astros have a young core, and an ALCS berth might be seen as a nice step forward. The Indians need to finish what they started a season ago.
Who to root for: Indians
Nationals vs. Dodgers
For Washington, the Division Series has been the insurmountable hurdle. Nats fans want to reach (and win the World Series), but an NLCS berth would at least mark progress. They could walk away from the season satisfied.
The Dodgers, on the other hand, have been to the NLCS twice in the past five years, including last season. That is nothing new. Getting to the World Series has been the elusive goal, and fans in L.A. won't be content unless there team makes it happen.
Who to root for: Dodgers
That brings us to the World Series…
Dodgers vs. Indians
These are the two best teams in baseball, and fans on both sides desire a ring. But while Dodgers fans want this, Indians fans need this. Plenty of Angelenos are old enough to remember their team's last title, in 1988, but few Clevelanders can recall their team's most recent 'ship, in 1948.
The Indians have come as close as possible to a World Series victory without actually getting there. As soon as last year's Fall Classic ended, it became clear that a title in 2017 would be the only way to make Cleveland fans happy. The fact that Francisco Lindor and the Tribe are known for smiley, bubbly enthusiasm that brings joy to millions, and this choice isn't hard.
If you want to maximize happiness in the baseball world, cheer for the Indians.