The New York Daily News published a fascinating piece today looking into Knicks owner James Dolan's efforts to prevent Steve Ballmer's effforts to build a new arena in Inglewood, California.
If you're wondering why that could possibly matter to Dolan, it's because Dolan and MSG have no interest in a new arena opening up in the same area as their LA Forum. The piece details all the many ways Dolan has attempted to derail the project, and it's a truly interesting read.
A selection:
Among the revelations from Dolan's deposition in November, from a lawsuit MSG filed against the city of Inglewood, as reviewed by the Daily News, and according to sources close to the situation:

· Dolan said he barely knew the Inglewood mayoral candidate he supported with nearly $1 million.

· Dolan said he twice attempted to get Jeanie Buss to consider relocating the Lakers, who last played in the Forum regularly in 1999, to Inglewood.

. Adam Silver tried and failed to pitch a compromise to Dolan and broker a meeting between the Knicks owner and Clippers owner Steve Ballmer.

· Dolan said he didn't know the City of Inglewood loaned his own company $18 million to buy The Forum, or the method of repayment.
· Dolan's company logged about $1 million in lobbying expenditures in the State of California, according to public documents, with a goal of blocking the Clippers arena.

· Dolan said he didn't know his company was funding lawsuits by a community group against Inglewood. The community group is alleged by the Mayor of Inglewood to be fraudulent and the creation of MSG.

· MSG and Azoff likely enlisted the help of reality TV tycoon Kris Jenner, among others in the entertainment industry with few ties to the people of Inglewood, to topple the mayor.
This is interesting stuff! Two NBA owners from the league's biggest markets pitted in a drawn-out legal battle that includes some Kardashian involvement as well. It's easy to see why it's a topic, and it's also easy to see why Dolan and his group were probably not thrilled with the story.
It goes further than that, though, because Dolan's Knicks have been stepping up their anti-Daily News efforts for a while now. In recent weeks, they didn't invite NYDN reporters to cover the routine introductory press conference for the team's rookies, for example. (The team was fined for that move.) And, rather than hoping things might blow over, MSG released a statement on the story today that essentially seems to say that Tribune Publishing CEO Timothy Knight is behind the Daily News coverage due to a personal vendetta.
The Madison Square Garden Company issues statement on egregious NY Daily News story:
https://t.co/Myk9J1pw8U pic.twitter.com/WavxJ6gKww

— NY_KnicksPR (@NY_KnicksPR) July 17, 2019
The full statement: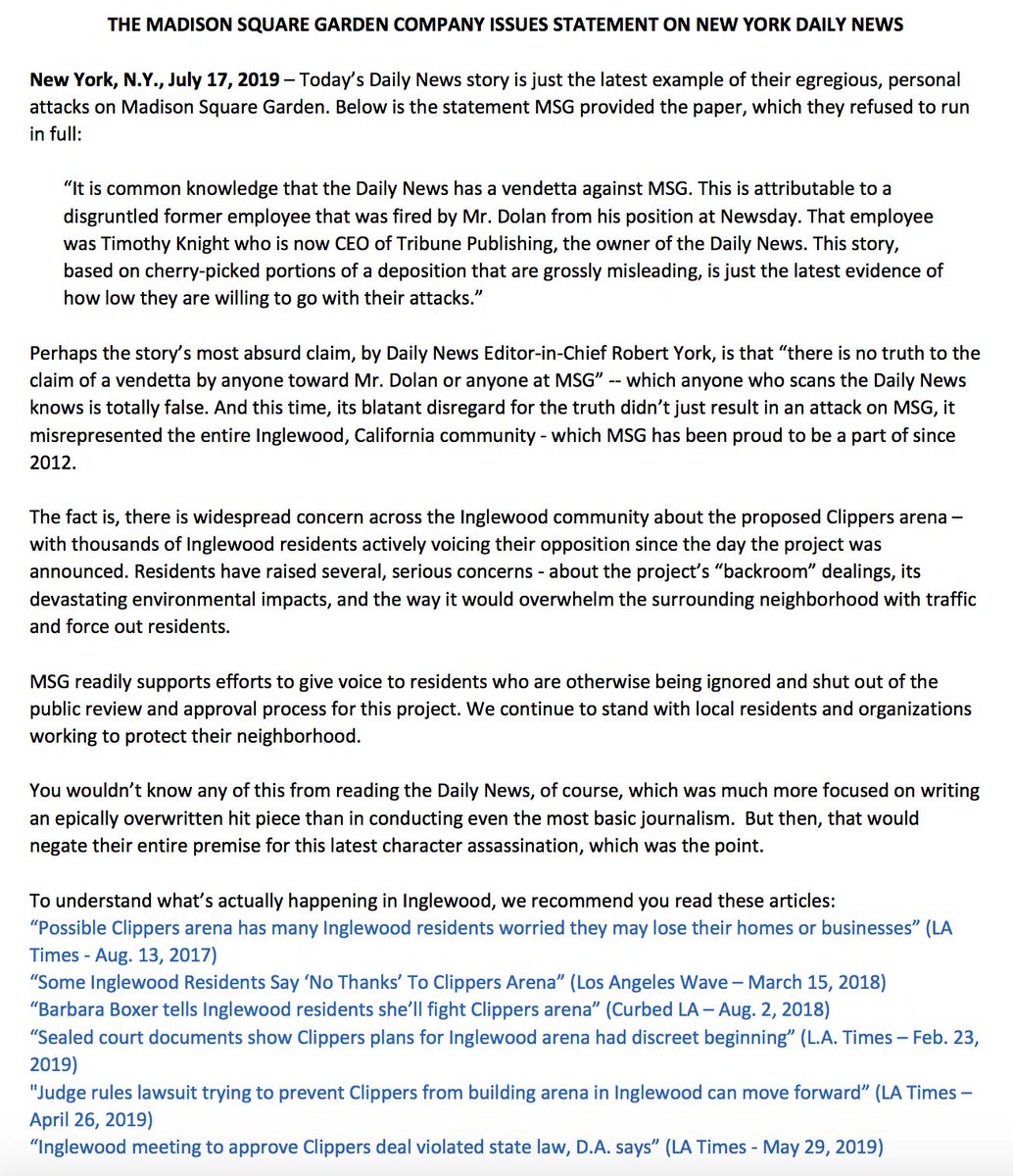 Well, that should clear things right up, then. Perhaps if Dolan is frustrated with ongoing negative coverage of the Knicks, the team should try to do something worth positive coverage?
[NYDN]