Some of the greatest bowl games in college football history are readily identifiable: the 2007 Fiesta Bowl, the 1984 Orange Bowl, the 2003 Fiesta Bowl, the 2006 Rose Bowl, and others on that level of esteem.
A number of bowl games in that vein, however, aren't discussed enough — not because they were played so well, not because they're the games everyone remembers, not because of Heisman winners leaving an indelible imprint on the sport, and not because they decided championships.
What follows are 10 of the most significant bowl games college football has ever known. (These games do not comprise a definitive top-10 list to the exclusion of other games; this is a list of 10 rather than a top 10.)
Let's go bowling, in chronological order:
1902 ROSE BOWL
Michigan crushed Stanford, but that wasn't the point (well, except for Fielding Yost and his dominant team). The point was that one of America's most revered sporting traditions began. Yes, the game wasn't a tradition when it started, and the Rose Bowl didn't return until World War I was well underway. Yet, this was the birth of college football's most famous and cherished bowl game. Everything else followed.
1925 ROSE BOWL
Before the Rose Bowl settled into its Big Ten-Pac-8 (later Pac-10) groove, this was a national event and an occasion for teams from other regions of the country to test a team from the West. When Notre Dame, coach Knute Rockne, and the fabled Four Horsemen made the trip to Pasadena to play Ernie Nevers, coach Glenn "Pop" Warner, and Stanford, the Irish dramatically increased their profile as a national program. From this cross-country trip, the Irish eventually established more of a foothold in the West. They soon developed their rivalry with USC, which continues today. Notre Dame went a few decades without playing Stanford, but have resumed their annual series with the Cardinal.
1942 ROSE BOWL
Just a few weeks after the attack on Pearl Harbor, the 1942 Rose Bowl was not felt to be safe if staged on the West Coast. The game moved to Durham, North Carolina, where Duke played host to the event against Oregon State. America's involvement in World War II created an inconvenience, but it did not prevent the Rose Bowl from taking place.
1946 ROSE BOWL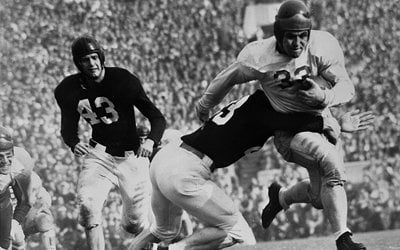 Alabama beat USC, 34-14, making one of several declarations of its primacy as a college football power under then-coach Frank Thomas. That was a significant event for Alabama. The importance of this game in the longer run of college football history? It marked the last time in the 20th century that a non-Big Ten, non-Pac-8 (10) team played in the Rose Bowl. With the other three signature bowl games (Orange, Sugar, Cotton) no older than a dozen years, the Rose Bowl established an enduring tradition which affected generations of college football fans.
1951 SUGAR BOWL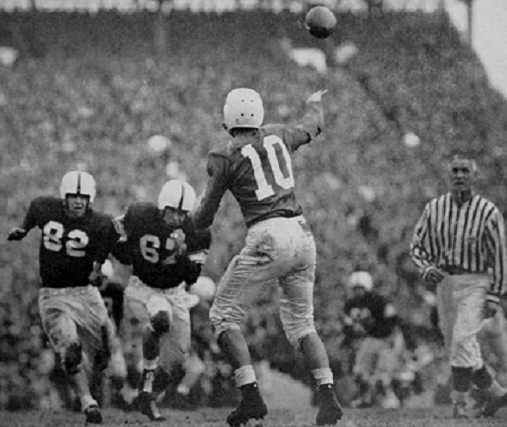 When Kentucky defeated Oklahoma, a man named Paul W. Bryant won his first major bowl game.
The Bear was born.
1965 ORANGE BOWL
This happened to be one of college football's classic games, as linebacker Tommy Nobis made a game-saving stop at the goal line to fend off Joe Namath and Alabama. However, this game is significant beyond championships and memories because it was the first Orange Bowl night game. Prime-time college football took a definite step forward in this game, helping to shape the product we have today.
1970 COTTON BOWL
Notre Dame played in the 1925 Rose Bowl… and didn't play in another bowl after that…
… until this game, on the first day of the 1970s. Coach Ara Parseghian brought the Fighting Irish into the postseason, giving college football's most famous program the postseason stage it deserved.
Notre Dame's re-entry into the bowl world would create many classic college football moments in the coming years, especially the next quarter of a century.
1976 ORANGE BOWL
Game available here, unembeddable.
When Michigan and Ohio State tied at 10 in 1973, the Big Ten selected one team to represent the conference in the Rose Bowl. The other team was plain out of luck — the Big Ten did not send second-place teams to other bowl games.
That controversy — in which Michigan was left at the altar and Ohio State got the invite to Pasadena — gave rise to a change from Big Ten leaders. Two short seasons later, while Ohio State went to the Rose Bowl, Michigan was able to play in the Orange Bowl against Oklahoma.
Progress.
This development closely paralleled what was happening in college basketball at the time. The 1974 ACC Tournament championship game between North Carolina State and Maryland brought one team to the NCAA tournament, and left the loser at home. Shortly thereafter, second-place teams in power conferences could also go to the NCAAs.
The 1970s were a decade when college sports became smarter and more democratic.
1987 FIESTA BOWL
Up to this point in college football history, any signature bowl game was played on January 2 only if January 1 was on a Sunday, which was given over to the NFL.
This marked the first time that network television (NBC) created a stand-alone January 2 game not on a Monday, separate from the other New Year's Day bowls. Penn State beat Miami and pulled in big ratings. The future of college football on television — newly shaped in the first place by a court case just a few years before this game — was beginning to come into focus.
1996 FIESTA BOWL
What was an improvised television decision to give a bowl game a stand-alone slot in 1987 became a part of a system in the 1995 season. The Bowl Alliance produced a 1-versus-2 national-title game between Nebraska and Florida.
The evolution of college football continued, leading to today's playoff format.