In December of 2009, I was approached by two Caucasian men at a fundraiser. They wanted to know if I was the new University of Louisville football coach. When you're a tall African-American, you get mistaken for many people. People have erroneously assumed that I'm a pro athlete, a cop, and a military man, but a football coach?
No, I'm not Charlie Strong. And to quote Samuel L. Jackson, we don't all look alike. Strong is much older, shorter and heavier than me. Our backgrounds couldn't be more different. To my knowledge, the only thing we have in common is our skin color and shaved heads.
Because of this amusing episode, I've felt a slight connection to Strong. Was curious to see how he would fare at Louisville. Am curious to see if he's going to survive at Texas.
Everything is indeed bigger in Texas; the successes as well as the failures. That's reality of the largest state in the continental United States. That's the reality at one of the most prominent programs in college football. You've got to be big. You've got to be the best. If not, you're in for a calamitous fall.
Charlie Strong: "The whole attitude of the team is totally different. I think this team now understands the sense of urgency."

— Chuck Carlton (@ChuckCarltonDMN) August 5, 2016
This brings us to the Lead Longhorn. Strong is facing the most pivotal season in his coaching career. Having an 11-14 two-year record at any Power Five conference school is living dangerously. Being 11-14 at Texas means you're a few more losses away from being a dead man coaching. The only Texas coach with a worse record predates World War II: Dana Bible was 3-14-1 in 1937 and 1938.
"We're talented enough now," Strong told multiple media outlets last weekend. "We just got to get them coached up. No more excuses. We're young. But we're talented enough. So just get them coached up."
The website CoachesHotSeat.com ranks Strong No. 9 in terms of the least job security. Among the top nine, three are African Americans (Texas A&M's Kevin Sumlin is No. 1, Purdue's Darrell Hazell is No. 4). Considering the lack of minorities in college football overall, that is extremely depressing. But that's another column for another day.
When the Associated Press preseason poll comes out in two weeks, Texas will likely not be ranked among the AP Top 25 for the third straight year. (In the preseason coaches poll, it was seventh among others receiving votes). In the Big 12 media poll, the Longhorns are picked fifth in the conference – behind fellow in-state schools Baylor and TCU.
Yikes. What must make this even worse for Strong is that his potential successor might be just 165 miles away. Already rumors are swirling that Houston coach Tom Herman could be the eventual replacement.
All of this makes the Strong situation one to watch this fall. Strong knew the pressure would be great. He once said: "I said to myself, you cannot fail, buddy. Too many people are counting on you."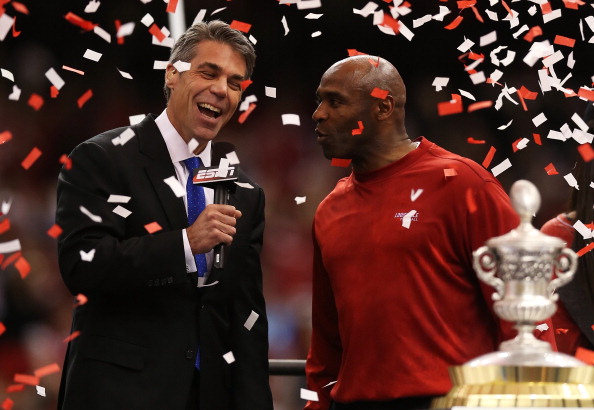 At Louisville, Strong was charged with cleaning up the mess left by Steve Kragthorpe. The Cardinals took major strides in Strong's final two years: 11-2, 12-1 and two bowl-game victories. At Texas, Strong doesn't have the luxury of patience. He likely has to win now and win big to save his job.
Texas can't be the third, fourth or fifth-best football program in its own state. Not when you have one of the richest athletic departments in the nation. Not when you don't have to leave the state to find elite recruits. Not when the Big 12 is watered down: Nebraska, Missouri and Texas A&M don't live there any more.
There is reason to believe. Strong has recruited well (though you should argue that Texas should always recruit well). Two consecutive top 10 recruiting classes should bolster a program that had a thin roster when Strong arrived. According to Texas Monthly, Strong inherited one of the least talented rosters ever for an incoming Texas coach.
How does Strong win in 2016? It's an oversimplification, but he needs to find a quarterback. His success at Louisville was directly tied to the recruitment and development of Teddy Bridgewater. Strong is still looking for his Bridgewater at Texas. Right now, it's a battle between freshman Shane Buechele, senior Tyrone Swoopes and sophomore Jerrod Heard to be the Longhorns' starting quarterback.
From various reports, Buechele might have the upper hand.
After watching two practices, the Texas QB picture is what we thought it was. Shane Buechele should be the starter vs. Notre Dame.

— Brian Davis (@BDavisAAS) August 7, 2016
Texas could have a brand new quarterback to go along with a brand new offensive coordinator — Sterlin Gilbert — when it opens the season at home against Notre Dame. The offense has held the program back in recent seasons. Last year, Football Outsiders ranked the Longhorns No. 110 out of 128 schools in offensive efficiency. Gilbert spent last year at Tulsa, but is best known for working under Dino Babers at Eastern Illinois and Bowling Green. At Eastern Illinois, Gilbert tutored current New England Patriots quarterback Jimmy Garoppolo.
If Gilbert can fix the offense, it's up to Strong to repair the defense. Texas' run defense last year was dreadful, allowing 219.2 yards per game – the 11th-most in the FBS.
You can crunch all of the statistics but it's going to come down to wins and losses. In two years, Strong's biggest victory was last year's upset of No. 9 Oklahoma.
On Sept. 4, Strong has another chance for a big win when Notre Dame, No. 9 in the preseason coaches poll, visits Austin. This should be a good gauge. The Longhorns lost in South Bend 38-3 in South Bend to start the 2015 season.
We'll see how far Texas has come and if Strong will survive.
I'd hate to be mistaken for a fired coach.