Last week, 11 NFL owners met with 12 players, one former player and three union leaders to discuss the protests that have football fans threatening to boycott the league and sponsors cowering in fear. According to a piece published Friday by ESPN's Don Van Natta Jr. and Seth Wickersham, the owners hoped they could negotiate some sort of universally beneficial truce with the players, to "satisfy disenchanted fans and advertisers." In a gesture of goodwill, the owners sat alongside the players, instead of across from them.
But although players and owners reportedly emerged from the meeting feeling positive, the ESPN story reads like a list of reasons NFL owners will never take seriously players' concerns about racial discrimination in criminal justice and in American society. The evidence is sprinkled throughout Van Natta and Wickersham's reporting.
The owners' stated goal, as described by ESPN, was to quell fan and advertiser anger, not to actually address the issues that make black people nearly three times more likely to be killed by police than white people and more than five times more likely to be incarcerated. Per ESPN, owners hoped to "stop Trump from attacking our business. Find a way to persuade players to stop kneeling. Get the focus back to football." Yes, league executives reportedly offered to help players lobby on capitol hill for criminal-justice reform, but their interest in the subject was transparently self-interested. And besides, the proposal was ripped by league business executives who just wanted the damn players to stand for the national anthem. It seems unlikely a critical mass of owners would have backed such a substantive action.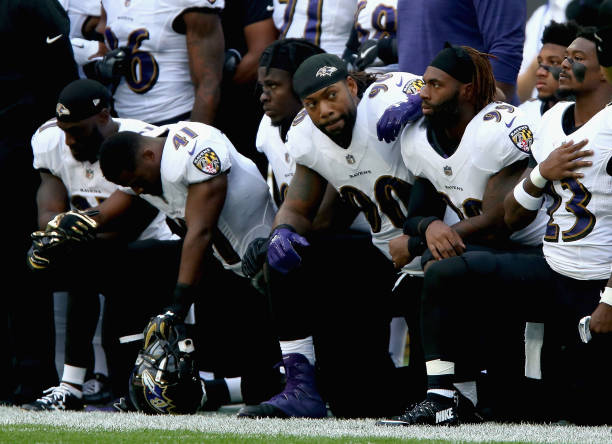 Then there are the quotes. Maybe we can forgive Bills co-owner Terry Pegula for calling Anquan Boldin "Antwan" and for acting as if only black people are allowed to speak up for social justice. And if we're feeling extra generous, perhaps we can forgive Patriots owner Bob Kraft for coarsely mumbling, "Can we just shut the f— up and end this [meeting]?" prompting laughter from players. But we cannot forgive Texans owner Bob McNair for, in a later owners-only meeting, comparing players to "inmates running the prison." Though McNair has apologized for his comment, his disrespect for the black men who work for him was plenty clear. And for that matter, we shouldn't forgive Cowboys owner Jerry Jones for failing to even fake a desire for justice as he pushed for business interests over all. Or for lecturing NFL executive Troy Vincent, a former player, on who "helped build the NFL's $15 billion-a-year business." And we definitely can't ignore Washington owner Dan Snyder claiming that 96 percent of fans want players to stand, a number he conjured from nowhere to deliberately overstate consensus on an issue that has sharply divided Americans, largely along racial lines.
The clear takeaway from ESPN's reporting is that NFL owners will not be part of the solution to the racial disparities players are rallying against. Even if they eventually agree to donate money to players' causes or lobby on their behalf, they'll do so as a token gesture, motivated only by a desire to salve their financial wounds. Once the players stand up and the national-anthem controversy fades, the rich, mostly white men who run NFL teams will go on not giving a damn about police brutality or the rate of incarceration for black people.
The fact is, not a single one of the 32 NFL owners has spoken publicly about the players' causes with anything approaching sincerity. The protests are a problem for them only so far as they hinder the bottom line. Justice is irrelevant. And as long as that is the case, they won't participate in any actual reform. To the extent that the brave protesting players will change anything about how America treats black people, they will do so without the help of the owners they work for.
[ESPN]