Imagine that you're paying thousands of dollars to play on a Junior B hockey team. Now imagine that that team goes winless for its whole 44-game regular season. Would you stick around? Many probably would answer "No," but a lot of the Pacific Junior Hockey League's Surrey Knights are doing just that.
Going winless for a season that long isn't common at all. As Nick Faris of The National Post writes in this feature on the Knights, who ended their 2016-17 season last month with no wins, 41 regulation losses and three overtime losses. They were outscored 293-66, and lost 21 games by five goals or more, including 13-0, 15-3, and 11-0 defeats.
Still, it's the winless season that really stands out, as no B.C. junior team had done that since the 1985-86 Mission Pilots (mockingly called the "Mission Pylons") in the West Coast Junior Hockey League, the predecessor to the PJHL. That's a time long before current Knights coaches Spencer and Scott McHaffie (both former PJHL stars with the Aldergrove Kodiaks) were born; Spencer (the head coach, seen at left above) and Scott (an assistant) are twins who are just 22.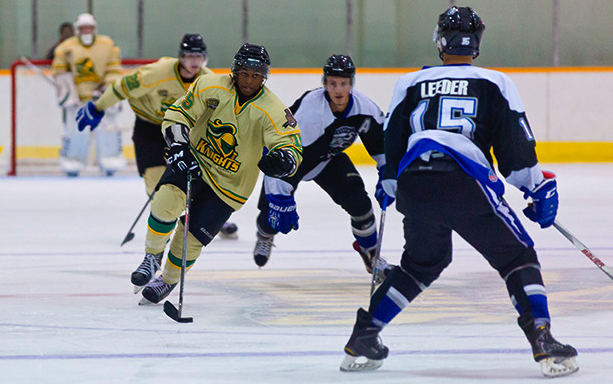 Plenty of factors went into the winless season. As Faris explores, this team was already bad last season (when they played in neighboring Langley, B.C.), going just 4-38-2 and allowing 281 goals while scoring just 98 in 2015-16. That season also saw head coach John Craighead (a long-time pro who played briefly in the NHL with Toronto) banned by B.C. Hockey for six years after he confronted an opposing coach on the bench during a September 2015 fight.
Former Cornell defenseman Paul Whintors took over, but was criticized by some (including GM and co-owner Amar Gill) for not keeping the team together, and he was fired this November and replaced with the McHaffie brothers. Spencer McHaffie told Faris they walked into a tough situation:
"When we had gotten there, guys weren't close with each other, guys weren't buying in. The professionalism wasn't there. We had guys showing up late to practice," McHaffie said. "We tried to instil a professional atmosphere when we got there and show them what it takes to win, show them what it takes to battle with one another. It was just one of those things where (winning) didn't happen."

Some players quit; others got hurt. Five key Knights were all injured at one point in the season, Gill said. The team iced a 12-man lineup in one game, McHaffie said, well below the 20 allowed. They dressed 44 skaters and five goalies in total, including 15 "affiliates" called up from minor hockey. In mid-November, leading scorer Blake McCulloch moved to the Delta Ice Hawks and captain Nicolas Bizzutto was traded to Mission City.

Only one thing stayed consistent.

"We always told them, 'It's one game. You've just got to win one game, and then people stop talking, people stop making articles on you, all that kind of stuff,'" McHaffie said.
Well, the Knights didn't win, but they did come close a couple of times, losing two double-overtime games in January. The future does look a little brighter, too. While some players quit, many stuck around, and some of their youngest talents showed off some potential.
The perseverance there is remarkable. Junior B is a good caliber of hockey, producing numerous players who have gone on to Junior A, major junior, the NCAA and even the NHL (including PJHL alums Kyle Turris, Karl Alzner and Andrew Ladd), it's not highly glamorous, and players pay thousands to participate. Those who stuck with this team through this kind of a dreadful season certainly are tough, and that toughness may be rewarded.
Things can turn around quickly at this level. That 1985-86 Mission team won two games the next year, moved to Abbotsford following the season, and then won a championship two years later. Championships may seem like a distant possibility for the Knights at this point, but they're not out of the question, especially if their current players can keep making strides and if they can find some new talent.
The first quest is just to win a game, though. We'll see if they can pull that off next season, or if this streak will continue to stretch out.
[The National Post; photo by John Lehman for the Post]