Baseball is about finding reason in unreasonable things.
That's what the baseball world tried to do when Sports Illustrated named the Houston Astros its 2017 World Series pick all the way back in 2014. We fantasized about a power lineup, a stellar rotation, the possibilities of an up-and-coming George Springer, a dynamic Carlos Correa. We found logic in an otherwise outlandish prediction.
Best sports prediction ever? @BenReiter said, in '14 after 2 100-loss years, Astros would win in '17.

Springer, on cover, wins WS MVP? pic.twitter.com/jMs8KpPRwq

— Darren Rovell (@darrenrovell) November 2, 2017
What we didn't see coming was GM Jeff Luhnow's defining pickup of Justin Verlander or Jose Altuve having the best year of his career or Alex Bregman gobbling grounders like a vacuum cleaner at third base.
Neither a deep baseball wisdom nor a reputable sports magazine could predict the challenges Houston would invincibly overcome in the face of a disastrous Hurricane Harvey. The impact the storm had on players' personal lives — all of which remained 'Houston Strong' while giving back to the community — was not measured in SI's bold prediction for 2017.
Still, we let our imagination run wild. We tried to find the reason in an unreasonable thing.
Then, two restless teams gifted us one of the most erratic World Series to date. Ever since Game 2's dramatics (starters were pulled after four innings, closers blew saves) nothing and no one was reliable. Even gods proved human. After Game 5's seven homers surpassed Game 2's wackiness, we stopped guessing what would come next. No amount of baseball wisdom could foresee Game 7's narrative.
Except, maybe we could foresee the outcome, after all.
Just like the Cubs seemed destined to win it all in 2016, the Astros adapted to the pressure. We saw the relief in flashes of orange embracing on the mound after the final out in Los Angeles. The Astros fulfilled SI's prophecy and the dreams in the hearts of Houston. We grinned, knowingly and assuredly, as Houston celebrated its first World Series title in franchise history after a 5-1 Game 7 victory.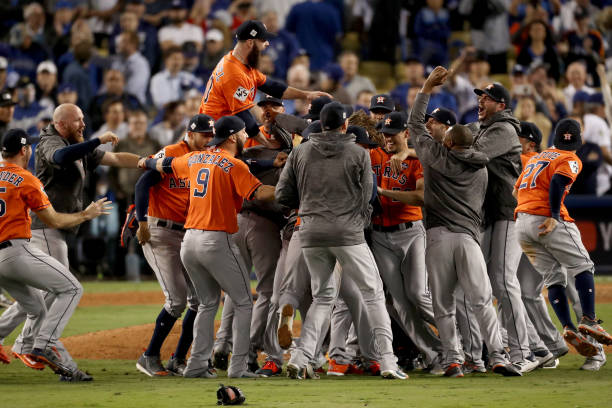 The path the Astros traveled in Game 7 may appear smooth in retrospect, but it didn't include shortcuts. They woke up early, beat the traffic and cruised with their backs against the wall. Houston didn't stop until the final out was caught, their first World Series championship sealed. The Astros played with a forward momentum, a force that wasn't going to stop until a long and tedious season ended with a golden trophy.
George Springer began the World Series with a quiet bat, going 0-for-4 with a golden sombrero. But as soon as he woke up in Game 2, the Dodgers could not shake him off. Springer's hot streak came at the right time as he sparked the Astros' Game 7 rally and finished the World Series batting .379 with five homers and seven RBIs. Carlos Correa and Jose Altuve combined for 13 homers and 28 RBIs in Houston's iconic postseason that included handing the Yankees a brutal ALCS loss.
Lance McCullers Jr. was amped up for his Game 7 start. He was so excited, sitting at 40 pitches with a five-run lead in the 3rd inning, that he lost control. The 24-year-old hit four batters to set a World Series record. Though he hadn't given up any runs on three hits, the righty only made it 2 1/3 innings before being yanked for Brad Peacock.
Appropriately, Houston's bullpen (which had been its Achilles heel) recovered McCullers Jr.'s short stint. Peacock, Francisco Liriano, Chris Devenski and Charlie Morton combined to give up one run on just six hits with nine strikeouts through 6 2/3 innings in relief.
"I don't think you could put into words what it means to the people of Houston," McCullers Jr. said via FOX.
Through the thick and the thin, the Astros join the elite. They are the 23rd MLB team to win a World Series championship. Now, only seven (WSH, TB, COL, SEA, TEX, MIL and SD) are without rings.
But this one? This one's for Houston.