With Bob Stoops announcing his retirement from Oklahoma this month, college football's FBS level now has just one coach who started at his current school before the year 2000: Iowa's Kirk Ferentz. Coaching for over 15 years at the same place is relatively unheard of today, but Ferentz's stay at Iowa is one of a few to buck that trend. The rest of the country, on the other hand, has displayed varying levels of volatility — especially over the last few decades.
Looking at all current Power 5 schools dating back to 1990, you can see which have displayed more or less of a tendency for upheaval at their head coaching position. Obviously, there are various reasons for a coach leaving — losing record, NCAA violations, departs for better job, retires — so it's worth mentioning the conditions that formed various schools' data sample. However, these last 27 years provide an extended look at how stable (or not) programs can be at the top.
Since the 1990 season, Power Five programs have changed coaches 267 times (including this offseason). That number doesn't include mid-season interim coaches at all. However, it does include full-season interim hires where applicable.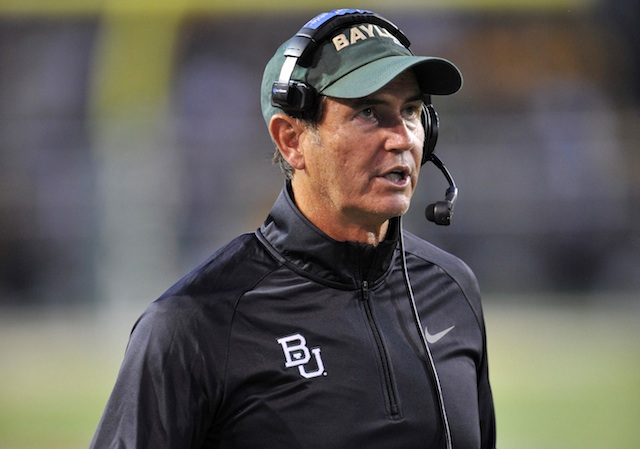 Most volatile jobs
It's no surprise that losing and scandal can both be reasons for jobs having a lot of turnover, hence why Vanderbilt and Baylor top the list. Each program has changed coaches seven times since 1990, though the Bears did have a run of (scandal-ridden) success under Art Briles of late. Vandy's .337 winning percentage in the time frame was second-worst in the country, only ahead of Duke. Despite the bounce-back under Briles, Baylor was still one of 19 P5 programs with a losing record over the 27-year stretch.
But some of the other jobs to see frequent turnover were a little less obvious.
Eleven more schools had six coaching changes since 1990, and quite a few actually had winning records, too. Boston College won 55 percent of its games, but fell into this category (and could add a seventh change after 2017 if the Eagles fail to make a bowl). Ole Miss, Stanford and Washington are in there, but also had significant downturns to pair with their recent program upswings. The two big names that stand out, though, are Louisville and USC.
The Cardinals' excuse is a previous status as a stepping stone job until the program joined the ACC. But for the Trojans, there are few (if any) college jobs to take that would be a significant upgrade for a coach. That would mean these departures are due to the NFL (Pete Carroll) or firings… which account for all of the rest.
As the Los Angeles Daily News stated back in 2015, USC fires football coaches like no one else.
USC fired Larry Smith, John Robinson, Paul Hackett, Lane Kiffin and Steve Sarikisian (the last one for a different reason than the rest). And despite all of that turnover, the Trojans have won 68.6 percent of all games since 1990. Along with Louisville, they're the only program to make this level of coaching upheaval work for them. Though Miami and LSU also won more than 65 percent of their games, despite each dealing with five coaching changes of their own.
Most stable jobs
The other end of the spectrum is populated by a bunch of schools with long-time coaches that were eventually replaced. Florida State, Iowa and Virginia Tech are the only programs to change coaches just once since 1990, and all three have been incredibly successful in the process. FSU has pulled it off while also being the P5's second-winningest team in that time frame, too — their .785 win percentage only trailing Ohio State.
Three more schools have posted high win totals with minimal change as well: Kansas State, Penn State and Utah. Utah may be the surprising one on there, but current coach Kyle Whittingham is one of the sport's longest-tenured coaches right now. PSU is an obvious inclusion given Joe Paterno's long (but conflicted) reign. K-State has only had two coaches since 1990, but Bill Snyder has served two separate terms, separated by Ron Prince.
What's far more interesting is when you start looking at the stability of some jobs that have not won much, though. Many of the less volatile jobs feature high win totals and conference championships, but a few do not — perhaps displaying a sense of realism some of their peers lack. Northwestern, Wake Forest and Washington State are significantly below .500 ball, but have only changed coaches three times.
Arizona, Mississippi State, Missouri and Virginia could also be looked at similarly, right around the .500 mark, but also fairly content (at one point or another) with their respective places in the world. All had one long-tenured coach in there to help create the image of more job security, too. Arizona had Dick Tomey and MSU's Dan Mullen has been around for awhile in Starkville. Missouri's Gary Pinkel held the job for 15 years, and both George Welsh and Al Groh were fixtures in Charlottesville for a time.
For college football coaches out looking for work this offseason, there's no guarantee that taking a "stable" job above keeps you around for a decade. And the "volatile" gigs don't guarantee that you'll be fired in a few years. But over a long stretch of time, these trends exist for a reason. And for some schools, it provides some insights into why they're so successful (or fail to find success).