Saturday, the North Carolina Tar Heels visit Cameron Indoor Stadium for their annual regular-season ending battle with the Duke Blue Devils. The Heels are hoping to avenge their heartbreaking 74-73 loss to the Devils on February 17. It's sure to be a hotly-anticipated game for multiple reasons. ACC Tournament seeding will be affected, the winner gets another bullet point for their NCAA Tournament resume, and of course there's the tiny fact that these two teams are bitter rivals for whom all of that other stuff is merely window-dressing.
The previous incarnation of this game was the centerpiece of ESPN's Rivalry Week coverage. While some of the top college basketball programs in the nation were playing, The Worldwide Leader doubled-down on breathless coverage of the Tobacco Road showdown. So strong was the promotion for Duke-UNC that the game beforehand, No. 18 Louisville vs. Syracuse, a respectable contest in its own right, was treated at times as a visual holding pattern for viewers to stare at while announcers gushed on and on about the main event. Much the same way that the WWE will have two mid-card wrestlers grapple with one another just so the announcers have a reason to talk about the world championship bout later on, all of their programming revolved around what they hyped up as The. Greatest. Rivalry. In. Sports. Ever.
And sure, Duke vs. North Carolina is a special rivalry. In an ever-changing world of college athletics where alligiences and conferences shift while schools sacrifice history for dollars, this 96-year-old tradition carries a lot of weight. It checks all of the boxes. Both schools are usually very good. Both schools are often in the National Championship picture. Both schools are coached by big personalities with history of their own. Both fanbases legitimately hate losing to the other.
ESPN is going to go to great lengths to remind you of all this on Saturday. They're calling in the big guns and sending the College GameDay crew to Durham to broadcast live (just as they did in Chapel Hill). It's actually the eighth time this game has been the host site of College GameDay, the most common matchup in the show's history. You'll be hearing from Dan Shulman and Jay Bilas all day as they prepare to call the game. They will almost certainly cut into the action during the  No. 10 West Virginia vs. No. 19 Baylor and No. 21 Iowa State vs. No. 1 Kansas games that take place beforehand. All the while you will know that Duke vs. North Carolina is the greatest rivalry in all of the sports, mostly because that's what they're going to tell you.
But before ESPN shoves it down your throat one more time this season, the question to ponder isn't whether or not Duke vs. North Carolina actually is the greatest rivalry in all of sports, but whether or not there is such a thing to begin with.
First of all, while we might try our best to convince ourselves of it, if there is a greatest rivalry in the world, it sure isn't taking place in an American team sport. Think of the most heated rivalries, Duke vs. UNC, Ohio State vs. Michigan, Yankees vs. Red Sox. What's the worst thing that happens? Barring some crazy event, there might be a drunken fight between some opposing fans in the stands. It's a minor disruption and is often played for laughs or head-shaking effect on the Internet, but not much more.
Compare that to The Old Firm, Celtic F.C. and Rangers F.C., whose football matches are metaphorical battles between Catholicism and Protestantism. Or how about Red Star Belgrade v FK Partizan, known as "The Eternal Derby," where open violence and racism on display are a given. There's also Newcastle vs. Sunderland, where 115 years of rivalry include riots, pitch invasions, and assaults on players.
Quite frankly, American rivalries with their sarcastic crowd signs and taunts from afar are downright quaint by comparisons.
The truth is, there are probably a handful of rivalries in American sports that could be categorized as The. Greatest. Rivalry. In. Sports. at any given time. Time is the important factor. During baseball season, it's the New York Yankees and Boston Red Sox or maybe Chicago Cubs vs. St. Louis Cardinals. In late November, depending on which channel you're watching, the greatest rivalry in sports is either Ohio State vs. Michigan or it's Alabama vs. Auburn. On the rare occasions when both teams are great, suddenly the Los Angeles Lakers and Boston Celtics re-emerge as the greatest rivalry there is.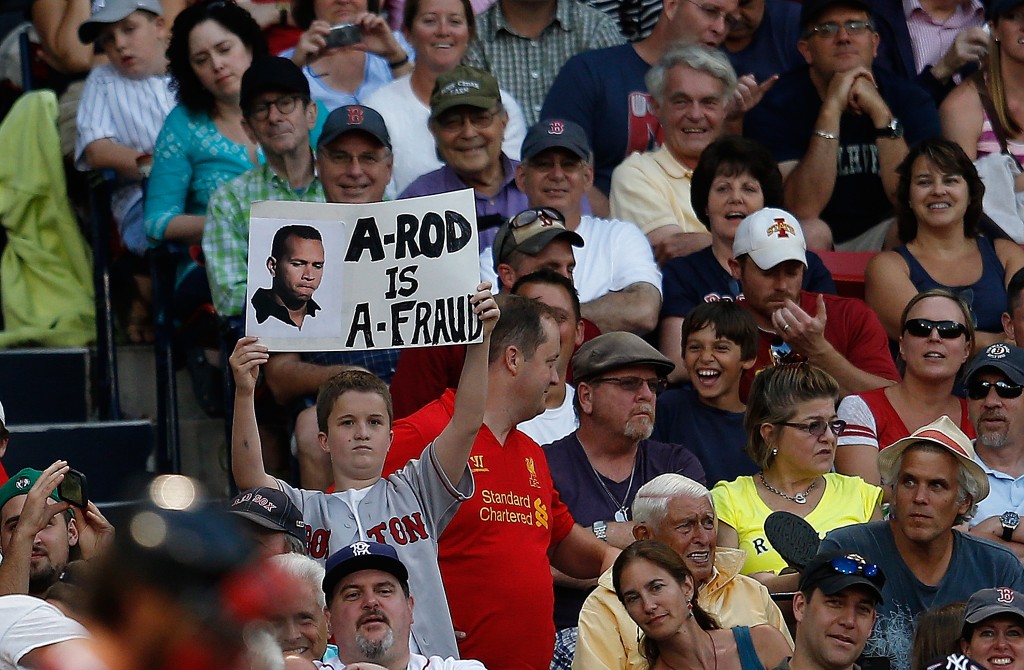 The title, if it even exists, is fluid. The truth is that great rivalries are defined by multiple factors, but one of the most important is the sustained success of both teams. If the game itself doesn't mean anything in the grand scheme of things, it's not going to mean that much to the rest of us.
There was a time when you might have said Florida State vs. Miami, Syracuse vs. Georgetown, or Cowboys vs. Redskins were among the great rivalries in all of sports. You'd be hard-pressed to find any of those games on anyone's Top 20 list now.
Duke vs. North Carolina benefits greatly from the fact that the game not only matters to one another but also in the grand scheme of things in the ACC and the NCAA. The winner of this game will feel a legitimate benefit other than being able to wear their varsity jackets proudly at the Tobacco Road Mall (metaphorically-speaking). All the hype in the world can't maintain interest in a rivalry like quality. All it takes is for one of the teams to fall back into mediocrity and the importance of the game falls with them.
So enjoy Duke vs. North Carolina on Saturday. According to ESPN, you don't have a choice. Maybe it's The. Greatest. Rivalry. In. Sports. right now and maybe it's not. In reality, there's no such thing. Much like the rivalry itself, it's an arbitrary title in constant flux.