Making snap judgments early in an NHL season is normally a fruitless exercise. But after seven games this season, the Toronto Maple Leafs look far and away like not only the most consistent team in the NHL, but perhaps even the best.
Is this a crazy overreaction to a small sample size, or is the "plan the parade" joke not actually a joke anymore? Is this something the rest of the hockey world has to prepare for?
Toronto leads the NHL in goals with 34, good for an average of just under five goals per game as of Oct. 19. Almost all opposing coaches and executives are showering praise on the young Leafs and saying they're already Stanley Cup contenders.
Perhaps that's hyperbole because of the Toronto-centric NHL media scene, but the on-ice evidence is pretty overwhelming. The Leafs have scored 16 of their 34 goals in the first period, putting almost everyone to the sword before they can even blink. Even when the Leafs only register five shots on goal, as they did Wednesday against Detroit, four of them went in. The Leafs are one of the best puck possession teams in the league at even strength, and while their PDO is high, it's not outrageous.
All of this suggests that what the Leafs are doing is sustainable, and in a division that looks decidedly mediocre right now, there's every chance that the Leafs run away with things as the rest of the league sputters. And it's not just Auston Matthews who has raised eyebrows, though his six goals through seven games is certainly eye-catching. Nazem Kadri has chipped in four goals and eight points and James van Reimsdyk has four goals and seven points. So the team isn't top-heavy or over-reliant on one player either. And they're getting plenty of solid goaltending from Freddie Andersen too.
Consider how Mitch Marner, who was one of the best rookies last year and would have been a Calder contender everywhere else in the league, is now skating on the fourth line because of the success of another great young player in Connor Brown. In all other dressing rooms, that would cause alarm bells to go off. But it's becoming normal in Toronto because of their great depth and team-building approach.
It seems insane that a team that just three years ago was a complete and total laughing stock has built itself up to be this good, this quickly. Great drafting is no doubt a part of the equation, as was recruiting Mike Babcock to coach this group. But under the leadership of Brendan Shanahan with the braintrust he's put together, there's almost no stopping the Leafs if they get it right. Many assumed that the Leafs would still be rebuilding by this time, but after last year's playoff appearance, expectations rose. In Toronto, that normally means failure because expectations are always in the stratosphere, but somehow this group has met them and exceeded them.
Playing in Toronto for the Leafs also comes with an immense amount of pressure too, but none of these Leafs seem to be buckling under the weight of those expectations. Matthews is dominant, the young defense is holding together incredibly well, and even former pariahs such as Kadri, Tyler Bozak and van Reimsdyk are playing with more freedom and less weight on their shoulders. And, because when the rich get rich, they usually do so incredibly quickly, the Leafs' depth is better than ever, and is buoying the stars more than ever before.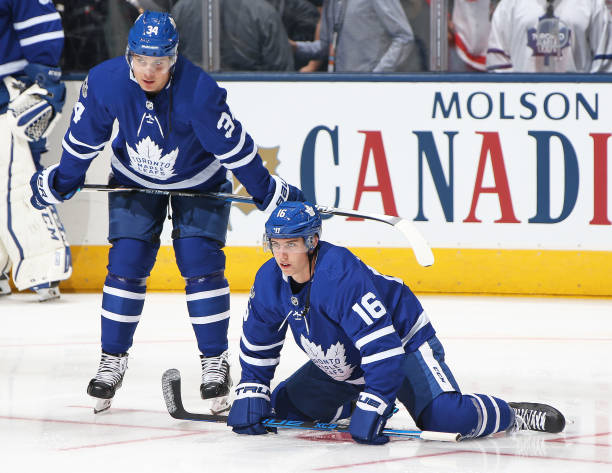 Emily Kaplan of ESPN recently surveyed a bunch of scouts, executives and coaches to see who has the brightest future in the NHL. Unsurprisingly, the Leafs won a gargantuan amount of praise not just for their present, but for their future.
"They're not far off now," one coach said. "And with the young players they have, they're going to be good for a very long time."
That's a stunning realization and turnaround for a team that was such a laughing stock coming out of the 2004-05 lockout. And with their drafting prowess, financial backing from Canada's two biggest media companies, and cap management, they're going to be very good for a very long time.
Their future was never really in doubt. But their present is somehow brighter than even the biggest of optimists would have ever predicted.
Which means that "plan the parade" isn't just a joke anymore. It might soon be a necessity.