Have you ever watched a sports movie (or sports scene in any movie) and been totally bewildered by authenticity, logic, or general believability of a particular scene? We asked the editors of The Comeback to share the movie scene they found to be the most preposterous and unforgivable.
David Rogers – D2: The Mighty Ducks (knuckle-puck)
As a hockey fan, the Mighty Ducks series has a special place in my heart. They're childhood classics. However, that doesn't mean we can't mock the fact they throw out logic on a pretty regular basis. In the first movie, why was Gordon Bombay, a guy convicted of a DUI, sentenced to work with children? Is he really supposed to be a role model? Why does his limo drive out on the ice, potentially endangering the kids who are out skating?
Those problems are bad enough as is, but let's focus on D2: The Mighty Ducks. That's right — it's the knuckle-puck scene.
This play breaks so many rules. It's maybe the most iconic scene in the movie and it's also the most ridiculous/impossible. If you change goalies, you have to announce that you're changing goalies. You can't just have Kenan Thompson appear in goal without announcing that Goldberg is being pulled. Also, you can't have another player wear someone else's jersey. In youth hockey, play is immediately stopped if a player's helmet comes off and they have to leave the ice until the ensuing faceoff. If we're really splitting hairs, a penalty would be assessed if the goalie played the puck past the red line. Maybe he didn't skate past it, but that doesn't forgive all of the other issues.
Ian Casselberry – The Last Boy Scout (opening scene on-field murder-suicide)
The opening scene of The Last Boy Scout is ludicrous, taking place at the most underlit football game ever played. Any high school game has better lighting. That also applies to the lighting during Lynn Swann's sideline interview, and in the booth with Verne Lundquist and Dick Butkus. Was the network trying to save money on basic TV lighting? Maybe there was a power outage in Cleveland that night because of the hard rainstorm. (Speaking of which, the movie took place in 1991 and everyone in the stands has umbrellas. What stadium would have allowed that?) Also, the football team in Cleveland is called the Cats? Who was in charge of marketing there?
OK, but we're talking about a scene. The opening scene of The Last Boy Scout ends with a running back, presumably told he needs to win the game for a bet or else, hopped up on PCP that he popped at halftime, catching a pass and chugging toward a touchdown, who then pulls a gun out of his pants and shoots the three players who attempt to tackle him on the way to the end zone. Yeah, of course he scores. Apparently knowing that he's made a terrible mistake, the running back (played by Mr. TaeBo himself, Billy Blanks) finally shoots himself in the head.
How would Roger Goodell have dealt with this?
Matt Yoder – Rookie of The Year (final strikeout)
If I have to pick one scene, it's the ending to Rookie Of The Year. 12-year-old Henry Rowengartner suddenly has superhuman strength in his arm after a surgical error that allows him to throw a baseball at fantastic length, speed, and accuracy.
In the climactic finale, he faces his arch-nemesis and manages to fall on his arm and reverse the effects of the surgery (because science) leading him to have normal arm strength once again. He then manages to strikeout his rival with a floating underhand eephus pitch. I'm supposed to believe that a 12 year boy somehow developed the world's greatest arm by an errant surgery, then went on to pitch for the Chicago Cubs (forgetting everything we presumably know about child labor laws and his school responsibilities), then had the effects of the surgery erased mid-game, then still managed to strike-out a professional hitter with a slow-pitch softball rec league delivery?
Ben Koo – Varsity Blues (Hook and Ladder to Billy Bob?!?!?!)
Let's forget the fact that there has been a halftime player mutiny along with an in-game seamless installation of a new five-wide offensive system. Let's also forget the fact that for some reason, down by three, the Coyotes opt not to kick a field goal. So they're going for the win. The hook and ladder is a totally acceptable play call, although questionable as they're already in the red zone.
But there is no playbook on earth that has a hook and ladder to your biggest and slowest lineman, and if for some dumb reason there was, you'd never call it in this situation. Now even with the flawless pass, catch, pitch, and catch again, Billy Bob (played by Ron Lester, who recently passed away — RIP), powers through six — SIX — would-be tacklers to score. Just your average, more than half a football team missing tackles despite having a large and not overly nimble target to hit, game-winning play. Rubbing salt in the wound is what has to be the worst jam at the line you could ever see by a defensive back. Why jam on the last play of the game against the number one receiver?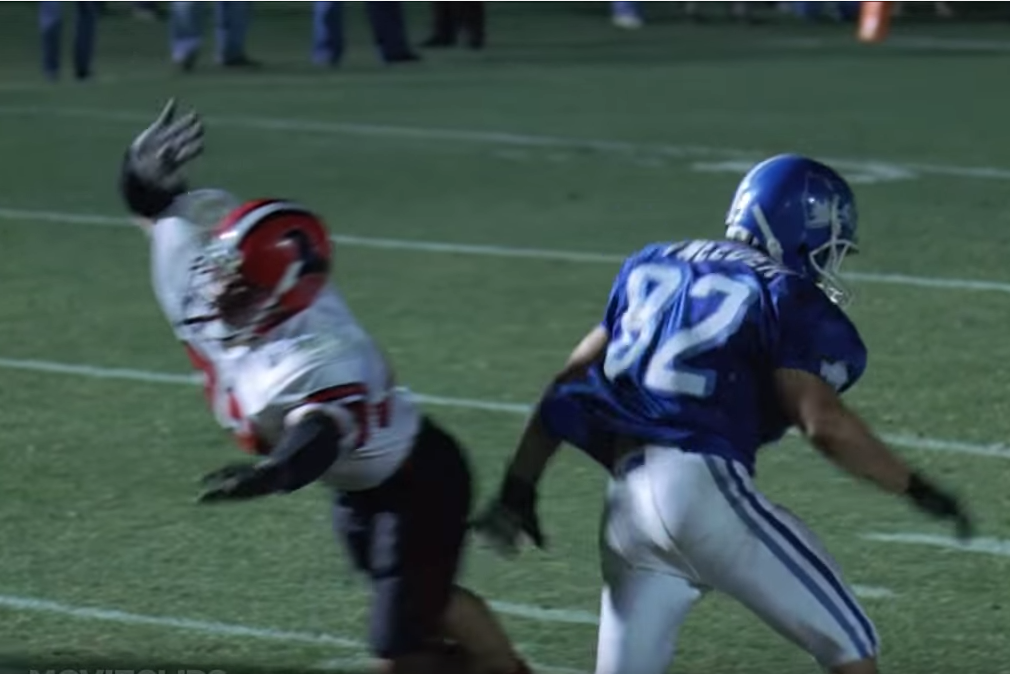 CLICK HERE TO CONTINUE READING >>>