We had a crazy hockey night that featured three hat tricks (so basically a hat trick of hat tricks) and a phenom recording five points. Plus, the Raiders are going to stay in Oakland (for at least one more year) after all. We get to that and much more (like a Mario Kart flash mob) here at the Friday Cheat Sheet…
There were 3 hat tricks in the NHL last night, and Conor McDavid had 5 points
There was plenty of talent on full display across the NHL on Thursday night, with three different players recording hat tricks.
🎩🎩🎩 Patrick Eaves
🎩🎩🎩 Alex Ovechkin
🎩🎩🎩 Jordan Eberle

…we're running out of hats to throw tonight.

— Sportsnet (@Sportsnet) February 12, 2016
We'll start with the hat trick that gave the NHL a new goals leader on the season… Alex Ovechkin:
Alex Ovechkin: 14th career hat trick (1st this season); has most hat tricks in NHL since his rookie season of 2005-06 — ESPN Stats & Info (@ESPNStatsInfo) February 12, 2016
In Chicago, we had the Dallas Stars' Patrick Eaves getting a hat trick in the first period of the team's 4-2 win — big for Western Conference purposes — over the Blackhawks.
Patrick Eaves & Alex Ovechkin both w/ 3 goals in a period tonight

Last time that happened was 1/18/2014: Joe Pavelski & Martin St. Louis

— ESPN Stats & Info (@ESPNStatsInfo) February 12, 2016
And in Edmonton, Jordan Eberle got his first career hat trick in a 5-2 Oilers win over the Toronto Maple Leafs:
Hat trick Eberle. FIVE points for McDavid. Four assists for Pouliot. Big night for the @EdmontonOilers.https://t.co/Gz4ISrFgRu — NHL (@NHL) February 12, 2016
Eberle wouldn't have the hat trick if not for his 19-year-old phenom teammate, Connor McDavid. Along with getting credited for an assist on all three Eberle goals, McDavid scored two goals of his own, like this one:
Connor McDavid is the 3rd-youngest player in the last 30 years with a 5-point game (Nugent-Hopkins, Kovalchuk) – via @EliasSports

— ESPN Stats & Info (@ESPNStatsInfo) February 12, 2016
McDavid is pretty damn impressive so far, but it's probably a bit too early to start making comparisons like this:
Let's tap the brakes a bit over there, Canada. https://t.co/zYJg8uLXSm — SB Nation NHL (@SBNationNHL) February 12, 2016
The Raiders finally decided to sign a lease to stay in Oakland for at least one more year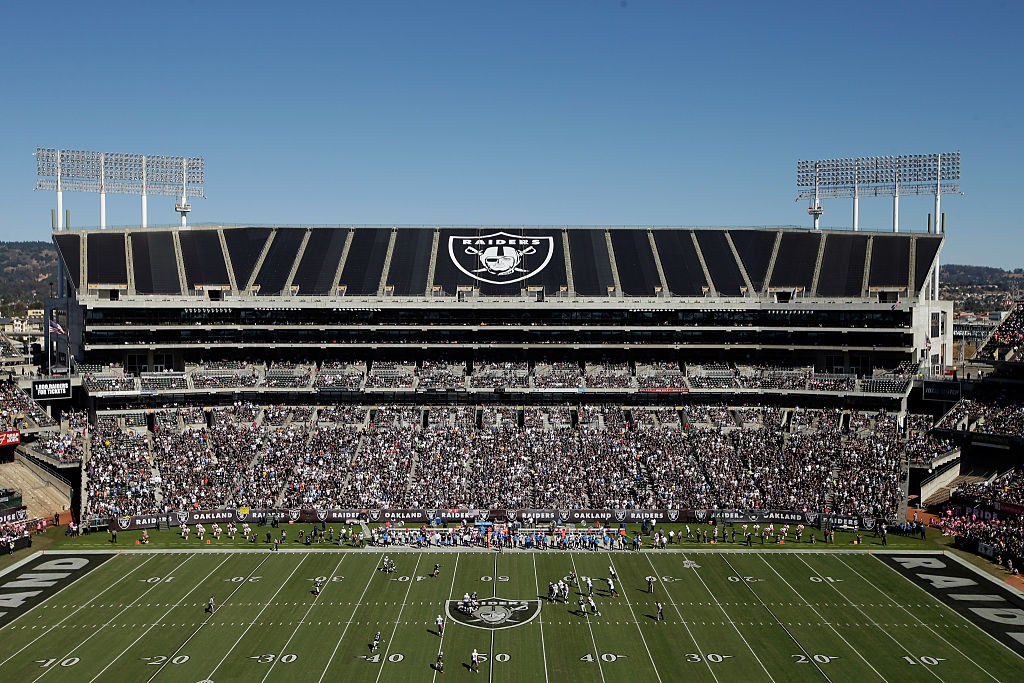 The Raiders have agreed to stay in Oakland through 2016, with options to stay in 2017 and 2018:
As expected, the Raiders agree to a 1-yr lease to stay at the Coliseum for 2016 with options for 2017 & 2018.

— CSN Raiders News (@CSNRaiders) February 11, 2016
As Alex Putterman explains, Mark Davis and the Raiders were left with pretty much no choice, given the owners don't want them in Los Angeles:
The Raiders had little choice but to stay in Oakland because the NFL's owners basically told them they couldn't leave. The league picked the Rams to relocate to L.A. and gave the Chargers the option of joining them, offering the Raiders the chance to follow only if the Chargers opt to remain in San Diego beyond 2016.
There are some really eye-opening quotes in Putterman's article, including a rumor that the owners were worried about a connection between the Raiders and Los Angeles gangs. Um, that seems like a bit of a stretch, but these are the things old white people (owners) think about.
Quick Hits
– The Rockets are reportedly discussing Dwight Howard trades. The Boston Celtics seem like the favorites at this point, should a trade happen.
– This really sucks: Hornets' Michael Kidd-Gilchrist likely out for season with dislocated shoulder.
– On Wednesday night, Peyton Manning and Magic Johnson went on Jimmy Fallon's show, and smashed eggs on their heads. And on Thursday night, Peyton returned to Fallon… well, it was Kristen Wiig dressed up as Peyton.
– Super Bowl leads to 42 human trafficking victims, 30 suspects.
– MMA fighter blames his latest loss on sex.
– NFL upholds Vontaze Burfict's three-game suspension.
– This is the golden age of smart football media.
– The week that was in mostly terrible sports fashion. The weekly awesome look at (bad) sports fashion from Tim Ryan.
– Chris Berman sucks at golf, among other things.
– These seven players should totally get dealt to contenders before the NHL trade deadline.
– The Angels will never, ever, ever, ever trade Mike Trout.
– You've probably heard about this by now, but if not… scientists have discovered gravitational waves, and it's a big deal.
– Four ways we can save American pop culture from itself.
– Retro VHS covers for recent TV show sand movies are unreal.
– HBO just released 20 brand-new images from Game of Thrones season 6.
– There's a new House of Cards season 4 trailer.
– Do not mess with Batman in final Batman v Superman trailer.
– Silicon Valley season three teaser:
Season two was fantastic (in my opinion, at least) and love the upside of this show to potentially get better and better.
One last breath of gratuitous procrastination
Yesterday we shared the awesome Star Kart video, and now we have a fantastic Mario Kart flash mob at a mall.