It's hard to believe, but the first full week of meaningful NFL games is about to make its triumphant return this week.
The slate of games will kickoff Thursday night with the defending Super Bowl champion New England Patriots taking on the immortal Andy Reid and the Kansas City Chiefs. Then two days later, Sunday will feature a whopping 12 games and the week will end with two more match-ups on Monday night.
So clear your calendars and make sure your prenuptial agreements are up to date because there is a lot of NFL football to be watched this week.
Thursday, September 7
Kansas City Chiefs (0-0) at New England Patriots (0-0) – 8:30pm ET, NBC
The last time the Patriots and Chiefs faced off in the opening week was back in 2008. That game resulted in New England quarterback Tom Brady injuring his knee and missing the rest of the season.
Do not expect something like that to happen again, but do expect Kansas City to throw everything from their barbecue-making tool shed in an effort to pull off an upset over the Patriots.
Player to Watch: Brandin Cooks, WR (New England Patriots)
Sunday, September 10
New York Jets (0-0) at Buffalo Bills (0-0) – 1:00pm ET, CBS
Week 1 of the Jets' journey to landing the first overall pick in the 2018 NFL Draft begins on Sunday in Buffalo. New York will be sending 38-year-old quarterback Josh McCown out on the field as their starter to go against a Bills defense that looked pretty vicious this preseason.
So there seems like a pretty good chance that McCown could end up leaving this game with one or 17 different injuries.
Player to Watch: Zay Jones, WR (Buffalo Bills)
Philadelphia Eagles (0-0) at Washington Redskins (0-0) – 1:00pm ET, FOX
Sunday will be the first opportunity for Redskins quarterback Kirk Cousins to show that he is not a product of the scheme ran by former Washington offensive coordinator Sean McVay (now the head coach for the Los Angeles Rams). For the Eagles, they will be out to prove that they should be a team to watch this season and not be underestimated.
Player to Watch: LeGarrette Blount, RB (Philadelphia Eagles)
Oakland Raiders (0-0) at Tennessee Titans (0-0) – 1:00pm ET, CBS
After Week 1 is all said and done, this matchup could actually end up being the best of the bunch. Both teams' quarterbacks are coming back from leg injuries in 2016 and it will be interesting to see how they perform in their first full regular season game back on the field.
But let's not forget about the return of Marshawn Lynch to the NFL, now as a member of the Raiders. Football is always more enjoyable when he is a part of the league.
Player to Watch: Marshawn Lynch, RB (Oakland Raiders)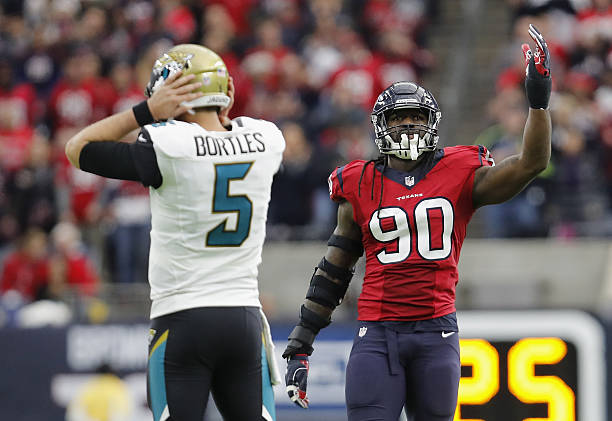 Jacksonville Jaguars (0-0) at Houston Texans (0-0) – 1:00pm ET, CBS
The fact that the city of Houston will be hosting a football game on Sunday is an accomplishment in itself. Texans players will now have to shift their focus from helping the citizens of Houston recover from Hurricane Harvey to attempting to defeat the division rival Jaguars.
Sunday's game will also feature the regular season debut of Jacksonville rookie running back Leonard Fournette. Expect him to get about 50 carries as the Jaguars will want to prevent quarterback Blake Bortles from actually throwing the football at any point against the Texans.
Player to Watch: J.J. Watt, DT (Houston Texans)
Arizona Cardinals (0-0) at Detroit Lions (0-0) – 1:00pm ET, FOX
Both of these teams are capable of making some noise in 2017. The result of this game could actually end up becoming a factor if the two are in a close race for a playoff spot at the end of the season.
If the Lions find themselves down at some point in the game, Detroit quarterback Matthew Stafford (now the highest-paid NFL player) can probably just buy the Cardinals and cut all of their players so the Lions can pull ahead before the game clock expires.
Player to Watch: David Johnson, RB (Arizona Cardinals)
Pittsburgh Steelers (0-0) at Cleveland Browns (0-0) – 1:00pm ET, CBS
What a weekend it would be if the Browns, who won just one game a year ago, were able to upset the highly favored Steelers. However, Cleveland's chances of winning on Sunday are just about as good as Conor McGregor's were in his recent fight against Floyd Mayweather.
It is just not going to happen.
Player to Watch: Joe Haden, CB (Pittsburgh Steelers)
Atlanta Falcons (0-0) at Chicago Bears (0-0) – 1:00pm ET, FOX
Finally, the game everyone has been waiting for since the end of Super Bowl 51. OK, not really, but the Falcons will be looking to prove to everyone that their team is actually capable of playing a full four quarters on Sunday.
Luckily, even a three-point fourth quarter lead would likely be safe against a Bears squad led by new starting quarterback (for at least a few weeks), Mike Glennon.
Player to Watch: Jordan Howard, RB (Chicago Bears)
Baltimore Ravens (0-0) at Cincinnati Bengals (0-0) – 1:00pm ET CBS
Who's excited to watch Joe Flacco and Andy Dalton throw the football? Anyone?
Well, what is left of the Ravens' roster (12 players on their current Reserve/Injured list) will attempt to come out of Cincinnati with a win. But count on the Bengals to get the victory on Sunday as they have not lost a home game to Baltimore since 2012.
Player to Watch: Tony Jefferson, SS (Baltimore Ravens)
Indianapolis Colts (0-0) at Los Angeles Rams (0-0) – 4:05pm ET, CBS
This game will either end up being one of two things, a blowout or just god-awful football. So good for those people who are paying actual money to sit in the Los Angeles Coliseum on Sunday to watch the Andrew Luck-less Colts take on the Jared Goff-led Rams.
Sometimes, owning an NFL team is straight-up robbery.
Player to Watch: Sammy Watkins, WR (Los Angeles Rams)
Carolina Panthers (0-0) at San Francisco 49ers (0-0) – 4:25pm ET, FOX
Hard to believe that the Panthers were playing in the Super Bowl less than two years ago. Even harder to believe that the 49ers were competing in a Super Bowl less than five years ago.
But that is the nature of the NFL and each team now has a clean slate for the 2017 season. Basic logic should tell most, though, that Carolina will likely have a better record than San Francisco this year.
Player to Watch: Christian McCaffrey, RB (Carolina Panthers)
Seattle Seahawks (0-0) at Green Bay Packers (0-0) – 4:25pm ET, FOX
The last time the Packers lost to the Seahawks at home, Seattle quarterback Russell Wilson was 10 years old and the New England Patriots actually finished a season in last place in the AFC East.
Home-field advantage becomes a huge factor in games like these between two talented teams like the Packers and Seahawks. But maybe Seattle will have a chance this year if Wilson decides not to throw five interceptions like he did in 2016 against Green Bay.
Player to Watch: Martellus Bennett, TE (Green Bay Packers)
New York Giants (0-0) at Dallas Cowboys (0-0) – 8:30pm ET, NBC
In 2016, the Cowboys had an impressive year in which they only lost three games during the regular season. Despite their success last year, the Giants seemed to have no trouble when facing Dallas last season as New York handed the Cowboys two of their three losses in 2016.
The Cowboys will be out to prove that their accomplishments last season were no fluke and they will continue to perform at a high-level in 2017. Sunday will also be the fifth time in the last six years that the Week 1 Sunday Night Football matchup will be between the Cowboys and Giants. (So much for variety.)
Player to Watch: Das Prescott, QB (Dallas Cowboys)
Monday, September 11
New Orleans Saints (0-0) at Minnesota Vikings (0-0) – 7:10pm ET, ESPN
Not a whole lot to talk about in this game between two teams that missed out on the playoffs in 2016. Oh wait, there is one thing.
Adrian Peterson will be playing his first regular season game as a member of the Saints against his former team, the Vikings. That seems like a pretty fun storyline to pay attention to.
Player to Watch: Danielle Hunter, DE (Minnesota Vikings)
Los Angeles Chargers (0-0) at Denver Broncos (0-0) – 10:20pm ET, ESPN
The second game of the opening-week NFL doubleheader on Monday night usually features a dud of a game. However, this matchup could turn out to be one of the better Week 1 games. With a semi-healthy roster (at least for another week), the Chargers could possibly defeat the Broncos for just the third time in the last 13 games between the two teams.
But Denver does still have a ferociously scary defense, one that sacked Los Angeles quarterbacks a total of six times during their two meetings in 2016. Of course, the Broncos will need at least a little help from their offense as well in order to come out with a win on Monday.
Player to Watch: Keenan Allen, WR (Los Angeles Chargers)