This Weekend in NFL Stupid highlights the dumbest decisions in football throughout the season. This week, we focus on an ordeal that one coach inexplicably brought upon himself. 
A simple fine would have sufficed
Carolina Panthers head coach Ron Rivera benched superstar quarterback Cam Newton for the first series (it turned out to be only one tragic play — a Derek Anderson interception) Sunday night against the Seattle Seahawks, and not every aspect of that decision was stupid.
I respect that Rivera wanted to make it clear Newton would be held to the same standard as his teammates, even when it comes to rather inane team policies. No special treatment. Cool.
And I even understand, to an extent, why the Panthers mandate that their players wear ties on road trips. That rule itself might seem archaic, but there is something to be said for uniformity and adopting a team-wide, business-like approach when traveling.
Newton chose to violate that rule and was thus penalized.
The problem is the punishment doesn't fit the crime, mainly because when you're dealing with a quarterback — the reigning MVP quarterback, no less — benching that player doesn't just hurt him. It hurts all of his teammates. It's nobody's fault but Newton's that Newton broke a silly rule, but his benching put extra pressure on Anderson, the receivers, the offensive line, the backs and — after that interception — the Carolina defense. And by extension, it made things harder on all of the coaches, including Rivera.
How is that fair?
The logical approach would have been to fine Newton. That way, the message that he isn't exempt from team rules could be relayed to Newton and his teammates — which was Rivera's original objective — without hurting the 52 other players who did wear ties to Sunday's game.
That also would have saved the Panthers from the distractions caused by the inevitable, TMZ-level public response to his benching. Rivera could have kept this entire thing in-house and given his team a better chance to win while still maintaining the locker-room law and order he clearly values.
Instead, he overreacted and everybody lost.
Also, the rule is stupid.
Other stupid things from Week 13
** Wasteful Sean Payton
Down two scores early in the fourth quarter Sunday against the Detroit Lions, the New Orleans Saints head coach used his last challenge and risked losing an important timeout in order to have a play reviewed at the Detroit goal line. He thought Brandin Cooks crossed the plane after making a catch, even though it seemed rather clear Cooks was short of the end zone.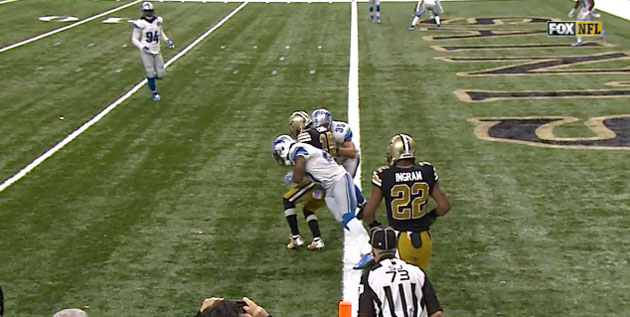 Thing is, even if it was a close call, this was a stupid decision. Why waste your last challenge and risk losing a timeout when the alternative to the touchdown is first-and-goal inside the one-yard line? The Saints scored on the next play anyway, but they went the rest of the game without the ability to challenge and had just two timeouts in the fourth quarter.
Pick your spots, Sean.
** Panicky Jay Gruden
With his defense facing a second-and-10 down a point late in the fourth quarter Sunday against the Arizona Cardinals, the Washington Redskins head coach called a timeout with the clock moving at 2:03. Doing so saved the Redskins three seconds. Sure, anything helps. But the problem is that if you're trailing and you call a timeout on defense right before the two-minute warning, you give your opponent no incentive to run the ball.
Had Washington waited three seconds, the Cardinals might have been inclined to run on second down in order to keep zapping Redskins timeouts and/or run the clock to milk their lead. But with the clock guaranteed to stop after the play without Washington losing a timeout, the Cardinals were able to open up the playbook and throw the ball without repercussion.
Carson Palmer 🏈 ↗️ ↘️ J.J. Nelson for the TD. #nfl #football #touchdown #bestcatches #arizona #cardinals@carsonpalmer @_ThaJizzleMan pic.twitter.com/nwi9NiQfCt

— rankplays (@rankplays) December 5, 2016
On that next play, Carson Palmer essentially iced the game with a 42-yard touchdown pass to J.J. Nelson.
** Careless Dan Quinn
The Atlanta Falcons head coach has become a star in this spot. Sunday, after his team was devastated by an Eric Berry "pick-two" on a two-point conversion, falling behind 29-28 with less than five minutes to play, the Falcons defense was tasked with stopping the Kansas City Chiefs before time expired. They failed to do so, with the Chiefs picking up two first downs in order to run out the clock. But it didn't help that Quinn had left his team with just one timeout in those final five minutes.
He used one before a Kansas City fourth-and-one play in the third quarter (the Chiefs scored on a fake on the very next play) and used another before his team ran a third-and-one play in the fourth quarter (they converted).
Coaches continue to fail to recognize that second-half timeouts have to be used only in order to manage the clock, at least in close games. To use them for any other reason in the second half of a close game indicates you're unprepared or you've failed to understand that a five-yard penalty is almost always the better option. Or both.
If I'm watching a game late in the fourth quarter and one team is already down to one or no timeouts, it's an immediate indictment on that team's head coach.
** Reckless Bill Belichick
Belichick is rarely called out here, but it's hard to ignore the fact that with his New England Patriots leading by 23 points with less than four minutes remaining in the fourth quarter Sunday against the Los Angeles Rams, Belichick still had Tom Brady in the game and throwing passes.
You've already lost Rob Gronkowski and Danny Amendola. Brady — the league's oldest position player — has already been dealing with a knee injury. Why tempt fate?