This Saturday night in Melbourne, Australia, World Wrestling Entertainment will air Super Show-Down with a start time of 7 p.m. in Melbourne, which means it will air at 5 a.m. ET / 2 p.m. PT for those of us in North America. It's currently scheduled for four hours on WWE Network's schedule page, but in WWE, they could always go longer on their own network. Super Show-Down will air on WWE Network live and if you miss it live, you can watch it on demand at your own convenience. Think of how the Australian fans feel about finally getting a major show in primetime as opposed to having it air in the morning. I think it's awesome for them.
Super Show-Down will take place at the Melbourne Cricket Ground in Melbourne, Australia. It's the first of four major WWE pay-per-view style events that will air on WWE Network over the next seven weeks. The all women's Evolution PPV will take place on October 28, the men's only Crown Jewel event from Saudi Arabia will be on November 6. and then Survivor Series will air on November 18. It's a lot of WWE content for us to digest, and it also means that some matches are going to have a lot of build while others will seem like they are just thrown together.
Here's the full lineup with ten matches:
Triple H (with Shawn Michaels) vs. The Undertaker (with Kane)
WWE Championship in a No Countout, No Disqualification Match: AJ Styles (c) vs. Samoa Joe
The Shield (Universal Champion Roman Reigns, Intercontinental Champion Seth Rollins, Dean Ambrose) vs. Braun Strowman, Dolph Ziggler and Drew McIntyre
Number One Contender for the WWE Championship: Daniel Bryan vs. The Miz
Smackdown Women's Championship: Becky Lynch (c) vs. Charlotte Flair
Bobby Lashley and John Cena vs. Elias and Kevin Owens
Ronda Rousey and The Bella Twins (Brie Bella and Nikki Bella) vs. The Riott Squad (Liv Morgan, Ruby Riott, and Sarah Logan)
Smackdown Tag Team Championships: The New Day (Big E, Kofi Kingston, Xavier Woods) (c) vs. The Bar (Cesaro and Sheamus)
WWE Cruiserweight Championship: Cedric Alexander (c) vs. Buddy Murphy
Asuka and Naomi vs. The IIconics (Billie Kay and Peyton Royce)
I think in some ways, people might consider this card to be like a glorified house show/live event due to all the tag matches (five of the ten matches are tag matches) and I think that's a fair assessment. However, I am interested in some of the matches, especially the Smackdown matches. I covered a lot of the reasons why in my column about Smackdown being better than Raw last week. The short version of the explanation is that Smackdown has more personal rivalries that feel like the wrestlers genuinely don't like each other, while most of the Raw matches are good guys versus bad guys without the same kind of interesting story.  Let's get to some predictions.
10. The IIconics will get an upset victory in their home country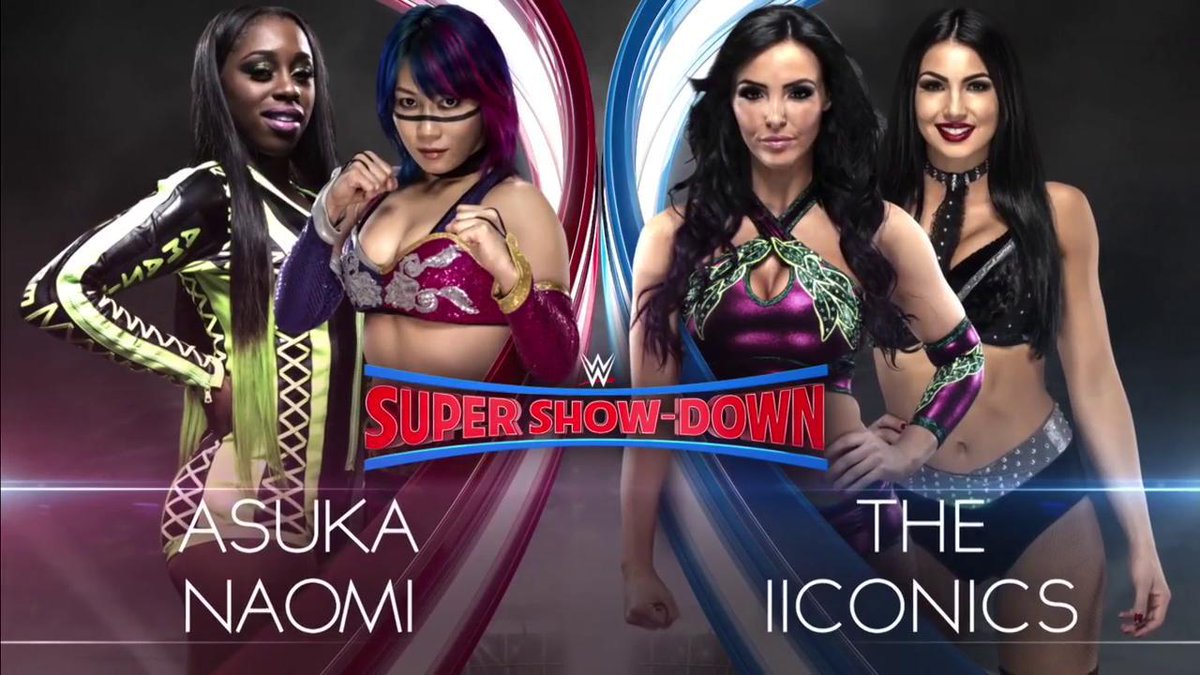 The reason WWE is doing Asuka and Naomi vs. The Iiconics duo of Peyton Royce and Billie Kay is because Royce and Kay are best friends from Australia. There's not much of a story other than Royce and Kay double teaming Naomi a lot, so Asuka made the save for Naomi and then those two faces bonded together over a common enemy. It's not a great story by any means, but it'll get the job done.
I'm going with one of the Iiconics, let's say Peyton Royce, pinning Naomi because WWE likes to protect Asuka even though they don't know how to book her the right way. I can see Asuka moving on to the Smackdown Women's Title picture soon as a challenger to Becky Lynch or perhaps she can turn heel on Naomi a few weeks after this match. I'm not sure if there is a long-term plan here, or if this is just a match to put over the Iiconics in Australia.
9. Buddy Murphy will become the new Cruiserweight Champion in his home country
There might be some of you reading this that don't even know who Buddy Murphy is as he steps up challenge Cedric Alexander for the Cruiserweight Title. Murphy had a solid run in NXT as part of a tag team with Wesley Blake that was managed by Alexa Bliss, who Murphy is now engaged to. Earlier this year, Murphy lost weight and got down to 205, where he has become one of the better heels on the 205 Live brand, aka WWE's cruiserweight division. Murphy is also from Australia, so it's fitting that he gets the title shot here.
If you are watching the show, pay attention to this match because there's a very good chance it will be one of the best matches of the night. These guys can really put on a show if they get 15 minutes, which they should get considering it's a four hour show. I'm going with a Murphy win since Alexander has been the champion for about six months and it would be a cool moment to see Murphy win the title in his home country. It would be a nice treat for the fans too.
8. The New Day will retain their Smackdown Tag Team Titles
"Tonight was supposed to be the greatest night of my life."@XavierWoodsPhD @WWEBigE @TrueKofi @wwe pic.twitter.com/mzG6SlGlpg

— 🥞Mr Bootyworth🥞 (@MrBootyworth) October 3, 2018
The build for the Smackdown Tag Team match has seen both members of The Bar win singles matches over New Day members, so that gave them a lot of momentum. This past week on Smackdown, the segment that was aired to get us excited about the match was cooking segment featuring a silent dude in a tuxedo named Mr. Bootyworth. That ended with The Bar beating up all three New Day members while they dumped batter on Bootyworth's head. It was New Day comedy and didn't work as well as some of their better comedy bits.
The way the match has been built, it seems obvious that New Day are going to win. I know it will be a very good match because these teams have worked together so many times in the last few years, but my concern is there being five tag team matches on the card, which will make the hot tag sequences feel repetitive when you see the same thing five times in four hours. It's hard to keep tag team matches fresh when you have so many of them on the same card.
7. Nikki Bella will get the win for her team in the six women's tag match with Ronda Rousey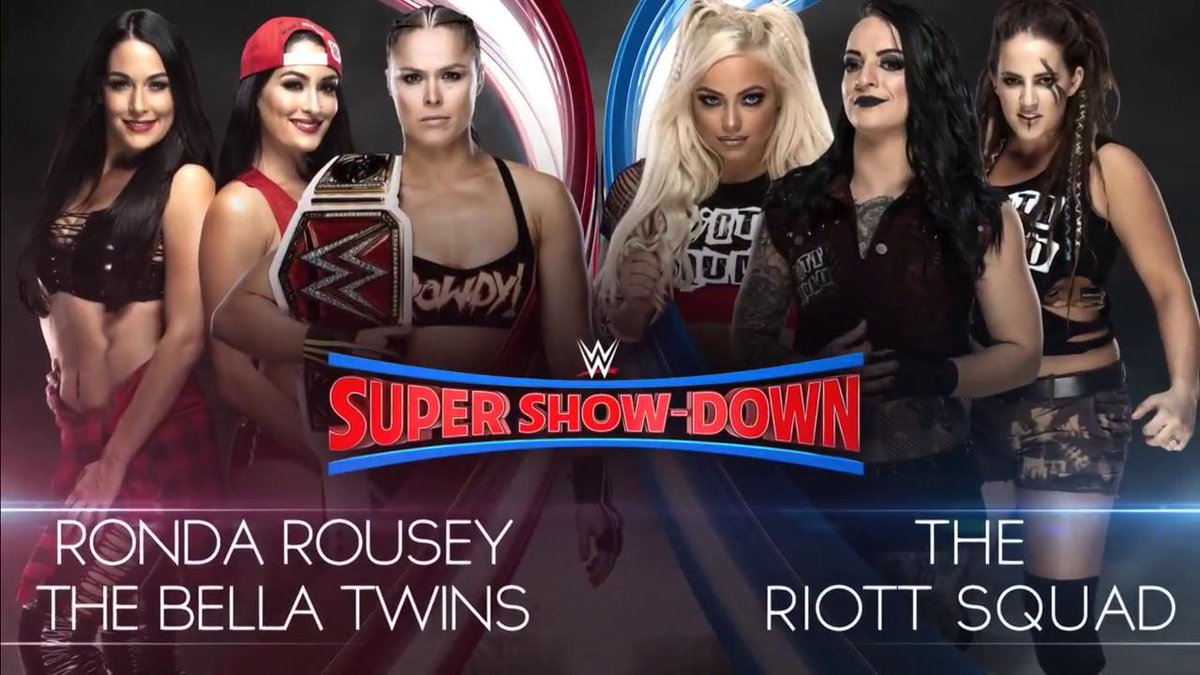 Any time Ronda Rousey is in a match, you can pick her to win and you're usually going to be right. Rousey has yet to lose a match (unless you want to count Money in the Bank, when Alexa Bliss cashed in the contract to beat Nia Jax in a match that Rousey was in. I don't really count that one). In this match, Rousey is teaming up with the Bella Twins against the Riott Squad, who are just there to give Rousey and the Bellas a win in a tag team match.
I'm happy that Liv Morgan is cleared to return to action after Brie Bella's errant kicks on Raw two weeks ago. In case you missed it, Brie wasn't keeping her eye on Morgan when she delivered kicks to her chest (Brie was looking at Riott and Logan on the apron), and she kicked Morgan right in the face. When Morgan's head went down after that, Brie kicked her a second time. Morgan suffered a concussion, but thankfully, she was back to work soon after. I'm not going to be as hard on Brie as others because she is a safe worker, and what happened is a reminder that mistakes in wrestling can happen to anybody at any time. Learn from it and get better.
The reason I am predicting Nikki to win instead of Rousey is because the plan for Evolution on October 28 is for Rousey to defend her Raw Women's Title against Nikki. It hasn't been mentioned on TV yet, but that's what reports say. I don't expect Nikki to turn heel going into the match, although I guess it's possible. I just feel like WWE wants to set it up somehow, so they can have Nikki tag herself in when Rousey is about to finish off the Riott Squad and Nikki will get the win for the team instead. On Monday's Raw, Nikki can challenge Rousey for the title at Evolution and the match will be set.
6. John Cena and Bobby Lashley will be victorious in Cena's first match in over five months
闪电拳头 ⚡️👊 10/6 #WWESSD @WWE @WWEUniverse #RAW #SDLive pic.twitter.com/uclK15AOjf

— John Cena (@JohnCena) October 1, 2018
The last time that John Cena wrestled was at the Greatest Royal Rumble event in late April when he defeated Triple H. He has spent most of the last five months in China filming a movie with Jackie Chan. It's not known yet when (or even if) Cena will return to regular WWE television, but if I had to guess it, will probably be by January. It's not like he lets us know his schedule though, so I'm just thinking he'll be back for Royal Rumble season.
This match has been built up by having Elias and Kevin Owens trash Bobby Lashley and his manager Lio Rush. This past week on Raw, Elias and Owens starred in a memorable segment where Elias trashed Seattle for losing the NBA's Sonics to Oklahoma City a decade ago, which led to six straight minutes of booing from the crowd. It did nothing to build to this match since it was a Seattle thing, but it did make Elias and Owens look like big time stars.
I would be very surprised if Cena and Lashley lost the match. Lashley got his ass kicked on Raw, so he'll probably get his revenge. I can see Lashley getting the win due to Cena not being a full timer anymore, but it might be a win for Cena since he's he biggest star in the match. Either way, I'd be surprised if Elias and Owens got the win.
I have a feeling that what most people will talk about with this match is Cena's new look, which as you can see above, is different from what we are used to.
5. Becky Lynch will remain the Smackdown Women's Champion while her feud with Charlotte Flair will continue
If there is one match on the card where I am tempted to go with a disqualification finish, it's Becky Lynch defending the Smackdown Women's Title against Charlotte Flair. I think sometimes you need to book one or two DQs on a show to tell the audience that just because it's a major show, it doesn't mean every match has to have a clean finish. For this feud to continue past this show, Lynch can't beat Flair clean. If that happens, then Flair is out of the title picture and I doubt that's going to be the case. This feud needs to continue.
The reason why I say Lynch's feud with Flair will continue is because I think it's a lock that this rivalry carries all the way to the all women's Evolution pay-per-view at the end of October. This feud should main event that show although perhaps the Ronda Rousey match will because it's Rousey. This match will be the one that the wrestling purists like the most, though. I know I will.
Even though she ran out into my spotlight again, the people should have this. #boothewoo pic.twitter.com/TBbMd2Gc5y

— Rebecca Quin (@BeckyLynchWWE) October 3, 2018
I'm proud of both women in this rivalry. It's one of the best things going in WWE right now, and I wrote about it more in-depth in a recent column here on The Comeback. This is not just one of the best rivalries in WWE this year for women, it's one of the best rivalries in WWE this year…period. It's easy for fans to get into the matches because of their history as best friends and when Lynch attacked, it was cheered because fans wanted to see a different side of Lynch and now they got it.
I think they'll get around 15 minutes, Flair will come close to winning multiple times, Lynch will be frustrated by it, and will get herself disqualified. If there is a pinfall result, I can see Lynch cheating to win, although if that happens, it will be harder to give Charlotte another title match. If it's a DQ loss, Charlotte is justified in getting another title match. Am I overthinking it? Maybe. I just believe that they need to keep this feud going and the best way to do that is with a disqualification finish.
4. Daniel Bryan will cheat to finally get that big win over The Miz
The story going into this Bryan vs. Miz match is that Miz has claimed repeatedly that he will do anything he can to win, which means he will cheat just like he did at SummerSlam when Maryse gave him brass knuckles to knock out Bryan. Miz said that's why he has the advantage over Bryan – because he knows Bryan won't do that. Whenever WWE has a heel character repeatedly say the same things over again, it's usually because that's going to play into the finish of a big match.
This is that big match with Bryan facing Miz one more time, except this time the winner gets a future WWE Title match. I think Miz will try to cheat repeatedly by putting his feet on the ropes, exposing a turnbuckle, grabbing the tights trying to use a weapon for a cheap attack and all those other things that we see heels do all the time. The story can be that Bryan is sick of it, so he grabs the tights of Miz and wins the match that way. They could set up a rematch at Crown Jewel on November 2 with Bryan winning again, leading to Bryan vs. the WWE Champion at Survivor Series.
Since Bryan lost to Miz at SummerSlam, Bryan and Brie lost to Miz and Maryse at Hell in a Cell, and Miz beat up Bryan on the last Smackdown, I would be surprised if Miz got the win here. All signs are pointing to Bryan finally get that big win over The Miz in what should be a very enjoyable match.
3. The Shield will win in the last match of the evening
The main event of Super Show-Down will likely see The Shield beat Braun Strowman, Drew McIntyre, and Dolph Ziggler. I know that it hasn't been promoted as the main event (that would be Triple H vs. The Undertaker), but I think WWE is going to present this match as the last matchup on the card because they will want to put Roman Reigns over in a big way, just like they always want to do.
My other prediction for the match is that it will be the longest of the night in the 20-25 minute range. If it goes that long, it could be one of the better Shield six-man tag team matches ever because everybody in this match is pretty good in the ring. The only guy that is questionable is Strowman, but I think he'll be booked in a smart way where he isn't exposed or in the ring for that long. Plus, Strowman is a lot more comfortable in the ring when he's a face.
I know the story going into the match is about Dean Ambrose possibly having issues with his Shield "brothers," Universal Champion Roman Reigns and Intercontinental Champion Seth Rollins. I just don't think it's the right time for a turn. If it does happen, then maybe do it around the Royal Rumble leading to a WrestleMania match. Doing it now really doesn't seem like the right time.
The last edition of Raw saw Strowman, McIntyre and Ziggler get the upper hand on The Shield in a major beatdown. That booking only solidifies my predictions The Shield getting the win likely with Reigns pinning Ziggler. I highly doubt that Strowman would take the pin here. Perhaps Ambrose will get the pin to give him something to brag about since his buddies are already holding titles. Either way, I would be surprised if The Shield lost this match.
2. AJ Styles will end his rivalry with Samoa Joe with a victory
This is my pick for best match of the night because they'll be able to use weapons to tell a story since it's a No Countout, No Disqualification match. What I don't know is who will win, which is certainly fine with me because I like when things are unpredictable a bit. If the match is too easy to predict, then what fun is that?
As I have said previously, it's not going to upset me if one of my favorites in Styles loses the WWE Title, because Samoa Joe is another favorite of mine. Let's not forget that a year ago, Jinder Mahal's boring WWE Title was still going on and now he's so low on Raw's totem pole that he is unable to get on PPV cards.
I think I'm done picking Joe to beat Styles. I did it for their last two matches and after thinking about it for a while, I feel like Styles is going to win this match to put an end to this feud. It's not what I would do, but when I thought about the Bryan/Miz match and Bryan winning, I think WWE is going to want to do a big match like Bryan vs. Styles at a PPV like Survivor Series next month. They could always add Joe to it to make it a triple threat or maybe Randy Orton could be a part of it.
The top of the card on Smackdown is very good with a lot of options going forward, regardless of who the WWE Champion is. For now, I'll pick Styles to retain.
1. Triple H will beat The Undertaker thanks to some help from Shawn Michaels
The match that WWE has promoted the most for Super Show-Down is Triple H wrestling The Undertaker for the "Last Time Ever" in a singles match. Their last singles match was a great one at WrestleMania 28 in 2012, which I attended live. That was a Hell in a Cell match which The Undertaker barely won with Shawn Michaels as the referee. That was six years ago, though. Today, The Undertaker is a 53-year-old that barely wrestles while Triple H is 49 years old with only two matches this year. I'm sure they have practiced the match and they are both mentally ready for it, but it's very possible there will be some rust here.
The outcome of the match may seem obvious to some with The Undertaker winning because Triple H tends to lost of his matches in the last few years. However, I'm going in another direction. I'm picking Triple H because I think Hunter needs to win to set up the DX (Triple H and Shawn Michaels) vs. Brothers of Destruction (The Undertaker and Kane) tag team match at Crown Jewel on November 2, which I covered two weeks ago. It will be Michaels' first match in over eight years. If you're wondering, yes, that is a BALD Shawn Michaels in the video above.
How does Triple H get the win? I don't expect it to be clean. I think it should be cheap, because if it's cheap then it sets up the tag team match a lot easier. The way they can get there is have Triple H and Michaels cheat, but not in an over the top way. It will be something where they cause the referee to get distracted by Kane, which leads to Michaels hitting a superkick on Undertaker (that the ref won't see), and Triple H hitting a Pedigree on Undertaker for the win. That sets up the challenge on Raw with Undertaker and Kane wanting to have a tag team match at Crown Jewel against Triple H and Shawn Michaels. It wouldn't be a heel turn by Triple H and Michaels, and they can just say they did what they needed to do in order to win.
The reality is that the result of a match like this doesn't matter that much. Both legends are part-timers that are a part of this event because it's cool for the fans in Australia to see them in action one more time. You can argue that it shouldn't even be on the card because they are just too old guys taking the spots of younger talent. I don't mind it, though. Nostalgia is cool once in a while and I think the Australian fans will be into this as much as anything on the card.
This prediction is hardly a lock. I just think a Triple H win makes more sense in this match because it can lead to the tag team match at Crown Jewel where Undertaker and Kane can get the win over Triple H and Michaels.
You can watch WWE Super Show-Down this Saturday, October 6th at 5 a.m ET/2 a.m. PT on WWE Network. If you miss it live, you can watch it on demand at your own convenience. I'll be back on Monday for a review of the event.